The L NOW 582 (S2) Indoor Exercise Bike is a stylish-looking machine that is introduced following the emergence of the L NOW LD-577.
The frame is thickly made, customizable, and sturdy enough to support users of different heights, weights, and sizes. It integrates a belt drive and a manual magnetic resistance system; thus, its operation is pretty smooth and quiet.
It doesn't overwhelm your space even though it looks bulky. So, if you are considering buying an indoor cycling bike this unit should probably be on your consideration list.
Click right here to have a peek at the L NOW 582 (S2) Indoor Exercise Bike on Amazon.
The Frame and Construction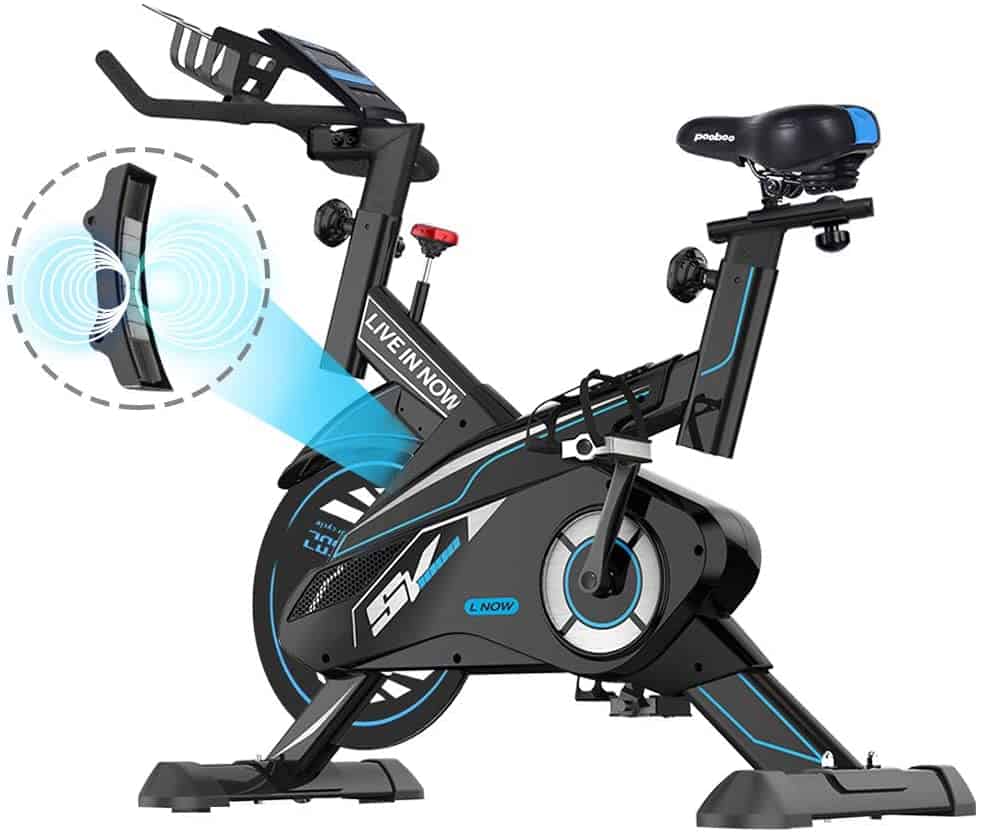 The L NOW 582 (S2) Indoor Exercise Bike has one of the sturdiest steel frames. It has an X-shape design and a 50mm thick frame. This supports a maximum user weight capacity of 300 lbs./136 kg.
The safety and cosmetic parts of the bike, such as the belt drive shrouds are made of ABS material.
Users enjoy optimum stability even during an intense workout due to the base framework that features front and rear steel stabilizer bars with adjustable levelers. This means they can adjust and balance the bike on a surface that is not even.
Although, the use of a rubber mat might be a good idea to prevent making a hole on the rug carpet by the footprints. This also prevents sweat from spilling all over the floor during workouts.
Moreover, even though it is a lightweight bike that only weighs 92 lbs./41.7 kg it still enhances its overall stability.
The assembled dimensions are 51.2'' long by 21.9'' wide by 48.9'' high. Differently put, the bike needs a workout area with a perimeters of 4'3'' length by 1'9'' width. However, an additional 1-2′ around it will be necessary for safety and easy access purposes.
The Seat of the L NOW 582 (S2) Indoor Exercise Bike
The seat on this bike is large, generously cushioned, and covered with vinyl material. It is soft and has a groove in the middle of it for air permeability and comfort that lasts through a prolonged workout.
There are 2 springs underneath the seat that ensure the user's movement adherence when exercising.
However, if for any reason you wish to improve the seat's comfortability, you may use a gel seat cover or even have it swapped for another saddle of your choice. Its connection mechanism is standard; thus, options are widely available in the local bicycle shop or online.
The seat is 4-way adjustable; meaning it can be adjusted vertically (upward/downward) and horizontally (fore/aft). As a result, users with inseams of 22.5'' min.-35.4'' max can conveniently be accommodated.
Differently put, the bike can be utilized by individuals that are up to 6'3'' tall.
Handlebar
The L NOW 582 (S2) Indoor Exercise Bike has a multi-grip handlebar that is coated with soft rubber foam. It provides lasting comfort that prevents slippage and blisters in the palms.
There are grip positions that allow you to train in different postures giving you the opportunity to ride while seated, or standing.
The handlebar does not integrate EKG HR sensors, but it does have a multipurpose holder for a tablet and water bottle placement.
However, the absence of the EKG HR sensors means you won't be able to keep track of your heart rate except you use an external HR monitoring device.
The handlebar is 2- way adjustable; it can be adjusted vertically (upward/downward) to several positions. This complements the seat's adjustability so that users can find a suitable workout position.
The Pedals
This unit comes with a set of toe-caged pedals with adjustable safety straps that allow different foot sizes and standard gym shoes. They are self-leveling and are sturdy enough to support stand-up pedaling for those within the stipulated maximum user weight capacity.
They secure the feet optimally and prevent slippage during workouts. Differently put, you will experience stable footing for aggressive thrust.
The Drive
The L NOW 582 (S2) Indoor Exercise Bike is incorporated with a belt drive system. This consists of a durable belt, solid cranks, pulleys, the high inertia flywheel, and pedals.
Its operation is smooth and quiet and it doesn't need post lubrication or adjustment as opposed to a chain drive system.
This means you can work out with the bike without the apprehension that the family or the neighbors will be drawn to your activities. Moreover, no need to take the drive's shrouds apart to lubricate any internal element.
The drive is bi-directional; meaning you can also pedal in reverse to diversify and tone more muscle groups.
The Resistance
The L NOW 582 (S2) is equipped with a smooth magnetic resistance system that has infinite adjustability. It has internal elements that comprise a magnetic brake pad, the flywheel, and the tension knob.
No friction occurs during the process of generating resistance because the magnetic brake pad emits magnetic fields around the flywheel to create resistance without contact.
To increase or decrease the resistance intensity, simply turn the tension knob that is designated at the mainframe tubing clockwise or counterclockwise, respectively, or push it down for an emergency brake that abruptly stops the flywheel from spinning.
Using the emergency brake becomes important when you wish to take a break from pedaling since the flywheel and the pedals are fixed, hence, they spin together.
The flywheel's weight is not specified, but it is presumably around 35 lbs./15.8 kg. Thus, the bike's operation is vibration-free, smooth, and quiet even when the resistance is applied.
The resistance system provides a range of workout intensities that help the users to attain their fitness goals, such as losing weight, muscle toning, improvement of heart and lungs' health, and more.
The Console
This unit has a console that features a nonbacklit LCD monitor that tracks workout progress such as Time, Speed, Distance, Odometer, and Calories-Burned.
It has a SCAN Function that rotationally switches and displays the workout values one at a time after every few seconds because the screen can't display them simultaneously. Although, if you wish to constantly view a certain workout stat, you can override it and set it up.
The workout stats are displayed with good readability; however, they may be compromised when viewed in a poorly-lit room due to the fact the monitor is not backlit.
The console is powered by 2 AAA batteries (not included).
To save the batteries' power and prolong the life span, the monitor automatically turns OFF when there is no signal (activity) and it automatically turns ON when the signal returns. You can also turn it ON/OFF manually by pressing any of the keys on the console.
There are 3 easy-to-use navigation keys that include Reset, Mode, and Set.
The console is basic; it is not telemetry-enabled, has no Bluetooth connectivity, no preset workout programs, and no sound system.
Accessory
The L NOW 582 (S2) Indoor Bike has a multipurpose holder that enables you to keep a water bottle, and a smartphone, a tablet, or a magazine for hydration and entertainment purposes.
Interestingly, the monitor's view doesn't get blocked when a device is placed on the holder. In other words, you can watch a movie via a smartphone/tablet device and still be able to view the monitor concurrently.
Storage
This bike is not foldable, neither is it going to overwhelm your space. It has transport wheels at the front base that facilitate the relocation process.
Its dimensions are 51.2'' long by 21.9'' wide. Therefore, a storage area with the perimeters of 4'3'' length by 1'9'' width will be enough for it.
Pros/Features Overview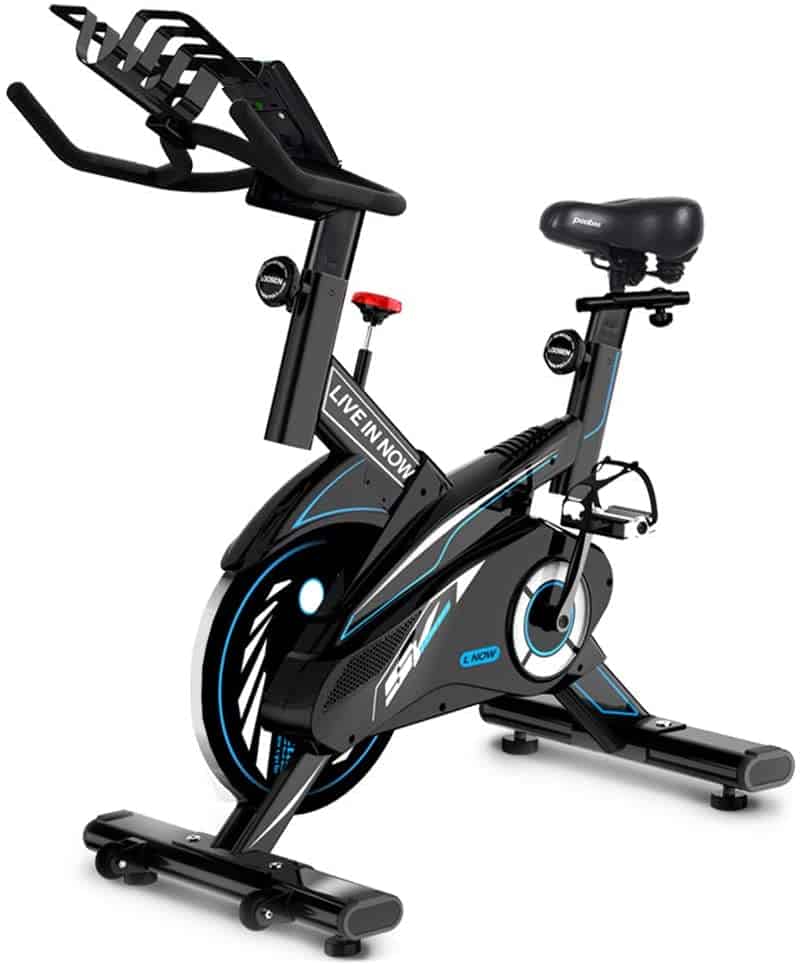 Elegantly design
50mm thick steel frame
Stable and portable
Supports maximum user weight capacity of 300 lbs./136 kg
Toe caged pedals accommodate different foot sizes and provide secure and comfortable footing
The seat is large, generously cushioned for lasting comfort
Multi-grip designed handlebar offers comfortable and secure grips for different workout postures
Customizable to accommodate users up to 6'3'' tall
Adjustable levelers allow users to balance the bike on a surface that is not even
Its belt drive system provides smooth and quiet operation
The heavy flywheel ensures smooth and consistent momentum
The manual magnetic resistance system provides a range of workout intensities that target weight loss, and the improvement of overall physical fitness
LCD monitor tracks workout progress by displaying Time, Distance, Odometer, Speed, and Calories Burned
Easy to assemble
Maintenance-free
Tablet holder included
Water bottle holder included
Cons
The monitor is not backlit
No heart rate monitoring function
Warranty
1 Year free replacement for all Parts
Product Dimensions and Specifications
Length 51.2''
Width 21.9''
Height 48.9''
Shipping dimensions: 45.6'' L x 35.4'' W x 10.3'' H
Net weight: 92 lbs./41.7 kg
Gross weight: 106 lbs./48 kg
Maximum user weight capacity: 300 lbs./136 kg
Frame: 5mm thick steel
Inseam: 22.5'' min-35.4'' max
Drive: Belt
Resistance: Manual magnetic, infinite
Seat: 4-way adjustable
Handlebar: 2-way adjustable
Pedals: Toe cages with adjustable safety straps
Console: Non backlit monitor
Tablet & water bottle holders
Transport wheels
Shipping
The L NOW 582 (S2) Indoor Exercise Bike is shipped out in a box that weighs 106 lbs./48 kg with dimensions of 45.6'' L x 35.4'' W x 10.3'' H.
The shipping cost depends on whom you are buying from. However, Amazon ships this product for free and gets it delivered in a couple of days.
Assembly
The indoor bike is easy and straightforward to assemble.
Upon delivery, you need to move the package to the room where it's intended to be used. Unpack it and attach the base stabilizers, the seat/handlebar posts, the seat, the handlebar, the pedals, and the console to the core unit.
You can completely assemble it in less than an hour.
The tools needed for the assembly and an instruction manual are included in the package.
Maintenance
The bike needs to be kept clean at all times. Do not expose the console to liquid, moisture, or direct sunlight.
Inspect it before use to ensure that every part is tight and good.
Conclusion
The L NOW 582 (S2) Indoor Exercise Bike is for home use and it's equipped to help users to accomplish their fitness goals.
It is a belt-driven bike that has a magnetic resistance system; these combined, provide outstanding and productive workouts.