The ANCHEER EM530 Magnetic Elliptical Trainer is upgraded in 2021 to connect to Qiber workout app for motivation and a fun workout experience.
It offers decent full-body and low-impact cardio workouts for weight loss and improvement of overall physical fitness.
It is the best and the improved version of the ANCHEER Elliptical Trainer.
Click right here to have a peek at the best price of the ANCHEER EM530 Magnetic Elliptical Trainer on Amazon.
The Frame & Construction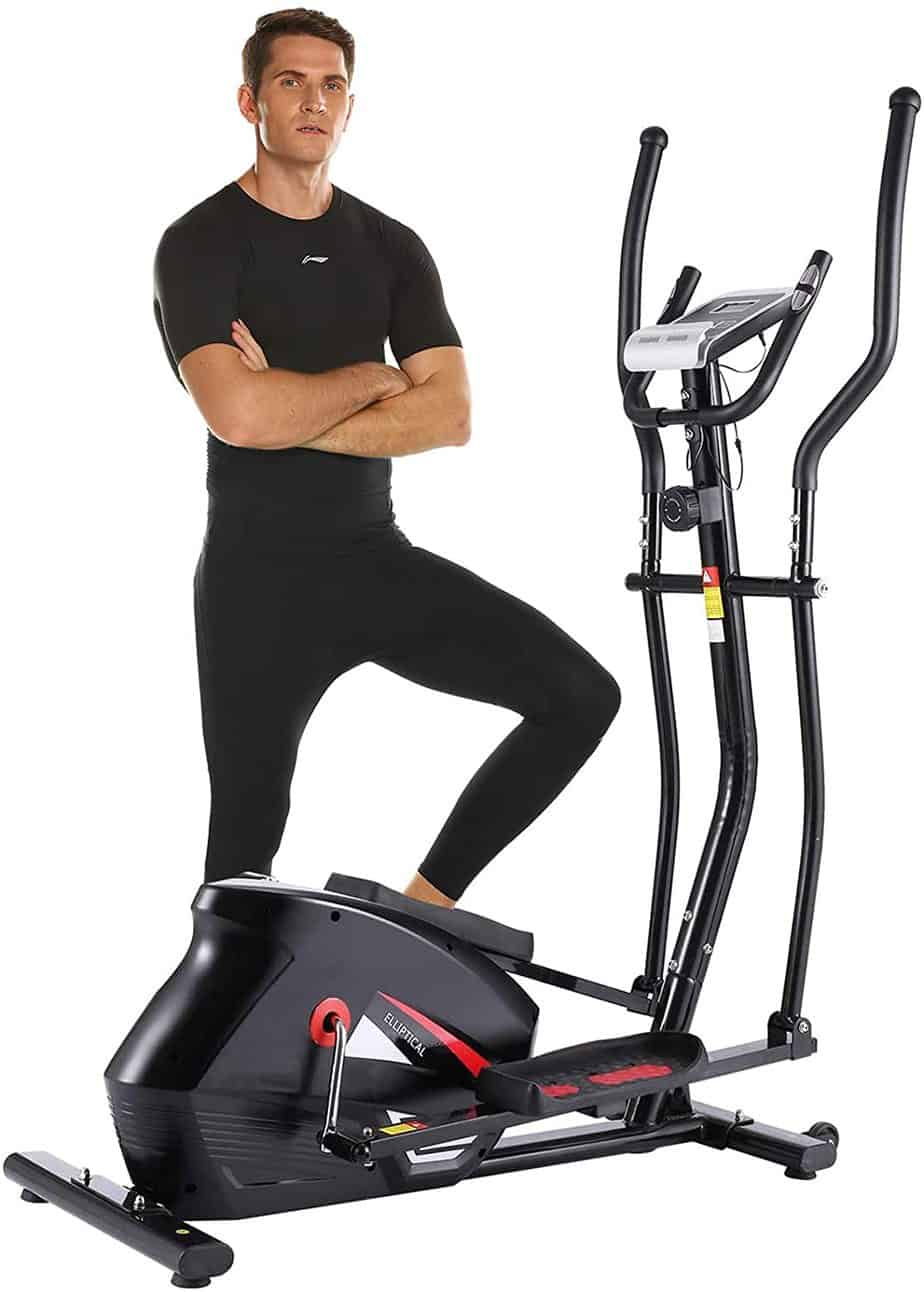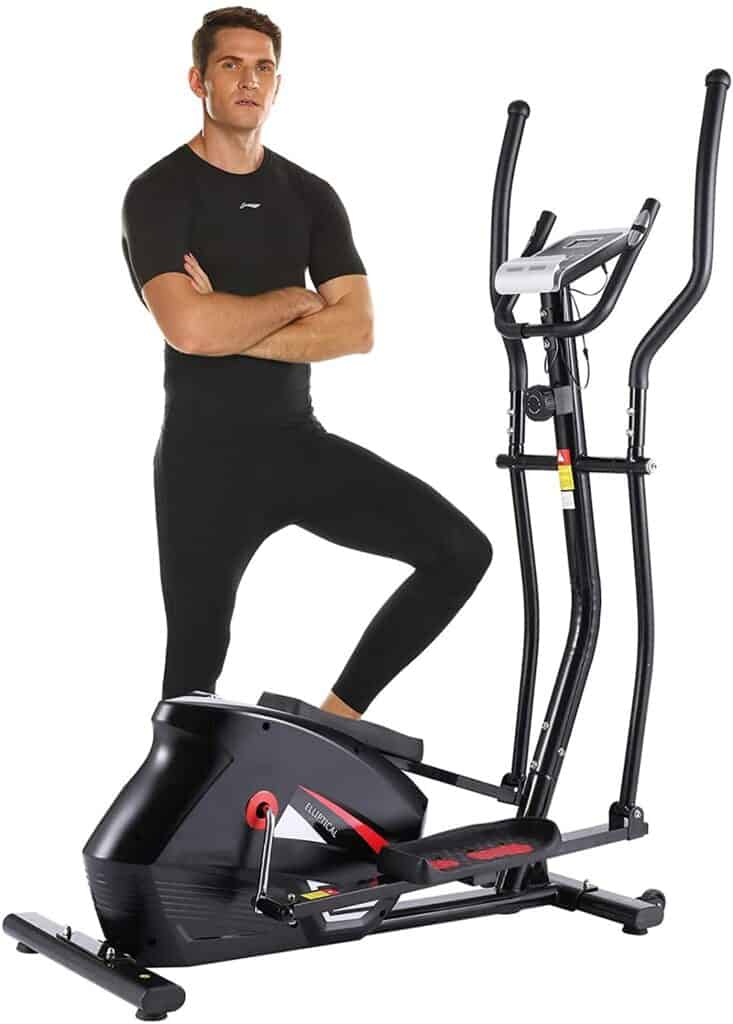 This elliptical trainer mainly comprises steel and an ABS material.
In other words, the frame is made of anti-corrosion steel, and the drive/resistance system's covers and the pedals are made of ABS.
This model comes in 2 different frame colors that include black and silver.
It supports 390 lbs./177 kg maximum user weight capacity.
Its stability during workouts is good due to the strong suction stabilizers that improve traction, especially when used on a wooden, concrete, or tiled floor.
Moreover, its overall assembled weight of 77 lbs./40 kg keeps it stable as well.
There are transport wheels at the front base for moving it around the room or apartment.
Its assembled dimensions are 47'' long by 24'' wide by 60'' high.
Consequently, it requires a workout area with perimeters of 3'92'' length by 2'' width.
Also, an additional 2' clearance is recommended around it to enable you workout freely and safely.
The step-up and maximum heights of the pedals are not specified, but a room with a ceiling height of at least 7' should be fine for users.
The Handlebars of the ANCHEER EM530 Magnetic Elliptical Trainer
The ANCHEER EM530 has fixed and moveable handlebars.
The fixed handlebars are those that integrate HR sensors and are attached to the mast. They are static and so provide support during workouts especially when you don't wish to engage the upper body in exercise.
You can also monitor your target heart rate zone when they are grasped during a workout.
The moveable handlebars on the other hand are dual-action. They move back and forth so that your arms, back, shoulders, and core muscle groups are engaged.
However, they do not have HR sensors on them as opposed to the static handles.
The 2 sets of handlebars are covered with anti-slip rubber foam that ensures firm and comfortable grips are achieved. So, you can work out as long as you want without feeling sore in the palms or slippage.
The pedals
The large pedals have an anti-slip surface that provides traction for maximum foot stability.
They are made of durable plastic and are attached to metallic bars.
The pedals' dimensions are 15'' long by 5.6'' wide by 2'' thick, and as a result, most foot sizes can be accommodated.
Also, they are ergonomically engineered to provide up to 15'' stride length which is a mile stone for an elliptical machine of this category.
Even GOELLIPTICAL V-450T Cross Elliptical Trainer has 17'' stride length.
So, you can train without having your stride restricted.
The Drive
The ANCHEER EM530 Magnetic Elliptical Trainer is a rear-drive machine that comprises an anti-stretch belt. This is a belt drive system that is widely preferred due to its smooth and quiet operation.
It also consists of solid cranks and an 18 lbs./8.16 kg high inertia flywheel that maintains a natural feel and vibration-free motion.
Due to its silent operation, you can work out without distraction, and your family and the neighbors won't be disturbed either.
On top of that, no periodic lubrication is needed as opposed to a chain drive system.
To pedal in reverse is possible since the drive is bidirectional.
The Resistance System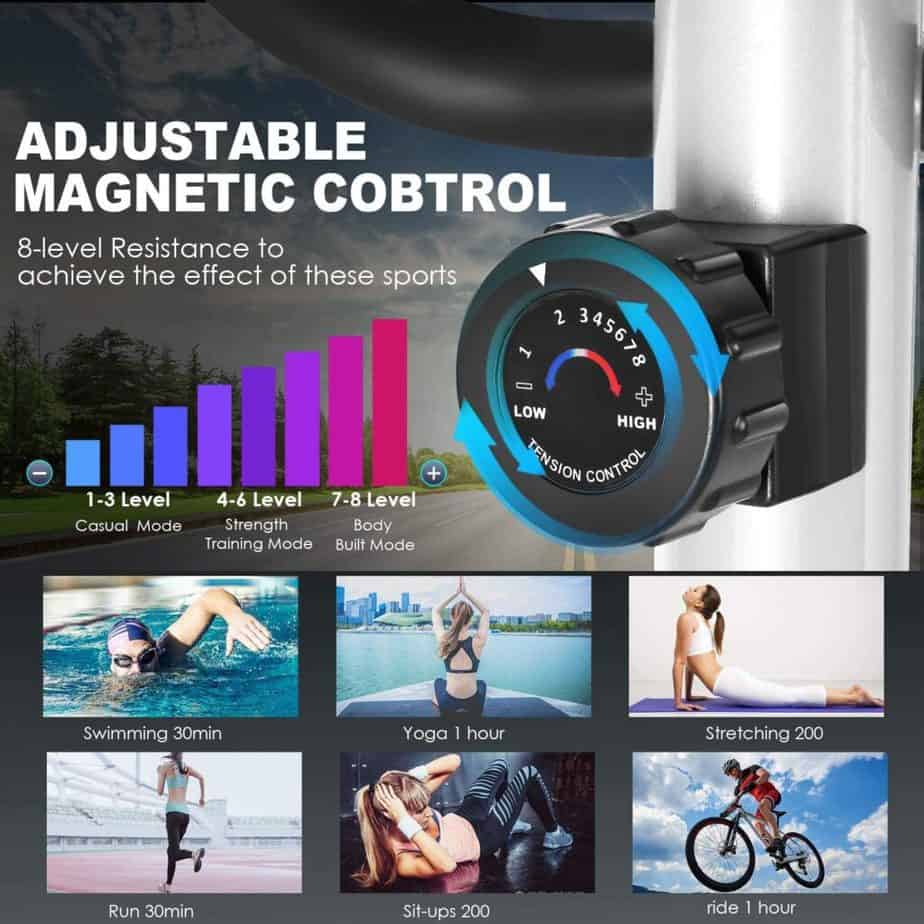 This unit is equipped with a 10-level manual magnetic resistance system. It mainly comprises a magnetic pad and the metallic 18 lbs./8.16 kg flywheel.
Resistance is generated when the large magnetic pad emits magnetic fields around the flywheel.
The level of resistance intensity depends on how close or farther the magnetic pad is to the flywheel.
Increasing and decreasing the resistance involves turning the tension knob clockwise and anticlockwise, respectively.
As aforementioned, there are 10 levels of resistance that provide different workout difficulties.
Finally, Since no friction occurs during the process of generating resistance, no part wears out.
The Console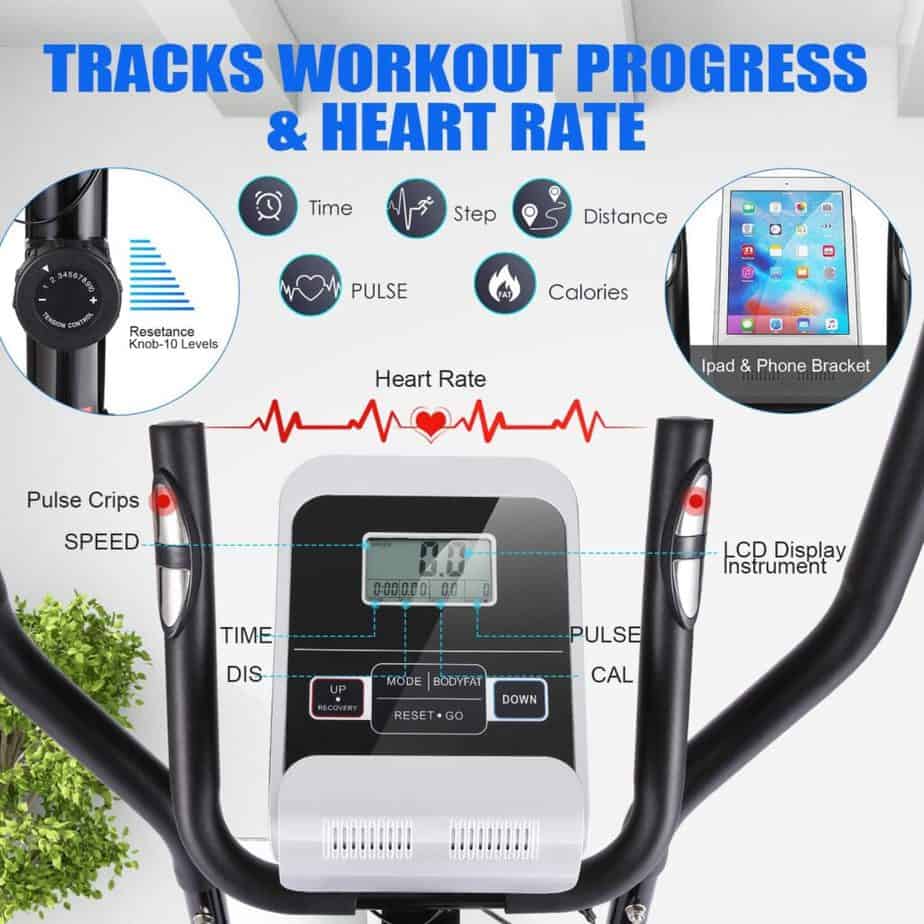 The console on the ANCHEER EM530 Magnetic Elliptical Trainer features an LCD monitor that tracks your workout progress.
It displays workout stats such as Time, Distance, Speed, Calories, and Pulse.
Its SCAN function displays them one at a time after every few seconds.
However, the LCD monitor is non-backlit, as a result, viewing it in a poorly-lit room might be problematic.
One feature that makes this trainer's console stand out is its ability to connect to the Qiber workout app. It is compatible with Android & iOS-based smartphones.
Once connected, you will be able to track and record your workouts through the use of your phone device. There is also the possibility to exercise in a virtual 3D terrain and compete with others as well.
Although, some users have complained that the app has a poor user interface, and they were unable to sync it with their devices via Bluetooth.
The app measures Speed and Distance in km/h and km, respectively, and this seems to be a deal-breaker for some American users.
The monitor is powered by batteries.
Accessory
The console has a built-in tablet holder for smartphone placement. This helps you to keep your device handy and in a viewable position when using the workout app or simply watching a movie or streaming music.
As for a water bottle holder, it doesn't have one. You will have to improvise to maintain proper hydration during workout sessions.
Storage
The ANCHEER EM530 Magnetic Elliptical Trainer doesn't take much space because it is compact. Its dimensions are 47'' long by 24'' wide by 60'' high, which makes a storage area with perimeters of 3'92'' length by 2' width to be accommodative.
There are transport wheels at the front base for an easy relocation process.
Just pull the static handlebars towards you while standing in front of the unit and roll it away.
Pros/Features Overview
Designed for full-body and low impact cardio exercises
It is sturdy and stable
Supports a high user weight capacity of 390 lbs./150 kg
Compact and portable
It has ergonomically designed large and textured pedals that provide secure foot placement and can accommodate different foot sizes
15'' stride length
The fixed and dual-action handlebars are cushioned
Contact grips for heart rate monitoring
The monitor tracks Time, Distance, Speed, Calories, and Pulse
Qider workout app + virtual 3D compatible
10-level magnetic resistance system offers different workout difficulties
18 lbs./8.16 kg high inertia flywheel maintains consistent momentum
Not difficult to assemble
The maintenance required is low
A tablet holder is included
Cons
The Qiber app may not entirely be easy to connect or operate
No water bottle holder
The LCD monitor does not have a backlight
Warranty
1 Year free parts replacement
Product Dimensions & Specifications
Length: 47''
Width: 24''
Height: 60''
Net weight: 77 lbs./34.93 kg
Maximum user weight capacity: 390 lbs./150 kg
Frame: Steel
Drive: Belt
Resistance: 10-level manual magnetic resistance system
Handlebars: Fixed & Dual-action
Pedals: Textured and large with dimensions of 15'' long by 5.6'' wide by 2'' thick
Qiber app with 3D virtual game training
Flywheel: 18 lbs./8.16 kg
Stride length: 15''
Transport wheels: Yes
Tablet holder: Yes
Water bottle holder: No
Shipping
This elliptical machine ships in a box, and the delivery takes a couple of days.
Amazon may offer free-shipping…they usually do.
Assembly
The assembly of the ANCHEER EM530 Magnetic Elliptical Trainer is similar to any other standard elliptical trainer.
It arrives with the drive/resistance system already preassembled.
Therefore, there are only a few parts to be attached to the core unit, such as the rear and front stabilizer bars, the handlebars, the pedals, the mast, and the console.
An assembly video and tools are included in the package for easy and successful assembly.
It may take an hour, more or less (depending on your ability to work with your hands), to complete this process.
Maintenance
The maintenance of the ANCHEER EM530, for the most part, involves keeping it clean after every workout session, and also ensuring that the parts are tight and in good condition before the commencement of workouts.
Store it in a cool, dry, and clean environment.
Conclusion
The ANCHEER EM530 Magnetic Elliptical Trainer is designed for home use. It provides workouts that burn calories and engage muscle groups such as the arms, the shoulders, the core, glutes, quads, and calves.
It supports 390 lbs./150 kg maximum user weight and has a manual magnetic resistance system with 10 adjustable levels.
Its operation is smooth and quiet, thanks to its belt drive system.