The Sunny Health & Fitness Asuna Sprinter 6100 Cycling Bike is a rear-drive indoor exercise machine just like the Asuna Lancer 7130.
Although, it has a digital monitor while the Asuna Lancer doesn't.
It is a lot similar to Keiser Indoor Cycling Bike in terms of features and structural design.
Click right here to have a peek at the best price of the Sunny Health & Fitness Asuna Sprinter 6100 Cycling Bike on Amazon.
The Frame & Construction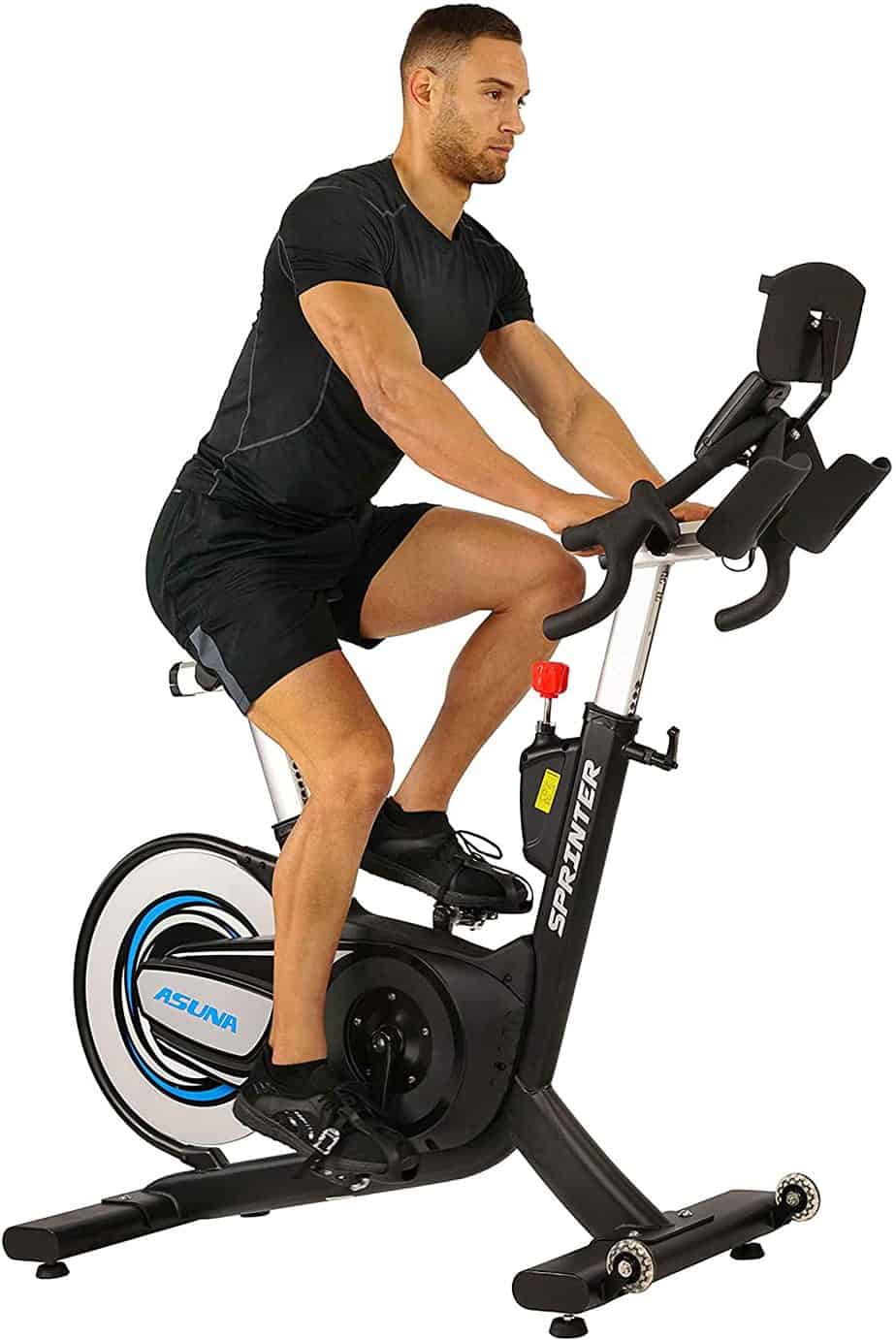 The Sunny Health & Fitness Asuna Sprinter 6100 Cycling Bike has a sturdy structure that features an anti-rust coated steel frame.
Its drive train covers and the tablet holder are made of durable plastic.
The base has rectangular steel stabilizers with adjustable rubberized levelers for outstanding stability.
Users up to 350 lbs./158.7 kg can exercise with the bike without any stability issue, not even when they pedal vigorously. Moreover, its assembled weight of 127 lbs./57.6 kg further enhances its overall stability.
That said, the use of a protective rubber mat improves floor-friendliness and prevents sweat from spilling over the floor during a workout.
Despite the bike's weight, you can easily move it from one location to another in a room through the front-mounted transport wheels.
Its assembled dimensions are 58.5'' long by 22'' wide by 53.5'' high.
Therefore, an area with perimeters of 4'87'' length by 1'83'' width is needed for workouts. Although, an additional clearance of 2' around it is recommended for safety and easy access.
A ceiling height of at least 7' should be safe for an unhindered workout experience that includes stand-up pedaling.
The Seat of the Sunny Health & Fitness Asuna Sprinter 6100 Cycling Bike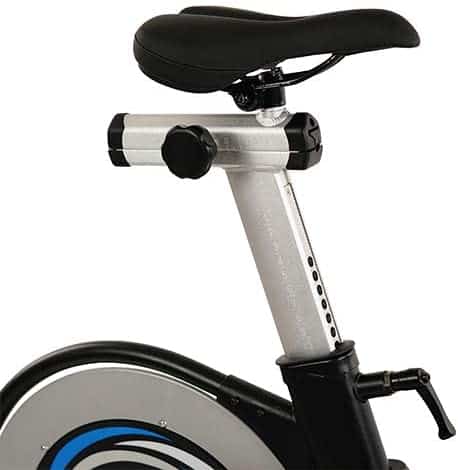 The seat is long and flat by design and has a groove across the surface for air permeability.
The dimensions are 10.5'' long by 6.5'' wide by 2.5'' thick.
Thus, it provides a decent level of comfort during workouts. However, most users may likely use a gel seat cover on it or even replace it completely with a better option to improve comfort.
It is 4-way adjustable; meaning, it could be adjusted vertically (upward/downward) and horizontally (fore/aft).
The vertical adjustment has several positions that allow users of different heights (28"-38") to fit in, while the horizontal adjustment creates a 17"-23" distance between the seat and the handlebar.
The Handlebar
The handlebar is also 4-way adjustable just like the seat, and it makes the bike super customizable.
Users can adjust both the seat and the handlebar as they see fit for perfect accommodation.
You can quickly make the necessary adjustments to the seat and handlebar within seconds through the levers and knobs.
The ergonomically designed handlebar has multiple grips that include bull horns and drop-downs.
These different grips allow you to exercise in different postures that could have a great and positive impact on the body, so much that you can lose tons of calories and at the same time tone muscle groups.
Moreover, the handlebars are cushioned with soft anti-slip rubber foam material for secure and comfortable grips.
Therefore, no matter how long or frequent your workouts are, you won't experience slippage or blisters in the palm.
However, there are no contact grips for tracking the heart rate.
Nevertheless, the console is telemetric, and a wireless HR chest strap is included in the package.
Pedals
The pedals are dual-sided.
To put it differently, they have toe cages with adjustable safety straps, while on the flip side are clip-in SPD for special spin shoes.
There will hardly be a reason to have them replaced. But if you ever have to, you can because they have a standard 9/16'' thread. Therefore, alternatives are widely available both online and in a local bicycle shop.
The pedals and the cranks are strong and reliable to support an out-of-seat pedaling of a user that is up to 350 lbs./158.7 kg.
Finally, the Q-factor (distance between them) is 176 mm/6.92''.
This is narrow enough to provide good alignment of the thighs, the knees, and the ankles when pedaling. So, you will be able to exercise comfortably and longer without feeling awkward and stressed in the ankles.
The Drive
The Sunny Health & Fitness Asuna Sprinter 6100 Cycling Bike is a rear-driven machine with a drive train that includes a durable poly –V-belt, a solid crankset, Crank-arms, and a 37-lb/16.78 kg perimeter weighted flywheel.
Consequently, its operation is smooth and quiet, with a seamless motion that is vibration-free. Thus, you can exercise basically anywhere and whenever you want without disturbing those around you.
If you choose to watch a TV show or listen to music while exercising, you can without any noise interference from the bike.
As opposed to a chain drive system, this does not require periodic maintenance such as lubrication.
In a nutshell, the benefit of a belt drive system such as this is that it is smooth and quiet during operation and doesn't require any maintenance.
Since a user cannot coast on the bike, this means that the drive is fixed. In other words, the implication is that you can pedal in reverse but cannot coast as you could on a road bicycle because the pedals spin as long as the flywheel spins.
So for safety reasons, always apply the emergency brake by pushing the tension knob down whenever you wish to quickly stop pedaling.
The Resistance
The Sunny Health & Fitness Asuna Sprinter 6100 Cycling Bike is equipped with a manual magnetic resistance system. It comprises a magnetic brake that is connected to the control tension knob sitting on the mainframe tubing through a cable.
Upon dialing the tension knob clockwise or counterclockwise, the magnetic brake that is close to the flywheel shifts either way thereby increasing or decreasing the level of magnetic fields released around the flywheel.
Hence, your workout becomes challenging or less challenging depending on the resistance level you adjusted to.
There are no numeric or click predefined resistance levels. However, it does have 10 full resistance adjustment revolutions.
Interestingly, none of the resistance system elements make any direct contact, thus, preventing wear and tear that may occur during the process of generating resistance.
As a result, no part needs to be replaced after some time, and no maintenance is required. The bike's operation also remains smooth and quiet no matter the level of resistance being used during a workout.
The highest level of resistance does provide a challenging uphill climbing experience.
The Console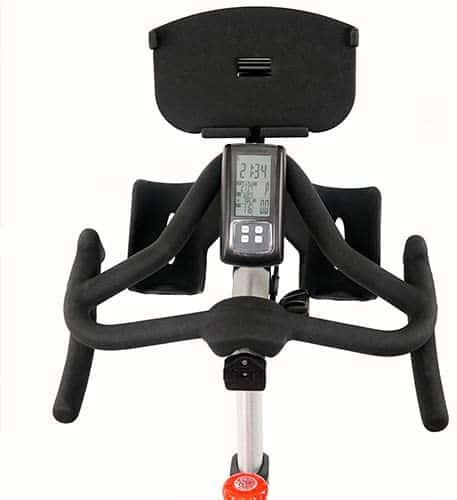 The Console on the Sunny Health & Fitness Asuna Sprinter 6100 Cycling Bike is rectangular in shape and vertically positioned on the aero bar area.
As aforementioned, it has several display subsections that track and monitor workout data such as Time, Distance, Speed, RPM, Calories, and Pulse simultaneously.
If the SCAN function is enabled, the upper section of the monitor displays workout metrics one at a time after every few seconds.
Remember, you can only track your pulse if the included wireless HR chest strap is worn during a workout because the console is telemetry-enabled. Its reading is a lot more accurate than contact grips.
Speed and Distance measurement units are in km/h or mph, and miles or km, respectively.
Since the LCD monitor is not backlit, then it must be viewed in an environment that is adequately lit, otherwise, it may be difficult to read.
The console features other interesting features such as a goal-setting (count-down goal) for Time, Distance, and Calories.
There is also a Recovery Function that calculates and displays the heart health status at the end of a workout. The result is usually between F1 (excellent) and F6 (poor).
The monitor is powered by 2 AAA batteries which are included in the package. Therefore, the bike does not need to be plugged into a power outlet to be functional.
You can easily Set, Reset, and Select a function on the console through the 4 navigation buttons. The owner's manual includes details of how to operate them.
Accessory
There is a couple of extras integrated into this indoor cycling bike. These include the tablet holder and water bottle holders designated on the handlebar.
They are designed to allow you to keep a smartphone device and water bottles handy for entertainment and hydration maintenance purposes.
Storage
The Sunny Health & Fitness Asuna Sprinter 6100 Cycling Bike is larger than most indoor cycling bikes. Nevertheless, it doesn't need a large space for storage.
An area with perimeters of 4'87'' length by 1'83'' width will suffice, and there are transport wheels at the front base for an easy relocation process.
Pros/Features Overview
It has a robust commercial construction
Supports a maximum user weight capacity of 350 lbs./158.7 kg
It is portable and very stable with adjustable floor levelers
Smooth and quiet operation due to its belt drive/magnetic resistance system
It has a micro-adjustability (both the handlebar & the seat are 4-way adjustable)
Users whose inseam ranges from 28''-38'' fit in
No parts wear out and no periodic lubrication is required
The pedals are dual-sided; meaning they are toe caged with adjustable straps and clip-in for special spinning shoes
Q-factor is 176 mm/6.92''; this makes the hips, the knees, and the ankles, and feet to be in alignment
The resistance system offers 10 different range of workout intensities that include up-hill climbing
Heavy 37 lbs./16.7 kg perimeter weighted flywheel provides a feeling of riding a real road bike
The LCD monitor tracks workout data such as Time, Distance, Speed, RPM, Calories, and Pulse
The console is telemetry-enabled (HR chest strap is included)
Goal setting (count-down) for Time, Distance, and Calories
Recovery function
Tablet holder included
Water bottle holders included
Easy to assemble
Easy to maintain
Decent warranty
Cons
The monitor is non-backlit
No app connectivity
Warranty
5 Years for the Frame
180 Days for Parts and Components
Product Dimensions & Specifications
Length: 58.5''
Width: 22''
Height: 53.5''
Shipping dimensions: 46'' L x 11'' W x 34.5'' H
Net weight: 127 lbs./57.6 kg
Gross weight: 139 lbs./63.05 kg
Maximum user weight capacity: 350 lbs./158.7 kg
Frame: Steel
Flywheel: 37 lbs./16.78 kg
Drive: Belt
Resistance: Manual magnetic
Inseam: 28''-38''
Seat to handlebar distance: 17''-23''
Seat: 4-way adjustable
Handlebar: 4-way adjustable
Pedals: Dual-sided (toe cages and SPD)
Monitor: LCD with 6 segmented windows
Count-down for Time, Distance, and Calories
Recovery function
Tablet holder: Yes
Water bottle holders: Yes
Transport wheels: Yes
Shipping
The Sunny Health & Fitness Asuna Sprinter 6100 Cycling Bike arrives in a box that weighs 139 lbs./63.05 kg with dimensions of 46'' long by 11'' wide by 34.5'' high.
It gets delivered in a couple of days upon placing and completing an order.
Assembly
The assembly of this bike is not complicated. On the contrary, it is simple and straightforward because the difficult part of it has already been done by the manufacturer.
What is left to be done is to attach the stabilizers, the seat post, the seat, the handlebar post, the handlebar, the pedals, and the console. All of these may only take about an hour, more or less.
Also, an instruction manual and tools accompany the package for a successful assembly.
Maintenance
The maintenance requires keeping it clean after every workout. Examine it for any loose or broken parts before use to prevent a potential accident.
Endeavor to store it in a dry and cool area.
Conclusion
The Sunny Health & Fitness Asuna Sprinter 6100 Cycling Bike has a commercial-grade construction. It supports 350 lbs./158.7 kg maximum user weight capacity.
Users whose inseam is between 28''-38'' can fit in comfortably.
Moreover, the console is telemetric, and an HR chest strap device is included in the package.
This is a good alternative to Keiser because it is less expensive.