Some under-desk cycling bikes are affordable & recommendable. Such include the LifePro FlexCycle, the DeskCycle Exercise Bike, and others.
However, the YOSUDA YBM-1 Under Desk Cycling Bike is durable, and it is sturdily built. Yet it is one of the most affordable of them all.
If you are looking for an arms and legs exercise under-desk cycling bike, one that offers low-impact cardiovascular workouts, and easy to fit under the desk or put away, noiseless and smooth, and inexpensive, then you may want to click right here to see the best price.
The Construction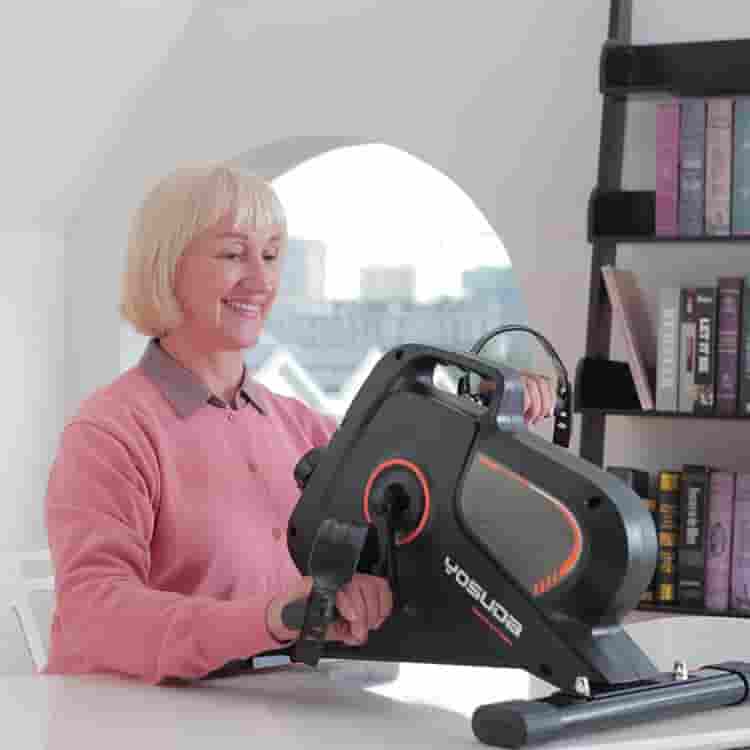 The YOSUDA YBM-1 Under Desk Cycling bike's frame is made of steel, while the coverings are made of ABS material. Thus, it is sturdy enough to support 260 lbs./118 kg maximum user weight capacity.
However, since the bike barely holds any weight (because it is ridden while seated), most individuals will be able to use it regardless of their size.
It can easily be moved around the room or apartment because it is portable and lightweight (weighs 22 lbs./10 kg).
When used, it is superlatively stable because of the stabilizers that also have anti-slip rubber pads. Therefore, you will be able to put your 100% focus on your work and not be distracted by a sliding machine while exercising with it.
That said, you may experience stability problems if you are using a higher resistance level, and especially if it is being used on a certain platform. If this happens, try placing the unit on a protective rubber mat, or put it against a wall or an object that is heavy enough to keep it from sliding.
The YOSUDA YBM-1 Under Desk Cycling Bike's dimensions are 21.26'' long by 12.29'' wide by 10.95'' high. This means space won't be a problem for usage or storage, and thus, it is perfect for a small room or an office.
The Pedals/Handles of the YOSUDA YBM-1 Under Desk Cycling Bike
The pedals of the YOSUDA YBM-1 Under Desk Cycling Bike are made of durable plastic with a metallic core. They have a ribbed surface and adjustable safety straps that keep your feet nice and secure.
They are attached to solid cranks and reinforced by extra screws to ensure that they stay tight.
Interestingly, you will not only be able to pedal with your legs, but also with your arms for the upper body effect.
These pedals are designed to be ridden with any type of shoes.
The Drive
This under-desk cycle bike has a belt drive system that operates smoothly and quietly. It consists of a belt, a perimeter weighted flywheel that weighs 5 lbs./2.26 kg, a pulley, and a solid crankset, and crank-arms.
This also means that the operation is vibration-free, and it doesn't require post or periodic maintenance.
This is the reason why folks prefer belt-driven bikes over chain-driven ones.
With an under-desk cycle bike like this, you can turn your sedentary lifestyle into an active one without your desk work suffering.
It is possible to sit in an online conference actively working out without anyone noticing, and neither is anyone around you going to be bothered by what you do as well. Moreover, watching your favorite TV show while seated on a couch exercising is completely possible.
The drive system is bidirectional; thus, you can pedal in reverse for workout diversity. Doing so engages additional muscle groups.
The Resistance System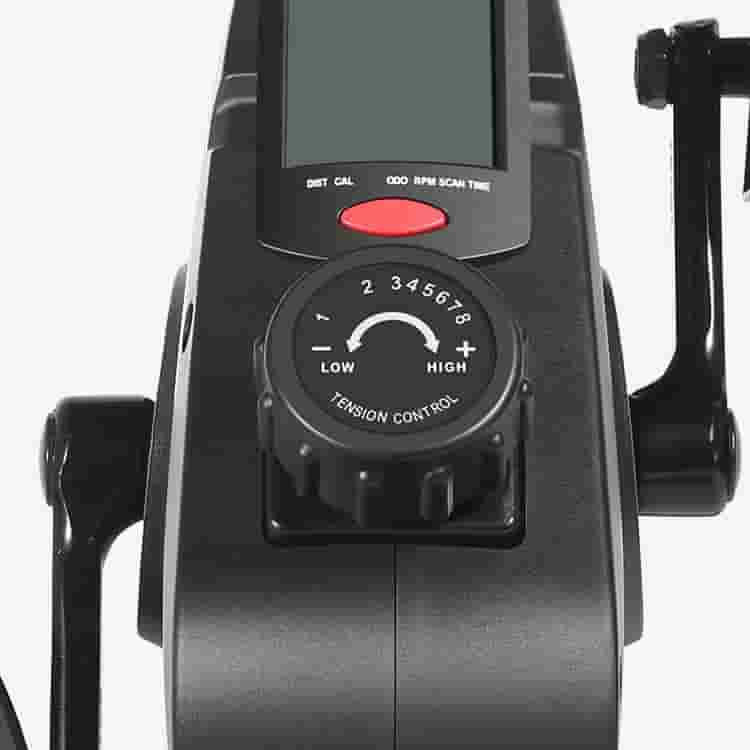 The YOSUDA YBM-1 Under Desk Cycling Bike is equipped with a manual magnetic resistance system with 8 adjustable levels.
The combination of this and the belt drive system make the unit consistently and reliably smooth and quiet (below 20 dB) no matter your workout style.
The elements included in the resistance system are a high-quality samarium cobalt magnetic brake, a flywheel, and a tension knob.
Resistance is generated when the magnetic brake transits and emits magnetic fields around the metallic flywheel upon adjusting the tension knob. To increase or decrease the resistance level simply turn the tension knob clockwise or counterclockwise, respectively.
So, there are 8 adjustable levels that provide a variety of workout difficulties. They are good for those that work a lot behind the desk for blood circulation and muscle group toning. Also, they are great for the elderly and those recovering from an injury or undergoing rehabilitation.
The Console
The console on the YOSUDA YBM-1 Under Desk Cycling Bike features an LCD monitor that tracks workout stats such as Time, Distance, Speed, and Calories.
There is a SCAN function that displays and switches the metrics one at a time after every few seconds because they can't be displayed simultaneously. Although, if you want, you can set a preferred workout metric to display constantly without switching.
The Speed and Distance measurement units are mph and miles, respectively.
The display is bold and easy to read. However, it is non-backlit, therefore, its visibility may be compromised if viewed in a room with poor lighting.
The monitor is battery-powered; thus, it requires 2 AA batteries (included) to power on.
Interestingly, it automatically shuts down when there is no activity on the machine for about 4 minutes, and it automatically turns on when the activity resumes ( i.e when you start pedaling or when the button is pressed).
Other than these, the console is pretty basic but has enough to keep you motivated.
Expectedly, no heart rate monitoring capability, goal setting, or online connectivity.
Accessory
There are no extras included,
Storage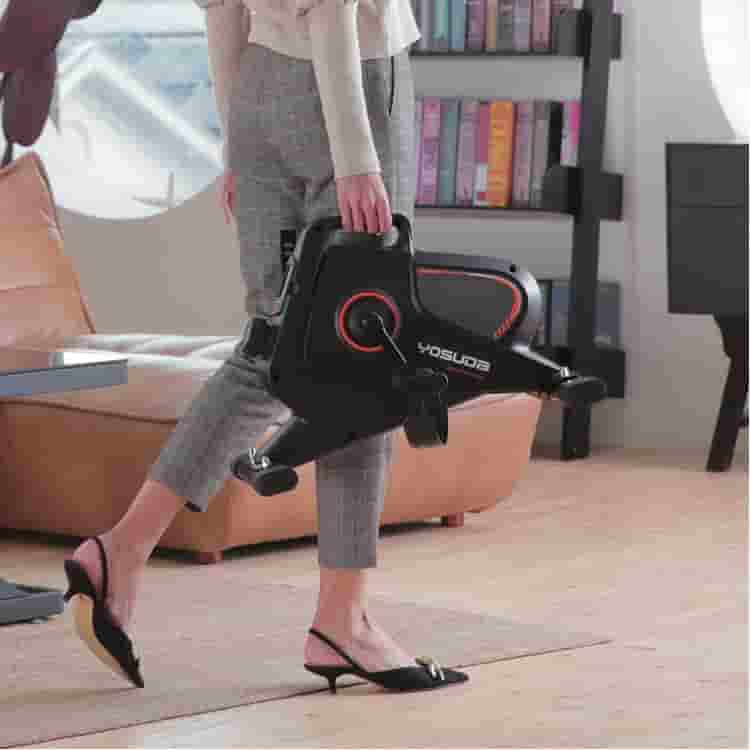 Putting this machine away after usage is easy and convenient because it is portable and compact with a handle for easy carriage.
It could be stored in the corner of the room, under a desk, or in a closet and out of sight.
Any adult can carry it around since it only weighs 22 lbs./10 kg.
Approval Rating
Many review sites, including the YOSUDA website, have several positive reviews that were written by real users. This simply indicates that there is a 98% chance that you will also be impressed by its functionality.
Pros/Features Overview
It is sturdy and durable
It provides smooth and quiet operation
It enables proper blood circulation and overall physical fitness improvement
It is compact and portable; doesn't take up space, and it is easy to store away
It could be used by anyone, including the elderly, and those undergoing injury recovering process
The manual magnetic resistance system offers 8 adjustable levels for different workout challenges
The LCD monitor tracks Time, Distance, Speed, and Calories
Batteries for the monitor are included
Supports a maximum user weight capacity of 260 lbs./118 kg
The pedals are textured and have adjustable strap; they are reinforced with extra screws to prevent them from falling out
No maintenance required
Assembly is easy and takes only few minutes
Tools for assembly are included
Cons
Designed only for seated workouts
No heart rate monitoring
The LCD is nonbacklit
Warranty
1 Year for Parts replacement
Product Dimensions & Specifications
Length: 21.26''
Width: 12.29''
Height: 10.95''
Shipping Dimensions: 22.5'' L x 17.2'' W x 10''
Net weight: 22 lbs./10 kg
Gross weight: 24.74 lbs./11.22 kg
Maximum user weight capacity: 260 lbs./118 kg
Frame: Steel, ABS, and Rubber
Drive: Belt
Resistance: Manual magnetic, 8 adjustable levels
Monitor: LCD with 2 AA batteries
Pedals: Textured with adjustable straps
Shipping
The YOSUDA YBM-1 Under Desk Cycling Bike is shipped in a box that weighs 24.74 lbs./11.22 kg with dimensions of 22.5'' long by 17.2'' wide by 10'' high.
Free shipping is available for all US customers.
Assembly
The unit arrives 98% assembled.
The only parts that need to be attached are the stabilizers and the pedals. This takes about 10 minutes, more or less to accomplish.
As aforementioned, the tools needed for the assembly and the instruction manual that guides you through it are included in the package.
Maintenance
It will suffice to say that this under-desk cycle bike doesn't need any maintenance. However, it needs to be kept clean after every workout session. Make sure it is stored in a cool, clean, and moisture-free area.
Before using it for a workout, check the stabilizers and the pedals to make sure that they are tight and good.
Conclusion
The YOSUDA YBM-1 Under Desk Cycling Bike is designed for home and office use. It is recommendable for anyone that works a lot behind a desk, the elderly, and injury rehabilitation.
The operation is smooth while the sound it produces is below 20 dB.
The easy-to-read LCD monitor tracks your workout progress by displaying stats such as Time, Distance, Speed, and Calories.
YOSUDA YBM-1 Under Desk Cycling Bike Review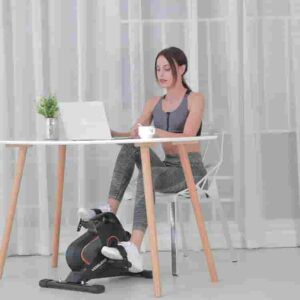 However, the YOSUDA YBM-1 Under Desk Cycling Bike is durable, and it is sturdily built. Yet it is one of the most affordable of them all.
Product Brand: Yosuda
Product In-Stock: InStock