The Vanswe Recumbent Exercise Bike is a different model from the Vanswe RB001. It is upgraded to be stronger for a better user experience.
The changes that were made include upgrading the frame from 1.5mm to 2mm for improved sturdiness and stability. The display screen was changed from LCD to LED for better readability, and the pedals' adjustable straps are redesigned to enable you to make a quick adjustment while ensuring its effectiveness in securing the feet is not compromised.
This bike is one of the few affordable recumbent bikes that offer convenient, comfortable, and effective cardiovascular workouts.
Click right here to have a peek at the best price of the Vanswe Recumbent Exercise Bike on Amazon.
The Frame and Construction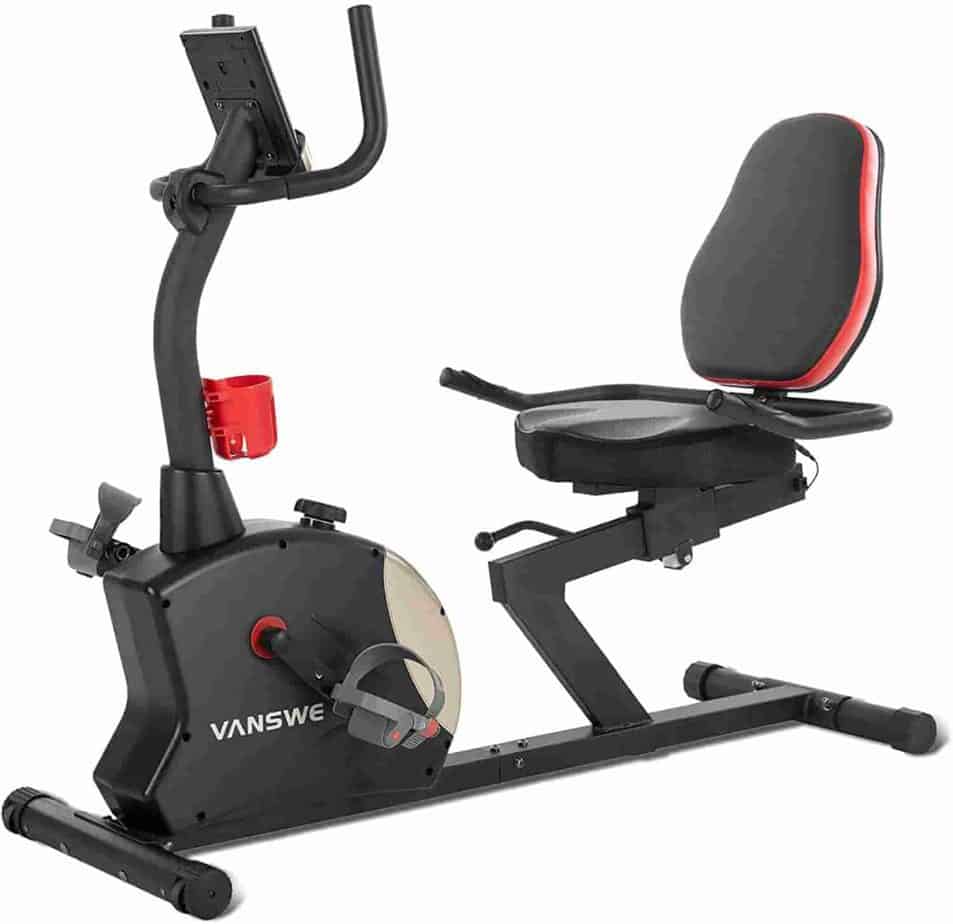 As you may have already known, Vanswe Recumbent Exercise Bike possesses a reliable thickened steel frame that is coated with anti-rust paint, while the drive/resistance system covers are made of solid plastic. This makes the bike durable, safe, and capable of supporting a maximum user weight capacity of 400 lbs./181.4 kg.
Moreover, the integrated stabilizers with polygonal adjustable rubber caps at the rear ensure that maximum and consistent stability is attained.
Although, a protective rubber mat has always been bought alongside this product to prevent floor damage and sweat spillover during workouts.
Transport wheels are incorporated to assist in the event you have to move the bike around the room or apartment.
The assembled dimensions are 51'' long by 20'' wide by 43'' high. Differently put, a space area with a measurement of 4'25'' length by 1'66'' width will be needed for workouts. Also, a 2' clearance should be added around the bike for safety and convenience.
The net weight is 70 lbs./31.75 kg.
The Seat of the Vanswe Recumbent Exercise Bike
The seat is large, cushioned, and contoured to accommodate and secure the glutes properly. The backrest is equally large to provide the support you need for proper posture and aggressive pedaling.
The dimensions of the seat are 16.9'' width by 12.6'' length, while the backrest dimensions are 16.9'' height by 14.6'' width. They are both 2'' thick.
If you wish to use an additional cushion, a gel seat cover could be purchased.
The seat is 2 way-adjustable; this means you can adjust it horizontally, backward, and forward. However, since it is attached to a slanted bar, the height also increases or decreases when the adjustment is done.
Thus, the space between the seat and the pedals varies between 28''-41'', while the floor to seat height is between 36.2''-38.4''.
So, the bike accommodates you if your inseam is between 28''-41''. In other words, users between the heights of 5'2"-6'3'' are supported.
The adjustment of the seat is easy and can be done within seconds while seated.
The Handlebars
There are 2 sets of handlebars. One set is located at the console area, and the other on the seat. They are cushioned with soft rubber foam for comfortable and secure grips.
They are non-adjustable but strategically positioned to suit users of different heights and sizes.
The handlebars on the seat have heart rate sensors integrated into them so that when grasped during a workout the user's pulse rate will be read and transmitted to the monitor for display.
The Pedals
The pedals on this bike are standard and textured. They have safety straps that can easily be adjusted to accommodate and secure different foot sizes. They are made of durable plastic with a metallic core.
Drive
The Vanswe Recumbent Exercise Bike has a belt drive system that includes a durable belt, a pulley, and a high inertia flywheel that weighs about 4.4 lbs./2 kg.
It provides a smooth and quiet ride that is void of vibration, and it is also maintenance-free.
In other words, exercising with this unit won't bother occupants in the room or apartment no matter what time of the day, and you don't have to lubricate or adjust anything at all.
Entertaining yourself while exercising, such as watching a movie or listening to music is completely doable and convenient.
You will be able to pedal in reverse as the drive system is bidirectional. Thus, you can diversify your workout and tone more muscle groups.
The Resistance System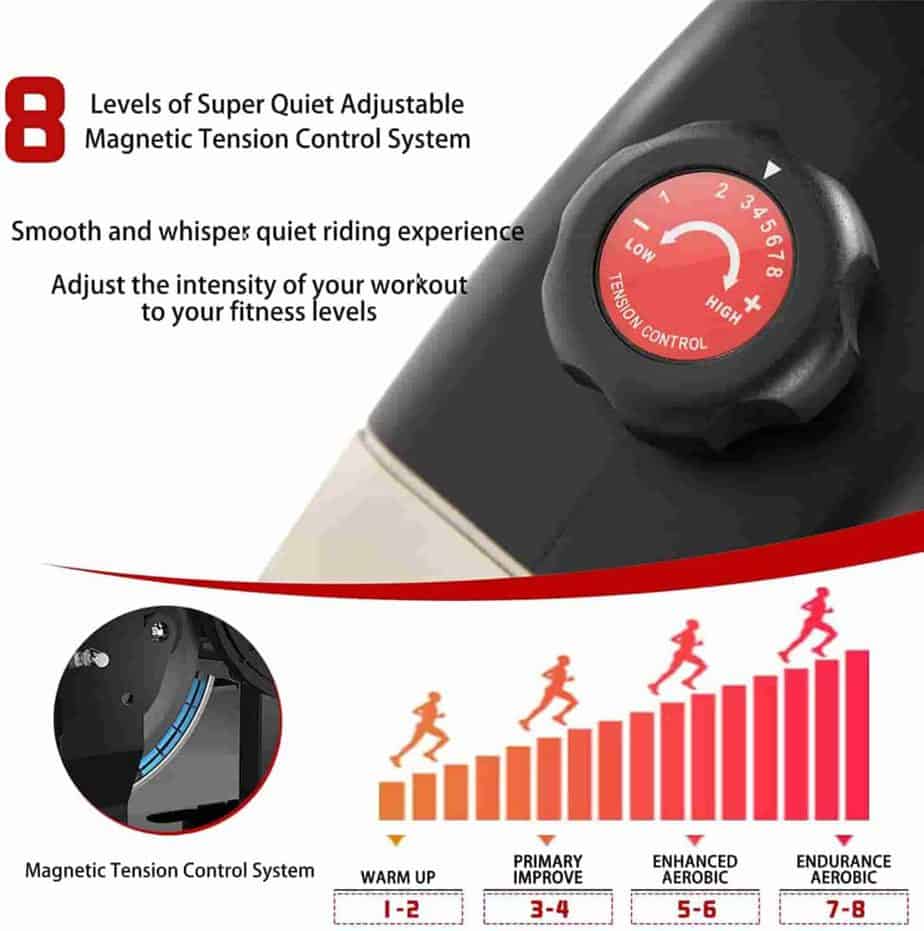 This is a magnetic resistance recumbent bike. This means it has a magnetic resistance system with 8 adjustable levels.
The resistance system does not require any power to function because it is manually adjustable. Once the tension control knob is adjusted clockwise, the magnetic brake in the system shifts close to the flywheel and emits magnetic fields that will consequently create resistance.
Since the magnetic brake pad does not make any contact with other parts during the process of generating resistance, the bike's operation remains smooth and quiet, and no part deteriorates either.
The levels of workout difficulty the resistance system provides may not be appreciated by those seeking extreme workout challenges, however, they are suitable for beginners, the elderly, those undergoing injury recovering process, and everyone else that wishes to improve their overall physical fitness.
The Console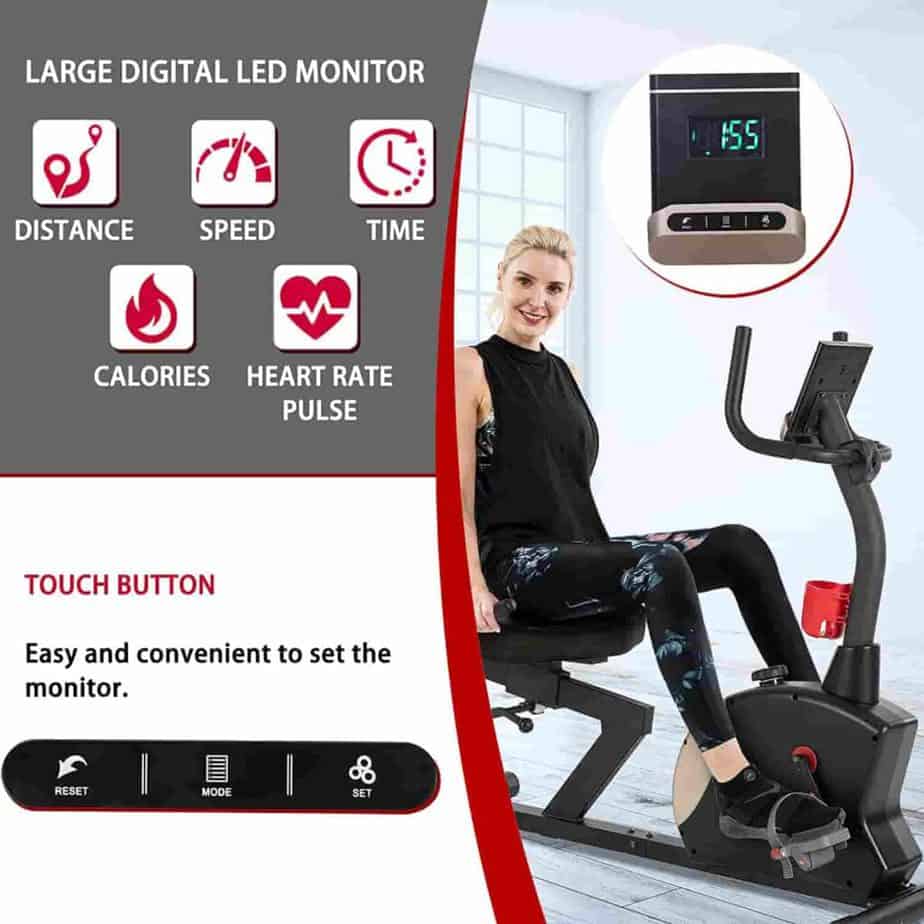 As aforementioned, the Vanswe Recumbent Exercise Bike is equipped with an upgraded console that features an LED monitor for high readability.
The display tracks workout data such as Time, Odometer, Speed, Distance, Calories Burned, and Heart Rate. These are displayed one at a time after every few seconds by the SCAN function because they can't be shown all at once.
You can override the SCAN function to set a certain workout value to displays constantly if that is what you want.
The monitor is powered by 2 AA batteries which usually last about 1 to 2 months depending on the usage.
There is Bluetooth connectivity that syncs the bike with an APP for workout progress tracking. Although, this doesn't connect with any wireless HR chest strap device. Thus, you must grasp the handlebar with heart rate sensors during a workout if you must keep an eye on your pulse rate.
You can set a target training mode for Time, Distance, or Calories. This is a way of setting a goal you wish to accomplish for an effective result.
Since the monitor is powered by batteries, it shuts down automatically when the bike is not being used to conserve power. In the same manner, it turns on when activity resumes.
The monitor is easy to use, and there are navigation keys that include Set, Reset, and Mode buttons.
Distance and Speed are measured in miles and mph, respectively.
Accessory
Tablet and water bottle holders are present on this recumbent bike. They are designed to enable you to keep a smartphone device and a water bottle handy for entertainment and maintenance of proper hydration.
Storage
Users are often concerned about space and transportability when it comes to storage.
Well, the Vanswe Recumbent Exercise Bike is not foldable but it is not that bulky either to require a large space for storage.
A storage space with a measurement of 4'25'' length by 1'66'' width will be just fine. It can be stored by the wall in a room, or in a garage. Better still, you can leave it permanently in a workout area.
There are transport wheels at the front base that enable easy transportation around the room or apartment.
Pros/Features Overview
It has a steel frame that is 2mm thick
It supports 400 lbs./181. 4 kg maximum user weight capacity
Its stability is superlative
It provides low-impact yet effective cardiovascular workouts
Customizable for users between the heights of 5'2"-6'3'' tall; it supports 28''-41'' inseams
The seat is large (with the backrest), cushioned, and comfortable
The 2 sets of handlebars are coated with anti-slip foam for secure and comfortable grips
EKG contact grips are included for heart rate reading and transmission
The pedals have textured surface with improved adjustable safety straps
The bike's operation is smooth and quiet, thanks to the belt drive and magnetic resistance systems
The manual magnetic resistance system with 8 adjustable levels provides different workout difficulties for weight loss and overall physical improvement goals
Goal setting for Time, Calories, or Distance is possible
Bluetooth connectivity
LED monitor tracks workout stats such as Time, Distance, Speed, Odometer, Calories, and Heart Rate with high readability
Maintenance requirement is minimal
Not difficult to assemble
Easy to move around in a room or apartment due to the integrated transport wheels
A tablet holder is included
A water bottle holder is included
Cons
The display screen may be covered if a device is placed on the tablet holder
Warranty
3 Years for the Frame
90 Days for Parts
Product Dimensions & Specifications
Length: 51''
Width: 20''
Height: 43''
Shipping dimensions: 34'' L x 21'' W x 13'' H
Net weight: 70 lbs./31.75 kg
Gross weight: 73 lbs./33.11 kg
Maximum user weight capacity: 400 lbs./181.4 kg
Inseam heights supported: 28''-41'' (5'2"-6'3'' users' height)
Drive: Belt
Resistance: Manual magnetic, 8 adjustable levels
Frame: 2mm thick steel
Seat: 2-way adjustable, dimensions; (seat) 16.9'' W x 12.6'' L, (backrest) 16.9'' H x 14.6'' W
Handlebars: 2 nonadjustable sets
Pedals: Simple, textured with adjustable straps
Monitor: LED
Transport wheels: Yes
Tablet holder: Yes
Water bottle holder: Yes
Shipping
The Vanswe Recumbent Exercise Bike is delivered in a box that weighs 73 lbs./33.11 kg with dimensions of 34'' long by 21'' wide by 13'' high.
The delivery takes only a couple of days. However, delivery to some countries might take longer.
Assembly
The assembling process is not complicated, but it requires you to attach a couple of parts to the core unit. Such parts include the front and rear stabilizers, the seat and the backrest, the handlebars, the front mast, the pedals, and the console.
An owner's manual is included to guide you through this process without difficulty, and hopefully, you will be able to complete the assembly in about an hour or more.
The tools needed for a successful assembly are included in the package as well.
Maintenance
Just as aforementioned, this bike is almost maintenance-free because it has got a belt drive and magnetic resistance systems.
You are only required to carry out basic maintenance that includes keeping the unit clean after every workout session.
You must also ensure that it is stored in an environment that is clean, cool, and dry.
Finally, endeavor to examine it before every workout session to be sure that every part is tight and not broken.
Conclusion
The Vanswe Recumbent Exercise Bike has garnered a lot of positive reviews on Amazon which is an indication that it is reliable and cost-effective.
Its 400 lbs./181.4 kg maximum user weight support is impressive, and the large seat & backrest, the LED monitor, and Bluetooth connectivity are deal-makers.