The YOSUDA Indoor Exercise Cycling Bike L-007 and the YOSUDA Indoor Exercise Cycling Bike L-005 share some similarities in terms of flywheel's weight and the support for higher user weight capacity. However, the L-005 is slightly higher in respect of the aforementioned features.
Either of these spin bikes should be on the list of fitness equipment you are considering adding to your home gym if you are looking forward to acquiring a stationary bike that has gym quality and performance without having to break a bank.
The YOSUDA Indoor Exercise Cycling Bike L-007 is ergonomically designed to provide quality and comfortable workouts that allow expeditious results. It is durable and sturdy enough to support hard use. and suitable for users that weigh up to 300 pounds/136 kg.
It is fully customizable because the seat could be adjusted vertically and horizontally, while the handlebar is vertically adjustable. Its friction resistance system and the heavy-duty perimeter weighted 43 pounds/20 kg guarantee a challenging and smooth workout experience.
The cycling bike is not foldable but it's compact and non-space invasive. It is transportable even though it weighs about 88 pounds/40 kg, heavier than some indoor bikes in its category, and of course an average road bicycle.
In a nutshell, it is a good and cost-effective spin bike that delivers and outperforms the cost.
Click right here to have a peek at the best price of the YOSUDA Indoor Exercise Cycling Bike L-007.
The Frame and Construction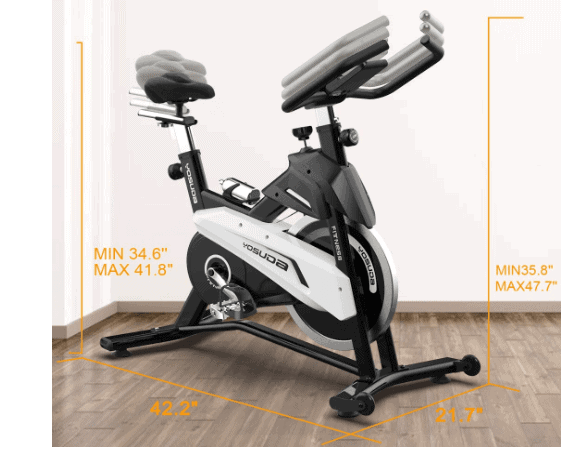 The craftsmanship demonstrated on the YOSUDA Indoor Exercise Cycling Bike L-007 makes it durable, stable, efficient, and sleek-looking. The frame is made of solid steel and coated with anti-corrosive and scratch paint that keeps it looking new for a very long time.
There are other parts made of ABS material and such parts are the brake and the belt covers. These are for cosmetic reasons; however, the belt cover essentially prevents the user's leg from getting caught up or hurt by it during workouts.
The seat and the handlebar posts are chrome finished.
Also, the water bottle holder and the toe cages are made of plastic.
The base framework features V-shaped front and rear steel stabilizer bars that have adjustable levelers on each end. The bike does not only sit well on a surface but also crooked ones because the levelers are adjusted to fit perfectly thus prevents any wobbling movement.
The levelers are rubberized; hence the base won't leave any undesirable mark on the floor. However, most users usually place the bike on a protective rubber mat that further stabilizes it and also prevents sweat from spilling on your floor.
The unit is not foldable, although it will be considered compact when compared to rowing machines or some treadmills. Its overall assembled dimensions are 42.2 inches long by 21.7 inches wide by 47.7 inches tall. Differently put, a workout area designation of 3'6'' long by 1'8'' wide and a ceiling height of at least 7' high will be required.
It is also necessary to consider adding extra clearance of at least 1'-2' on each side and the rear side of the bike for safety reasons, especially if it is going to be used in a confined area.
The fact is that spending a couple of minutes daily on the YOSUDA Indoor Exercise Cycling Bike L-007 burns more calories than riding a bicycle, running, or swimming
The Seat, the Handlebar, and the Pedals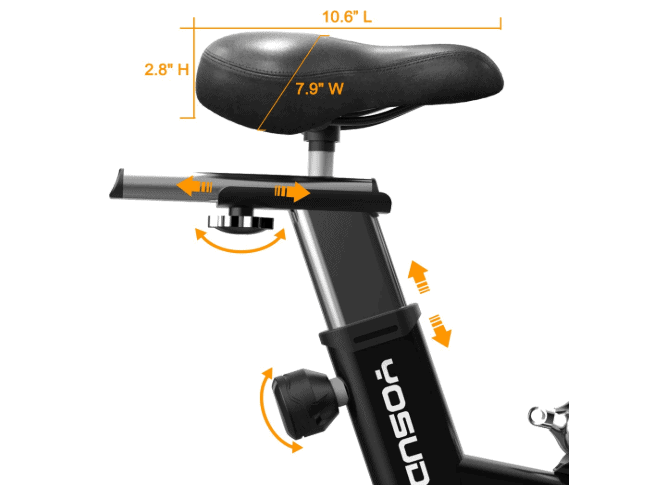 The YOSUDA Spin Bike L-007 features a comfy seat that has almost the same dimensions as the one on the Sunny Health & Fitness Indoor Cycling Bike 1805. It is larger than a standard spin bike seat and thicker as well. The dimensions are 10.6 inches long by 7.9 inches wide by 2.8 inches thick. It provides a decent level of comfort that allows you to work out longer without feeling hurt in your butt.
If for any reason you wish to improve on the comfort, you may use a gel seat cover to do so and you can also easily replace it with another type of spin bike saddle because it has a standard connection mechanism.
The seat is 4-way adjustable. It could be adjusted vertically, upward/downward and horizontally, fore/aft. So, it could be adjusted to several unspecified inches horizontally and 34.6 inches minimum to 41.8 inches maximum vertically.
For this reason, users between the heights of 5'-6'5'' can conveniently use the bike without restrictions. Better still, to be sure, measure your inner top thigh to the ankle and see it falls between 28''-37''. If it does then you are good to go because that is the bike's inseam.
The handlebar has multiple grips that allow a variety of different workout postures. It is simply designed and coated with a rubber foam material that provides comfort and safety to your grips and palms.
It doesn't have heart rate sensors embedded in it as they are on the MaxKare Stationary Bike. Consequently, you will not be able to read your heart rate data, however, you can use an external heart rate device though if you want.
The handlebar is 2-way adjustable; it is possible to adjust upward and downward.
The pedals are feature toe cages that accommodate standard gym shoes. They are not dual-sided as those on the Spinner L3 Bike. Therefore, you will be unable to use spin shoes on the bike except if you replace them with SPD pedals which are widely available since the pedals have standard 9/16'' thread.
That said, the toe cages secure the feet and prevent any slippage under any circumstances.
The Drive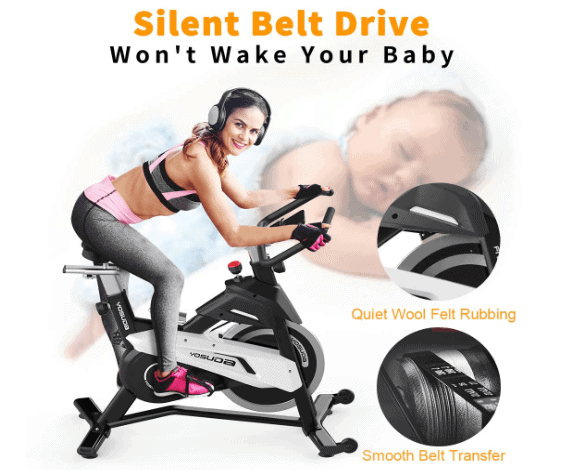 The YOSUDA Indoor Exercise Cycling Bike L-007 is integrated with a belt drive system. Most spin bike users prefer this type of drive system due to its smooth and quiet operation that allows them to enjoy and workout freely without having to worry about disturbing the family or the neighbors.
You can also enjoy watching TV or movie on your phone without having to amplify the volume so high. Noise interference in workouts can be distractive but the drive system present in the bike guarantees working out with undivided attention.
The drive system consists of a heavy-duty V-belt, solid crankset and crank-arms, the perimeter-weighted 43 pounds/20 kg flywheel, and metallic pedals. Together, these elements form a formidable force that is characterized by smooth and quiet motion. The momentum the flywheel provides reduces stress in the joint and yet provides a smooth and vibration-free workout experience.
Stand-up pedaling is supported and possible. The drive is bi-directional; this means you can pedal in either direction, forward or in reverse. So, more muscle groups could be exercised and toned in the process.
That said, you cannot coast on the bike as you could with a road bike. For this reason, you must apply the emergency brake via the tension knob by pushing it down to abruptly stop the spinning of the flywheel. Otherwise, an accident might be precipitated because the pedals spin as long as the heavy flywheel spins.
The drive system does not require any sort of maintenance as the chain drive system does. No lubrication or adjustment is needed.
The Resistance
The YOSUDA Indoor Exercise Cycling Bike L-007 is equipped with a friction resistance system. The resistance system is known for providing challenging workouts that could impress anyone at any fitness level including advanced athletes.
The resistance system consists of a felt brake pad that is attached to the tension knob. The felt pad is face down towards the top surface of the flywheel so that when adjusted via the tension knob it gets in contact with the flywheel and consequently generates resistance.
Turn the tension knob clockwise to increase resistance and anticlockwise to reduce it. The resistance can be increased to a point you can barely pedal. No pre-defined resistance levels are indicated on the tension knob. You simply turn the tension knob either way until you feel you have the right amount of resistance suitable for your workout. In other words, it is known as a friction system with infinite levels.
The problem is that you won't be able to know the resistance levels you used in different workout sessions which could make comparison and determination of strength and endurance progress difficult.
The Console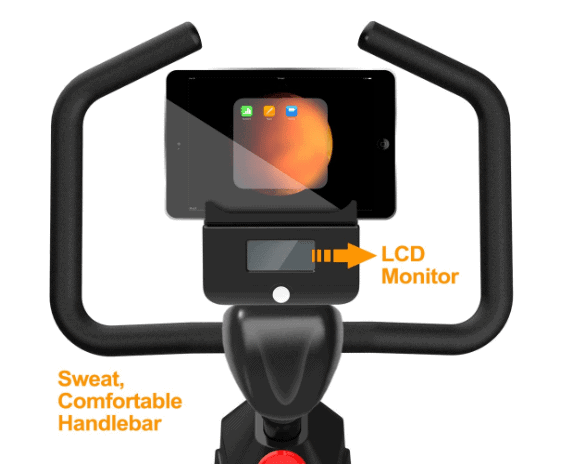 The console integrated on the YOSUDA Indoor Exercise Cycling Bike L-007 is rather basic yet features an LCD non-backlit monitor that displays useful workout information that keeps you focused and motivated.
The display has good readability as long as it is being viewed in a well-lit room or environment.
The display includes time, distance, total distance, speed, and calories burned. As aforementioned, the LCD monitor is basic and does not have any preset programs, heart rate, and goal settings functions.
There is a single button that allows you to navigate through the display by pressing it repeatedly. View any workout data you wish to by pressing it again and again or select the SCAN function that automatically displays all the workout data rotationally and one at a time after every few seconds.
The display could be turned ON by pressing this button, but also turns ON automatically when you pedal.
The console is also integrated with a tablet holder that holds your tablet device without getting the view of the display blocked.
Basically, the display is very easy to use and it is powered by 2 AAA batteries. The batteries are included in the package.
Accessory
The bike has a tablet holder that won't interfere with the display when a tablet device is placed on it. Therefore, you can enjoy watching a movie or listening to music via your device and still be able to view the workout values that are being displayed.
There is also a water bottle holder for keeping water within reach during workouts to stay and maintain hydration.
Storage
The YOSUDA Indoor Exercise Cycling Bike L-007 is not a very large unit, therefore, the storage space required is not overwhelming.
The best place to store is next to a wall or better still if possible, leave at the workout area. The integrated transport wheels at the front base make it easier to be moved or rolled away regardless of its weight.
Approval Rating
The approval rating of the YOSUDA Cycling Bike L-007 on Amazon is compelling and impressive at the time of this review. This means that most of the users are impressed and satisfied by the overall quality, features, performance, and price tag of the bike.
Pros/Features Overview
Durable, sturdy and stable
Supports high user weight capacity of 300 pounds/136 k
The pedals and the saddle can easily be replaced
The operation is smooth and quiet
The saddle is large and comfortable
The resistance system is suitable for beginners, intermediaries and advanced athletes
Few minutes workouts on it burn tons of calories
The LCD monitor tracks workout progress and keeps you focused and motivated
It is customizable for users between the heights of 5'-6'5''
Easy to relocate due to the included transport wheels
Maintenance required is low
Very easy to assemble
Water bottle holder included
It's affordable
Cons
The monitor is non-backlit
No heart rate function and goal settings (you can purchase a separate heart rate device if you wish to view pulse)
Doesn't have SPD pedals
Product Dimensions and Specifications
Length 42.2''
Width 21.7''
Height 47.7''
Inseam: 28''-37''
Pedals: Toe Cages
Weight: 88 pounds/40 kg
User weight capacity: 300 pounds/136 kg
Seat: 4-way adjustable
Handlebar: 2-way adjustable, multi-grip
Drive: Belt
Resistance: Friction, infinite
Flywheel: 43 pounds/20 kg perimeter weighted
Console: Basic non-backlit LCD monitor, displays time, distance, speed, calories burned and odometer
Water bottle holder: Yes
Transport wheels: Yes
Tablet holder: Yes
Shipping, Assembly, and Maintenance
Shipping
The YOSUDA Indoor Exercise Cycling Bike L-007 is shipped in a single box. Its shipping cost depends on the retailer you are purchasing from.
However, Amazon provides free shipping and delivers within days of order.
Assembly
The assembly of the bike is not difficult and only takes about 30 minutes, more or less to fully put together to a usable state.
The major components are already pre-assembled. The front and rear stabilizer bars, the seat and the handlebar posts, the saddle, the handlebar, and the console need to be attached to the core unit by you.
A manual with clear instructions on how to assemble the bike and the tools required for the job are all included in the package.
Maintenance
The YOSUDA Indoor Exercise Cycling Bike L-007 being a belt-driven bike needs almost no maintenance. Except that the brake may need the application of a silicon-based oil from time to time to prevent an undesirable sound that may occur when the resistance is engaged.
Always keep it clean from dirt and sweat.
Conclusion
The YOSUDA Indoor Exercise Cycling Bike L-007 is a sleek-looking bike that does not lack in quality and durability. It helps to bring the gym experience and feelings to the comfort of your home.
Many users consider it a good buy, despite not having a heart rate function. The overall construction, features, and price tag make it easier for prospective users to consider purchasing it.
YOSUDA Indoor Exercise Cycling Bike L-007 Review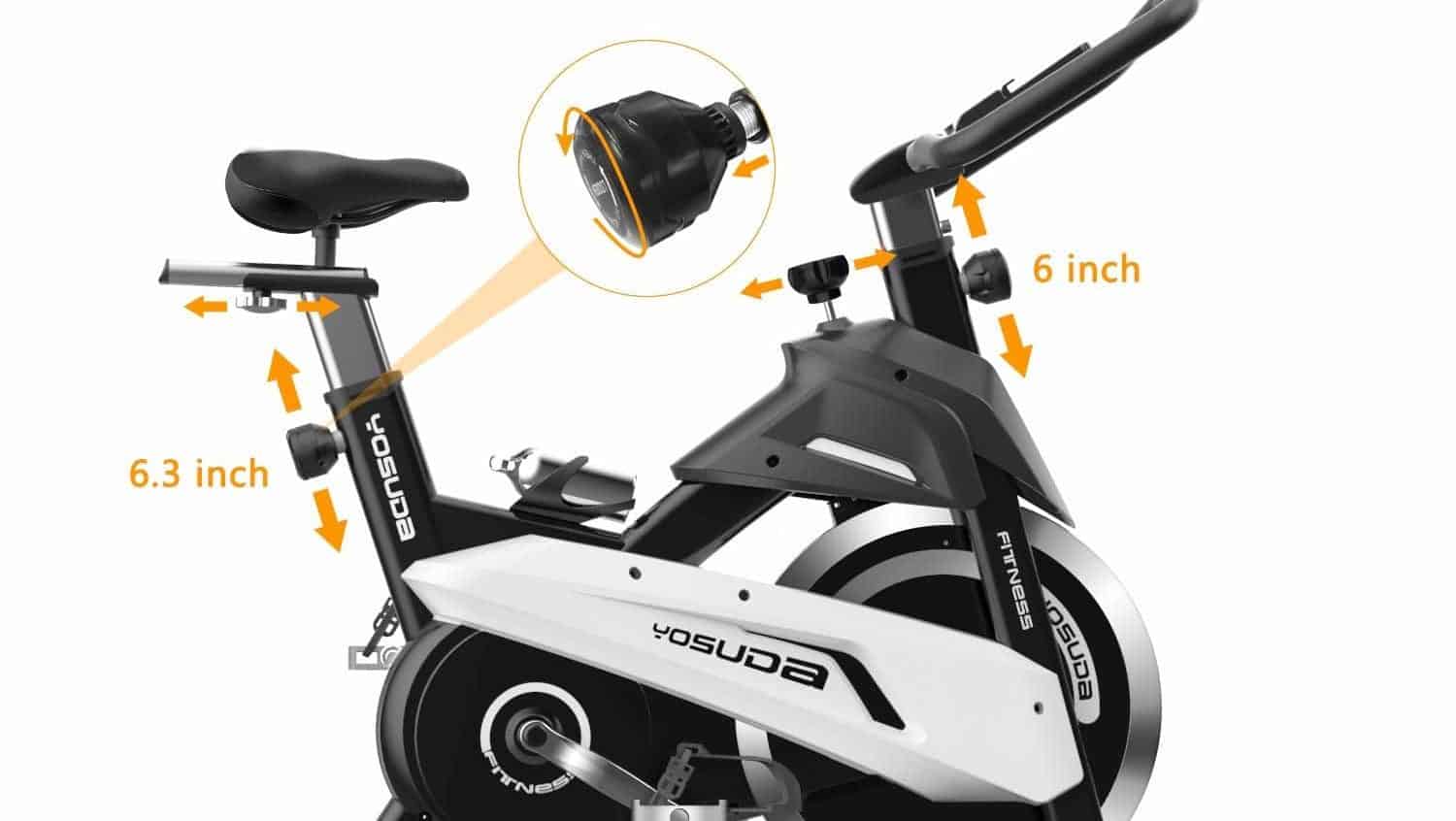 The YOSUDA Indoor Exercise Cycling Bike L-007 is ergonomically designed to provide quality and comfortable workouts that allow expeditious results.
Product Brand: Yosuda
Product In-Stock: InStock