The YOSUDA L-010 Pro Magnetic Exercise Bike was released in the 3rd quarter of 2021. In other words, it is their latest at the time of this review.
As opposed to YOSUDA L001-A and L007A, this supports a higher user weight capacity and it possesses a magnetic resistance system instead of a friction version of it.
Thus, its operation is smoother, quieter, and could support heavier users.
That being said, if you wish to save a couple of $$, I will suggest you look up the YOSUDA L007A because it has the quality and good features to make you experience outstanding and result-oriented workouts.
Otherwise, click right here to have a peek at the best price of the YOSUDA Pro Magnetic Exercise Bike.
Frame & Construction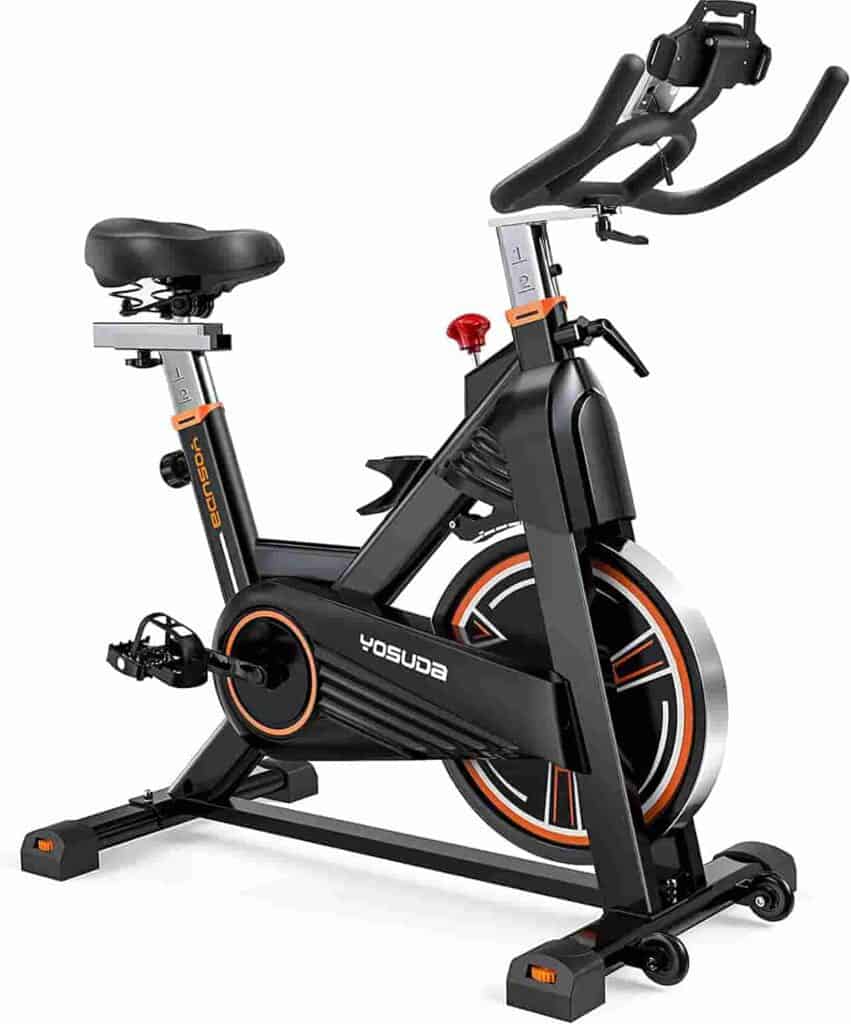 The construction of the YOSUDA L-010 Pro Magnetic Exercise Bike consists of a durable and premium steel frame that is coated with anti-corrosion paint and has ABS-made coverings for the magnetic brake pad and drive-train.
The seat and handlebar posts are chrome-plated.
As a result, the bike is sturdy enough to support a 350 lbs./157.6 kg maximum user weight.
The design also incorporates solid stabilizers with adjustable levelers that enable users to balance the bike on a platform for optimum stability. Simply put, you won't experience wobbling or tilting during aggressive workouts.
The overall assembled dimensions are 41'' long by 22'' wide by 42.5'' high. By implication, you will need a workout area with a measurement of 3'41'' (104.14 cm) length by 1'83'' (55.88 cm) width, plus additional clearance of 2' around it for easy access and safe workout execution.
Transport wheels are integrated at the front base to help you move the bike easily around the room when necessary.
The Seat of the YOSUDA L-010 Pro Magnetic Exercise Bike
The seat is 4-way adjustable, generously cushioned with a groove at the middle of the surface for consistent and sustainable comfort.
Simply put, it is nothing like a standard bicycle saddle, but it is designed to keep you comfortable through a prolonged workout session.
Nevertheless, if you feel the need to improve on it, a gel seat cover could do the trick, or better still, you can replace it with a saddle of your choice because it possesses a universal installation system.
Since it can be adjusted vertically (upward/downward) and horizontally (fore/aft), users whose inseams (measurement of the inner thigh to the ankle) are between 25''-35'' can perfectly fit without restrictions.
The Handlebar
The Handlebar is equally 4-way adjustable as the seat. That is, it could be adjusted vertically and horizontally to complement the bike's overall customization for a perfect fit
It has multiple grips that are coated with anti-slip PVC foam. Thus, you can work out securely and comfortably in different postures that include a standard ride, racing ride, and climbing ride.
Both the seat and the handlebar posts have adjustment calibration that enables you to easily make adjustments in just a few seconds.
Having said that, there are no EKG HR sensors on the handlebar. Hence, the bike doesn't have heart rate monitoring capability, unless you use an external HR device such as a wristwatch.
Pedals
The pedals are anti-slip toe cages, made of aluminum alloy with safety adjustable straps. They are designed to secure and accommodate different foot sizes comfortably.
This means, no matter how aggressive your riding style is, your feet will stay in place without slippage.
Although, they aren't dual-sided, so, you cannot use special spin shoes on them except a pair of standard gym shoes. But if you wish to use clip-in shoes, you will have to replace them with SPD pedals.
The Drive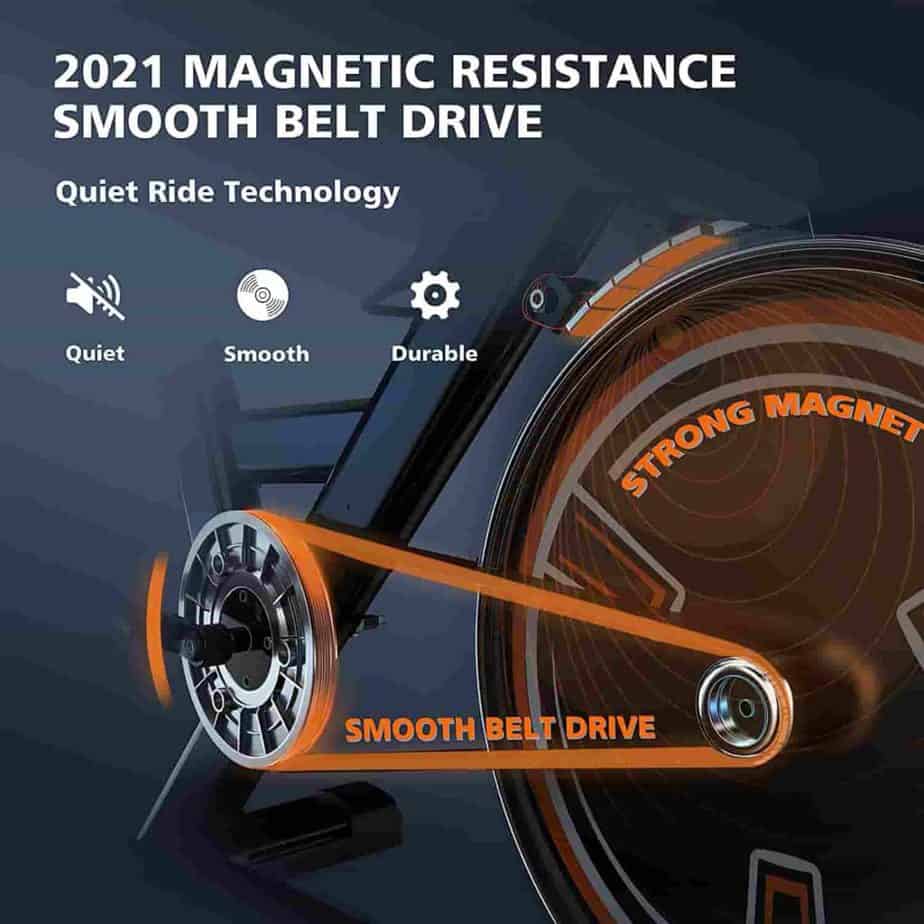 The YOSUDA L-010 Pro Magnetic Exercise Bike is belt-driven. This means it has a belt drive system that comprises a durable anti-stretch V-Poly belt, pulleys, a 3-piece crankset, and heavy-duty crank-arms.
It provides an operation that is characterized by smoothness and silence that enable you to work out in a room shared by kids without waking them up.
It maintains a sound level of 20 dB, which is equivalent to a sound of whisper or rustling leaves.
Moreover, it is maintenance-free; no lubrication or adjustment will be required periodically. These are the reasons it is most preferred over a chain-drive system.
The 40 lbs./18.14 kg perimeter weighted flywheel also enhances the motion by providing a steady momentum that mimics the bicycle riding experience.
Finally, if you wish to pedal in reverse, you can because the drive system is bidirectional. However, as a safety measure, you must endeavor to apply the emergency brake by pushing down the tension knob whenever you intend to stop pedaling to avoid a potential injury.
The Resistance System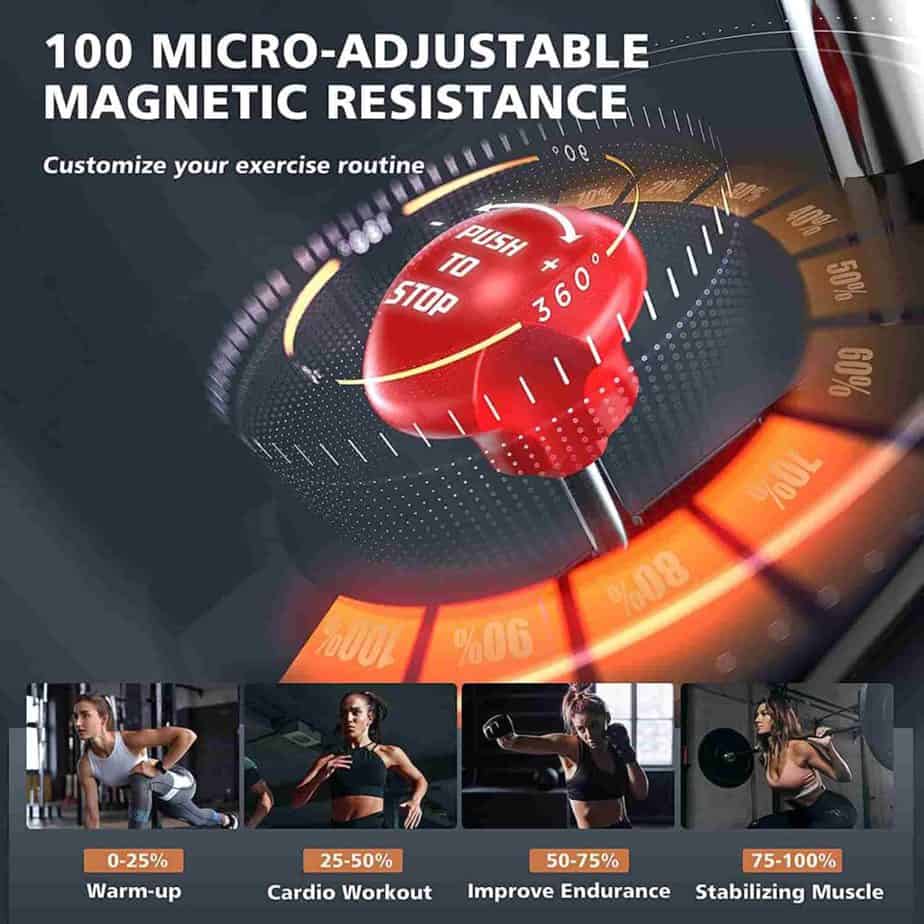 The resistance system of an indoor bike not only provides workout difficulty but could also make or break its operation.
In other words, a magnetic resistance system makes the operation of a bike smoother and silent while the friction resistance system might do the opposite.
Fortunately, the former happens to be the resistance system of the YOSUDA L-010 Pro Magnetic Exercise Bike, and that perfects the operational aspect.
The reason for this is because it does not use the power of friction to generate resistance instead it uses the emission of magnetic fields to the top surface of the flywheel to cause a drag that ultimately leads to resistance.
Thus, its resistance is smooth, quiet, and clean.
Also, this magnetic resistance system is micro-adjustable; meaning there are unlimited resistance levels that provide different shades of workout difficulties for everyone.
To increase or decrease the resistance level, you are required to simply turn the tension knob clockwise or counterclockwise.
The Console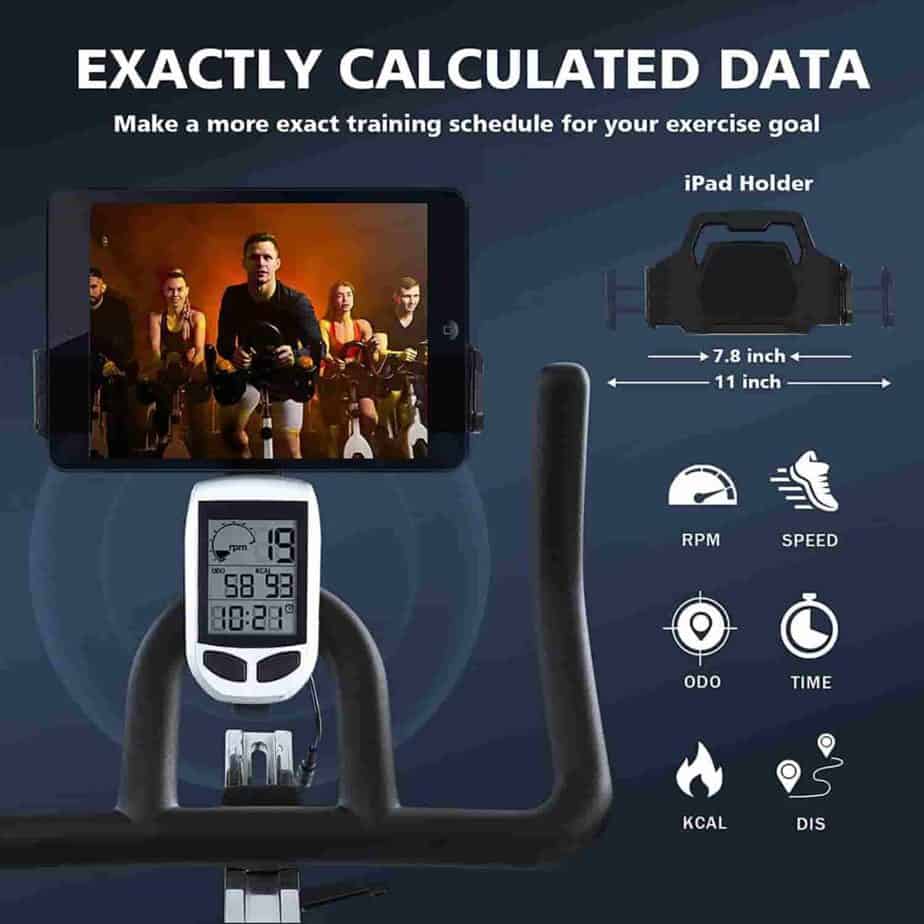 The console integrated onto the YOSUDA L-010 Pro Magnetic Exercise Bike transcends basic. It features an LCD Monitor with a large screen that could display multiple workout stats simultaneously. It displays workout stats such as Time, Distance in miles, Speed in mph, RPM, Calories, and Odometer with good clarity.
However, its readability might be compromised if viewed in a dark room because the monitor is not backlit.
It is possible to set a goal (countdown) for Time, Distance, or Calories for a sense of fitness goal accomplishment.
The monitor is battery-powered; it turns on when the button on the console is pushed or when you start pedaling, and it also turns off automatically if the bike stays idle for 4 minutes in order to save the batteries' power.
Accessory
Water bottle and tablet holders are integrated to help you keep water handy for proper maintenance of hydration and a tablet device for entertainment purposes during workouts.
These are essentials for comfortable and productive workout sessions.
The water bottle holder is placed right on the mainframe tubing for easy access, while the tablet holder is retractable from 7.8'' to up to 11'', and it is attached to the aero grip for a better view.
Storage
Although, the YOSUDA L-010 Pro Magnetic Exercise Bike is not foldable, however, it is not bulky either to take up too much space.
It is about 3'41'' long by 1'83'' wide, and that's about the size of storage space it requires.
As for the ability to move it to and from storage is not a problem because there are transport wheels attached at the front base designed to facilitate the relocation process, and it weighs less than 86 lbs./39 kg.
Pros/Features Overview
It has an enhanced commercial-grade steel frame
It supports a maximum user weight capacity of 350 lbs./157.6 kg
Due to its belt drive and magnetic resistance systems, its operation is smooth and whisper silent
The manual magnetic resistance system provides micro adjustable resistance levels for warm-up, weight loss, muscle toning, strength and endurance exercises
Both the seat and the handlebar are 4-way adjustable, improving its overall customizability
The seat is generously cushioned and comfy
The handlebar is multi-grip designed for standard, racing, and climbing rides
The alloy aluminum anti-slip toe caged pedals accommodate different foot sizes and secure stable foot placement
The seat and the pedals are replaceable
The base of the bike has adjustable levelers that enable you to stabilize it
The LCD monitor features a multiple screen that displays workout stats such as Time, Distance, Speed, RPM, Odometer, and Calories simultaneously
Goal setting for Time, Distance, and Calories
The maintenance required is minimal
The Assembly is easy
A retractable table holder is included
A water bottle holder is included
Cons
The monitor is nonbacklit
No heart rate monitoring function
Warranty
Product Dimensions & Specification
Length: 41''
Width: 22''
Height: 42.5''
Shipping dimensions: 40.16'' L x 34.45'' W x 8.86'' H
Net weight: <86 lbs./39 kg
Gross weight: 86 lbs./39 kg
Frame: Premium steel
Maximum user weight capacity: 350 lbs./157.6 kg
Supported inseams: 25''-35''
Drive: Belt
Resistance system: Manual magnetic with micro adjustable levels
Flywheel: 40 lbs./18.14 kg
Seat: 4-way adjustable
Handlebar: 4-way adjustable
Pedals: Aluminum alloy, toe cages with adjustable safety straps
Monitor: Multi-digital LCD monitor
Transport wheels: Yes
Tablet holder: Yes
Water bottle holder: Yes
Shipping
The YOSUDA L-010 Pro Magnetic Exercise Bike is shipped out in a nicely packaged box that weighs 86 lbs./39 kg with dimensions of 40.16'' long by 34.45'' wide by 8.86'' high.
Usually, it takes a couple of days to get it delivered.
Assembly
The assembly of most indoor cycling bikes is often easy including this one. The reason is that it comes with the major components already assembled.
Thus, you only need to attach the base stabilizers, the pedals, the seat, the handlebar, and the console. This is pretty much what you have to do, and it takes like 30 minutes, or thereabout to get it done.
Moreover, the package is accompanied by an instruction manual and tools that will help you to successfully carry out this task.
Maintenance
The maintenance needed is to always keep it clean after and before workouts.
Examine the bike before workouts to be sure that every part is indeed in good condition.
Make sure to store it in a dry, cool, and clean environment.
Conclusion
The YOSUDA L-010 Pro Magnetic Exercise Bike is a useful piece of equipment that adds value to your physical fitness journey. When added to your home gym, you may experience improved overall physical well-being with less effort.
It is one machine that could be used by the entire family members considering it supports a higher user weight capacity of 350 lbs./157.6 kg, and it allows users with inseams of 25''-35'' to perfectly fit in.
YOSUDA L-010 Pro Magnetic Exercise Bike Review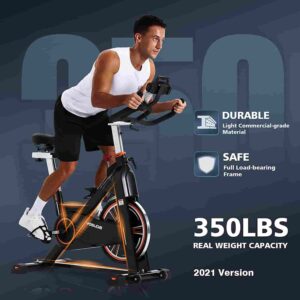 The YOSUDA L-010 Pro Magnetic Exercise Bike was released in the 3rd quarter of 2021. In other words, it is their latest at the time of this review.
Product Brand: Yosuda
Product In-Stock: InStock