The XGEAR Magnetic Indoor Exercise Bike may not be a well-known brand such as Schwinn, or even Sunny Health & Fitness, but it does have some interesting features that could attract prospective users.
First of all, it is affordable, belt-driven, and has a magnetic resistance system. Second of all, it has the capacity to support up to 330 lbs./150 kg user weight.
Even though it doesn't have a console, it integrates a sensor that syncs to a smartphone/tablet device to track workout progress by displaying metrics such as Time, Distance, Speed, Calories, and Cadence.
However, a free Go Training app has to be downloaded on the smartphone to be able to track these.
Moreover, it comes with a stylish water bottle as a bonus.
Therefore, the bike could be on the same stage as some of the best entry-level indoor cycling bikes.
Click right here to have a peek at the XGEAR Magnetic Indoor Exercise Bike on Amazon.  
The Frame & Construction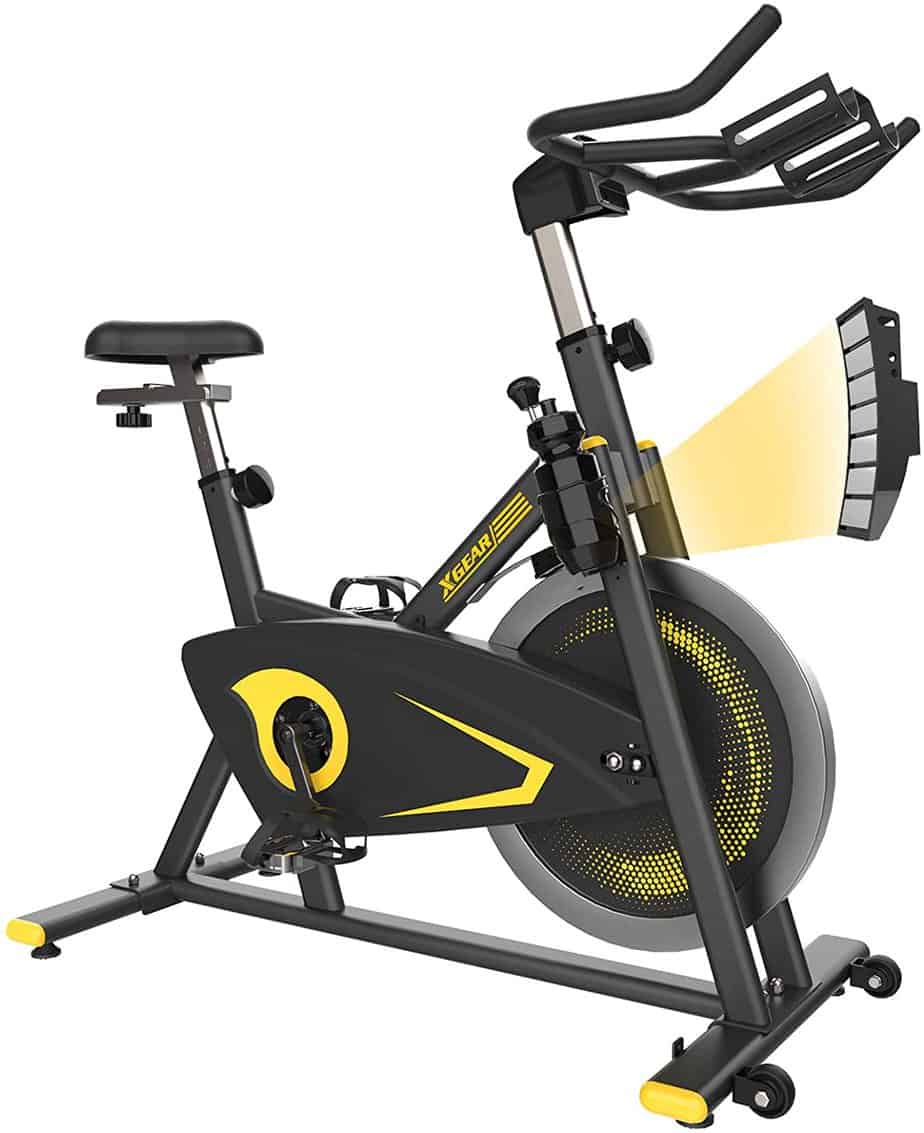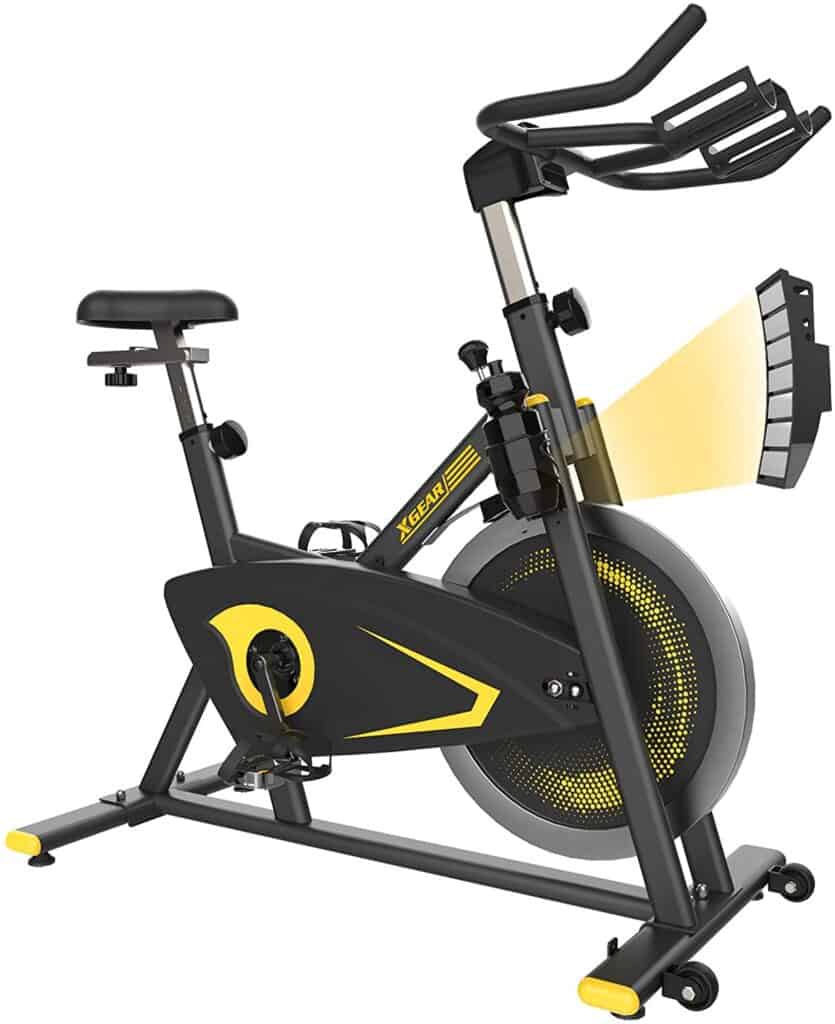 The XGEAR Magnetic Indoor Exercise Bike has a similar dimension size as the Pooboo S2 D721. In other words, it is compact with overall assembled dimensions of 41'' long by 21'' wide by 44'' high.
Thus, an area with measurements of 3'5'' length by 1'8'' width should be sufficient for workouts. However, do consider adding 2' extra clearance at the front, the rear, and on each side of the bike to ensure that a safe and comfortable workout is experienced.
The bike's Construction features a heavy-duty anti-corrosion painted steel frame, and ABS made chain drive cover. The color is predominantly black with touches of decorative yellow paint.
As a result, the bike is elegant and sturdy enough to support a maximum user weight capacity of 330 lbs./150 kg.
Stability has always been an emphasis that is to be taken seriously because of users' safety during workouts.
Therefore, the bike integrates a robust base framework with adjustable levelers that ensure a stable ride is attained.
More so, the bike's net weight of about 88 lbs./40 kg further enhances the overall stability.
There are transport wheels at the front base of the bike that facilitates the relocation process. Since most of the weight is located at the front, users can easily tilt the bike toward the transport wheels and have it rolled away.
The Seat of the XGEAR Magnetic Indoor Exercise Bike
This bike has a race-style ventilated seat that provides comfort that could enable users to train longer without feeling sore.
However, if the seat doesn't meet your expectations, a gel seat cover could be used to improve it. Better still, it can be swapped because the connection mechanism is standard and compatible with many seats out there.
It is possible to adjust the seat vertically (upward/downward) and horizontally (fore/aft) between 31'' min to 43.4'' max for a perfect fit.
Individuals between the heights of 4'9''-6'6'' can utilize the bike.
The handlebar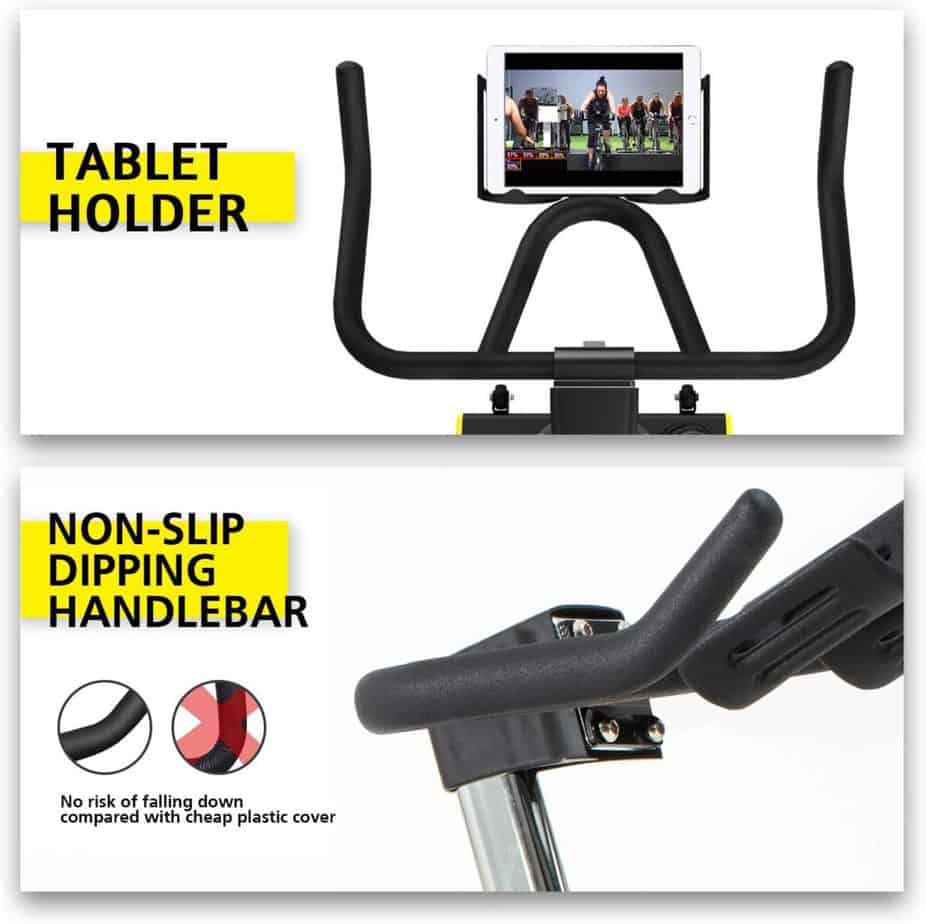 The handlebar offers 3 different hand grips for a variety of workout postures. It is dip coated with an anti-slip soft rubber foam material for secure and comfortable grips.
Therefore, you can work out frequently and longer with no hand glove and still don't experience slippage or blisters in the palms.
The handlebar is vertically (upward/downward) adjustable, thus, increasing the chances of accommodating users of different heights and sizes.
The Pedals
The XGEAR Magnetic Indoor Exercise Bike has a set of anti-slip toe caged pedals with adjustable safety straps. They securely hold the feet in place to prevent either of the foot from slipping off during workouts.
They are rugged enough to hold up during stand-up pedaling. Of course, it has to be users that weigh 330 lbs./150 kg or less.
That said, the pedals only accommodate standard gym shoes; but nevertheless, they can easily be swapped for SPD pedals.
The Drive
This indoor cycling bike is equipped with a belt drive system that is widely accepted by most cycling enthusiasts. The reason for the acceptance is because it is maintenance-free, and it provides smooth and quiet operation.
As opposed to a chain-driven bike, you are not required to periodically take the drive train cover apart for lubrication or adjustment, and its operation is such that enables you to train at any time of the day without being a nuisance to the folks around you.
The belt drive system consists of a durable 3-piece crankset, solid crank-arms, an anti-stretch belt, a pulley, and the 36 lbs./16.3 kg high inertia flywheel.
These elements provide a fixed transmission. In other words, users cannot coast on the bike as one could on a road bicycle, but on the upside, you can pedal in reverse for a different workout style.
However, you will have to be careful whenever you wish to stop pedaling so that you don't get hurt. It is important that the emergency brake is engaged (by pushing the tension knob down) each time a user makes a stop.
The Resistance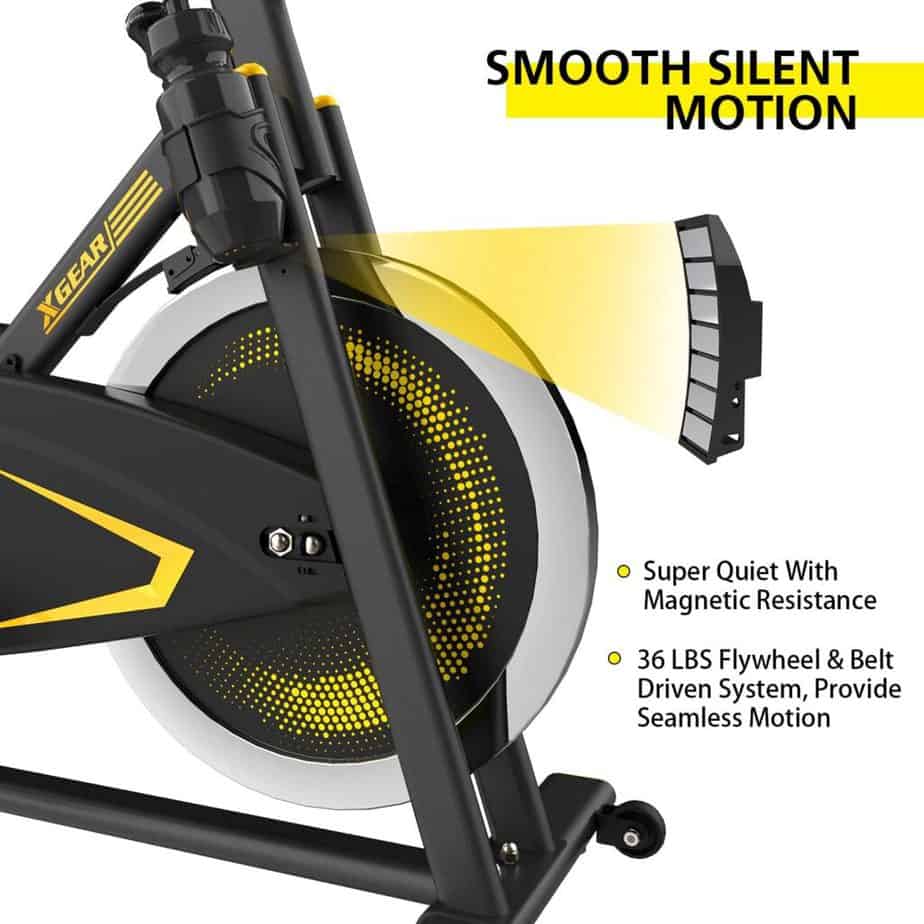 The XGEAR Magnetic Indoor Exercise Bike features a manual magnetic resistance system with unlimited adjustable levels.
This generates resistance whenever the 7 magnets interfacing the top surface of the flywheel get close and emit magnetic fields without real contact.
The resistance intensity can be increased or decreased by turning the tension knob clockwise or anticlockwise, respectively.
As aforementioned, the resistance levels are infinite because they are not predefined. So, you will have to turn the tension knob either way to find a suitable resistance level.
Since none of the internal parts of the resistance system causes friction, no part wears out during the process of generating resistance, and none will require a replacement.
The Console
This bike does not have a console, as a result, no tracking monitor.
However, it has a sensor that synchronizes the bike with a smartphone/tablet device via a Go Training app for workout tracking. If this is connected, you will be to track workout data such as Time, Distance, Speed, Calories, and Cadence in real-time.
The app is free and downloadable from the Apple store and Google Play store. In other words, it is compatible with both Android and Apple phones.
That said, there are several complaints about a connection problem; some users claim they could not complete the syncing.
Accessory
The handlebar integrates a large secure tablet holder that accommodates smartphones for taking calls, tracking workout data, and entertainment purposes.
There is also a water bottle holder within arms' reach and a bonus water bottle for maintaining proper hydration during workout sessions.
Storage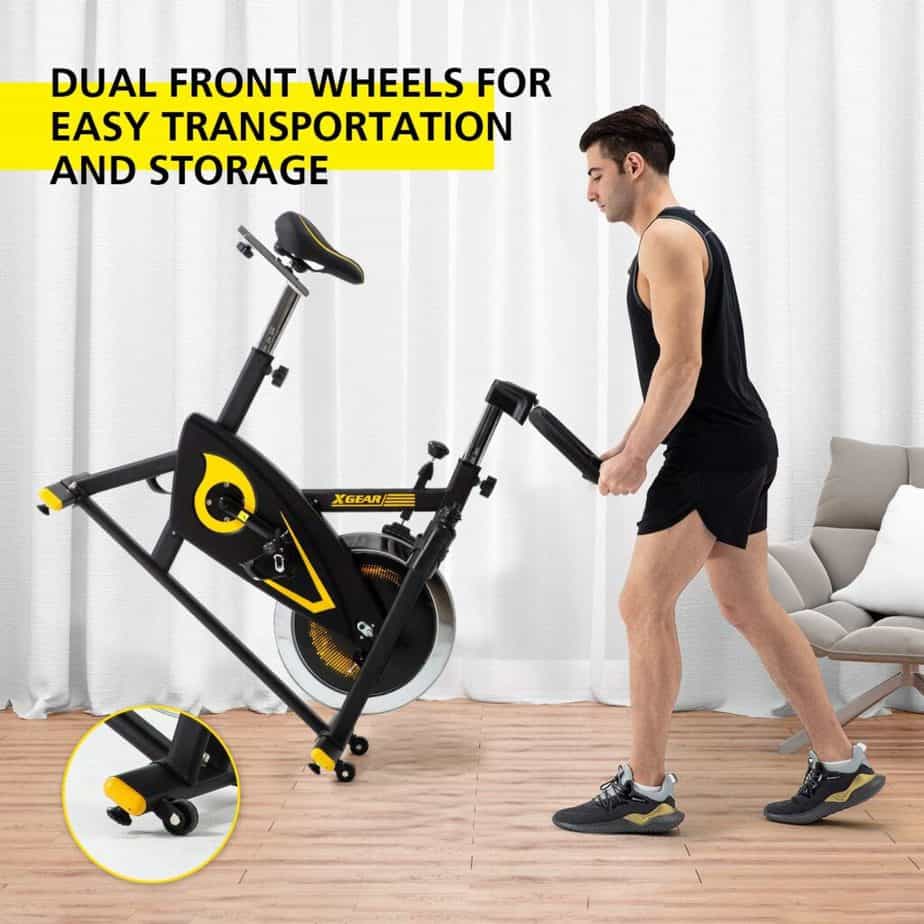 Storage of this bike won't be a problem even to those that do not have enough space because it is compact, and portable.
Its length and the width are 41'' and 21'' respectively. Consequently, an area with measurements of 3'5'' length by 1'8'' width can accommodate it.
The bike can easily be relocated from a storage area to a workout area, and vice versa through the front-mounted transport wheels.
Pros/Features Overview
Strong, stable, compact, and portable
Supports a maximum user weight capacity of 330 lbs./150 kg
It is customizable, therefore, users of different heights and sizes can fit in
The handlebar has an anti-slip covering that is also soft for secure and comfortable grips
The race-style ventilated seat provides a decent level of comfort
The toe caged pedals with adjustable safety straps secure the feet from slipping
Both the seat and the pedals can easily be replaced with other options if the user so desires
The operation of the bike is smooth and quiet
The magnetic resistance system provides a variety of workout challenges without generating any squealing sound in the process
The bike connects to a free Go Training app that is designed to track workout data such as Time, Distance, Speed, Calories, and Cadence
Maintenance requirement is almost non existence
Easy to assemble
A water bottle holder & a free bottle included
Tablet holder included
Cons
The app connectivity is not reliable
No console/monitor
Warranty
Product Dimensions & Specifications
Length: 41''
Width: 21''
Height: 44''
Shipping dimensions: 42.2'' L x 32.52'' W x 8.43'' H
Net weight: <88 lbs./40 kg
Gross weight: 88 lbs./40 kg
Frame: Steel
Flywheel: 36 lbs./16.3 kg
Seat: 4-way adjustable
Handlebar: 2-way adjustable
Pedals: Toe cages with adjustable safety straps
Drive: Belt
Resistance: Manual magnetic with infinite adjustable levels
Maximum user weight capacity: 330 lbs./150 kg
Supported heights: 4'9''-6'6''
Go Training app connectivity
Tablet holder included
Water bottle & holder included
Shipping
The XGEAR Magnetic Indoor Exercise Bike is transported without shipping charges by Amazon. It gets delivered in a couple of days after order is placed.
The package dimensions are 42.2'' long by 32.52'' wide by 8.43'' high, and it weighs about 88 lbs./40 kg.
Assembly
The assembly process of this bike is similar to any average indoor cycling bike. It is straightforward and simple to put together.
You are required to attach the base stabilizers, the seat, the handlebar, and the pedals to the core unit.
It takes less than an hour to complete the assembly.
Moreover, there is an instruction manual and tools that come with the package for guidance and assistance.
Maintenance
This bike only requires basic maintenance such as making sure it's cleaned up after every workout session.
Examine it before every use to be sure that every part is tight and good.
Conclusion
The XGEAR Magnetic Indoor Exercise Bike is a good entry-level cycling machine.
It provides you the opportunity to exercise in the convenience of your home or office without getting in other people's way, and it doesn't require a large space for workouts or storage either.