The JEEKEE Magnetic Recumbent Exercise Bike is a low-impact cardiovascular machine that is designed for everyone, especially the elderly. Exercising with it takes the pressure off the back, and other joints.
Its construction is simple, meaning, it doesn't have advanced features like the 3G Cardio Elite Recumbent. However, it does have the basics that provide productive workouts for rehabilitation, blood circulation, and muscle group toning.
Click right here to have a peek at the JEEKEE Magnetic Recumbent Exercise Bike on Amazon.
Frame and Construction
The JEEKEE Magnetic Recumbent Exercise Bike has a heavy-duty frame that supports up to 300 lbs./136 kg user weight capacity. The frame is protected with anti-corrosion paint that prevents potential degradation that might be caused by rust.
The drive coverings and the console are made of plastic.
The base features rounded steel stabilizers that are a foot-plus in length. They provide much-needed stability during workouts.
However, ensure to use the bike on a surface that is not crooked, and use a rubber mat as well.
The recumbent bike's overall assembled dimensions are 53.5'' long by 19.3'' wide by 39'' high. Therefore, it requires a workout area with perimeters of 4'5'' length by 1'7'' width, and of course, an additional safety distance of 2' around it.
Since the unit only weighs 66 lbs./30 kg, it is easy to have it relocated around the apartment through the transport wheels at the front base.
The overall construction of this bike makes it possible for users of different shapes and sizes to easily step-in and out of it without hassles.
The Seat of the JEEKEE Magnetic Recumbent Exercise Bike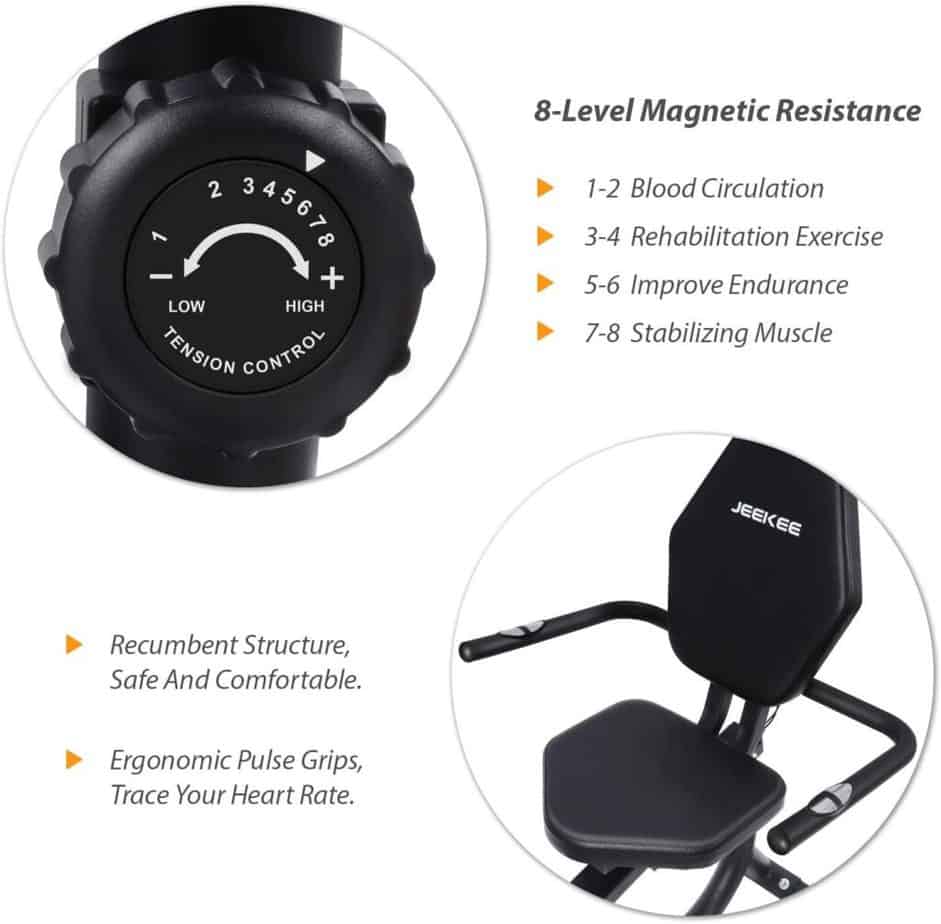 The seat is large and cushioned, and its backrest provides adequate support to the back and spine.
The seat dimensions are 12.5'' long by 11.8'' wide by 1.6'' thick, while the backrest dimensions are 12.5'' long by 16'' wide by 1.6'' thick.
However, the use of a gel seat cover could provide sustained comfort during a prolonged workout.
Users between the heights of 4'9"-6'5", or those with inseams of 27"-39" can fit in comfortably due to the seat's 9 adjustable positions.
To adjust the seat, simply loosen the adjustment knob by turning it counterclockwise, shifting the seat either forward or backward to a suitable position, and then tightening it up in a clockwise manner.
There are handlebars attached to the seat which are meant to provide leverage for aggressive pedaling. They also have heart rate sensors integrated into them so that when grasped during a workout, the pulse rate data is transmitted to the monitor for observation.
Neither the handlebars nor the backrest adjusts independently without the seat.
The Handlebar
Aside from the handlebars on either side of the seat, the JEEKEE Magnetic Recumbent Exercise Bike features yet another set of handlebars that are attached to the console mast.
They are not adjustable but are strategically positioned to fit users of different sizes that wish to exercise while sitting uprightly.
These handlebars, including those on the seat, are cushioned with soft rubber foam material for secure and comfortable grips.
The Pedals
The JEEKEE Magnetic Recumbent Exercise Bike has a set of anti-slip pedals with adjustable safety straps. They are made of durable plastic with a metallic core and can be ridden safely with standard gym shoes.
Differently put, the pedals provide optimal footing stability that prevents slip-offs during aggressive pedaling.
The Drive
The JEEKEE Recumbent Bike has a belt drive system that comprises a dual-belt mechanism. It drives the 13 lbs./5.9 kg perimeter weighted flywheel providing smooth and quiet operation.
Hence, working out with the bike around sleeping babies is possible because its noise level is about 20 dB. You may as well watch a TV show, movie, or listen to music while exercising.
The drive is maintenance-free, therefore, you are not obligated to lubricate or adjust any internal element as opposed to a chain drive system.
If you wish to pedal in reverse, you can since the pedals and the flywheel are fixed.
The Resistance
This bike incorporates a manual magnetic resistance system that consists of a magnet and a flywheel.
It has 8 resistance levels that offer a variety of workout difficulties for blood circulation, muscle group toning, improvement of strength, and endurance, and physical rehabilitation.
Therefore, aside from everyone else, the elderly and those undergoing physical therapy might find working out with this bike most useful.
Interestingly, the resistance system doesn't need periodic maintenance, and the bike's operation remains smooth and quiet even when the resistance is engaged because no friction occurs during the process of generating resistance.
To increase or decrease the resistance level, simply turn the tension knob that is attached to the console mast clockwise or anticlockwise, respectively.
The Console of the JEEKEE Magnetic Recumbent Exercise Bike
This unit comes with a console that features a nonbacklit LCD monitor.
It displays workout data such as Time, Distance, Speed, Calories Burned, Odometer, and Heart rate with good readability.
However, these metrics may be difficult to view if the illumination in the room is poor because the monitor lacks a backlight.
Remember, the heart rate data can only be observed when the handlebars with the EKG sensors are grasped during a workout.
Distance and Speed are only measured in miles and mph, respectively.
The console has a SCAN function that rotationally displays the workout data one at a time after every 6 seconds since it's not possible to have them displayed at a time. However, it is also possible to set a certain workout data to constantly display as long as you want.
The monitor does not require electricity to function, instead, it's powered by 2 AAA batteries which are included in the package.
As a way of saving the batteries' power, the monitor automatically turns off when there is no workout activity on the bike for 4 minutes, and it automatically turns back on when the activity resumes.
Accessory
There is a built-in tablet holder on the console. It can securely hold either a smartphone or a tablet device for entertainment purposes.
So, you can take calls, watch a movie, or listen to music while exercising.
However, a device placed on the holder blocks the view of the monitor, and as a result, you won't be able to view the workout data.
Storage
The unit is not foldable, however, not overly large to occupy too much space.
A storage area with perimeters of 4'5'' length by 1'7'' width should be enough for it.
The bike features transport wheels at the front base for an easy relocation process.
Pros/Features Overview
Durable, stable, and sturdy
Supports a maximum user weight capacity of 300 lbs./136 kg
Its operation is smooth and quiet (only generates about 20 dB sound level)
Customizable to accommodate users between the heights of 4'9''-6'5'' or those with inseams of 27''-39''
The seat is large, cushioned, and adjustable
The step-thru design allows users to easily mount and dismount without struggling
The manual magnetic resistance system provides 8 different levels for blood circulation, improvement of endurance, muscle toning, and rehabilitation
The bike provides low-impact cardio workouts that are gentle to the joints
The LCD monitor tracks workout progress; displays Time, Distance, Speed, Odometer, Calories Burned, and Pulse
EKG contact grips included for heart rate monitoring
The pedals are accommodative and secure for different foot sizes
Assembly is easy
Maintenance is minimal
Transports wheels are included for easy relocation process
Tablet holder included for entertainment purposes
Cons
The monitor gets blocked if a smartphone or tablet device is placed on the holder
The monitor is not backlit
No water bottle holder
Warranty
Product Dimensions & Specifications
Length: 53.5''
Width: 19.3''
Height: 39''
Shipping dimensions: 36.5'' L x 22'' W x 13.75''
Seat dimensions: 12.5'' L x 11.8'' W x 1.6'' Thick
Backrest dimensions: 12.5'' L x 16'' W x 1.6'' Thick
Net weight: 66 lbs./30 kg
Gross weight: n/a
Maximum user weight capacity: 300 lbs./136 kg
Supported height: 4'9''-6'5''
Inseams: 27''-39''
Seat: 2-way adjustable
Handlebar: 2 sets (seat & front handlebars)
Pedals: Textured with adjustable safety straps
Frame: Steel
Flywheel: 13 lbs./5.8 kg
Drive: Belt
Resistance: Manual magnetic with 8 adjustable levels
Monitor: Nonbacklit LCD
Tablet holder: Yes
Water bottle holder: No
Transport wheels: Yes
Shipping
The shipping cost of the JEEKEE Magnetic Recumbent Exercise Bike is determined by the vendor that is selling to you.
However, Amazon offers free shipping and gets it delivered in a couple of days.
Assembly
The assembly involves attaching the 2 steel frames together and then adding the stabilizer bars, the seat, the handlebars, the mast, the pedals, and the console to the core unit.
It's going to take about an hour, more or less, to completely get the bike assembled.
Moreover, the included tools and the instruction manual make the assembly process easy and convenient.
Maintenance
Make sure to keep the JEEKEE Magnetic Recumbent Exercise Bike clean after every use. Routinely check the parts before use to ensure that nothing is loose or broken.
Finally, store it in a cool, dry, and clean area.
Conclusion
The JEEKEE Magnetic Recumbent Exercise Bike doesn't have advanced or fancy features, but it still enables you to improve overall physical fitness.