The Pooboo S2 D721 Indoor Cycling Bike is an entry-level machine that features a belt drive and friction resistance system.
It looks modern, sturdily built, and elegant, embellished with cosmetic plastic covers, some of which are for safety purposes.
This is one of several indoor cycling bikes to consider, especially if you are on a budget and want something decent and reliable.
Click right here to have a peek at the Pooboo S2 D721 Indoor Cycling Bike on Amazon.
The Frame and Construction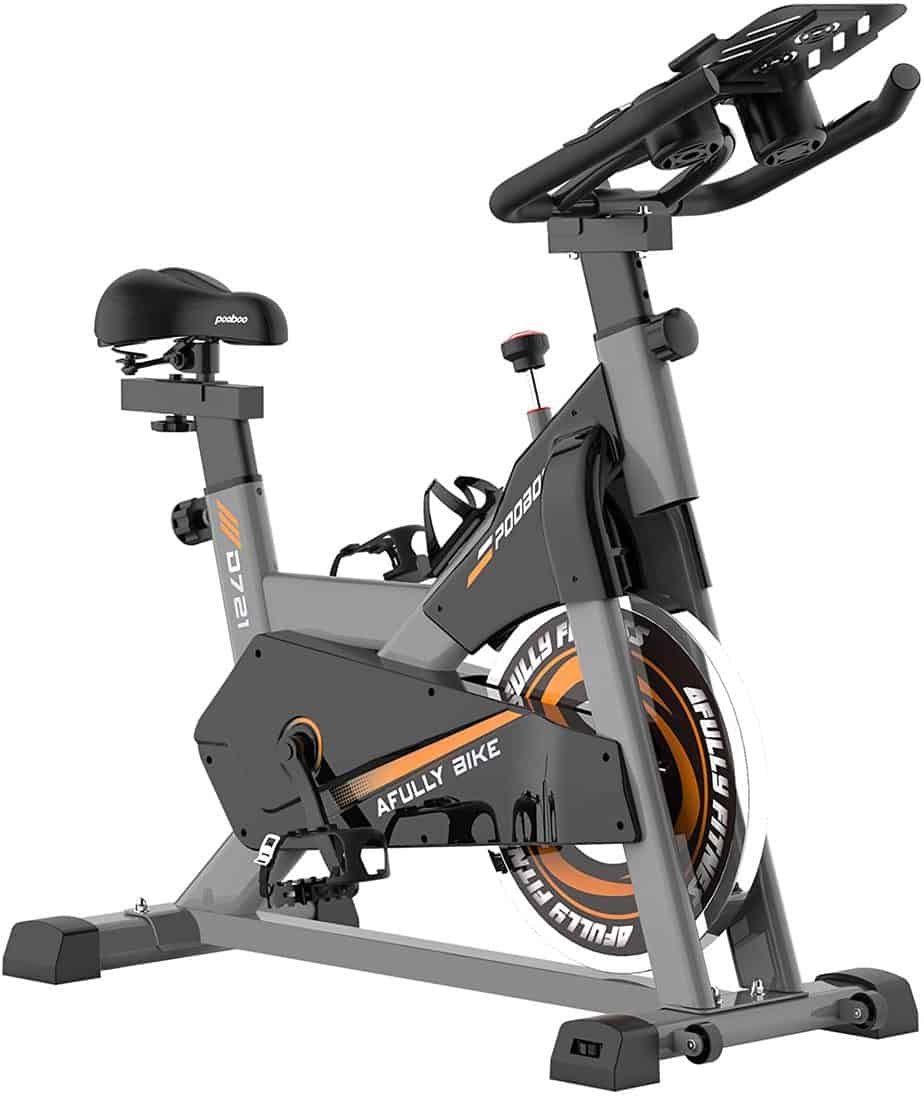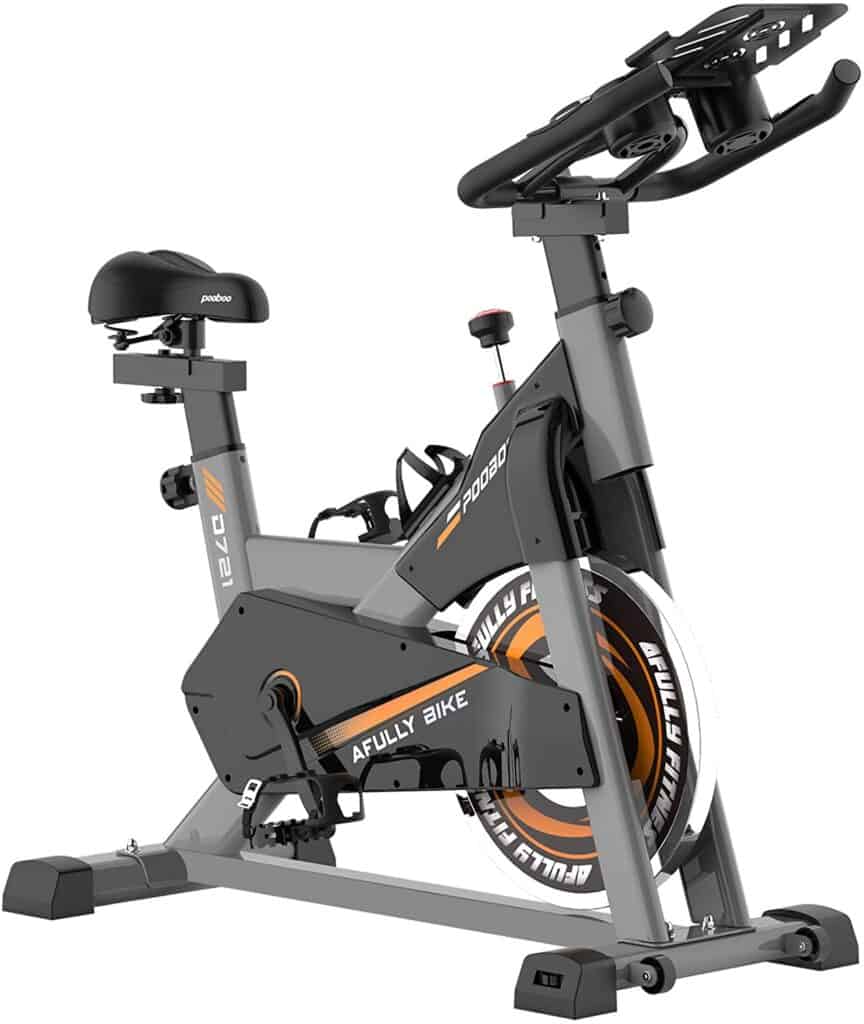 Just as aforementioned, the Pooboo S2 D721 Indoor Cycling Bike features a solid triangular steel frame structure, and ABS protective coverings for the drive train and the wool felt pad.
Of course, the frame is not only made of steel but it's also enhanced with an anti-corrosion paint that preserves it for longevity.
Due to the robust construction of the bike, users up to 350 lbs./158.7 kg weight can utilize it.
The front and rear steel stabilizers with adjustable levelers at the base ensure a smooth ride without wobbling regardless of how intense the user works out. However, in order to experience this, you must ensure to place the bike on a platform that is firm, and relatively balanced.
Most average spin bikes are usually not large, and this is even a few inches smaller, hence, it is not invasive in terms of space.
The overall assembled dimensions are 41.3'' long by 21.3'' wide by 38.6'' high. Consequently, the bike needs a workout area with perimeters of 3'5'' length by 1'8'' width. Although, 2' additional extra clearance is required around it for safety and easy access purposes.
The Seat of the Pooboo S2 D721 Indoor Cycling Bike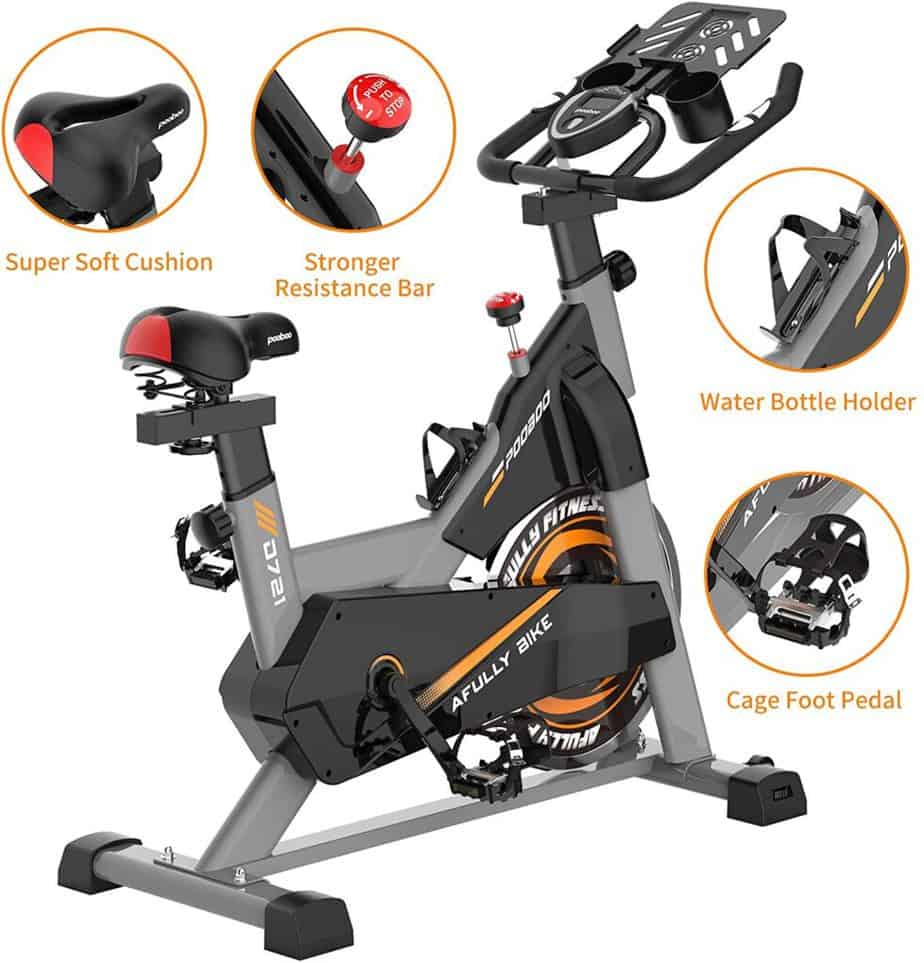 This bike's seat is large and cushioned with a groove in the middle of it. It integrates springs underneath it that serve as buffers.
Although, a gel seat cover could be used to improve it for sustained comfort during a prolonged workout.
Moreover, it has a standard collar connection mechanism that makes it possible for it to be completely replaced with another option of your choice.
The seat can be adjusted 4 ways, (up/down and forward/backward), therefore, users that have inseams (length of the inner thigh to the ankle) between 29.1''-38.6'' can be accommodated without restrictions.
It takes only a few seconds to make the adjustments needed.
The Handlebar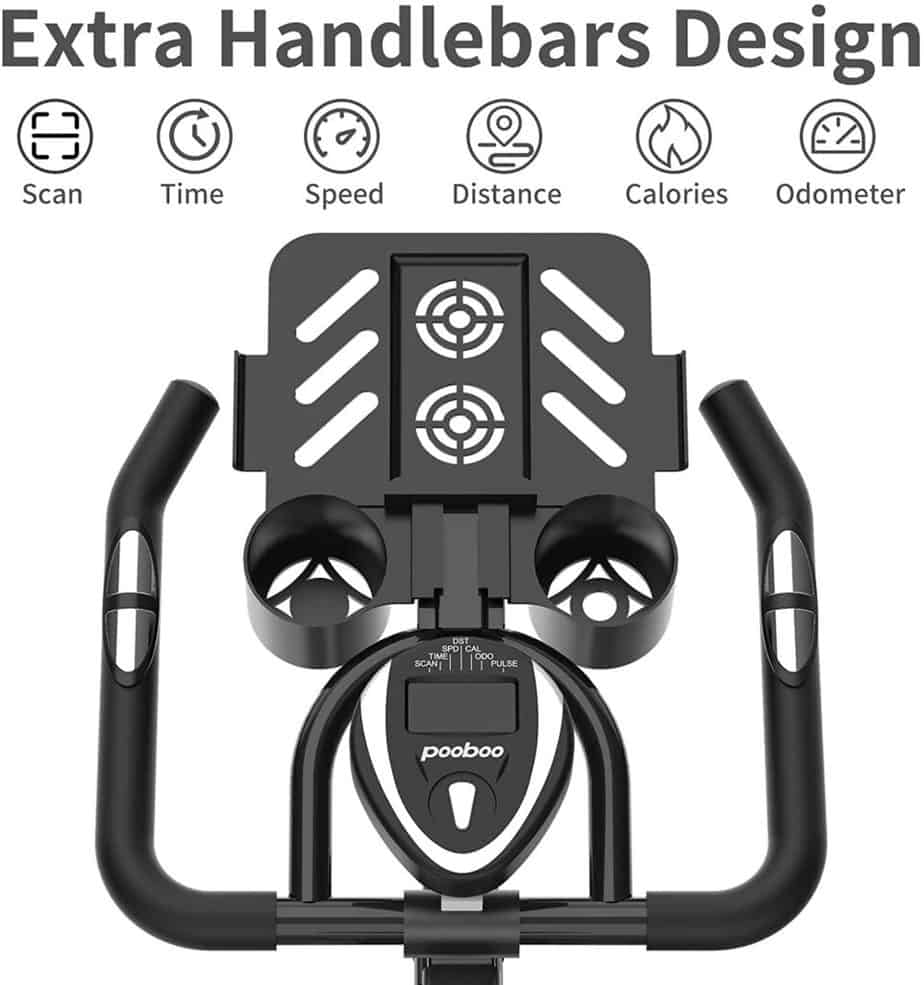 The multi-grip handlebar is not unique, but it integrates some fancy but useful features such as 2 accessory holders and a large secure tablet holder.
It is cushioned with a rubber foam material for secure and comfortable grips. This means, no hand gloves are required to be worn during workouts, and neither will you experience slippage or blisters in the palms.
The handlebar is 2-way adjustable. You can adjust it upward or downward for a better and suitable workout position.
It integrates heart rate sensors that are designed to be held when a user wishes to track the heart rate data.
Pedals
The Pooboo S2 D721 Indoor Cycling Bike is equipped with aluminum alloy toe caged pedals that have adjustable safety straps. So, they provide maximum footing stability that allows users to pedal vigorously as possible.
Most foot sizes can be accommodated, but can only be ridden with standard gym shoes.
It is entirely possible to switch the pedals for SPD if you wish to use clip-in shoes instead.
The Drive
The S2 D721 Cycling Bike has a belt drive system that usually produces quiet and smooth operation, and that's why most users prefer it. It comprises a durable V-belt, a pulley, a 3-piece crankset, solid crank-arms, and the 35 lbs./15.8 kg high inertia perimeter weighted flywheel.
It doesn't require you to periodically take the shrouds apart for lubrication or adjustment of any internal part, as opposed to a chain drive system.
In other words, it is maintenance-free, and users can train without invading other people's privacy.
Having said that, the belt wears out or weakens over a period of time and will need to be replaced.
Since the drive is fixed, you can't coast on it. For this reason, it is only imperative to use the emergency brake (push the tension knob down) whenever you wish to quickly stop pedaling.
However, the drive is bidirectional, meaning, users can pedal in reverse as well to reach and tone more muscle groups.
The Resistance
This bike incorporates a friction resistance system that uses elements such as a wool felt pad, and the flywheel to generate resistance. It produces unlimited resistance levels that are suitable for beginners, intermediaries, and advanced users.
Although, the downside is that it doesn't have predefined resistance levels, and it could generate a squealing sound when friction occurs between the flywheel and the felt brake pad.
Moreover, the felt brake pad may wear out sooner than it should if not properly Maintained.
But these problems can be avoided if the pad is always saturated with silicon-based oil because it prevents the squealing sound from happening and it highly reduces the deterioration progress.
The tension knob that sits on the mainframe tubing within arms' reach is used to regulate the resistance level. Simply turn it clockwise or counterclockwise to increase or decrease the resistance intensity, respectively.
When the tension knob is pushed down, the flywheel halts. This is especially used when the user wishes to abruptly stop cycling since the pedals do not coast.
The Console
The console on this machine is basic and it features a nonbacklit LCD monitor that tracks workouts stats such as Time, Distance, Speed, Odometer, Calories Burned, and Heart Rate.
The pulse data is only shown when the contact grips are grasped during a workout.
The metrics are displayed one after the other after every few seconds by the SCAN since they can't be viewed simultaneously; and lastly, the monitor is battery-powered (batteries are not included, need to be purchased separately).
Accessory
There is a large and secure tablet holder with 2 accessory holders.
The tablet holder helps you to keep a smartphone/tablet device handy and within view for taking calls, listening to music, or watching a movie.
While the accessory holders can accommodate stuff such as a remote controller, keys, etc.
There is also a water bottle holder that is designed to enable you to keep fluid/water within reach for proper hydration.
Storage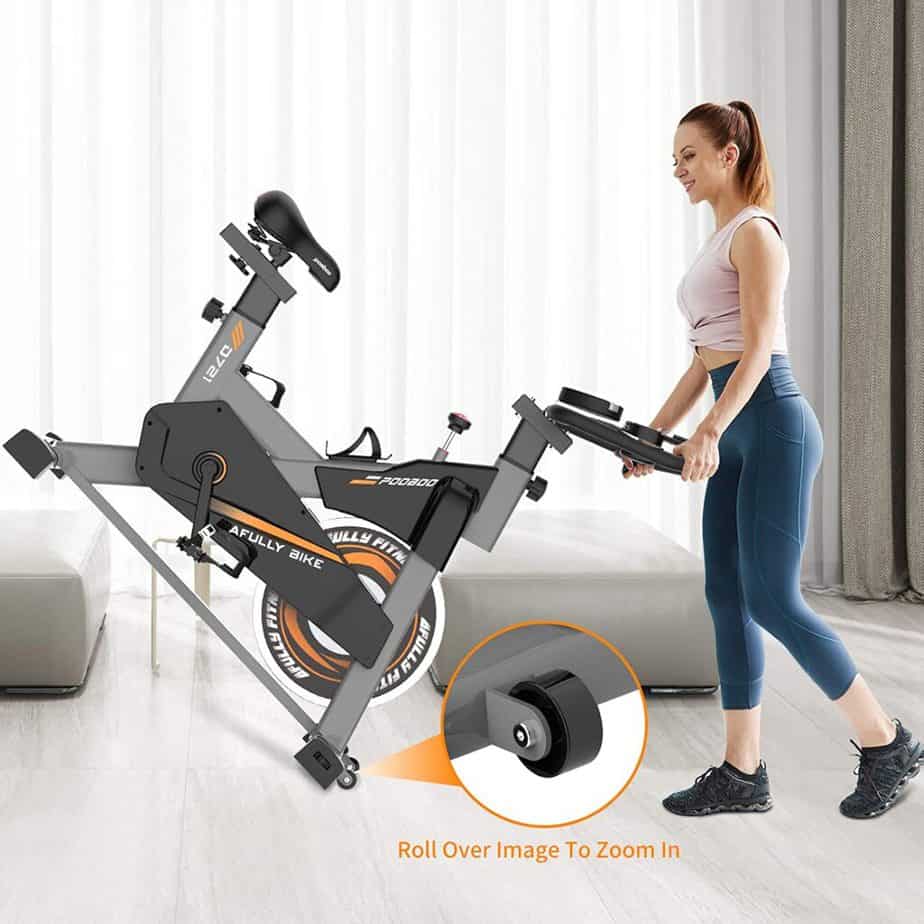 The Pooboo S2 D721 Indoor Cycling Bike is compact, lightweight, and portable. Therefore, even though it's not foldable, storing it is hardly a problem.
It weighs less than 63 lbs./28.5 kg, and there are transport wheels at the front base that make the relocation process pretty easy.
The dimensions are 41.3'' long by 21.3'' wide, hence, an area with perimeters of 3'5'' length by 1'8'' width will be enough for storage.
Due to its compact design, some users can afford to have it stored in a dedicated workout area.
Pros/Features Overview
It is affordable
Sturdily and elegantly built
It is very stable due to the robust base framework with adjustable levelers
It is space-friendly
It accommodates users that have inseams between 29.1''-38.6'', thanks to its micro-adjustability
Supports a high maximum user weight capacity of 350 lbs./158.7 kg
The seat is 4-way adjustable and nicely designed with a groove for comfort
The cushioned handlebar is 2-way adjustable and it provides multiple grips
Users can track their workout progress via the LCD monitor that displays Time, Distance, Speed, Odometer, Calories Burned, and Heart Rate
EKG contact grips;
The bike doesn't require electricity to function
It is family and office-friendly because its operation is smooth and quiet
The drive is bidirectional, and users can perform out-of-seat pedaling
The seat can be switched for another, and so do the pedals too
Transport wheels included for relocation process
Assembly is easy
Not very much maintenance is required
Tablet holder, water bottle holder, and extra holders for accessories are integrated
Cons
The monitor is basic and nonbacklit
Warranty
Product Dimensions & Specifications
Length: 41.3''
Width: 21.3''
Length: 38.6''
Shipping dimensions: 36'' L x 29'' W x 9'' H
Net weight: <63 lbs./28.5 kg
Gross weight: 63 lbs./28.5 kg
Frame: Steel
Maximum user weight capacity: 350 lbs./158.7 kg
Inseams supported: 29.1''-38.6''
Drive: Belt
Resistance: Friction (felt brake pad)
Seat: 4-way adjustable
Handlebar: 2-way adjustable
Pedals: Toe cages with safety adjustable straps
Monitor: Basic and nonbacklit
Flywheel: 35 lbs./15.8 kg
Tablet holder included
Water bottle holder included
Extra holders included
Transport wheels: Yes
Shipping
Amazon ships out the Pooboo S2 D721 Indoor Cycling Bike without a shipping charge. It gets to the buyer in a couple of days.
It is neatly packaged in a box that weighs 63 lbs./28.5 kg with dimensions of 36'' long by 29'' wide by 9'' high.
Assembly
Putting this indoor cycling bike together is easy because it is over 80% preassembled. The only parts needed to be attached to the core unit are the seat, the handlebar/post, the pedals, the base stabilizers, and the console.
It takes about 30 minutes, more or less to complete the assembly.
However, if you don't want to get your hands dirty, you may opt for the premium expert assembly.
Tools and an instruction manual are included in the package to help you in the process of assembly.
Maintenance
The machine needs to be cleaned after every workout session. Inspect it before use to be sure that no part is broken or loosened. Apply and always keep the felt brake pad saturated with silicon-based oil.
Also, do not expose the console to liquid, moisture, or direct sunlight.
Conclusion
The Pooboo S2 D721 Indoor Cycling Bike is an average cardiovascular machine that gets you to lose weight, improve the heart and lungs' health, and tone lower body muscle groups, the core, and the arms.