The Weider Ultimate Body Works is a unique equipment that gives you the opportunity to work on your entire body. This unit is not like the everyday regular treadmill, recumbent or upright bike, but it is different and works wonder to those that know it. Adding the Weider Ultimate Body Works to your home gym would certainly make the difference. This invention credit goes to Joe Weider whom many consider a great bodybuilder, although he is late now but left his footprints and legacy to live forever.
The Weider Ultimate Body Works has been around for a while now, even though many may not know it, but it is still a great way of working your overall body.
Click right here to have a peek at the price of the Weider Ultimate Body Works  on Amazon.
Features/Pro Overview
I can go all day to explain to you why

Weider Ultimate Body Works

is the best home gym equipment for you, and one other thing that is also a fact is that it is cheap. It is even cheaper than most gym membership fee, when you do the math you will find out that having this unit at home is way better than paying for a reoccurring gym membership fee and also having to face the inconvenience that is associated with going to the gym even when you don't have the time, having to put up with bad weather and dealing with the crowd. At the gym, you may have to use different workout machines in order to achieve what you should have achieved with just one machine which is the Weider Ultimate Body Works.
This unit has got 4 adjustable power bands that enable you to experience a challenging workout that is meant to shape and define your different muscle groups such as the calves, thighs, hips, back, abs, arms, and shoulders. This machine simply works wonder by handling your overall body because of its unique design. Basically, what these power bands do is to increase resistance beyond your body weight.
The unit has got a space-saving design that would be great for everyone that thinks his or her apartment is small, or to even those that do not like bulky stuff around the room. This is so because of its convenient slide away technology that makes it possible for quick and easy storage.
Upon purchase of the Weider Ultimate Body Works it arrives with a workout guide that would walk you through and give you the orientation that you need on how to make best of it. Interestingly, it lists exercises that target certain muscle groups and how to properly perform particular exercises with additional suggestions as well.
This unit has got what is called the ''Body weight resistance system'' where the mechanism turns your body weight into positive and natural resistance for different types of workouts.
This machine allows you to experience flexibility-strength training through its unrestricted cable and pulley system that gives you a greater range of motion and versatility that allow broader different types of workouts that eventually strengthen and target muscle and also increase flexibility.
It has got adjustable incline that you can easily adjust to increase or decrease the intensity of your workout. This is done by simply changing the incline of the glide board up to 7 easy incline level options.
The Weider Ultimate Body Works was also built-to-last in mind as it is made of steel tubing which will make the unit to last long.
Warranty
90 Days for Parts and Labor
Production Dimensions
71'' Length
25'' Width
Weighs about 79 pounds or less.
Shipping and Assembly
Shipping cost of this product is totally free if you are purchasing from the Amazon, but that may not be the case with other retailers.
Assembly is very easy as the parts to assemble are very minimal. It will probably take you 30 minutes or less than an hour to have it all set up.
Conclusion
The Weider Ultimate Body Works has been around for some years now and it current consumer rating on the Amazon is recommendable. 88% of consumers found it great and 6% thinks it is good, so this is a tell-tale sign that this unit is worth giving a try.
It may also interest you to know that this product was manufactured by a reputable and renowned brand ICON Health and Fitness. Weider has got his signature on it and has also remained one of the most trusted names in strength training for almost 3 decades. There is other fitness equipment produced by Weider among them are the variable rods resistance machines, free weight benches and quality home gyms.
Did you know that the brain behind the Weider Ultimate Body Works is Joe Weider, the trainer of Arnold Schwarzenegger and the publisher of the famous magazine, Muscle and Fitness Magazine? Well, that's how reputable this equipment is.
Weider Ultimate Body Works Review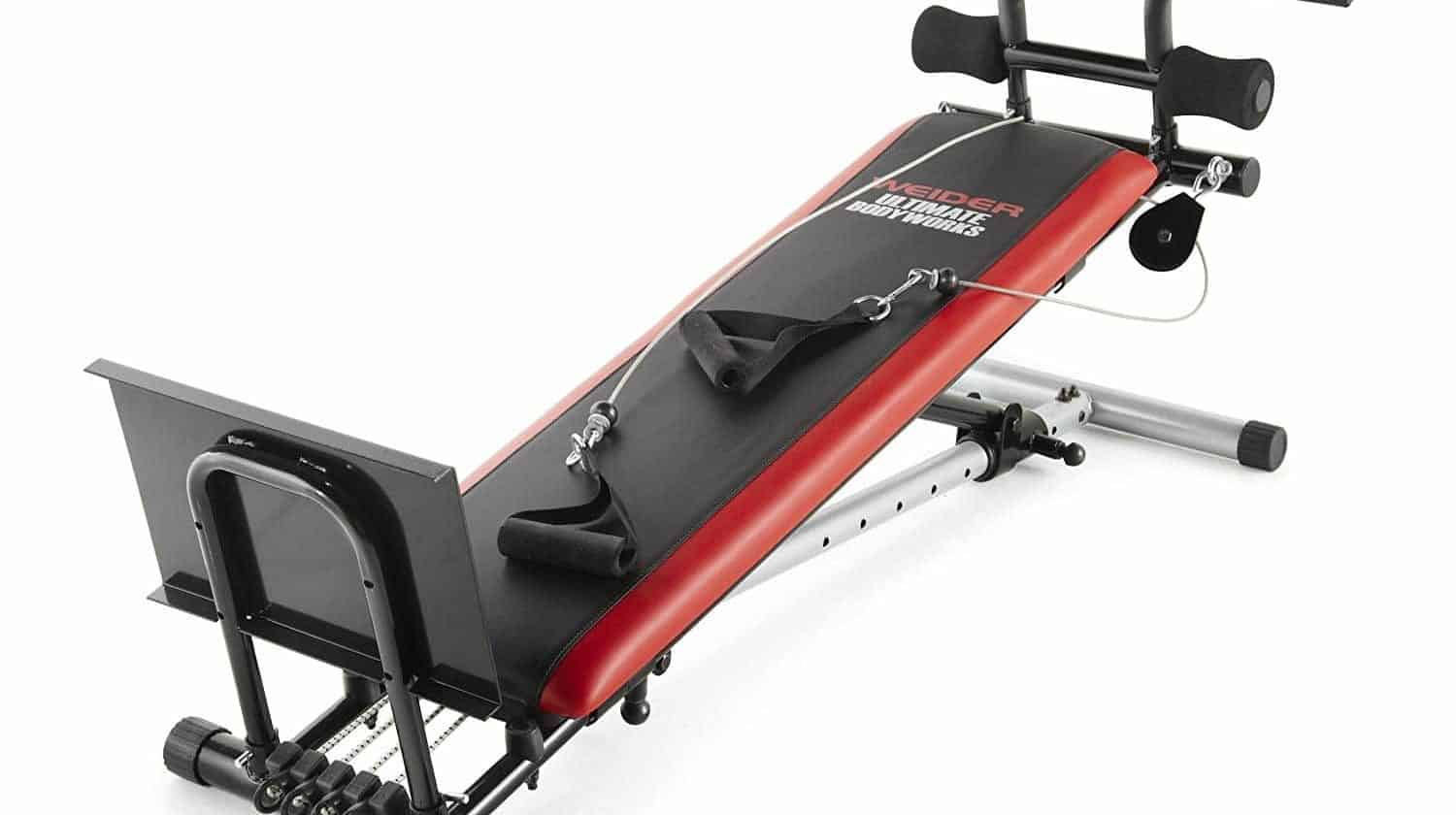 The Weider Ultimate Body Works is a unique equipment that gives you the opportunity to work on your entire body. This unit is not like the everyday regular
Product Brand: Weider
Product In-Stock: InStock