The TOMSHOO 1100W Motorized Folding Electric Treadmill is yet another budget-friendly product from this manufacturer after the TOMSHOO 500W Folding Motorized Treadmill. This unit is a 2017 model that just made it to the market. It is basically made for home use, walking, jogging and a bit of running too. It 1100W motor is quiet and smooth during operation and you will never have to worry about inconveniencing the family or neighbors while doing your thing.
There are features available in the TOMSHOO 1100W Motorized Folding Treadmill th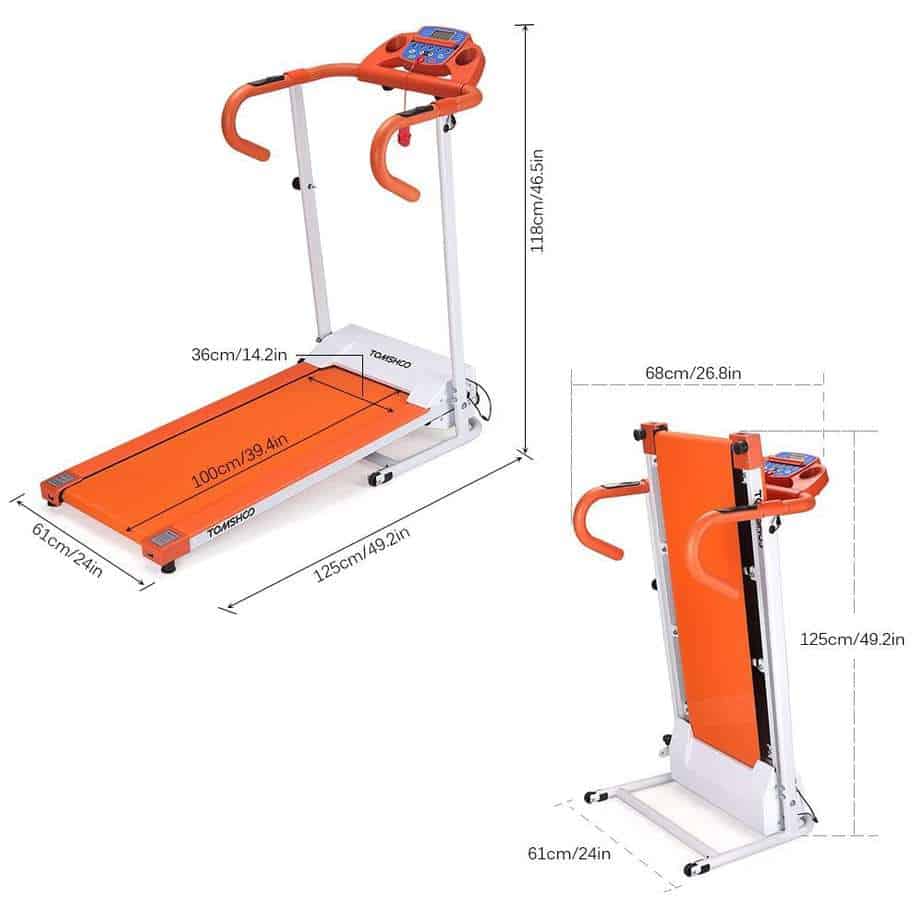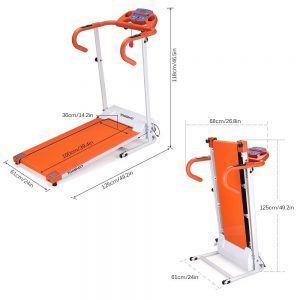 at would help you reach your fitness goals. It offers a low-intensity workout but improves general health condition and endurance. It basically helps you to build stronger muscles and of course mobility of the joint. It has got features that would keep you motivated while it also helps you to burn calories faster.
Features/Pro
This unit has an LED Display that is multi-function; as you workout, you will be able to view your workout data such as the speed, distance, time, and calories burned which will, in turn, keep you motivated. It has got a heart rate monitor as well that would enable you to stay within your target heart rate zone at all times.
Emergency Stop Switch is also integrated to guarantee safety in case of accidental tripping during a workout. The machine can be stopped automatically by a mere pull on the stop switch.
Its motorized folding ability allows you to easily fold up and store without a hassle and save space as well. Therefore, it is good for those in big and small apartments alike.
The handrails are well coated with foam for comfort and convenience
It has a 1100W Motor that is low in noise and runs smoothly during operation.
It supports 250 pounds maximum user weight
It is durable and sturdy as the frame was built with steel.
It has a Mobile Phone or Tablet Holder that can hold your device while you work out. That would also help you to watch or listen to your favorite music from your device.
It has got a 4'' Length by 14.2'' Width running surface for walking and jogging.
This unit can easily be moved around the room because of its transport wheels.
Package List
Upon purchasing this unit you shall receive;
1 Treadmill
Power Cable
Instruction Manual
Product Dimensions
49.2'' Length
46.5'' Width
24'' Height
Other Specifications
Color- Black/Orange (you can choose any of these colors for your unit)
The Running belt is made up of PVC
The rated power is 1100W
Speeds from 0.8 to 6 mph
Shipping and Assembly
Shipping of the TOMSHOO 11002 Motorized Folding Electric Treadmill is free if you are purchasing from Amazon, however, that may not be the case with other retailers.
As for assembly, it is pretty much easy to assemble as the major components are shipped pre-assembled. Moreover, you have the instruction manual to walk you through the process of assembly even as you have fewer parts to assemble.
Warning!!!
It is very important to take note of these warnings in order to keep your unit safe and for it to last longer.
Do ensure that your unit is properly assembled before you power it on.
Do not keep the unit on a thick mat in order to ensure good air circulation under it.
Do not expose the unit to rain or moisture
It is not advised for pregnant and seriously injured people to use this unit.
Conclusion
The TOMSHOO 1100W Motorized Electric Treadmill is great for those that wish to work out and achieve physical fitness even at their own convenience. It is very affordable to acquire and the features available in it overcompensate for the price you are paying for it.
This will help you burn more calories faster and improve endurance at home. No worries about the gym registration fee, bad weather or time constraint anymore