The Viatek Flex Bike Ultra is a foldable and compact bike that possesses the needful useful features that could help translate your quest for achieving physical fitness into realization.
It has almost the same set of features as the other popular folding exercise bikes if not better.
That being said, we are going to look at this unit closely and highlight the pros and cons. We will try to help you make that final purchasing decision; at least we honestly hope so.
<<<Click right to view the price of the Viatek Flex Bike Ultrar>>>
The Frame and Construction
First of all, the Viatek Flex Bike Ultra is available in 4 different colors, which are black, purple, red, and blue. These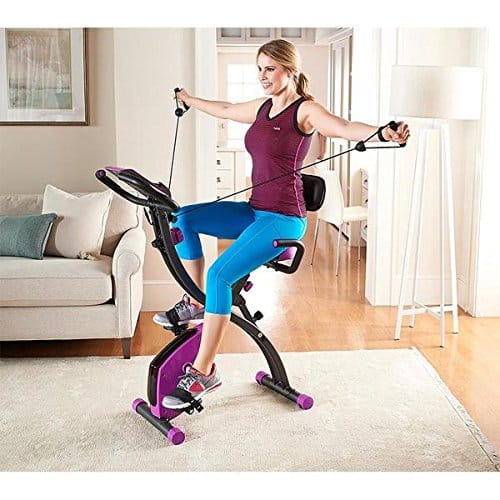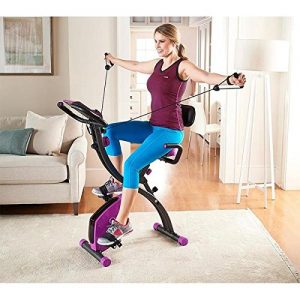 are variants of the same folding bike with the same set of features and quality except for the colors. Therefore, you will be able to choose your favorite color for the bike.
It is a compact and foldable bike that can easily fit in a small room or apartment and will be liked by those that want portable stationary exercise bike. The overall assembled dimensions are 42.5 inches long by 21.5 inches wide by 41 inches tall. This means a workout area of 3 feet 5 inches long by 1 foot 8 inches wide will be required.
But it is recommended to provide extra clearance of at least 2 feet on both sides and the rear for a safe and comfortable workout and the ceiling height of the room it is going to be used should be at least 6 feet high.
While on the other hand, the folded dimensions are 17 inches long by 21.5 inches wide by 54 inches tall and weigh just about 39 pounds/app. 18 kg. It is also equipped with transport wheels at the front base which is designed to aid in the relocation process. Therefore, simply fold and roll away to the storage destination without hassle.
The frame is made heavy-duty steel that is finished with anti-corrosion and scratch paint that should prevent rusts and scratch. However, this is an indoor bike meant to be used indoors otherwise, if exposed to rains and water this could damage the console and you don't want that to happen. It is sturdy enough to support up to 300 pounds / 136 kg maximum user weight.
Stabilizer bars are integrated into the bike to ensure that stability is achieved; one at the front base while the other at the rear base.
The Viatek Flex Bike Ultra also provides full-body workouts, unlike the conventional stationary bikes that mostly provide lower body workouts. This is possible because of the upper body resistance bands that are located just below the main handlebars. You can utilize this feature when you wish to exercise the upper body and may choose not to do so as well, it is optional. The resistant bands' handles are coated with rubber/foam material to provide a comfortable grip that will prevent blisters on the palms also.
The frame and the overall construction of this foldable semi-recumbent bike will not disappoint you in terms of quality, sturdiness, and stability.
The Seat and Handlebars
Just a reminder, the seat and the handlebars are basically among the elements that make a stationary bike comfortable and desirable if they are well designed.
Therefore, the Viatek Flex Bike Ultra has got a recommendable large seat with backrest that suggests providing much-needed comfort.  Both the seat and the backrest are well cushioned and padded with foam and covered with a vinyl material that offers nothing but comfort to the butt. You will be able to work out longer without feeling violated or bored which increases the possibility of you attaining your fitness goals quickly.
To further boost the comfort you get from the seat and the opportunity of exercising in different workout positions the seat has 3 recline adjustable levels, and could also be adjusted vertically, which is upward and downward.
Now, this also increases the number of different users it can accommodate regardless of their height, however, one user did complain of not been too comfortable for him because he is short but says he still enjoys the bike.
There are side handles or armbars to the seat which are coated with foam material for a comfortable grip as well. These are designed or meant for the sole purpose of providing support to you so that you could achieve more leverage to pedal harder while you enjoy the comfort.
It has multi-grip designed handlebars that also have the heart rate sensors embedded in them so that your heart rate data can be read and transmitted to the display/monitor each time you grip them during a workout.
The handlebars are also designed to provide a comfortable grip because they are covered with foam/rubber material.  However, you cannot adjust the handlebar because it is fixed but that does not reduce the comfort you will because the seat adjustability got you covered.
The Drive and Pedals
The Viatek Flex Bike Ultra features a belt drive system that is very popular due to its smooth and quiet operation. This means that the bike operates with a consistent, smooth, and quiet motion that will set your mind at ease because you do not only enjoy the workout but you do not also bother the family or the neighbors with unwarranted noise.
You can use this bike and workout anywhere you find it convenient to do so because of its compact and mobile design and of course quiet operation.
Not also forgetting that you have the liberty of entertaining yourself by watching your favorite TV show or listening to some good music.
The bike also features non-skid pedals which means they are slip-resistant with safety adjustable straps to further stabilize the security of your feet during a vigorous workout.
The Resistance System
The Viatek Flex Bike Ultra comes with a manual adjustable magnetic resistance system. The multiple resistance levels could challenge you enough to burn more calories.
You can easily adjust the resistance by turning the tension knob that is designated on the double frame just below the resistance band and the console. The resistance can be increased by twisting the tension knob clockwise and decrease by turning anti-clockwise.
However, the resistance band that is designed for upper body workout is not adjustable; nevertheless, you should be able to tone every muscle group in the body even as you lose weight and improve physical endurance.
The Viatek Flex Bike Ultra's resistance system is maintenance-free because it is a magnetic resistance system.
The Console
The console is relatively large and larger than most consoles on other stationary bikes of the same category.  The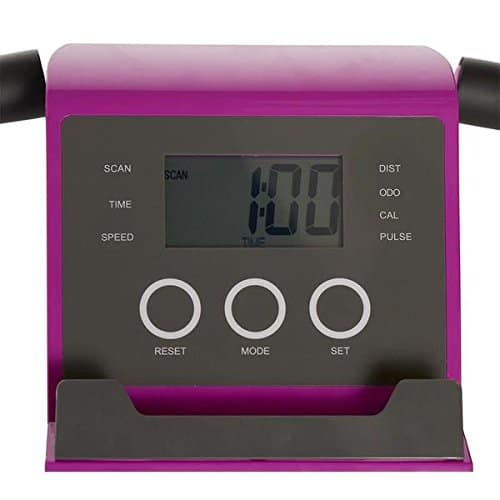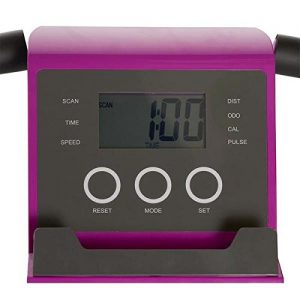 problem is that the monitor is not backlit and therefore could be difficult to read the metric in a poorly lit room. The good news is that it has a large metric display with high readability if used in a well-lit room.
The console is basic with three control buttons; which are Reset, Mode, and Set.
It is very easy to manipulate or use the console and you will be able to track speed, time, distance, SCAN, calories, and heart rate. This is so important because you will be motivated and be focused on achieving your fitness goals. Being able to view your heart rate will also help you to maintain your target heart zone at all times.
There is on the console a tablet holder where you could place your phone or tablet while working out, but the problem is, you may not be able to manipulate the buttons on the console or even view the display.
The console is powered by 2 AA batteries which are included. The display comes on when there is activity on the bike and goes off when there is no activity for a couple of minutes. This is to save battery power and no electricity is needed.
Accessory
The only accessory present on the Viatek Flex Bike Ultra is the tablet holder which we think is badly positioned because it will block your view of the workout data being displayed on the monitor should you decide to place a tablet on it.
Storage
What more can we say about the storage of the Viatek Flex Bike Ultra? It is very easy and convenient to move and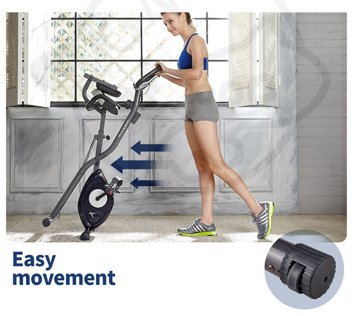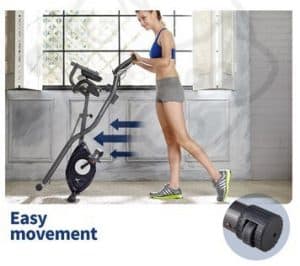 store it away because of its compact and foldable design and the transport wheels that are also integrated into it.
It doesn't even take up much space when fully assembled much less when folded. Anyone can single-handedly move the bike to a storage destination because it is also a lightweight machine of 39 pounds / 17.7 kg.
Approval Rating
The approval rating is a prerequisite for determining how well a product is accepted by its users. This simply solves half of your purchasing decision problem…well, at least we listen to users' feedback because these are folks that have walked down the road and you can learn from them instead of trying to find out for yourself.
That being said, the Viatek Flex Bike Ultra has a very good and impressive approval rating with the majority of the users' feedback saying they will recommend it.
Pros/Features Overview
Constructed with a high-quality steel frame
Solid, sturdy and supports up to 300 pounds/ 136 kg maximum user weight capacity
Has a large console with high readability display
The seat and backrest are well cushioned and padded to provide optimum comfort
The seat is adjustable with 3 recline levels and vertical adjustment as well
It is compact in design with dimensions of 42.5 inches long by 21.5 inches wide by 41 inches tall
Lightweight 39 pounds/ 17.7 kg
Integrated with transport wheels for an easy relocation process
Foldable design
The belt drive system that operates with smooth and consistent motion
Manual adjustable magnetic resistance system
Has multiple resistance levels
The LCD monitor that allows you to track time, distance, speed, SCAN, calories, and heart rate
Heart rate sensors are embedded in the fixed handlebars
Handlebars are designed to provide a comfortable grip
Seat armbars that support you for a more aggressive workout
Tablet holder for phone/tablet
Easy to assemble
Affordable
Cons
The LCD monitor is not backlit therefore you might have a problem viewing the metric when used in a poorly lit room
The tablet holder's positioning is not great because the phone/tablet might block you from viewing the display
No water bottle holder
Some users say the instruction manual could have been better
Product Dimensions and Specifications
42'' Length
21'' Wide
41'' Height
17'' Length (folded)
21'' wide (folded)
54'' Height (folded)
Weighs 39 pounds/ 17 kg
Belt drive system
Manual adjustable magnetic resistance system
Supports up to 300 pounds/ 136 kg maximum user weight capacity
Foldable design
Digital monitor displays time, speed, calories, distance, SCAN, heart rate
Warranty
1 Year limited manufacturer's warranty
Shipping, Assembly, and Maintenance
Shipping
The shipping cost of the Viatek Flex Bike Ultra depends on the retailer you wish to purchase from, however, Amazon provides free shipping.
Assembly
The assembling process is relatively easy even though there are complaints about the instruction manual not being very helpful because of poor translation.
It could take you about 30 minutes more or less to fully assemble the unit. Although it will be great if you have someone to help you out, nevertheless, you can still do it alone.
Maintenance
The Viatek Flex Bike Ultra does not require any major or serious maintenance but you are advised to always examine the unit for any loose, worn, or broken parts at all times and do fix accordingly if there is any.
Also, spot clean with a damp cloth always.
Conclusion
The Viatek Flex Bike Ultra is another version of the Sunny Health & Fitness SF-B2721 Comfort XL Folding Recumbent Bike or the Exerpeutic WORKFIT 1000 Desk Station Folding Semi-Recumbent Bike, except that they are different in some ways.
Honestly, this is a recommendable bike if you are looking for a budget-friendly semi-recumbent bike such as this, besides most folding stationary bikes are very limited when it comes to features they possess.
Viatek Flex Bike Ultra Review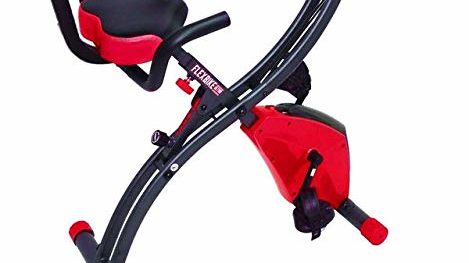 The Viatek Flex Bike Ultra is a foldable and a compact bike that possesses the needful useful features that could help translate your quest for achieving
Product Brand: Viatek
Product In-Stock: InStock