The Exerpeutic WORKFIT 1000 Desk Station Folding Semi-Recumbent Exercise Bike was designed to provide convenience for those that work at all times. Those that hardly have time for themselves due to workload. This piece of equipment will really find a place in their hearts because it is possible to work out and work at the same time.
Aside from the ability to work out and work there are other reasons why this machine would be the right choice for anyone that wishes to stay fit and not miss out on any work schedule. These other reasons include its affordability and innovative features that could hardly be found in other equipment of its price range. Even a person on a low budget can afford this machine as it a little over $200. Exerpeutic has made it possible for people that own the Exerpeutic WORKFIT 1000 Desk Station Folding Semi-Recumbent Exercise Bike to experience an outstanding workout experience with its integrated features such as the sliding adjustable desktop with the ability to be adjusted forward, back, up and down.
This adjustment could fit any position a user wishes to take, be it standing or sitting position. It has 3 angle adjustment (0, 16 and 33 degrees), 5 height adjustments, from 41'' to 45''.
There is quite a number of features that are worth mentioning and will do so by listing them below.
Click right here to have a peek at the price of the Exerpeutic WORKFIT 1000 Desk Station Folding Semi-Recumbent Exercise Bike on Amazon.
Features/Pros
It has got 8 levels magnetic tension control system that allows a user to choose an easy or difficult workout depending on what the user wishes to achieve.
It has got this LCD computer display that indicates or shows the workout data such as the time, odometer, distance, calories burned, speed, scan, and heart rate. Ordinarily, these data motivate the user to achieve whatever goal intended to achieve.
It enables a user to use it as a standing desk when tired of sitting, the possibility for the desktop to be adjusted and move forward and backward makes this possible.
It has a folding capability that even makes it easier to store or for storage. For those that have an issue with space in their apartment could find this very helpful.
It is affordable with great features that could help anyone achieve his/her fitness goals even on a tight schedule.
It supports a maximum of 300 pounds user weight, which means most people can use it.
A user can enjoy the convenience of getting on and off the bike.
It has a fully adjustable sliding Desktop just as aforementioned. The desktop has 3 angle adjustments (0'',16, and 33 degrees plus 5 height adjustments (41'' to 45'') and it has got a large working surface (16'' L X 24'' W) and can support up to 44 pounds of weight.
The equipment is integrated with 2 cup holders and a storage drawer.
The armrest is made up of durable soft foam for comfort during a workout.
The AirSoft seat is an oversized and large seat of about 11'' L x 15'' using aerodynamic healthcare technology that allows air to breathe through the fabric which makes the seat to always be cool even after hours of using it. The seat is adjustable for 5 ft 2'' to 6 ft 3'' user height.
It has got hand pulse sensors for monitoring the heart rate during a workout.
Product Dimensions
25'' L X 25'' W X 51.25'' H
Warranty
Shipping and Assembly
The shipping cost differs and depends on where you are buying from, but if you are buying from the Amazon (and that is the ideal place to buy from) the shipping will be cost-free and especially for U.S residents.
As for assembly, it is pretty easy to be assembled by anyone especially with its assembling manual that would work you through it step by step on how to assemble it.
Conclusion
This machine has got popularity that is still spreading due to the innovative feature it has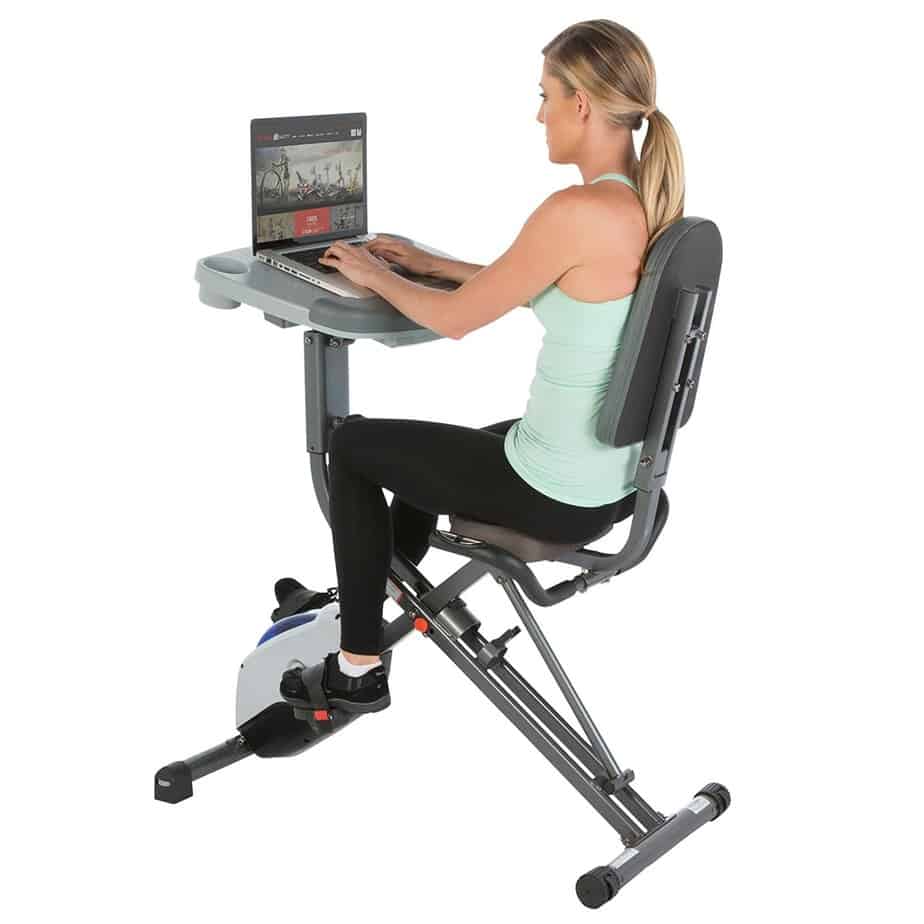 got. Workout and work is a capability you will rarely see in most health equipment especially the ones in its price range. It sounds good and feels good to be able to tone the body and gain physical fitness while being able to work while doing that as well.
The Exerpeutic WORKFIT 1000 Desk Station Folding Semi-Recumbent Exercise Bike is a must get for those that are on a low-budget, rarely have time to work out and still want to keep fit. As a matter of fact, all the reviews done by the actual users are positive and 61% of these people gave it a 5 out of 5 stars while 22% gave it 4 out 5 stars. This shows how useful and promising this machine is; click here and scroll down for reviews from actual users.
[rank_math_rich_snippet]