The Syrinx Indoor Cycling Bike has got the right features and construction any good indoor spin bike should have, hence its popularity. It's a basic indoor bike that still gets the job done.
It has a 35 pounds/15.8 kg perimeter weighted flywheel that ensures vibration is eliminated during a workout and provides a simulation of riding an outdoor bike. Indoor cycling bikes with a heavier flywheel tend to provide the feel of riding a road bicycle but may not be as good as a bike with a light flywheel in the aspect of interval training.
Users up to 280 pounds/127 kg weight can exercise on the bike.
The bike is compact and smaller than most spin bikes, yet, its stability is good and users of different heights can be accommodated due to the fact it can be customized.
The resistance is suitable for all users and has a super-tough, durable non-slip breathable soft foam multi-grip handlebar that allows a user to work out safely and comfortably in different postures.
The integrated LCD monitor keeps track of the basic workout stats except for the heart rate.
Click right here to have a peek at the price of the Syrinx Indoor Cycling Bike on Amazon.
The Frame and Construction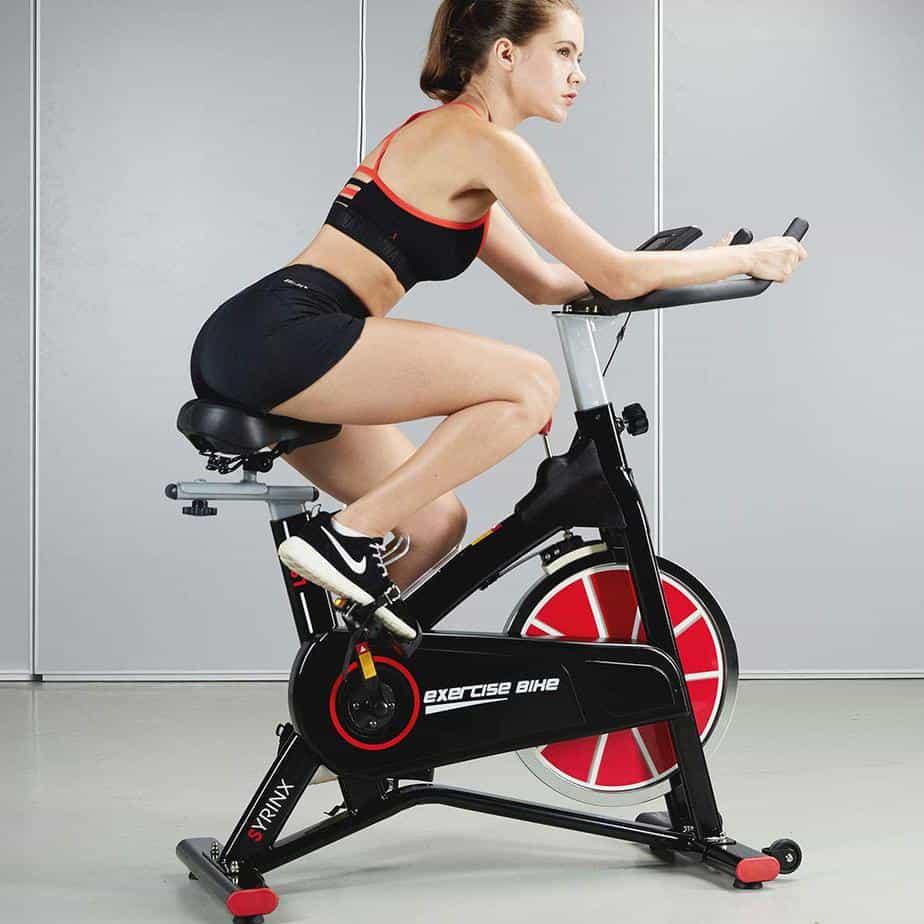 The Syrinx Indoor Cycling Bike is equipped with an anti-corrosive coated steel frame that supports 280 pounds/127 kg maximum user weight capacity. Other parts such as the belt and the tension knob covers are made of ABS material.
It is not a foldable bike but compact enough not to overwhelm your space. The overall assembled dimensions are 38.99 inches long by 20 inches wide by 42.97 inches high. Differently put, it will require a workout area with a perimeter of 3'3'' long by 1'7'' wide and a ceiling height of at least 7'. However, additional clearance of 1-2′ might be needed at the rear and on each side of the bike for convenience and safety during a workout especially if it's going to be used in a confined area.
The base framework is well-engineered to provide optimal stability that defies even a crooked surface. The base features front and rear steel stabilizer bars that have adjustable rubber levelers underneath them. These allow the user to adjust and level up the bike on a surface that is not even.
It (bike) is a lightweight machine but nonetheless, its overall weight of 73 pounds/33 kg further boosts its overall stability.
The Seat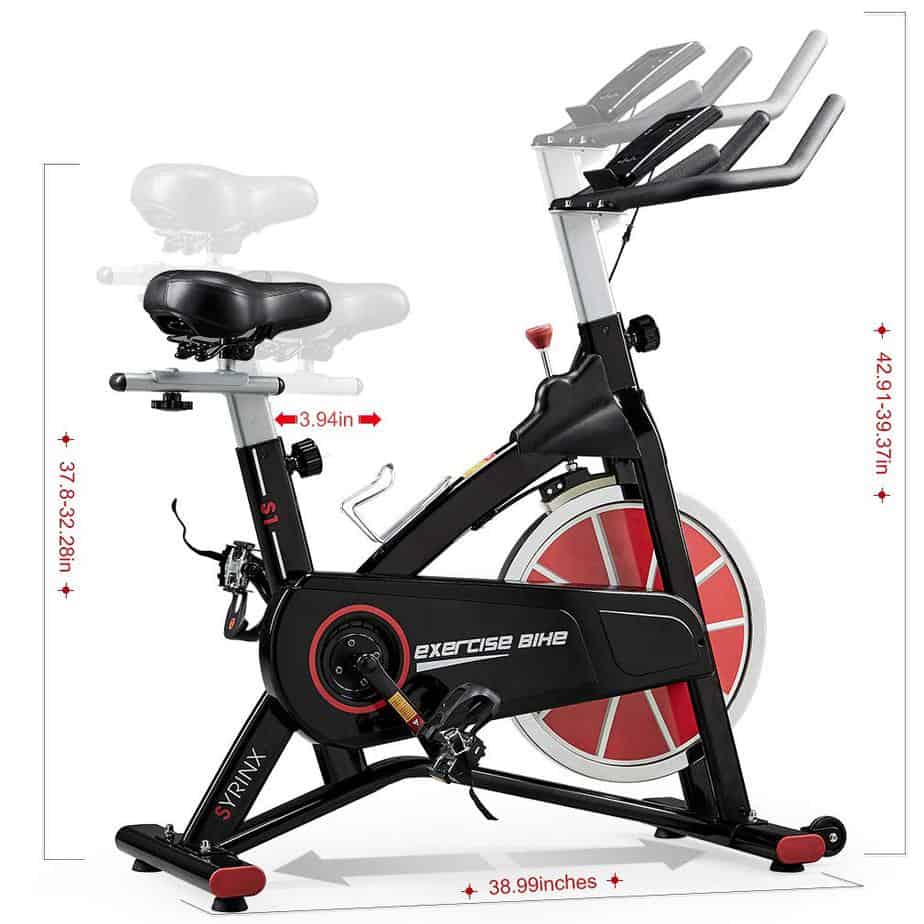 The seat is a very important part of any indoor bike, including a conventional bicycle. It plays a role in how long a user can work out and which determines the level of the result one gets. So, a well-designed seat provides the much-needed comfort for working out longer while a bad seat does not.
That said, the Syrinx Indoor Cycling Bike is integrated with a seat that has a good design with a groove in the middle of it. It is padded with soft foam and covering that offer good air permeability and heat dissipation. The included springs also absorb shocks and ultimately provide long-lasting comfort.
But if for any reason you find it falling short of what you expect in terms of comfortability, you can always use a gel seat cover to improve it or better still replace it with another saddle of your choice as it has a standard connection mechanism.
You can adjust the seat 4-ways; vertically (upward/downward) and horizontally (fore/aft). This allows you to customize the bike for suitability. Multiple users can utilize the bike without getting in each other's way.
If you are not sure it can accommodate you, then measure your inner top thigh to the ankle and see if the measurement falls between 27.5'' to 35 ''. If it does then the bike is suitable for you but otherwise, it's not.
The handlebar
The bike's handlebar is ergonomically designed with multiple grips that enable a user to work out in different postures. It is coated with a breathable foam that is durable, non-slip, and comfortable. Hence, no slippage or blister in the palms will be experienced.
The handlebar is 2-way adjustable; it could be adjusted vertically, (upward/downward). This no doubt complements the seat's adjustability thereby providing good customization.
A tablet holder is incorporated on the handlebar but there are no EKG heart rate sensors on it for tracking pulse rate. For this reason, the bike doesn't have a heart rate monitoring function. You have to use an external device if you wish to keep an eye on your heart rate.
The Pedals
The Syrinx Indoor Cycling Bike comes with a set of non-slip toe cages pedals with adjustable safety straps. These pedals do not accommodate spin shoes but only standard gym shoes. They provide comfortable alignment to the feet and also secure them from slipping during vigorous pedaling.
They have a standard thread of 9/16'', thus, replacement with a set of SPD clip pedals is possible.
The Drive
The drive of any indoor cycling bike usually consists of a belt or a chain as the case may be, pedals, pulleys/sprockets, a 3-piece crankset, solid crank-arms, and the flywheel.
In the case of the Syrinx Indoor Cycling Bike, it features a belt drive system that comprises all of the above-mentioned elements. Except it has a belt instead of a chain and has pulleys instead of sprockets.
Its drive provides a smooth and quiet operation that enables you to have a workout timetable flexibility. This means you can work out at any time of the day without being constrained by the family being around or the neighbors. They won't feel disturbed by your workout activities.
More so, you can enjoy watching a movie/TV show, or listening to good music while exercising without having the need to raise the volume up high.
The drive doesn't require any post maintenance as the chain drive does. No lubrication or adjustment is needed.
You can pedal in reverse if you so desire because the drive is bidirectional. However, you cannot coast on it as you could on an outdoor bicycle.
The Resistance
The bike has a friction resistance system. This is a type of resistance system that comprises a wool felt pad, a tension knob, and a flywheel. The brake pad and the flywheel come in direct contact in order to generate resistance, while the tension knob is used to increase or decrease the resistance level.
The resistance can be increased by twisting the tension knob clockwise and turning counterclockwise to decrease it. Press it down to apply the emergency brake when you wish to suddenly stop pedaling.
The resistance levels it provides are suitable for anyone at any fitness level and that includes anyone that wishes to engage in an extremely difficult workout.
There are no predefined resistance levels as the case with the Keiser or the ASUNA Lancer and what this means is that you won't have the knowledge of the resistance levels you used between workouts thereby making it difficult for you to assess your progress in terms of strength and endurance.
However, this is hardly a deal-breaker considering the fact that the bikes with predefined resistance levels are usually more expensive.
The Console
The console on the Syrinx Indoor Cycling Bike is basic as expected. There are no bells and whistles but it tracks your workout progress by displaying workout stats such as time, speed, distance, and calories burned.
The monitor is easy to read as long as it is being viewed in an environment that is well-illuminated otherwise its readability will be diminished because it's not backlit.
It is easy to use and it's powered by batteries.
There is a battery power saving function that automatically turns OFF the monitor when there is no activity on the bike for a few minutes and it automatically turns ON when activity resumes. The monitor can also be turned ON/OFF manually via the button on the console.
Accessory
The Syrinx Cycling Bike has a tablet holder for the placement of a smartphone/tablet. This enables you to keep your device within reach for the purpose of taking calls and entertainment.
There is also a water bottle holder right on the mainframe tubing which is for keeping water handy during an exercise for maintaining hydration.
Storage
The Syrinx Indoor Cycling Bike is lightweight, compact, and transportable. It weighs just about 73 pounds/33 kg and has transport wheels integrated on the front base stabilizer. Simply tilt and move it to storage.
Approval Rating
Generally, the Syrinx Indoor Cycling Bike should be considered popular considering the reviews of real users on Amazon at the time of this review.
Pros/Features Overview
Durable, sturdy, and stable
Supports 280 pounds/127 kg maximum user weight capacity
Customizable for users of different heights and sizes
Compact and transportable
The LCD monitor tracks workout stats such as time, distance, speed, and calories burned
Resistance intensities are suitable for everyone at any fitness level
Its operation is quiet and smooth
Pedals offer comfortable feet alignment and safety during workouts
Low maintenance
Easy to assemble
Pedals and the seat can be replaced
The handlebar is ergonomically designed with multiple grips and covered with soft foam material for comfortable and secure grip
Tablet holder included
Water bottle holder included
Cons
The monitor is not backlit
No heart rate monitoring function
The display may be blocked when a device is placed on the tablet holder
Resistance levels are not predefined
Product Dimensions and Specifications
Length 38.99''
Width 20''
Height 42.91''
Shipping dimensions: 40.2'' L x 9.84'' W x 33.9'' H
Inseam height adjustment: 27.5 – 35''
Weight: 73 pounds/33 kg
Supports user maximum weight: 280 pounds/127 kg
Drive: Belt
Resistance: Friction, infinite
Pedals: Toe cages with adjustable safety straps, standard thread
Seat: 4-way adjustable
Handlebar: 2-way adjustable
Transport wheels: Yes
Flywheel: 35 pounds/15.8 kg
Frame: Steel
Console: Basic, non-backlit LCD monitor
Shipping
The Syrinx Indoor Cycling Bike is shipped in a box and delivered without any shipping cost by Amazon. The package arrives in a couple of days depending on the delivery location.
Assembly
It won't take up to an hour to completely assemble the Syrinx Indoor Cycling Bike. The major and complicated parts of the bike are preassembled and you are only expected to attach the base stabilizer bars, the seat and the handlebar posts, the seat, the handlebar, the pedals, and the console to the main core unit upon arrival.
Assembly video is also available and the tools needed to get the job done are included in the package.
Maintenance
No serious maintenance is required.
A silicon-based lubricant oil needs to be applied on the flywheel if there is any squeaking sound or bad smell when the resistance is engaged.
Always examine the bike before use for any loose or broken part that needs to be tightened, repaired or replaced. Keep the bike clean from dirt and sweat at all times.
Conclusion
If you are looking forward to purchasing an indoor cycling bike that is affordable and yet useful in weight loss and improving overall physical fitness then the Syrinx Indoor Cycling Bike should be on your list.
Syrinx Indoor Cycling Bike Review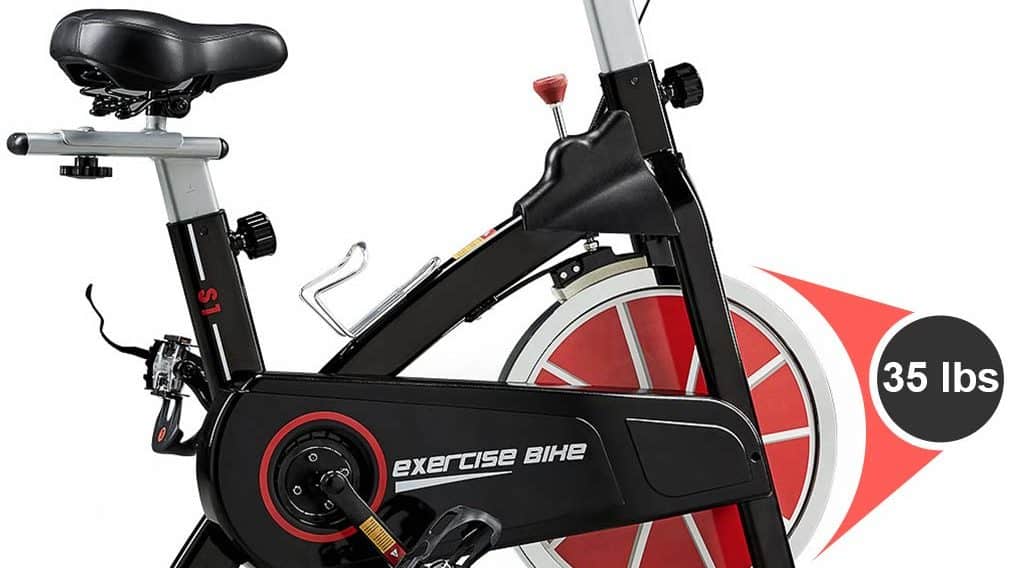 The Syrinx Indoor Cycling Bike is equipped with an anti-corrosive coated steel frame that supports 280 pounds/127 kg maximum user weight capacity.
Product Brand: Syrinx
Product In-Stock: InStock