The Pooboo L NOW Indoor Cycling Bike D760 is a spin indoor machine that is designed for home use. It has an LCD basic monitor that other models such as the C590 never had. Its 22 pounds/10 kg flywheel may have not been the heaviest but it's great for those that wish to perform interval spin exercise and yet have the feel of riding an outdoor bike with decent consistent momentum.
Its operation is quiet and smooth due to the integrated belt drive system. The construction supports a user weight that is up to 260 pounds/117.9 kg and it's also customizable for different heights. Anyone at any fitness level will appreciate the workout intensities the bike's friction resistance provides.
Therefore, if you are looking forward to purchasing a decent indoor spin bike that costs reasonably for losing weight, improving cardiovascular health, strength and endurance, then the Pooboo L NOW Indoor Cycling Bike D760 should be on your list.
Click right here to have a peek at the price of the Pooboo L NOW Indoor Cycling Bike D760 on Amazon.
The Frame and Construction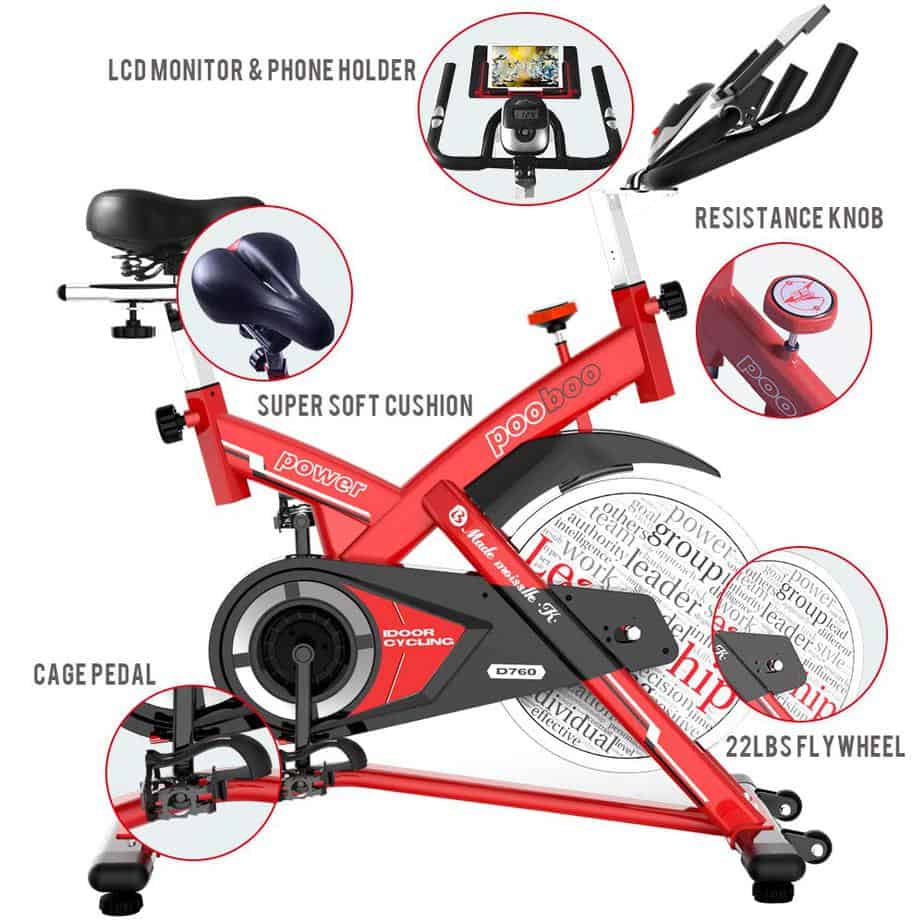 The Pooboo L NOW Indoor Cycling Bike D760 is one of the L NOW front-line entry-level spin bikes that are tailored to help you achieve your fitness goals in the comfort of your home. Especially, those goals that are related to improving overall physical fitness.
There are two components that make up the bike's construction and those are steel and ABS material. The frame is made of steel while the belt drive and the felt brake pad covers are made of ABS.
The triangular-shaped frame is coated with anti-corrosive paint and has the brand's name ''Pooboo'' imprinted on it. The paint on the frame prevents rusts and indiscriminate scratches from defacing it but ultimately preserves the original outlook to last longer.
The base framework is well put together to prevent any sort of side-to-side movement during a workout. It features front and rear steel base bars with a middle stabilizer that connects them together. There are also adjustable rubber levelers underneath the base stabilizer bars that allow the user to level up the bike on a surface that is crooked.
These ensure that the bases are floor-friendly and further boost the overall stability of the bike. So, no wobbling movement during an intense or vigorous workout.
The bike is transportable, lightweight, and compact. It doesn't take up much space and it's easy to move from the storage area to the workout area. It weighs about 74.54 pounds/31.9 kg.
Its overall assembled dimensions are 44.29 inches long 20.86 inches wide, and 46.85 inches high. In other words, the bike requires a workout area with a perimeter of 3'7'' long by 1'7'' wide and a ceiling height of at least 7' high. Just so you know, additional clearance of 1-2′ at the rear and on each side of the bike will be necessary when used in a confined area for safety and convenience reasons.
The Seat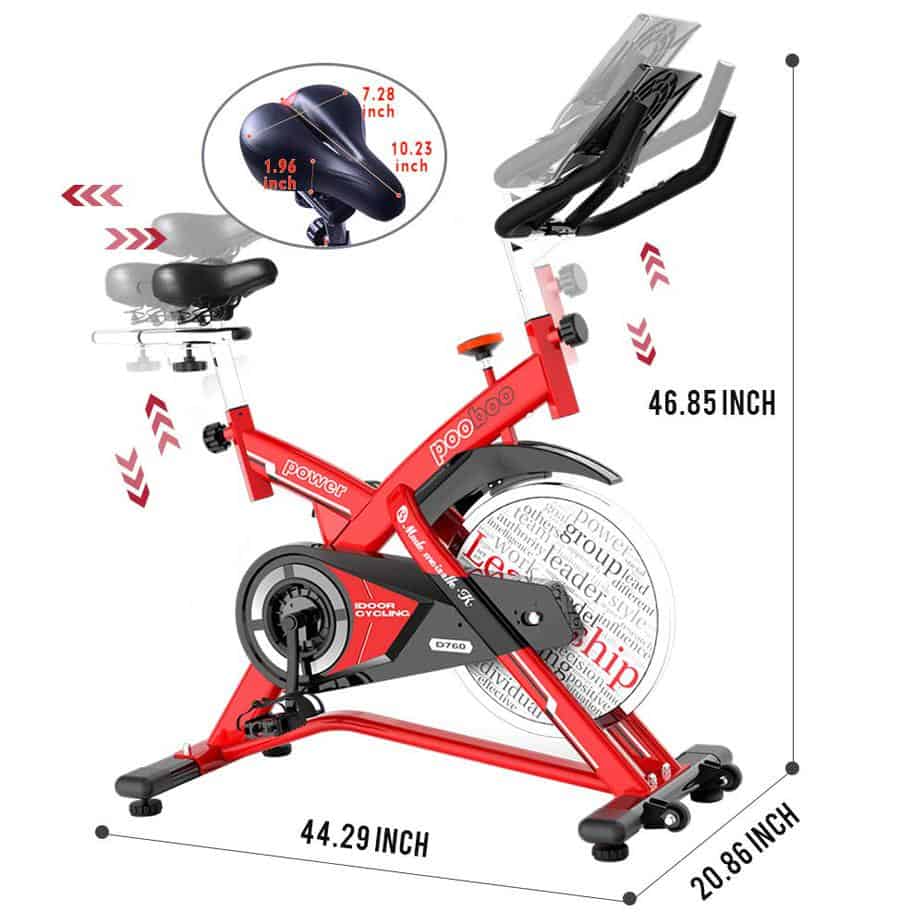 The Pooboo D760 Spin Bike has a seat that is 4-way adjustable. Vertical (upward/downward) and horizontal (fore/aft) adjustments are possible. This and of course the handlebar's adjustments make it easy for users up to 6'2'' to be comfortably accommodated.
The seat has a groove at the middle of it and it's cushioned with a rebound space memory cotton which has good air permeability that sustains comfort through a long workout.
Moreover, it is integrated with two springs designed to absorb shocks during a workout. In general, the seat is considered to be very comfortable but you can enhance it with a gel seat cover or even replace it with another seat if you deem it necessary. Its connection mechanism is standard, therefore, replacements are widely available.
Its dimensions are 10.23'' long by 7.28'' wide by 1.96'' thick.
The Handlebar
The handlebar is ergonomically designed to provide suitability. It is 2-way adjustable, I.e. vertically, upward/downward, and has multiple grips that allow working out in different postures.
The EKG heart rate sensors are embedded in the handlebars for the transmission of the heart rate data to the monitor when held during a workout, so that the user may track and maintain the target heart rate zone at all times.
Your hands will never slip or get sore during a long workout due to the fact that the handlebar is coated with a soft rubber material.
A tablet holder is also incorporated into the handlebar for the placement of a smartphone/tablet. You can watch a movie or listen to good music as a side and necessary distraction while exercising with the bike.
The Pedals
The bike has non-slip toe cage pedals with adjustable safety straps. Therefore, the feet placement is secure and comfortable during vigorous or aggressive riding.
They are made of aluminum alloy and support stand-up pedaling.
If you wish to swap them for a pair of SPD pedals you can because the thread is standard, thus, compatible pedals are widely available.
The Drive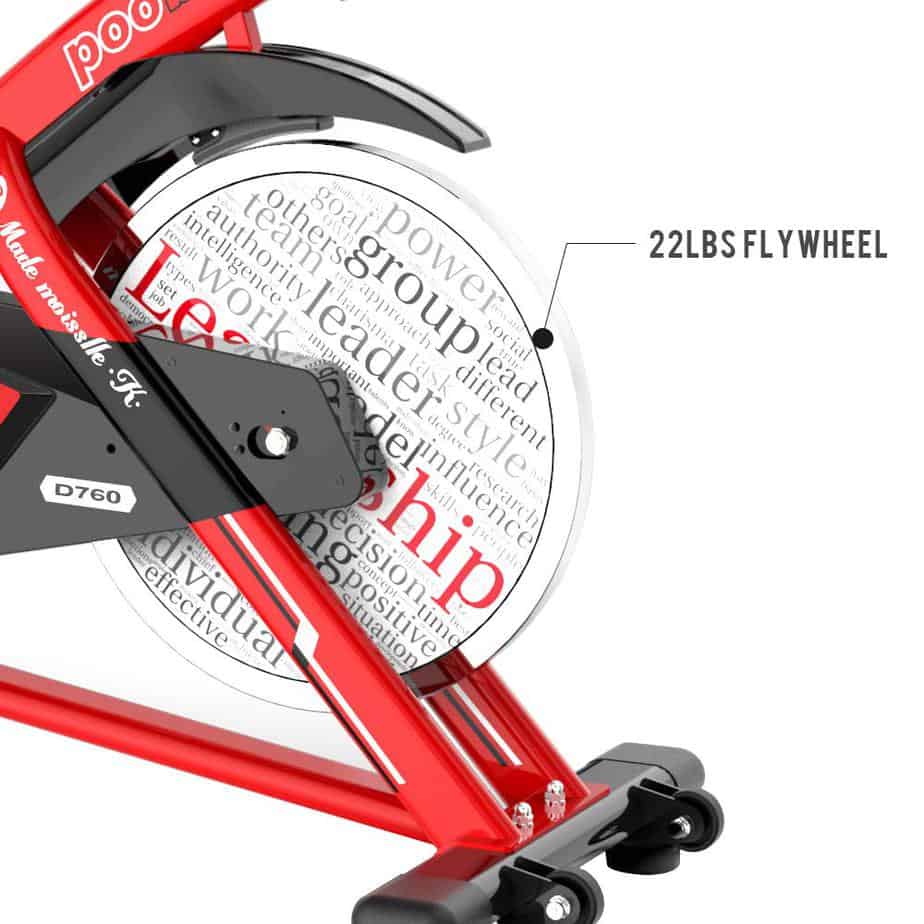 As aforementioned, the Pooboo L NOW Indoor Cycling Bike D760 is a belt-driven bike. In other words, it has a belt drive system that comprises a durable anti-stretch belt, solid 3-piece crankset, crank-arms, alloy aluminum pedals, and the 22 pounds/10 kg perimeter weighted flywheel.
These elements make the drive formidable, quiet, and smooth during operation. They also simulate outdoor bike performance and allow the user to easily and quickly switch from slow to fast pedaling.
Differently, it is good for users that wish to engage in interval workouts.
The drive is bi-directional; you can pedal in reverse to target more muscle groups.
Its silent operation allows you to train whenever and however you want without being worried that the family or the neighbors could be disturbed. You may also watch a movie, TV show or listen to music at a normal volume level that won't be bothersome.
Finally, the drive is maintenance-friendly. No post lubrication or adjustment will be required at any point in time and its performance will still remain unchanged.
The Resistance
The Pooboo L NOW Indoor Cycling Bike D760 is equipped with a friction resistance system. This resistance system consists of a felt brake pad, the flywheel, and the control tension knob.
It is regarded as a friction resistance system because the felt brake pad gets on the top part of the flywheel in order to generate resistance. While the control tension knob is used to increase or decrease the resistance intensity.
Turn the tension knob clockwise to increase the resistance and counterclockwise to decrease it and press down to apply the emergency brake that stops the flywheel from spinning when you wish to stop pedaling.
The resistance system is infinite. This means there are no predefined resistance levels. Just twist the tension knob until you feel the suitable resistance intensity that is good for you.
The good news is that it provides resistance intensifies that are suitable for everyone at any fitness level and could even push a seasoned hard-core athlete to the limit.
The Console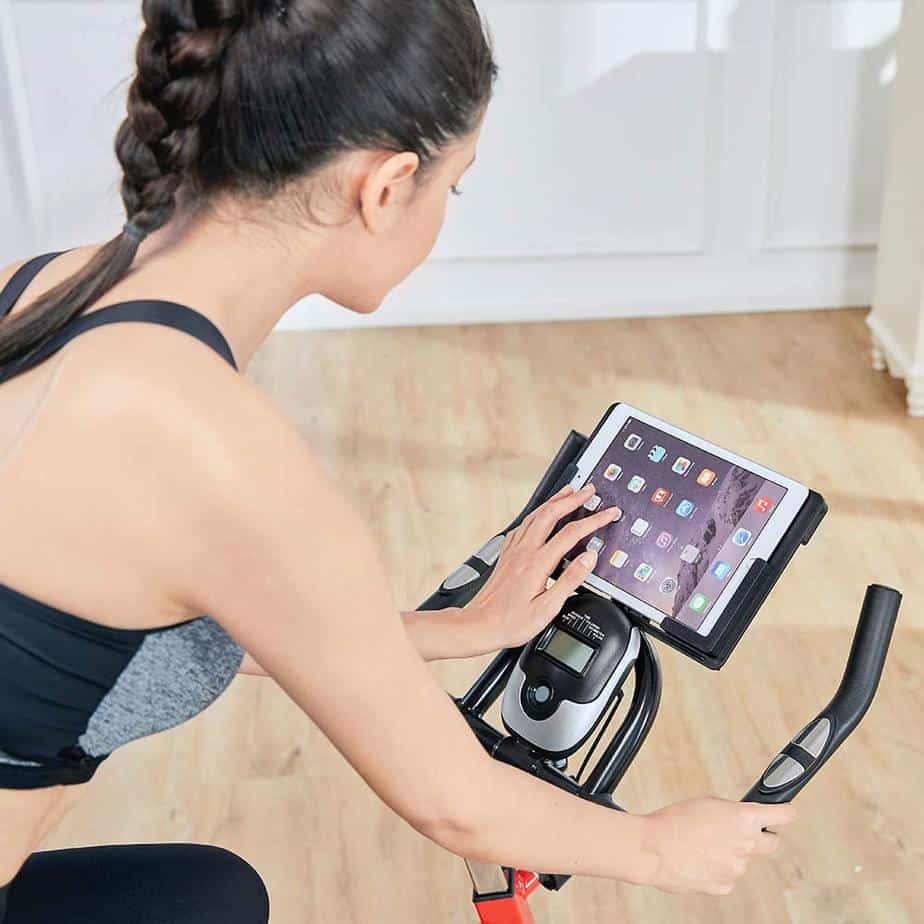 The console on the Pooboo L Now D760 Bike is obviously basic. It doesn't have extra features and the monitor is non-backlit.
That said, the monitor is easy to read as long as it's been used or viewed in a well-lit room. It is powered by 2 AAA batteries which are not included in the package (has to be purchased separately).
The monitor's window is not large enough to display all the workout stats at a time. Instead, its SCAN function rotationally displays workout stats one at a time after a few seconds, and you can also set a certain workout value to constantly show if you want.
You will be able to observe workout stats such as time, distance, speed, calories burned, odometer, and pulse.
There is only a single button on the console that enables you to manipulate the functions of the monitor.
In a bid to save the batteries' power, the monitor automatically turns OFF when there is no activity on the bike for a few minutes and automatically turns ON when activity resumes.
Accessory
The bike doesn't have a water bottle holder but it does have a good tablet holder that is strategically positioned. This means you can conveniently use a tablet device of any size and still view the monitor at the same time which is not the case with most contemporaries.
So, you may view a movie or listen to good music via your tablet or smartphone.
Storage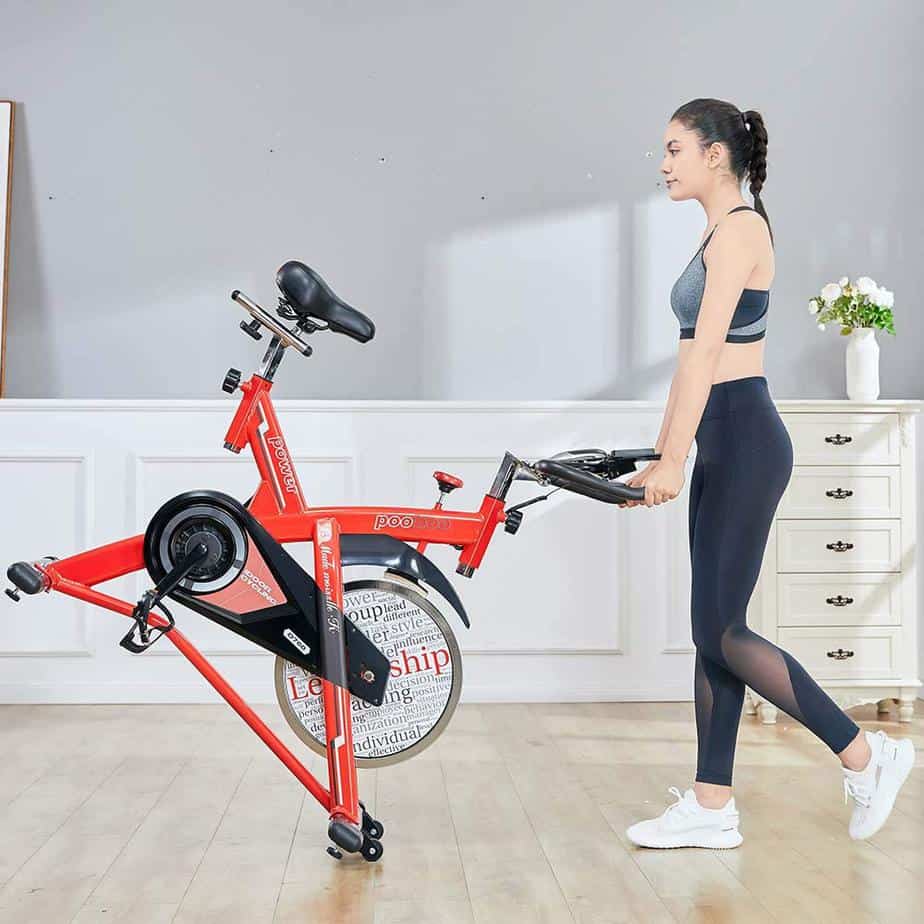 The L NOW D760 Cycling Bike is not foldable but it is compact with transport wheels for an easy relocation process.
There are two transport wheels at the front base which enable the user to hold the bike by the handlebar and tip it towards them to easily move it away.
If you can't afford to have a dedicated workout area for the bike, then storing it under the staircase or next to a wall will probably be the best place for storage.
Approval Rating
So far, there are a couple of reviews by real users on Amazon at the time of this review and they are overwhelmingly positive. This is simply a positive sentiment that shows that users are satisfied with the quality and overall functionality of the bike.
Pro/Features Overview
Good design and outlook
Its construction guarantees stability, durability, and safety
Sturdy enough to support 260 pounds/117.9 kg maximum user weight capacity
Customizable for users of different heights
The seat is well cushioned, comfortable and replacement is possible and easy
The pedals provide good alignment and safety to the feet and they could be swapped for SDP pedals
The bikes operation is smooth and quiet
Resistance system provides easy, medium and extremely difficult workouts
Low maintenance
Easy to assemble
Doesn't take up too much space
Can easily be moved and relocated from one room to another
The handlebar is multi-grip designed and covered with soft foam material for comfort and safety
LCD monitor tracks time, distance, speed, calories, odometer, and pulse
Ideal bike for losing weight and improving cardio health
Tablet holder included for tablet/smartphone placement
Cons
Console is basic
The monitor is not backlit
No water bottle holder
Product Dimensions and Specifications
Length 44.29''
Width 20.86''
Height 46.85''
Weight: 70.57 pounds/31.9 kg
User weight capacity: 260 pounds/117.9 kg
Drive: Belt
Resistance: Friction, infinite
Frame: Steel
Seat: 4-way adjustable
Handlebar: 2-way adjustable and multi-grip designed
Transport wheels: Yes
Flywheel: Perimeter weighted, 22 pounds/10 kg
Console: Basic, non-backlit LCD monitor tracks time, distance, speed, calories, and pulse
Pedals: Toe cages with safety adjustable straps, standard thread
Shipping
The Pooboo L NOW Indoor Cycling Bike D760 is shipped in a single box that weighs about 77.16 pounds/35 kg.
The shipping cost differs as every retailer has different shipping policies. That said, Amazon provides free shipping, and delivery is made in a couple of days depending on the location.
Assembly
Every standard indoor cycling bike is easy to assemble and so is the Pooboo L NOW Indoor Cycling Bike D760.
The major components are preassembled and so you are expected to attach the base stabilizer bars, the seat and the handlebar posts, the seat, the handlebar, the pedals, and the console to the core unit.
On a good day, it will take about 30 minutes more or less to completely assemble the bike.
Assembly instructions are detailed in the owner's manual and the tools required for the assembly are provided.
Maintenance
The maintenance of this bike is limited. In other words, no serious maintenance is to be carried out on the indoor cycling bike.
Just ensure that the bike is kept clean at all times and always examine it for a loose or broken part before use to prevent an accident or further damage to it.
Further precautionary and safety details are included in the manual.
Conclusion
The Pooboo L NOW Indoor Cycling Bike D760 delivers spin workouts that basically improve and maintain the overall physical fitness of the user.
It is compact, durable, affordable, smooth, and quiet in operation. Users can easily transition from fast to slow pedaling and vice versa.
Pooboo L NOW Indoor Cycling Bike D760 Review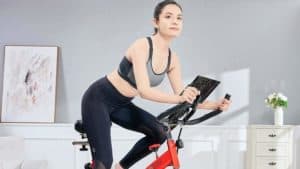 The Pooboo L NOW Indoor Cycling Bike D760 is a spin indoor machine that is designed for home use. It has an LCD basic monitor that other models such as the
Product Brand: Pooboo
Product In-Stock: InStock