The MEVEM Magnetic Indoor Cycling Bike is probably one of the very few budget indoor cycling bikes that are integrated with a magnetic resistance system. Usually, most budget and entry-level bikes come with a friction resistance system.
So, for this reason, the MEVEM Indoor Cycling Bike stands out from the rest of the bikes that are in the same category. Also, it is a perfect spin bike for interval training due to its lightweight 18 pounds/8.1 kg flywheel. Users that wish to perform interval training will be able to easily transit from slow to fast pedaling and vice versa.
In other words, the bike enables you to burn tons of calories and improve cardiovascular health and strength.
Moreover, users that are weak as a result of old age or injury and who are trying to rehabilitate will find the MEVEM Magnetic Indoor Cycling Bike useful and helpful.
That said, the bike is still an entry-level indoor cycling bike with basic features. It is affordable and out-performs its cost. Hence and so far, users/reviewers on Amazon rates it highly favorably.
Click right here to have a peek at the price of the MEVEM Magnetic Indoor Cycling Bike on Amazon.
The Frame and Construction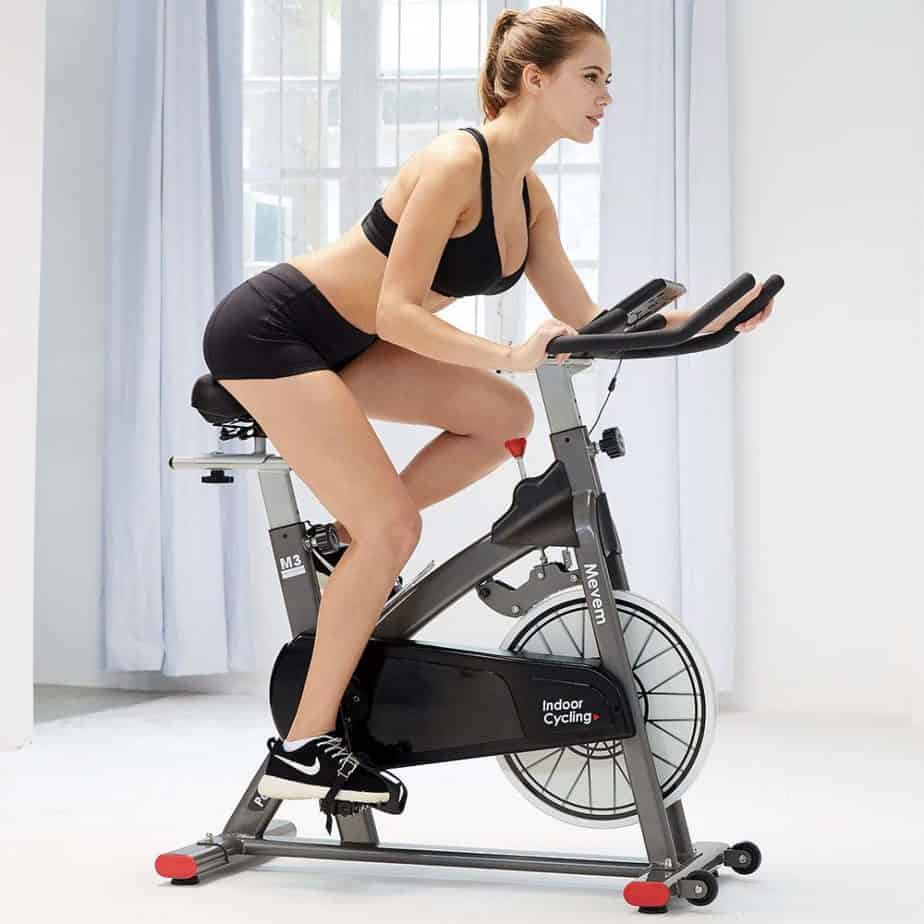 The MEVEM Magnetic Indoor Cycling Bike has a compact and appealing design that features a heavy-duty steel frame and belt-drive and tension knob covers that are made of ABS material.
The steel frame is coated with anti-corrosive paint that gives it a sleek look and primarily prevents rusts and indiscriminate scratches. The maximum user weight capacity it supports is 280 pounds/127 kg.
The bike's overall size does not take up much space. Its assembled dimensions are 38.99 inches long by 18.11 inches wide by 42.91 inches high. Differently put, the bike requires a workout or storage area of 3'3'' long by 1'5'' wide and a ceiling height of at least 7'.
However, the workout area will require an additional extra clearance of 1-2′ at the rear and on each side of the bike for a safe and comfortable riding experience.
The bases feature solid steel stabilizer bars with adjustable rubber levelers underneath them. The bike is not only stable on even floors but also stable on a crooked surface. The levelers enable the user to adjust and balance the bike on a surface that is not even.
The bike weighs 66 pounds/22.9 kg and obviously lightweight but that still boosts its overall stability.
Users of different heights should be able to fit and exercise on the bike due to the fact it's customizable.
Transport wheels are included for easy relocation to storage or workout area.
The Seat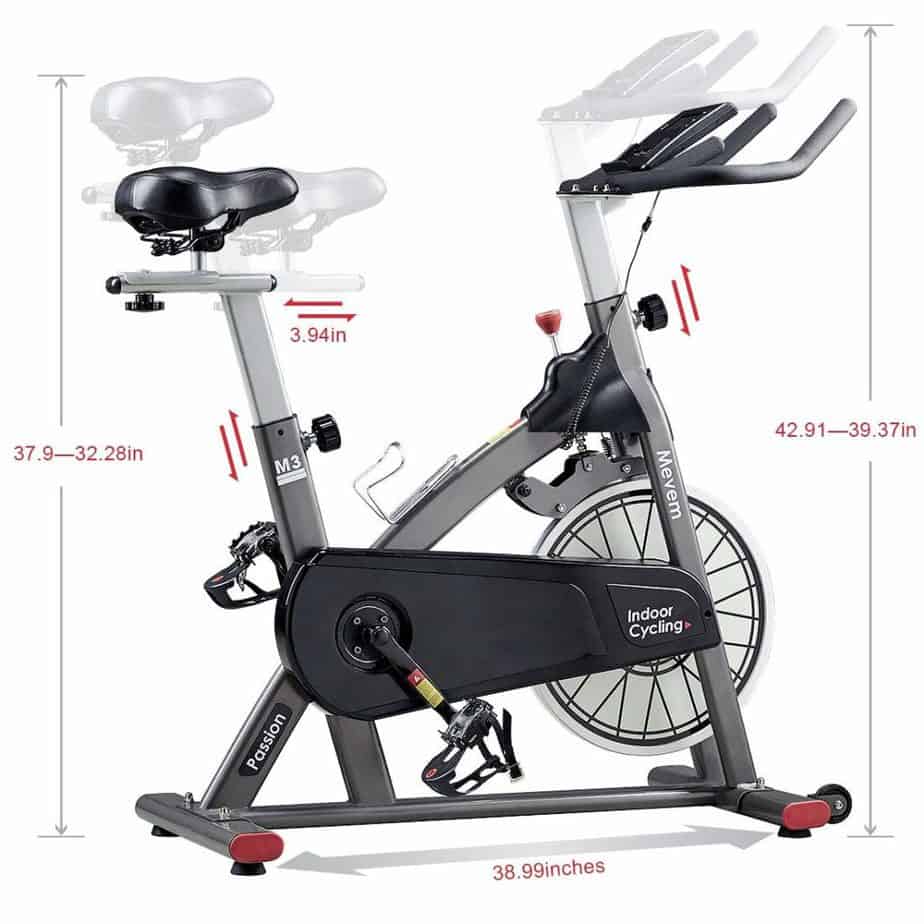 The seat is larger than a typical spin bike seat and it's decently padded and covered with vinyl material to provide comfort that could allow a user to workout longer. There are also two springs underneath it that absorb shocks during workouts.
If a user for any reason decides to improve the seat's level of comfort, a gel seat cover could be used to do so; and the seat could also be replaced with another saddle as the connection mechanism is standard and compatible with any spin bike seat.
It is 4-way adjustable; it could be adjusted vertically (upward/downward) and horizontally (fore/aft). The seat could be adjusted forward to up to 3.95'', while it can vertically be adjusted from 32.28'' to 37.9''.
As aforementioned, the bike accommodates users of different heights due to the seat and the handlebar adjustments. Unfortunately, the users' heights it accommodates are not stated but it does support the inseam of 27.9'' – 33''.
To verify if this bike will be suitable for you, measure your inner thigh to the ankle to know if the length falls within the inseam height adjustment stated above otherwise it won't be suitable. Ordinarily, users between the heights of 4'10'' to 6' should be able to use the bike.
The Handlebar
The handlebar is ergonomically designed with multi-grips. It's covered with breathable durable foam that provides comfort and safety during workouts. Slippage and blisters in the palms will be prevented.
It can be adjusted vertically (upward/downward) to enable the user to work out at a suitable angle and position.
Both the handlebar and the seat can easily be adjusted and they take only seconds to do so.
There are no EKG sensors on the handlebars which means the bike doesn't have a heart rate monitoring function. If you must track the heart rate then you have to purchase an external pulse device.
The Pedals
The pedals on the MEVEM Magnetic cycling bike are toe cages with adjustable safety straps. They are also anti-skid designed to offer maximum safety during a vigorous workout.
They accommodate only standard gym shoes and not spin shoes. But it is possible to swap them for a pair of SPD clip shoes because they have a standard thread of 9/16''.
The Q-Factor (distance between the inner left pedal to the inner right pedal) is not stated. Usually, a narrower Q-Factor is considered to be the best because it provides optimal feet and knee alignment.
The pedals support standing rides as long as the user's weight is within the stipulated user weight capacity.
The Drive
The MEVEM Indoor Spin Bike is equipped with a belt-drive system. It comprises a heavy-duty belt, pulleys, solid crankset, crankarms, flywheel, and pedals.
This type of drive is popular because its operation is quiet and smooth.
So, users often enjoy working out at their own time without having to do it at a certain time they don't approve in order not to disturb the family members or the neighbors. They can also enjoy watching a TV show/movie or listening to good music with the volume at a normal level.
Moreover, the belt-drive system does not require any post-lubrication or adjustment as a chain-drive system usually does.
The drive is fixed; this means you can pedal in reverse if you so desire but cannot coast on it.
The Resistance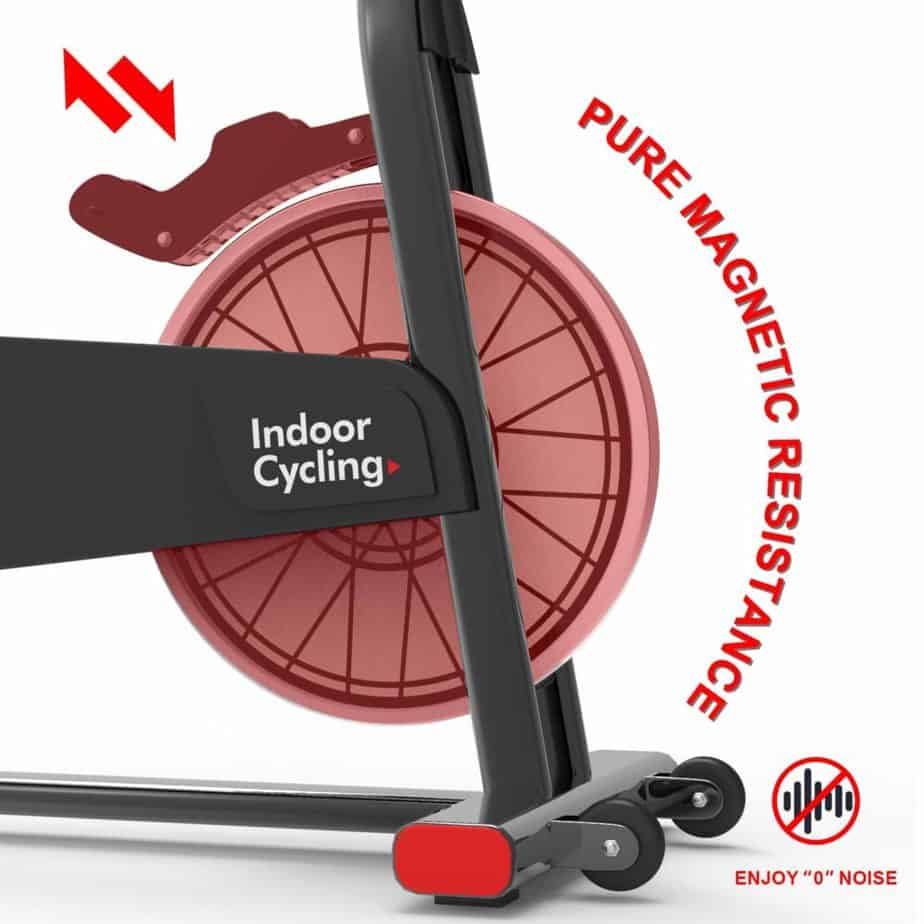 The MEVEM Magnetic Indoor Cycling Bike obviously has a magnetic resistance system just as the name suggests. Again, this is the feature that makes this bike stand out from the other bikes with the same price tag.
The magnetic resistance system is maintenance-friendly and offers better performance than the friction-resistance system. Its performance is smooth and silent and void of vibration when the resistance is engaged. Although, it does not offer an extremely difficult workout as the friction resistance system does.
Resistance is generated with the magnetic brake pad coming close (without actual contact) to the flywheel and emitting a magnetic field.
The tension knob is used to regulate the resistance intensity. Turn it clockwise to increase the resistance and counterclockwise to decrease it and push down to apply the emergency brake that abruptly stops the spinning of the flywheel and the pedals.
The emergency brake is used in the instance you wish to stop pedaling.
The resistance levels provided by the system are generally suitable for users that are recovering from an injury, the elderly, and everyone else that wishes to lose weight and achieve overall physical fitness.
There are no predefined resistance levels as the case with a high-end magnetic cycling bike. This is expected considering the fact that the bike is inexpensive otherwise it ought to have defined resistance levels.
The Console
The console on the MEVEM Magnetic Indoor Cycling Bike is basic. It doesn't feature a backlit monitor, has no wireless Bluetooth capability, doesn't track RPM and watts.
It does feature an easy-to-read monitor that is powered by AAA batteries (included). Although, in order to remain highly readable, it has to be viewed in a room that is well-lit.
The monitor displays workout stats such as time, distance, speed, and calories burned.
As mentioned earlier, the bike is not heart-rate enabled, therefore, you may want to purchase a heart rate device separately so you can keep an eye on your heart rate at all times during workouts.
Also, being a bike that provides high-cadence exercises, using a Wahoo Cadence device becomes necessary in order to monitor it via a smartphone.
In order to save battery power, the monitor automatically turns OFF when the bike is idle for a few minutes and it automatically turns ON when activity resumes. It can manually be turned ON/OFF by pressing the button on the console as well.
Accessory
There is a tablet holder on the handlebar close to the monitor. This allows you to keep a smartphone or a tablet device on it while exercising with the bike for the purpose of taking calls, watching a movie, or listening to music.
However, when a tablet device is placed on the holder the monitor's screen gets blocked and you cannot view your workout stats that way. But, if it's a smartphone that is placed on it, your view will be free.
The bike also has a water bottle holder positioned within good reach. So, you can keep water handy to maintain hydration when exercising.
Storage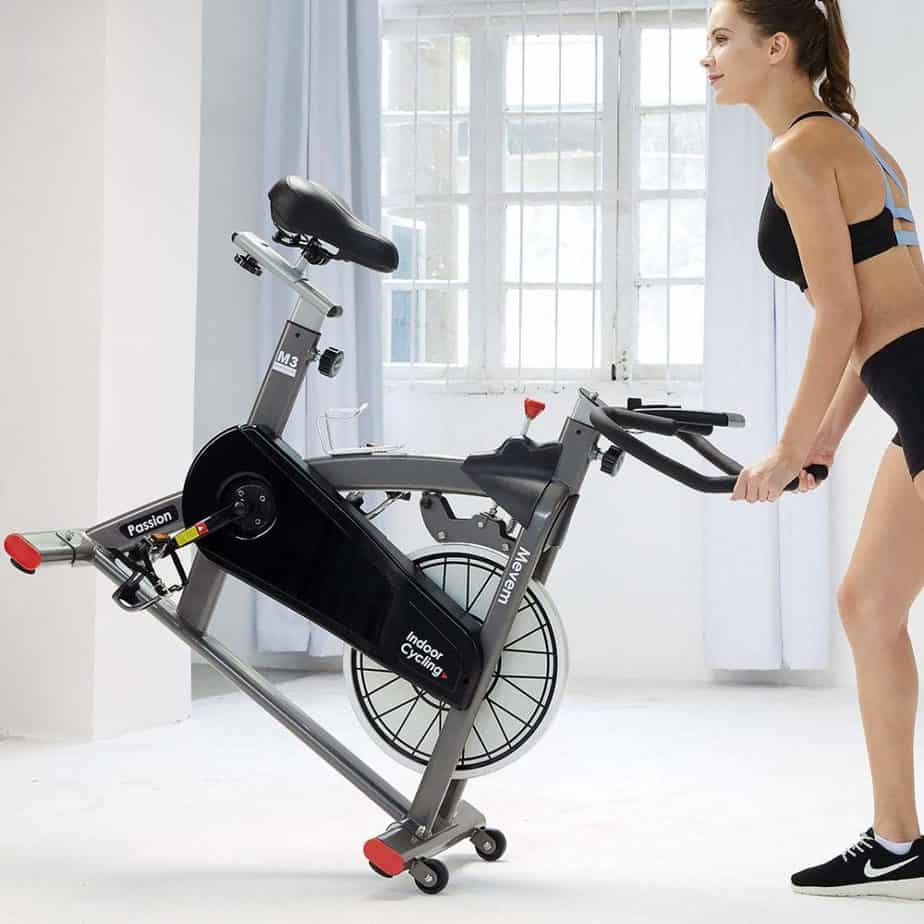 The MEVEM Magnetic Indoor Cycling Bike has all the elements that make easy storage possible included in it. It has transport wheels at the front base, and it's compact and light.
Simply tilt and roll it away to storage.
Approval Rating
As at the time of this review, the approval rating of the MEVEM Magnetic Indoor Cycling Bike on Amazon is amazing. All the reviews by users so far are positive and ratings were 5 stars out of 5 stars.
This simply indicates the level of acceptability and popularity of the bike.
Pros/Features Overview
Sturdy, durable and stable
Cost-effective
Operation and performance are smooth and quiet
Supports up to 280 pounds/127 kg maximum user' weight
The pedals provide safety, comfort and good alignment
The pedals have 9/16'' thread, so can be swapped with another
Easy to customize
Users of different heights can be accommodated
The LCD monitor tracks time, distance, speed, and calories burned
The bike doesn't need to be plugged to a power outlet in order to be functional
Batteries are included for the monitor
Doesn't take up much space
Low-maintenance
Easy to assemble
Water bottle holder included
Tablet holder included
It features a manual magnetic resistance system
A stand-up or out of seat ride is supported
Reverse and forward pedaling are supported
The seat is comfortable and can be swapped for another
The flywheel allows high-cadence workout
Cons
The monitor is basic and non-backlit
No heart rate monitoring function
Warranty
1 Year warranty
30 risk-free return if there is any defect
These are exclusively for those that purchased the bike directly from MEVEM via Amazon and not from some third party.
Product Dimensions and Specifications
Length 38.99''
Width 18.11''
Height 42.91''
Inseam height adjustment: 27.9 – 33''
Maximum user weight capacity: 280 pounds/127 kg
Drive: Belt
Resistance: Manual magnetic
Pedals: Toe cages with adjustable safety straps, 9/16'' thread
Seat: 4-way adjustable, standard connection mechanism
Q-Factor: Not specified
Handlebar: 2-way adjustable, multi-grip designed
Console: Basic, non-backlit LCD monitor displays time, distance, speed, and calories burned
Flywheel: 18 pounds/8.1 kg
Transport wheels: Yes
Tablet holder: Yes
Water bottle holder: Yes
Shipping
The MEVEM Magnetic Indoor Cycling Bike is shipped in a box with dimensions of 38 x 34 x 9.2 and weighs slightly above 66 pounds/29.9 kg.
Amazon provides free shipping and makes delivery within a couple of days after order.
Assembly
The assembly of the MEVEM Magnetic Cycling Bike is pretty straightforward and easy. It takes about 30 minutes, more or less to completely assemble depending on the level of your dexterity.
Basically, the bike arrives with the major components already assembled. You are to attach the bases' stabilizer bars, the seat and the handlebar posts, the seat, the handlebar, the pedals, and the console to the main core unit.
Also, assembly details are included in the instruction manual that comes with the bike's package. Tools for the assembly are delivered with the bike.
Maintenance
No serious maintenance is needed. No post lubrication and adjustments are required.
Simply make sure to examine the bike before use for any loose or broken part that needs to be re-tightened, repaired or replaced. This is to prevent or forestall any accident or further damage to the bike.
Endeavor to keep it clean before and after use by wiping it with a cloth that is soaked with a mild detergent.
Read other warnings on the owner's manual.
Conclusion
The MEVEM Magnetic Indoor Cycling Bike is a highly recommendable bike if you are looking forward to purchasing an entry-level bike that is within its budget.
It enables you to achieve your fitness goals right in the comfort of your home even as it allows you to train any time of the day and anyhow due to its excellent smooth and quiet operation.
MEVEM Magnetic Indoor Cycling Bike Review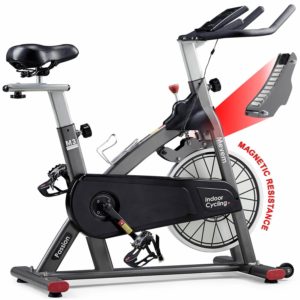 The MEVEM Magnetic Indoor Cycling Bike is probably one of the very few budget indoor cycling bikes that are integrated with a magnetic
Product Brand: Mevem
Product In-Stock: InStock