The Sunny Health & Fitness Magnetic Folding Recumbent Bike SF-BR1117 has been around for a while, tested, and recommended by many actual users. This means that there is a trail of positive Amazon customer reviews that suggested it could be one of the best recumbent bikes ever made for individuals on a budget.
The SF-RB1117 is not a typical recumbent bike but one that has the characteristics of a recumbent bike combined with compact and folding features thus low impact and space-friendly.
Its selling points are affordability, solid and comfortable adjustable recumbent seat with armrests, stability, and sturdiness. It also has a belt drive system that provides a smooth and quiet performance that is characterized by suitable challenging workouts for users of different fitness levels.
However, this is not the bike for those that look forward to getting extremely difficult workouts. The bike is simply designed for folks with smaller homes who wish to engage in decent cardio workouts that could ultimately help them lose weight,  and improve overall physical health.
It features a small basic console with a monitor screen that displays workout data such as time, speed, distance, calories burned, and SCAN. These stats could help you track your workout progress and keep you motivated as well even though they are basic workout info.
The overall design and features of the Sunny Health & Fitness SF-BR1117 are recommendable considering its price tag.
Click right here to have a peek at the price of the Sunny Health & Fitness Magnetic Folding Recumbent Bike SF-BR1117 on Amazon.The Frame and Construction
Frame and Construction
The Sunny Health & Fitness Magnetic Folding Recumbent Bike SF-BR1117 is an inexpensive compact and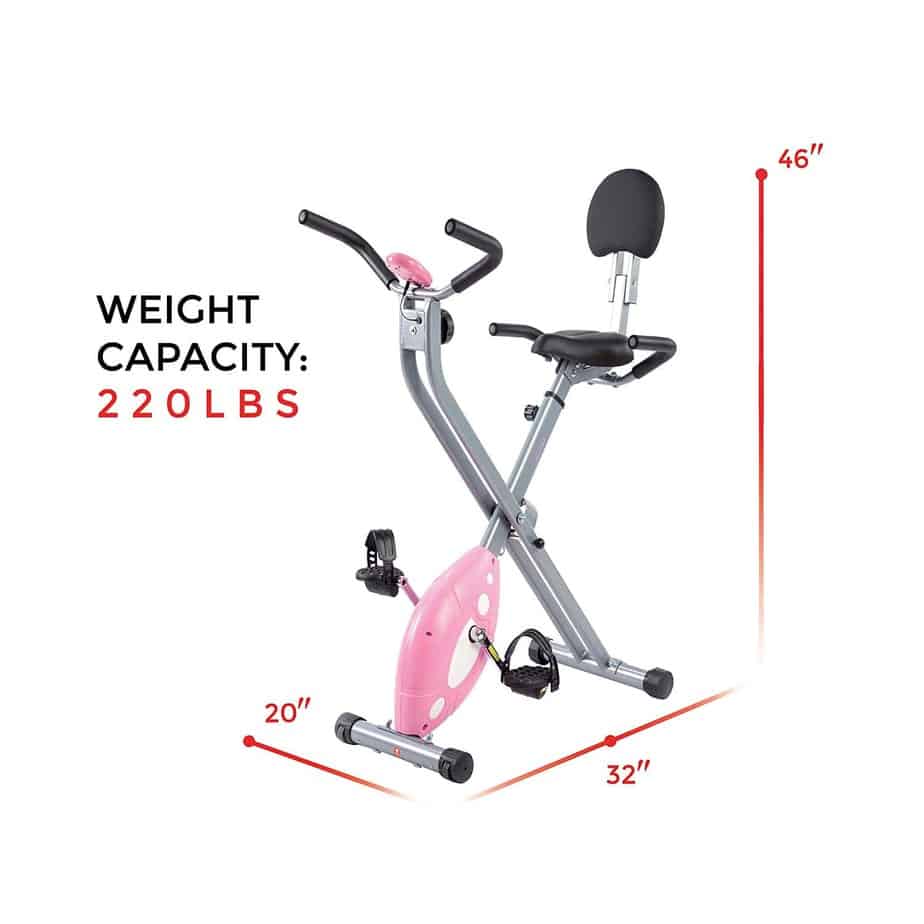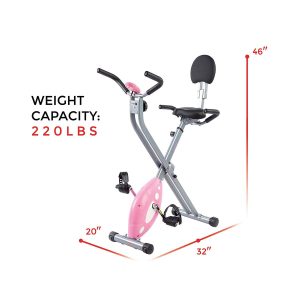 lightweight semi-recumbent bike that is also foldable. It is a perfect choice for those that have a space problem and cannot afford to invest in the expensive indoor workout equipment.
That said, this bike could also appeal to those that wish to keep it small and simple as they work out to get in shape.
The overall assembled dimensions of the SF-RB1117 are 32 inches long by 20 inches wide by 46 inches tall. Differently put, the workout area required is 2.6 feet long by 1.6-foot wide spot and a ceiling height of at least 6 to 7 feet high.
While the stowaway folding frame dimensions for easy storage are 15 inches long by 18.5 inches wide by 51.5 inches tall.
As you can see, the workout and the storage areas will never be a problem for anyone not even to people with free space shortages in their homes.
The frame of the Sunny Health & Fitness SF-BR1117 is made of quality steel that is coated with anti-corrosive paint. It supports 220 pounds/100 kg maximum user weight capacity.
It is a lightweight bike that weighs 37 pounds/16.8 kg but nevertheless adds to the bike's stability.
Since this bike has a small footprint one would think that it will be prone to wobbling and instability during workouts but that is not the case because of the base framework that maintains balance.
There are stabilizer bars designated at the rear and front bases of the bike with rubber caps on each end to make them surface friendly.
It features transport wheels at the front base that even make the relocation process a walkover.
The fashionable pinky semi-recumbent bike is a handy bike that won't stand in the way in your home while you enjoy productive cardio workouts.
The Seat, the handlebar, and the Pedals
The seat of the Pinky Semi-Recumbent SF-RB1117 Bike is contoured and padded with backrest. It has side armrests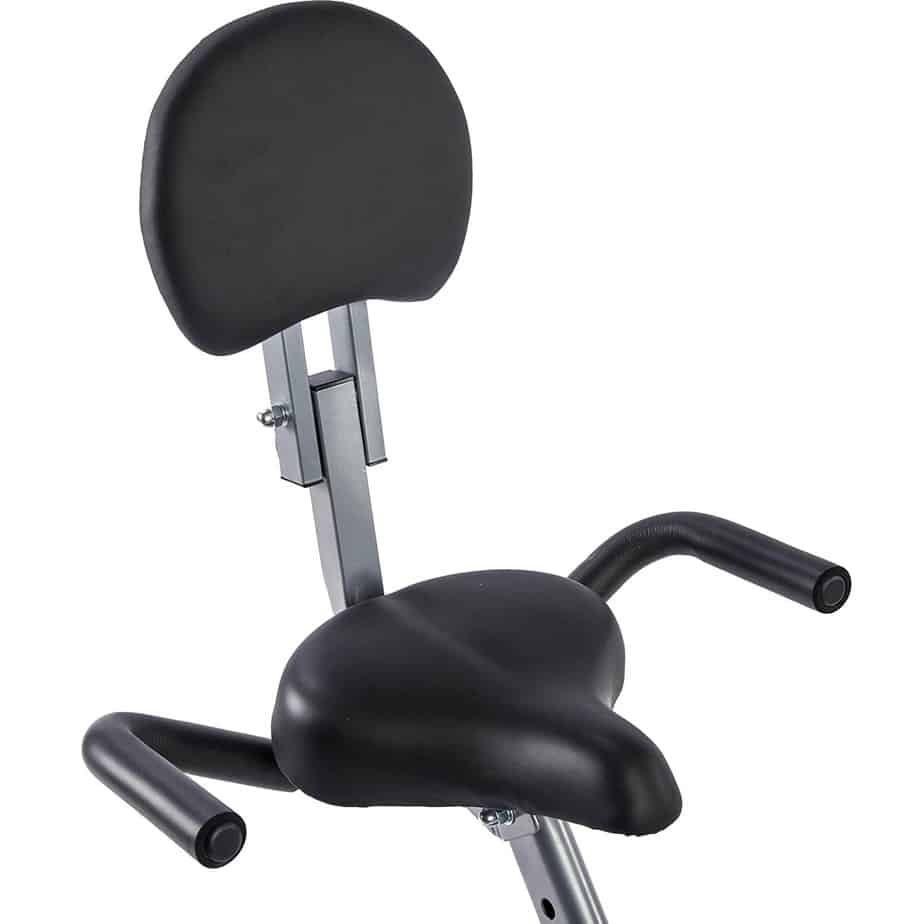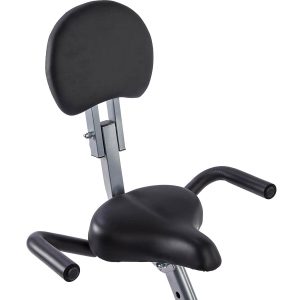 that provide support and leverage for better and forceful thrust when pedaling.
The seat is also large with dimensions of 10.5 inches long by 9.5 inches wide by 2.5 inches thick. This is designed to provide maximum comfort to the user but unfortunately, it falls short that because it is not a typical recumbent bike seat with backrest that supports the back properly.
You can use a gel seat cover to improve the comfort of the seat if you feel it doesn't provide enough comfort as it should and make sure you get the one that is large enough to cover it.
The seat is 2-way adjustable; it can be vertically (upward/downward) adjusted and with adjustable max. 33 inches/ min 31 inches inseam heights.
Users between the heights of 5' 2 inches to 6' will be able to use the bike but shorter individuals (5' 2 to 5' 5 inches) might have difficulty getting on and off the bike. And there might be instances where the knees could be touching the handlebar while working out.
Just in case you don't know, this bike does not support stand-up pedaling because we have seen prospective users ask questions if they could. Only spin bikes support that style of workout because of their similarities with real road bicycles.
The SF-RB1117 ha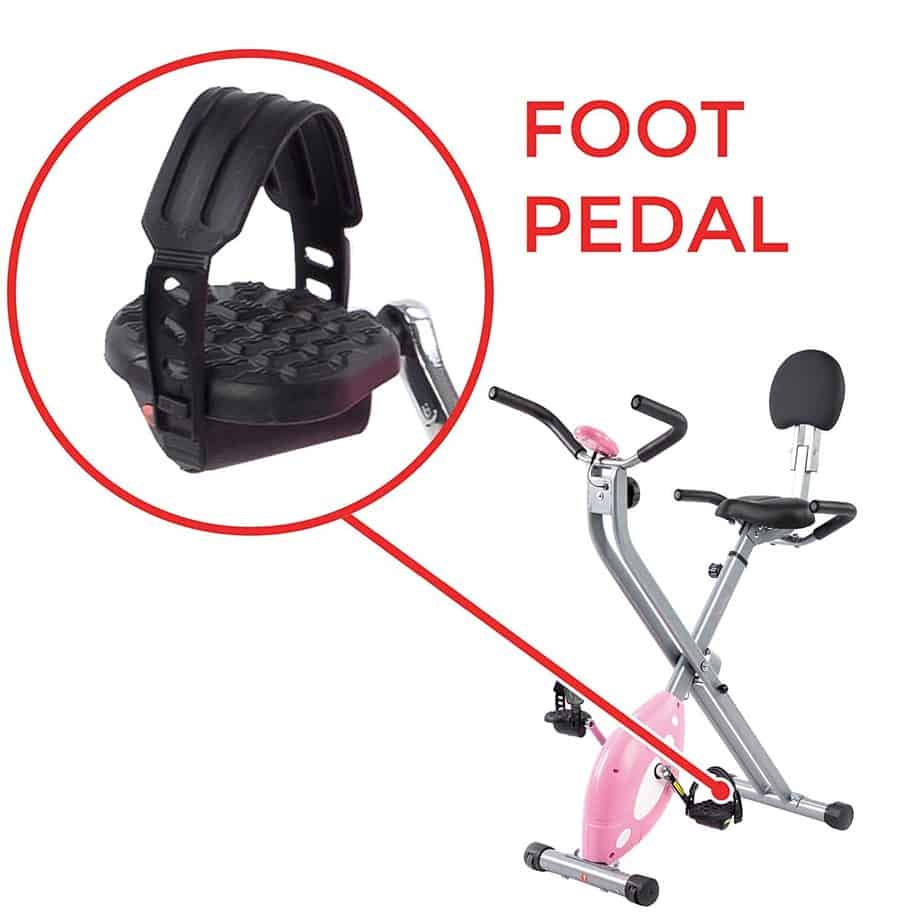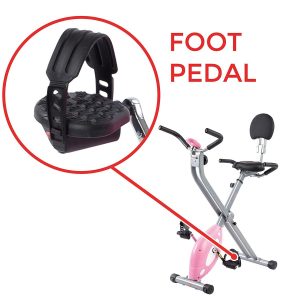 s a non-adjustable handlebar that is coated with rubber foam material that provides comfortable and secure grips.
The handlebar design is rather simple without the heart rate sensors embedded in them, and without EKG sensors the user will not be able to monitor the heart rate data except if the person chooses to use external independent heart rate devices such as HR wristwatch and the other option would be to purchase another foldable upright bike with built-in heart rate capability such as the Sunny Health & Fitness SF-B2721.
The SF-RB1117 features anti-skid pedals with safety adjustable straps that were designed to secure the feet during a vigorous workout and they can conveniently accommodate barefoot or standard gym shoes.
The Drive
The Sunny Health & Fitness Magnetic Folding Recumbent Bike SF-BR1117 is a belt-driven bike that operates with outstanding performance that is characterized by a smooth and quiet vibe. This is the reason why users prefer a belt-driven bike such as this because they can work out at any time of the day without the fear that the family or the neighbors will be disturb. You don't even have to turn the volume of the TV up more than normal in order to enjoy your favorite show.
On top of that, it is a maintenance-free drive that does not need any future maintenance of lubrication or adjustments.
The drive housing consists of the belt, a small flywheel, and a crankset. The crank arms are solid to support anyone within the range of weight it supports. By the way, it is not as if your whole weight is going to be on the pedals because you don't have to perform the standing ride.
You can pedal in reverse if you wish to because that gives you the opportunity to work on more muscle groups.
The Resistance
The Sunny Health & Fitness SF-RB1117 Bike features a manual magnetic resistance system with 8 levels. The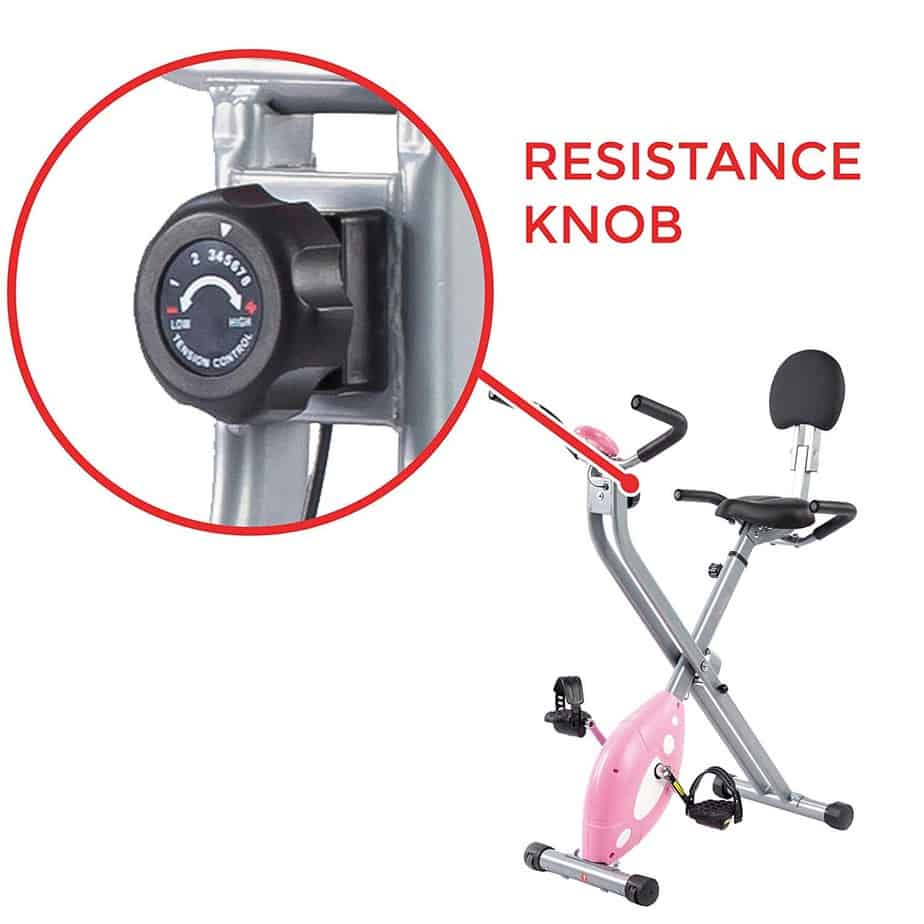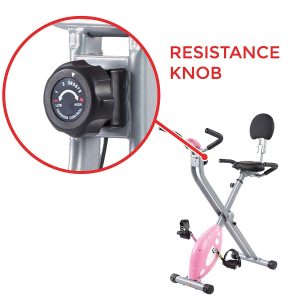 resistance system is smooth and effective while in effect. However, the highest resistance level does not provide a very difficult challenge, therefore, the bike is most suitable for folks that are out of shape, the elderly, and those with a physical medical condition such as joint pain.
In order words, you will be disappointed if you are one of those seeking to work out with extremely challenging resistance.
The resistance system is made up of the tension knob, the magnetic brake pad, and the flywheel.
The resistance is generated by the magnetic field from the brake pad when it gets close to the flywheel. You can easily increase and decrease the resistance level via the tension knob by turning it clockwise and anticlockwise respectively.
The Console
The Sunny Health & Fitness Magnetic Folding Recumbent Bike SF-BR1117 is supplied with a small basic console that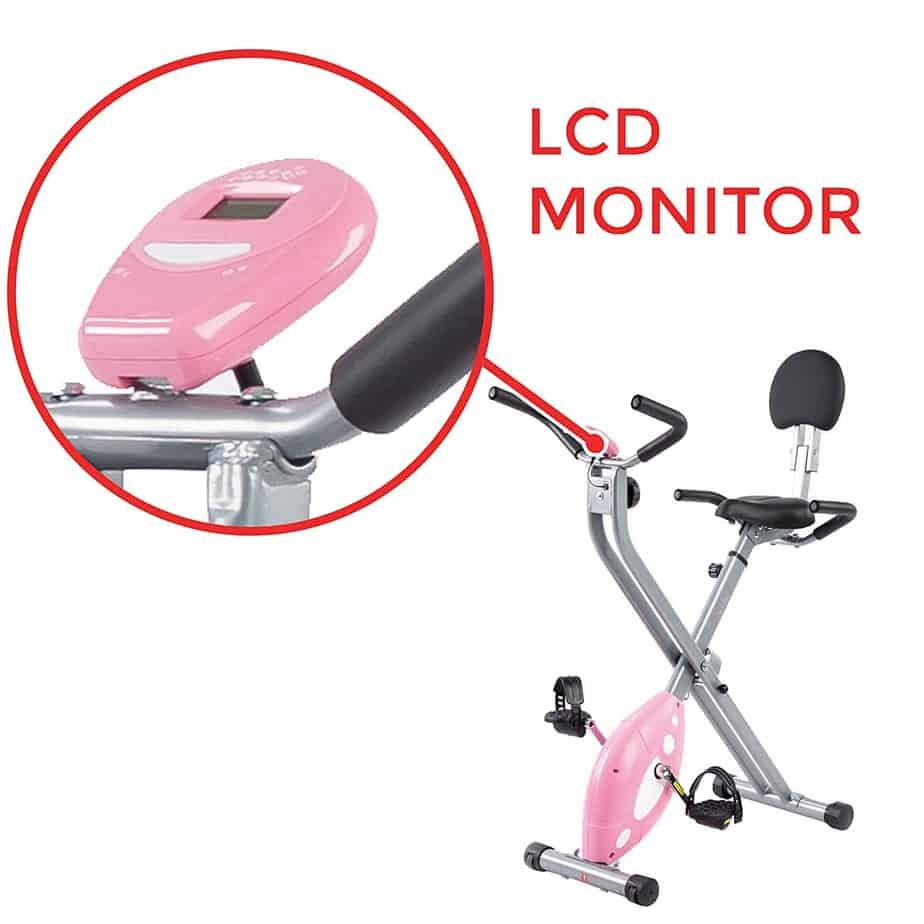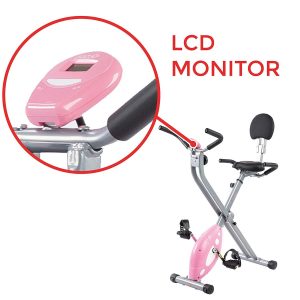 is capable of keeping you motivated by displaying workout data such as time, speed, distance, and scan.
The console does not have any additional features as expected and only has an LCD screen and a button for navigation. The screen displays data with good clarity but will be diminished if viewed in a poorly-lit room because it is not backlit.
There are two optional patterns of the display; by default, it uses the scan function to display all the workout values one at a time after few seconds rotationally and continuously or you can decide to use the MODE button to set a certain value of your preference to display constantly without skipping to another value.
The monitor automatically turns OFF if there is no activity on the bike for 4 minutes and it can automatically turn ON if activity resumes. This is done to save the battery power from draining.
The console is powered by 2 AA batteries which are included in the package.
Accessory
This semi-recumbent bike does not have any accessory supplied with it. You will have to improvise a way to keep water handy in order to stay hydrated through the entire workout session.
The same applies to have a smartphone/tablet around if you wish to listen to your favorite music while you exercise.
We think that the lack of these accessories won't necessarily be a deal-breaker considering the price tag of the bike.
Storage
The Sunny Health & Fitness Magnetic Folding Recumbent Bike (SF-BR1117) does not even take up significant space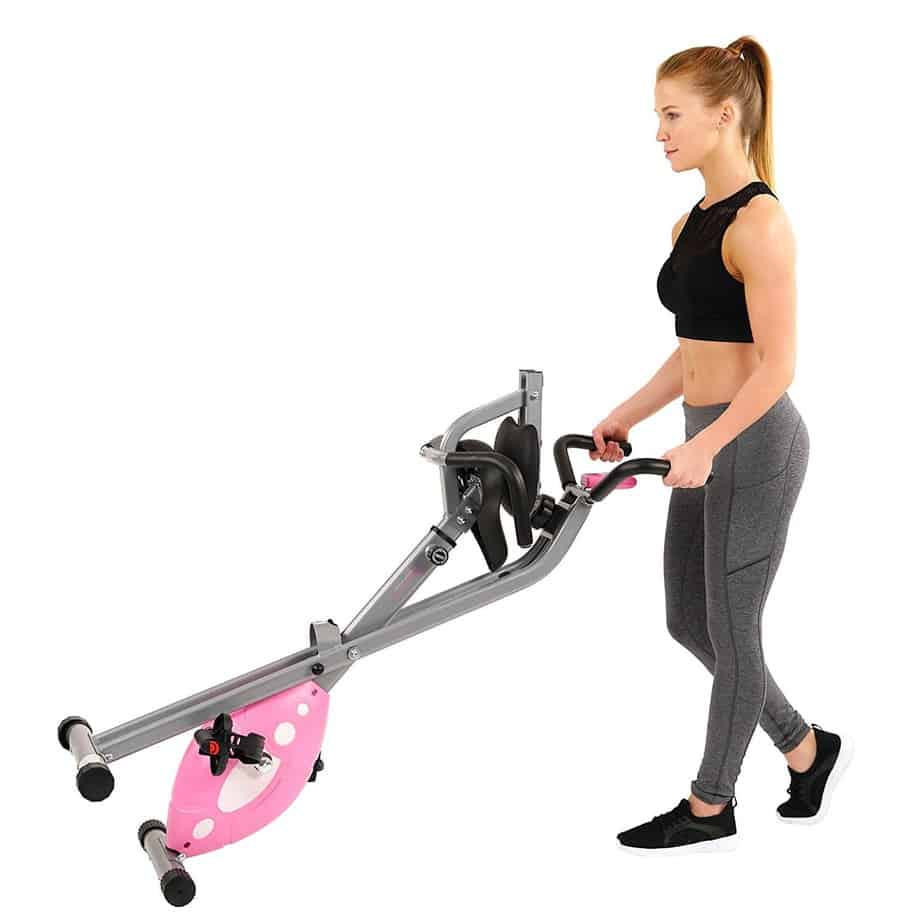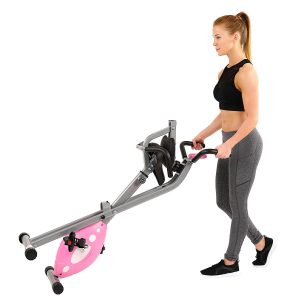 while in use because it is super compact. It has a small footprint of 32 inches long by 20 inches wide. In other words, the space it occupies while in use is about 4 feet long by 2 feet wide and that is including the extra clearance required for safety and convenience.
Most people don't even have to put away to a certain storage area.
However, you can put it away if you want to and it takes a lot less space for storage.
This is a foldable bike that folds up to half it fully assembled size. Differently put, the storage area for this is 1.3 feet long by 1.5 feet wide area. Therefore, you may simply store the bike in most unlikely places one can imagine.
Approval Rating
The Sunny Health & Fitness Magnetic Folding Recumbent Bike SF-BR1117 has over five hundred and thirty Amazon customer reviews at the time of this review and the majority of its users have a positive view of it. This is why it has the average approval rating of 4 stars out of 5 stars which is a compelling reason to consider purchasing the bike.
Pro/Features Overview
It is sturdy and stable
It supports 220 pounds/100 kg maximum user weight capacity
It is great for beginners, the elderly, and those that suffer joint pain
The pedals are bidirectional which tone more muscle groups
It has a quiet and smooth performance/operation
It is a low maintenance bike
It is very easy to assemble
It is compact and foldable, therefore does not take up much space
It has an adjustable semi-recumbent seat that supports the back
The batteries that powers the console are included
It has a decent warranty
It is affordable
Cons
Does not have heart rate function
The seat is not very comfortable
No accessories such as tablet and water bottle holder
The highest resistance level is mild
Product Dimensions and Specifications
32'' Length
20'' Width
46'' Height
15'' Length (folded)
18.5'' Width (folded)
51.5'' Height (folded)
Seat: Adjustable semi-recumbent design, dimensions; 9.5'' W x 10.5'' L x 2.5'' D
Handlebar: Non-adjustable
Pedals: Anti-skid with adjustable safety straps
Resistance: Manual magnetic with 8 levels
Drive: Belt
Weight: 37 pounds/16.8 kg
Supports 220 pounds/100 kg maximum user weight capacity
Warranty
3 Years on Structural Frame
180 Days on Parts and Components
Shipping, Assembly, and Maintenance
Shipping
The Sunny Health & Fitness Magnetic Folding Recumbent Bike SF-BR1117 is shipped in a box with dimensions of 44 inches by 7.5 inches by 16 inches and weighs about 40 pounds/18 kg.
The shipping cost is determined by the retailer that is selling the product to you; however, some vendors such as Amazon provide free shipping for U.S residents and delivers within days of order.
Assembly
The SF-RB1117 bike is not delivered fully assembled but it is pretty easy to put together because the major parts are pre-assembled.
The only parts you are required to attach to the frame are the front and rear stabilizer bars, the seat post, the seat, the backrest, the handlebar, and the console.
Included in the package is the user's manual that walks you through the assembly process and the tools for the job that needs to be done. It will take about 30 minutes, more or less to completely assemble the bike. But if you don't want to have anything to do with the assembly then you can go for the ''expert assembly'' where an expert will assemble the bike on your behalf but that comes with extra charges of course.
Maintenance
As aforementioned, this bike does not require any serious maintenance as the internal parts are pre-assembled.
You need to always keep the unit clean from dirt and sweat at all times. Store it in a dry and clean place and avoid exposing to rainwater or moisture.
Conclusion
The Sunny Health & Fitness Magnetic Folding Recumbent Bike SF-BR1117 is an inexpensive bike that still does the job. It provides decent cardio workouts many will find very effective towards burning calories and improving overall physical health.
It will suffice to say that it is one of the best inexpensive semi-recumbent bikes available that has been tested and approved by hundreds of users.
[rank_math_rich_snippet]