The Ivation Foldable Exercise Upright Bike could be that handy cardio equipment that provides quality workouts that you can otherwise get from the gym.  But many folks do not have the time or the luxury of visiting the gym and the Ivation Foldable Exercise Upright Bike could provide the opportunity to work out conveniently at home and still be put it out sight after use.
The bike's useful features along with its compact and foldable design could be a big deal and a deal maker for so many people that wish to workout at the comfort of their home because many do not have a lot of space to spare.
The workout area for this bike is 2.8 feet long by 1.5 feet wide and takes even less space for storage because of its foldability.
The stability is not affected by its size because it has a good base framework that ensures that the bike supports the stipulated maximum weight without wobbling or tilting during workouts. The maximum user weight capacity it supports is 300 pounds/136 kg.
The frame is made of steel and has a fairly large and padded adjustable seat that guarantees suitability for users of different heights and sizes.  It has a console with a monitor screen that displays bold workout values such as the time, speed, calories burned, distance, and pulse with high clarity.
A user gets decent workouts because the bike features an effective magnetic resistance system with 8 levels. In other words, most users will find it suitable except for those that wish to experience extremely challenging workouts.
Click right here to have a peek at the price of the Ivation Foldable Exercise Upright Bike on Amazon.
The Frame and Construction
The Ivation Foldable Exercise Upright Bike is a solid bike whose frame was made from heavy-duty steel. It is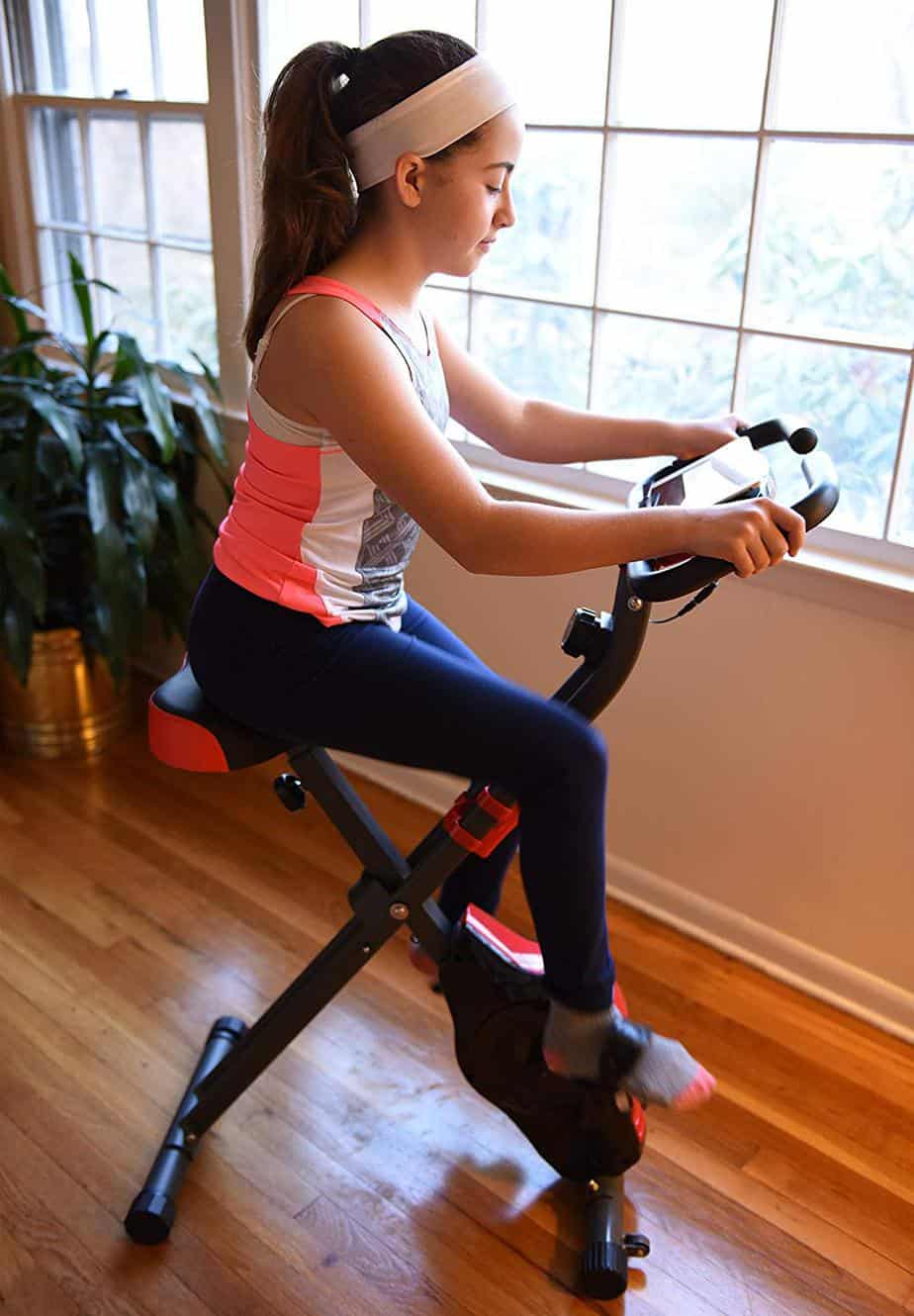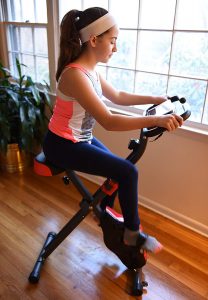 coated with anti-corrosive and scratch paint that preserves the metal parts from rusts and scratch encroachment and as a result, the frame remains the same at all times.
The bike supports 300 pounds/136 kg maximum user weight capacity and does not wobble or tilt during workout despite its compact size.
The overall assembled dimensions of the bike are 33.46 inches long by 17.32 inches wide by 44.49 inches tall. Obviously, it has got a small footprint that won't take much space during a workout. As a matter of fact, a workout area of 2.8 feet long by 1.5 foot wide and a ceiling height of at least 7 feet will suffice. Besides, you don't perform a stand-up pedaling on this bike even if it supports it because it is not a spin bike and it can be very unstable if you try it.
Better go for a spin bike if you really wish to perform the stand-up ride.
In addition to the workout area, it is recommended to have an extra clearance of at least 1 foot at the rear and on each side of the bike for safety and convenience workout experience.
It will be silly to try to perform the stand-up pedaling on this bike because of how unstable it can be but it is very stable when performing the seated workouts. This is large because of its base framework as aforementioned.
The bases feature front and rear stabilizer bars with rubber caps on each end to make them floor friendly. There are also transport wheels for portability at the front base of the bike.
The Ivation Foldable Exercise Upright Bike weighs 35.05 pounds/15.8 kg that further boosts the bike's stability.
However, you may want to place the bike on a protective rubber mat to prevent wobbling or tilting just in case the floor is not even.
As you may have already noticed, the bike is also foldable which means that putting it away when not in use will be a lot convenient and it is also adjustable thus users of different heights will be accommodated.
The Ivation Foldable Exercise Upright Bike could pass as one of the best folding upright exercise bikes available.
The Seat, the handlebar, and the Pedals
The seat of the Ivation Foldable Exercise Upright Bike with model number IVAFMUBWP is 2-way adjustable, i.e. it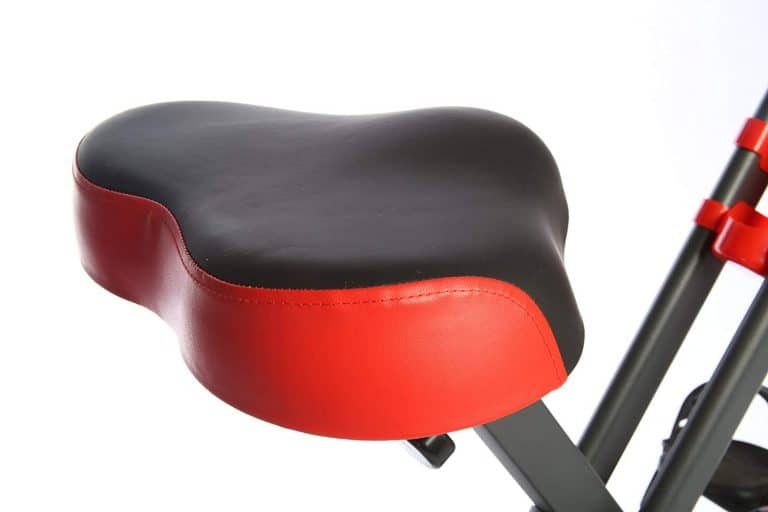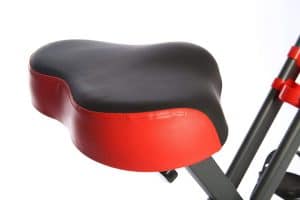 can be adjusted vertically upward/downward.  Users between the heights of 5 feet to 6.3 inches will be accommodated regardless of their sizes as long as their weight is within the range it supports which is 300 pounds/136 kg maximum user weight.
The saddle is also large and fairly padded to provide comfort…at least most users think that it does but if you find it otherwise you might use a gel seat cover to enhance the comfortability.
The seat's dimensions are 320 mm/12.5 inches by 245 mm/9.6 inches.
The handlebar is non-adjustable but has a design and designated position that makes it suitable for all users.
The multi-grip designed handlebar provides a variety of different workout postures. It is coated with a soft rubber foam material that prevents slippage and blisters in the palms but instead provides firm and comfortable grips that allow a user to workout longer.
The heart rate sensors are also embedded in the handlebars so that when gripped on during a workout the heart rate data will be transmitted to the monitor. This helps the user to maintain a target heart rate zone at all times.
The pedals on the Ivation Foldable Exercise Upright Bike is neither a set of toe cages nor a set of SDP clips but simple pedals with safety adjustable straps that secure the feet in place to avoid slippage during workouts.
The pedals can only accommodate standard gym shoes and barefoot.
The pedals can be swapped for another set just in case you have another you wish to use.
The Drive
The Ivation Foldable Exercise Upright Bike features a belt drive system that provides smooth and quiet performance. This type of drive system is highly sought after due to its quiet operation and its maintenance-free disposition.
In other words, the drive is pre-lubricated by the manufacturer and therefore, doesn't require any further or periodic lubrication or adjustment by you.
Also, because of its quiet nature during operation, a user does not have to worry about disturbing the family or neighbors living in close proximity while exercising. You should be able to enjoy watching your favorite TV show without having to turn up the volume more than the usual level to be able to hear.
The belt drive is made up of a heavy-duty V belt, a solid crankset, aluminum alloy crank arms, and a 5.5 pounds/2.5 kg perimeter weighted flywheel. Most of these elements are shrouded in the ABS plastic for safety reasons.
You can pedal in reverse in order to maximize the muscle groups that are being toned.
Again, the drive is solid and can support stand-up pedaling but we will not encourage doing that with a foldable upright bike such as this.
The Resistance
Ivation Foldable Exercise Upright Bike has a manual magnetic resistance system with 8 levels. Yet another integral part of the bike that provides formidable resistance that challenges almost every individual at any fitness level.
But let's be clear about this, this is not suitable for advanced athletes that seek to experience extremely difficult workouts.
The resistance system is also maintenance-free because the magnetic brake pad and the flywheel do not come in direct contact in order to generate resistance thereby eliminating friction that could wear the brake pad out and consequently require a replacement.
The resistance is generated by the magnetic field provided by the magnetic brake pad around the flywheel. The closer the magnetic brake pad gets to the flywheel the more challenging the resistance will become and vice versa.
The tension knob has the -1 to +8 resistance levels indicated on it so that you will be guided on the resistance level that is being used. Turn the tension knob clockwise to increase the resistance to the level that is suitable for your workout and in like manner turn anticlockwise to reduce the resistance difficulty.
You should be able to track your strength and endurance progress because you will know when you graduate to using higher resistance levels.
The Console
The console that comes with the Ivation Foldable Exercise Upright Bike is basic with an LCD monitor that displays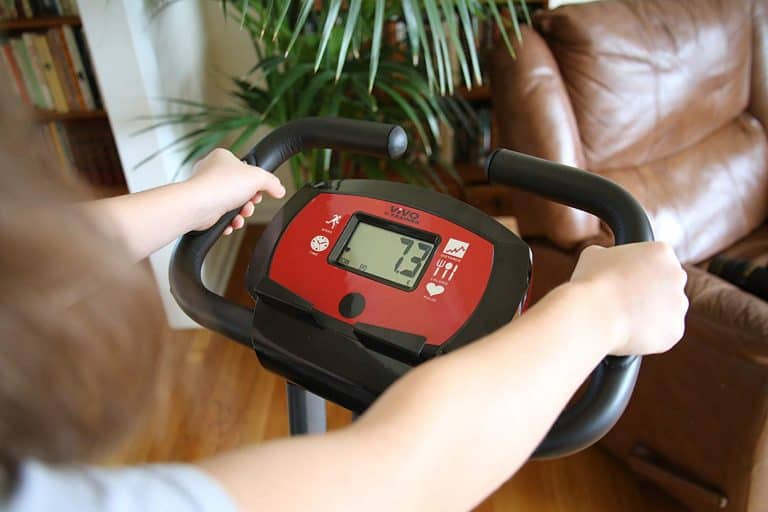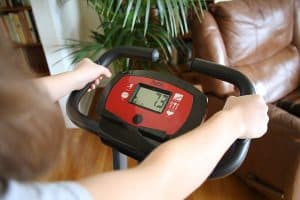 large workout data. The monitor displays data with good clarity but could be compromised when viewed in a poor-lit room or environment because it is not backlit.
Being a basic console there are no bells and whiles such as preset programs or a Bluetooth capability but it does allow you to keep track of your workout progress. It displays values such as time, speed, distance, calories burned, and pulse. The distance and speed are measured in miles.
The bike does not need to be plugged into an electric outlet in order to function and neither does the console. The console is powered by batteries.
There is only a single button available for navigation and it is pretty simple to use. You can understand it by playing around with it. For instance, if the button is pressed once the monitor comes alive and when pressed twice it changes from scan to display a certain value constantly.
In order words, it has a SCAN function that displays all the workout values one at a time rotationally and continuously, but if you wish to view a certain value all through the entire workout session you can also make that happen.
The monitor turns OFF if there is no activity on the bike for a period of few minutes in order to save battery's life and it turns ON once activity resumes.
Accessory
The Ivation Foldable Exercise Upright Bike has two accessories which are the tablet holder and the TV remote holder.
The tablet holder is solid and designated on the console right below the LCD screen which makes it kind of awkward. It is not awkward because it doesn't provide a good angle for view and clarity but because if you choose to place a tablet on it the monitor display will be blocked.
However, you will be able to keep yourself entertained by watching a movie via your phone/tablet or listening to your favorite music while you pedal your way to improved physical health and anyone could use a distraction like that.
The TV remote holder is position on the mainframe, right below the tension knob but within reach of the user.
No water bottle holder, you just have to improvise to keep water handy in order to stay hydrated throughout the entire workout session.
Storage
The Ivation Foldable Exercise Upright Bike is pretty easy to store away because it is compact, foldable, portable, and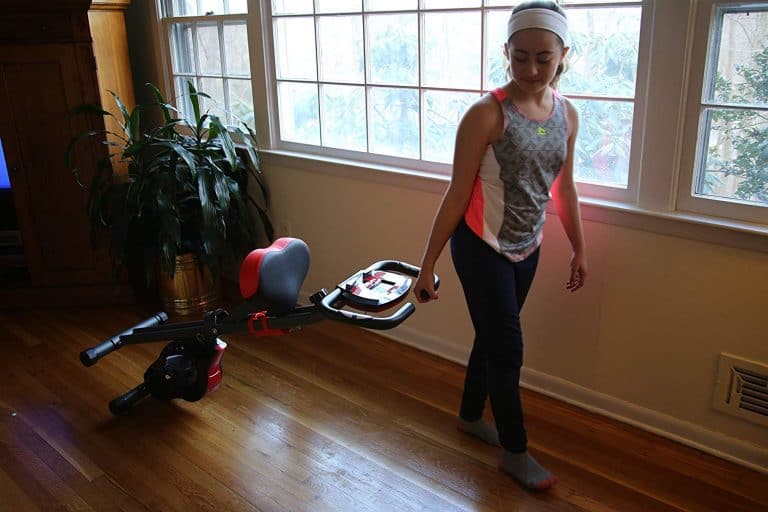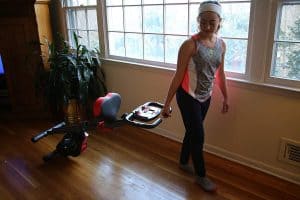 lightweight.
It takes only about 2.8 feet long by 1.5-foot wide area when fully assembled and takes a lot less when it is folded up.
The bike could be stored away in the most unlikely places such as the closet.
Approval Rating
No doubt, the approval rating is a very important determining factor in purchasing any product and therefore we place a lot of emphasis on it and ultimately use it to shape our opinion regarding any product we are reviewing.
That said, the Ivation Foldable Exercise Upright Bike has almost one hundred Amazon customer reviews most of which are very positive. We understand that most of the users that reviewed the bike on Amazon have the opinion that this is a recommendable bike and worth the price tag, in other words, it is cost-effective.
The average approval rating of the Ivation Upright Exercise Bike at the time of this review is 4.2 out of 5 stars. This positively says a lot about the bike's overall standing.
Pro/Features Overview
Sturdy and durable
It is smooth and quiet during operation
It has an effective manual magnetic resistance system with 8 levels
The bike is maintenance-free
The seat is adjustable, padded and large
The handlebar has a multi-grip design that provides different workout postures
The pedals are suitable for barefoot and standard gym shoes and secure the feet in place due to the safety adjustable straps
The pedals can be swapped with another set of pedals of your choice
The bike supports 300 pounds/136 kg maximum user weight capacity
The bike is compact therefore doesn't take much space
It is foldable and takes even less space for storage
It is lightweight and has transport wheels that make it super portable
It comes with an LCD monitor that displays workout values such as time, speed, distance, calories burned, and pulse
A tablet holder is included
TV remote holder is included
Easy to assemble
Cost-effective
Cons
Not suitable for serious athletes
Product Dimensions and Specifications
33.46'' Length
17.32'' Width
44.49'' Height
Supports 300 pounds/136 kg maximum user weight capacity
Weight: 35.05 pounds/15.8 kg
Seat Measurement: 320 mm/12.5 inches x 240 mm/9.4 inches
Seat: 2-way adjustable
Handlebar: Multi-grip designed, not adjustable
Drive: Belt
Resistance: Manual magnetic resistance with 8 levels
Flywheel: 5.5 Pounds/2.5 kg
Warranty
Shipping, Assembly, and Maintenance
Shipping
The Ivation Foldable Exercise Upright Bike is shipped in a box that weighs 42.8 pounds/19.4 kg.
The shipping cost depends on the vendor that is selling it to you; however, there are vendors such as Amazon that provide free shipping for the United States residents and delivers within days of order.
 Assembly
The Ivation Foldable Exercise Upright Bike is not difficult to assemble together. The drive is delivered pre-assembled.
There are only a few parts that need to be attached to the frame such as the front and the rear stabilizer bars, the seat, the handlebar, the pedals, and the console.
It will take about 30 minutes, more or less to completely assemble the unit to a functional and riding stage.
An instruction manual is also included in the package to help walk you through the process of assembly.
Maintenance
The Ivation Foldable Exercise Upright Bike does not require any maintenance that is serious because its drive is belt driven and has a magnetic resistance system.
Simply make sure to supervise the bike before use for any loose, broken or worn part in order to avoid an accident and further damage to the bike. Fix any problem that may arise accordingly and contact the vendor when necessary.
Finally, always keep the unit clean from dirt and sweat by wiping it with a damp cloth and a mild soap.
Conclusion
The Ivation Foldable Exercise Upright Bike is an affordable bike that is ideal for those on a budget that still wish to perform decent cardio workouts in the comfort of their home.
This bike should make it in your list if you are really looking for something within this category, a bike that is compact, lightweight, stable, and provides smooth, quiet, and decent difficult workouts.
This bike could get the job done if you are looking forward to shedding off some pounds of weight and improving overall physical health.
[rank_math_rich_snippet]