The PLENY Foldable Upright Stationary Exercise Bike is an entry-level bike that is designed to stand out among the rest hence features 16 resistance levels against 8 that is prevalent in most folding bikes.
It is in two color variants of black and pink but unfortunately, the pink color is not available at the time of this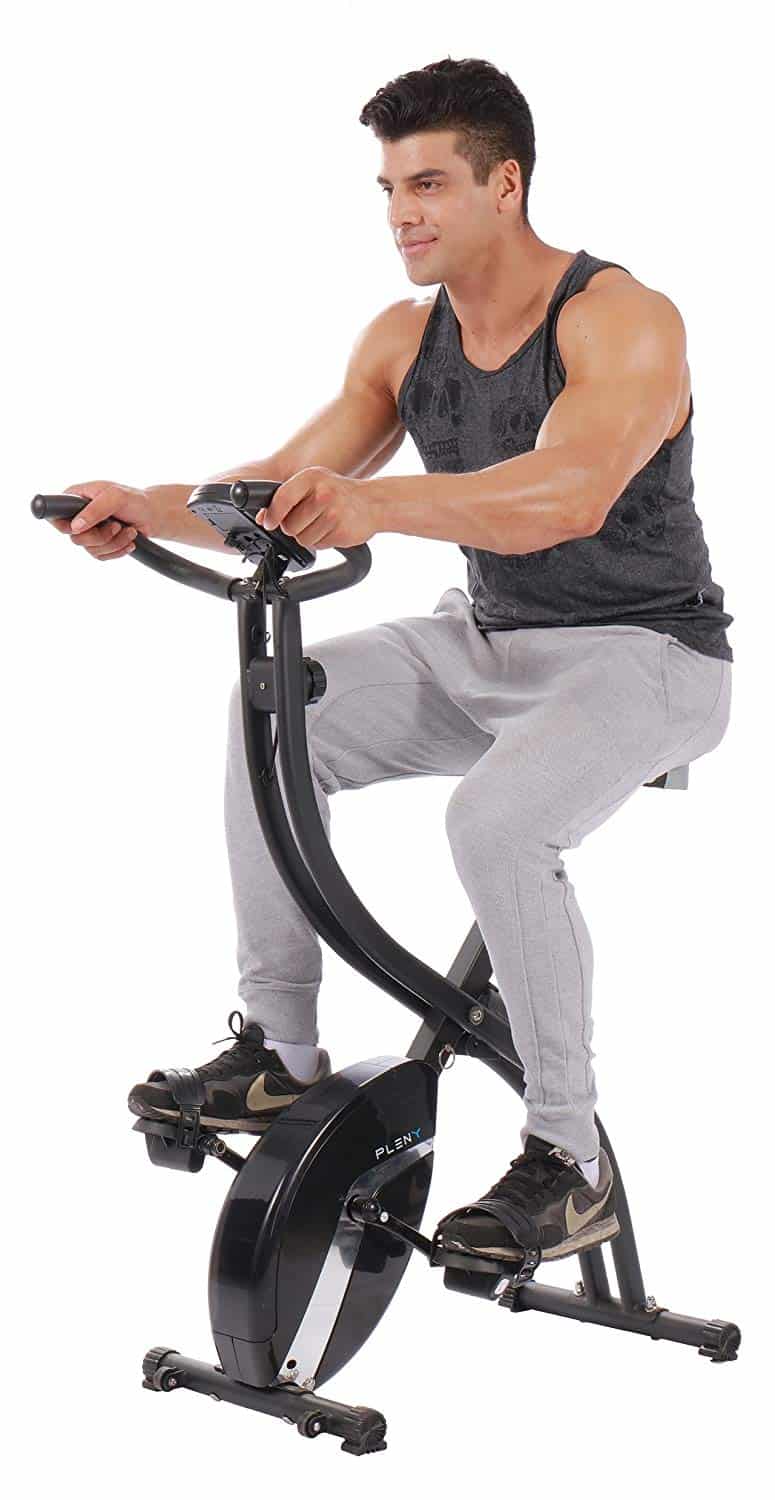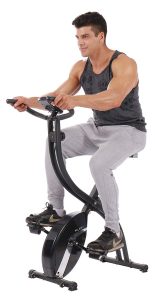 review.
This bike is relatively new on the market thus has one or two innovations to make it unique and outstanding in terms of overall performance.
For instance, generally, folding bikes hardly provide very difficult workouts; at best they are suitable for people that are out of shape, the elderly, and those with a medical condition such as joint pain.
The PLENY Foldable Upright Stationary Exercise Bike, especially the one in black provides challenging workouts more than the average folding upright bikes due to its heavier magnetic resistance.
Let's be clear, whether or not it will be suitable for folks seeking extremely workout experience, the answer is NO, but it provides a decent difficult workout that is more than what the average folding upright bike provides.
It has a unique ''s'' arc design that is better for senior easy mount and dismount. It is a compact bike with an adjustable large seat that provides comfort and accommodates users of different sizes.
This is obviously one of the best folding upright bikes that should be under your radar for consideration if you are looking for one.
Click right here to view the price of the PLENY Foldable Upright Stationary Exercise Bike on Amazon.
The Frame and Construction
The PLENY Foldable Upright Stationary Exercise Bike features a heavy-duty steel frame that is coated with anti-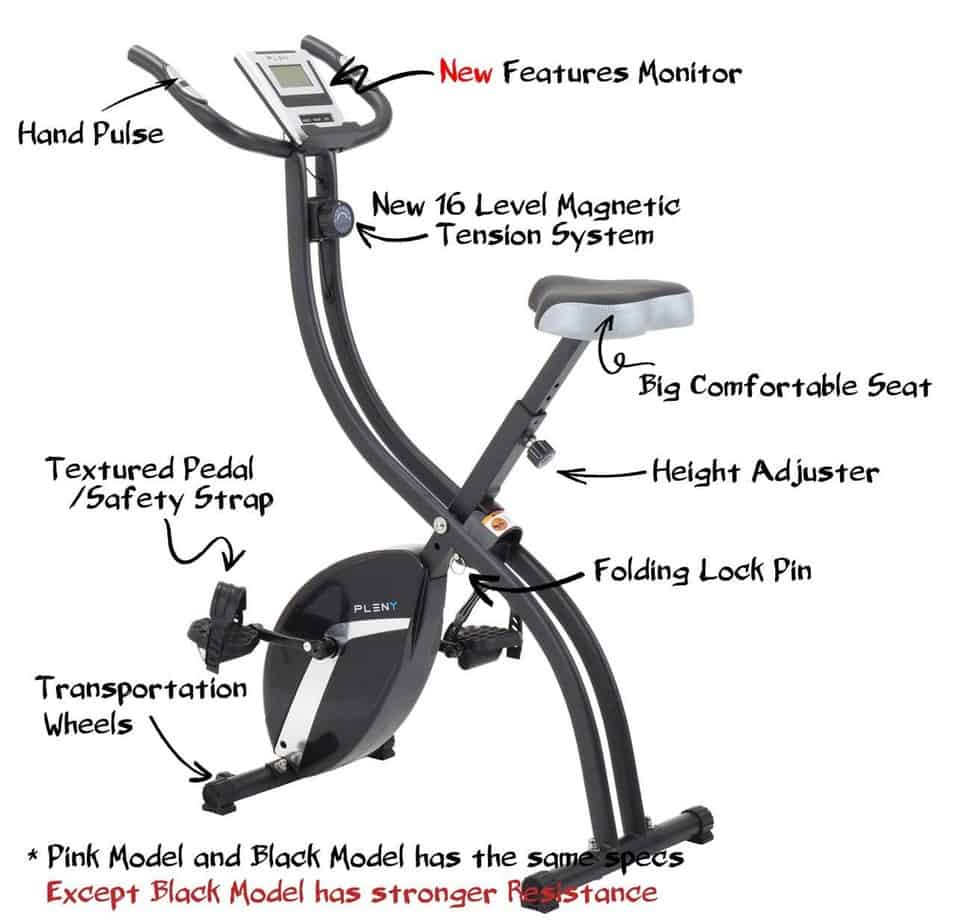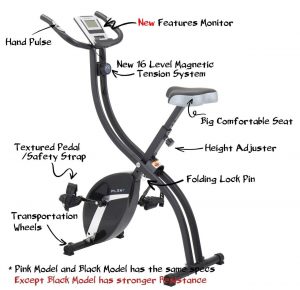 corrosive and scratch paint that preserves the quality and appearance of being degraded by rusts.
It supports up to 260 pounds/118 kg maximum user weight capacity.
It is a space-saving bike due to its compact and foldable design. It is portable and easy to move around because it is lightweight and has transport wheels integrated at the front base. The bike has overall assembled dimensions of 34 inches long by 16 inches wide by 45.7 inches tall. So, a workout area of 4.5 feet long by 3 feet wide and a ceiling height of at least 7 feet high should suffice. This is including the recommended extra clearances at the rear and on each side of the bike for safety and convenience purposes.
It has a folding lock pin that ensures that the bike is securely locked when folded up.
Despite the fact it has a small footprint it is stable due to the robust front and rear stabilizer bars with rubber caps on each intended to make the bases surface-friendly. Therefore, it is stable and won't tilt or wobble during a workout.
The PLENY Foldable Upright Stationary Exercise Bike is an upgrade of 2018 with 16 levels of resistance designed to make a difference by providing challenging workouts that are unique.
The Seat, the Handlebar, and the Pedals
The seat, the handlebar, and the pedals are important integral parts of any indoor exercise bike because they determine how great or how horrible your workout experience would be. If they are properly designed then your workouts will be comfortable and productive but if they are poorly designed exercising on such a bike will be horrible and boring.
That said, the PLENY Foldable Upright Stationary Exercise Bike features a large and padded seat that is also adjustable which is essential in providing the much-needed comfort and suitability.
However, there are complaints from some of the users on Amazon that the seat is kind of hard and uncomfortable and this is a red flag because it could affect the quality of workouts you get. The remedy is to use a large gel seat cover that sizes the saddle to improve its comfortability if you feel the need. Users also affirmed that they got used to the seat after using the bike a couple of times.
The seat is 2-way adjustable, which means it can be vertically (upward/downward) adjusted. The seat post has several holes on it for easy adjustment and will only take a couple of seconds to adjust to your preferred position.
For this reason, users between the heights of 5'3'' to 5' 10'' could be accommodated conveniently. Taller and shorter folks may use the bike but there might be some restrictions such as the inability to fully extend the legs or not properly reaching the pedals.
The handlebar is ergonomically designed with multiple grips that allow different workout postures and it is coated with a rubber foam material that allows a user to workout with comfortable and firm grips. You will not experience slippage due to sweaty hands or blisters in the palms either.
The HR sensors are embedded in the handlebars so that when gripped during a workout the heart rate data will be transmitted to the LCD monitor so that you can monitor and maintain your target heart rate zone through the entire workout session.
The handlebar is non-adjustable but it is attached to the ''s'' arc designed frame which generally makes its position to be suitable for users.
The pedals are attached to curved crank arms to prevent the user's heel from kicking the crankset while pedaling. The pedals feature an anti-slip design with adjustable safety straps that firmly secure the feet and prevent slippage during workouts.
Interestingly, due to the common problem of loosening pedals while working out PLENY integrated an extra strengthening bolt to avoid that from happening.
The Drive
The PLENY Foldable Upright Stationary Exercise Bike obviously features a belt drive system that ensures that you enjoy a quiet and smooth workout.
Not only that, the belt drive system is maintenance-free and does not require any lubrication or adjustment of any sort.
The benefits of this are undeniable because you should be able to work out anywhere in your home, at any time of the day with family and neighbors around without the fear that you might be disturbing them.  You can also watch your favorite TV show without the need to turn up the volume more than it used to be because you can clearly hear without any noise interference.
The drive is basically made up of the belt, pulleys, a small flywheel, a solid crankset, the crank arms made of aluminum alloy, and the pedals. Apart from the pedals and the crank arms essentially the rest of the drive elements are encased in a plastic casing so that it will be safe for children at home and the user's feet not to get hurt during exercise.
You can pedal in both directions for fun and maximum effect on the legs muscle groups.
The Resistance
The resistance of the PLENY Foldable Upright Stationary Exercise Bike is one of the finest among the folding bikes category. It is because it has more resistance levels than any average upright folding bike has thus it provides some level of challenging workouts.
As aforementioned, this bike does not engage a user in an extremely challenging workout and no other folding bike does…at least not to our knowledge but it provides harder resistance than a regular folding bike does.
This bike features a manual magnetic resistance system as expected with 16 levels of resistance. It is advised to get the black colored PLENY Upright Folding Bike instead of the pink-colored if you wish to be engaged in some level of resistance that could make you feel the burn quickly.
There is no way you won't feel some level of challenge by the time you workout from the level 1 resistance all the way up to the 16. This simply gives the bike an edge over others.
In other words, the resistance levels in this bike are like x2 of what is usually obtainable except in some cases where you could find bikes with 10 resistance levels but generally, there are only 8 resistance levels as the standard.
It is very easy to adjust the resistance level via the tension knob; simply turn it (tension knob) clockwise to any distinct level -1 to +16 to increase resistance and turn anticlockwise to decrease in like manner.
This resistance system consists of a magnetic brake pad that produces a magnetic field around the flywheel in order to generate resistance. In other words, the brake pad and the flywheel do not come in direct contact as the case with the friction resistance and this really makes the brake pad to last longer without the need for a periodic replacement.
The Console
The console of the PLENY Foldable Upright Stationary Exercise Bike upgraded from simply displaying basic workout data to being able to set up workout goals. This means you will be able to set up targets you would like to accomplish on distance, time, and calories burned. This function really helps to keep you focused and motivated with a sense of responsibility and accomplishment towards achieving your fitness goals.
The other upgrade of the console is the integration of a tablet/phone holder which allows a user to securely keep a phone around for entertainment purposes while exercising.
The console has an easy to read LCD monitor that displays workout data such as Time, Speed, Distance, Odometer, Heart Rate, and calorie.
The monitor has high readability however that could be compromised if viewed in a poorly lit room because it is not backlit.
It also has the SCAN function that displays all the workout values one at a time after few seconds rotationally and continuously but you can also have a workout value of your choice to constantly display by pressing down and holding the button for a couple of seconds.
It is also important to note that the console is powered by batteries and not electricity.
Accessory
As aforementioned, the PLENY Foldable Upright Stationary Exercise Bike features a tablet holder on the console. This will enable you to listen to your favorite music while working out by placing a smartphone on it. However, the problem is that the LCD monitor will be blocked and you won't be able to view the display when you do that because the holder is right below the monitor screen.
Aside from the tablet holder, there is no other accessory available on the bike.
Storage
The storage of the PLENY Foldable Upright Stationary Exercise Bike is pretty convenient and easy because of its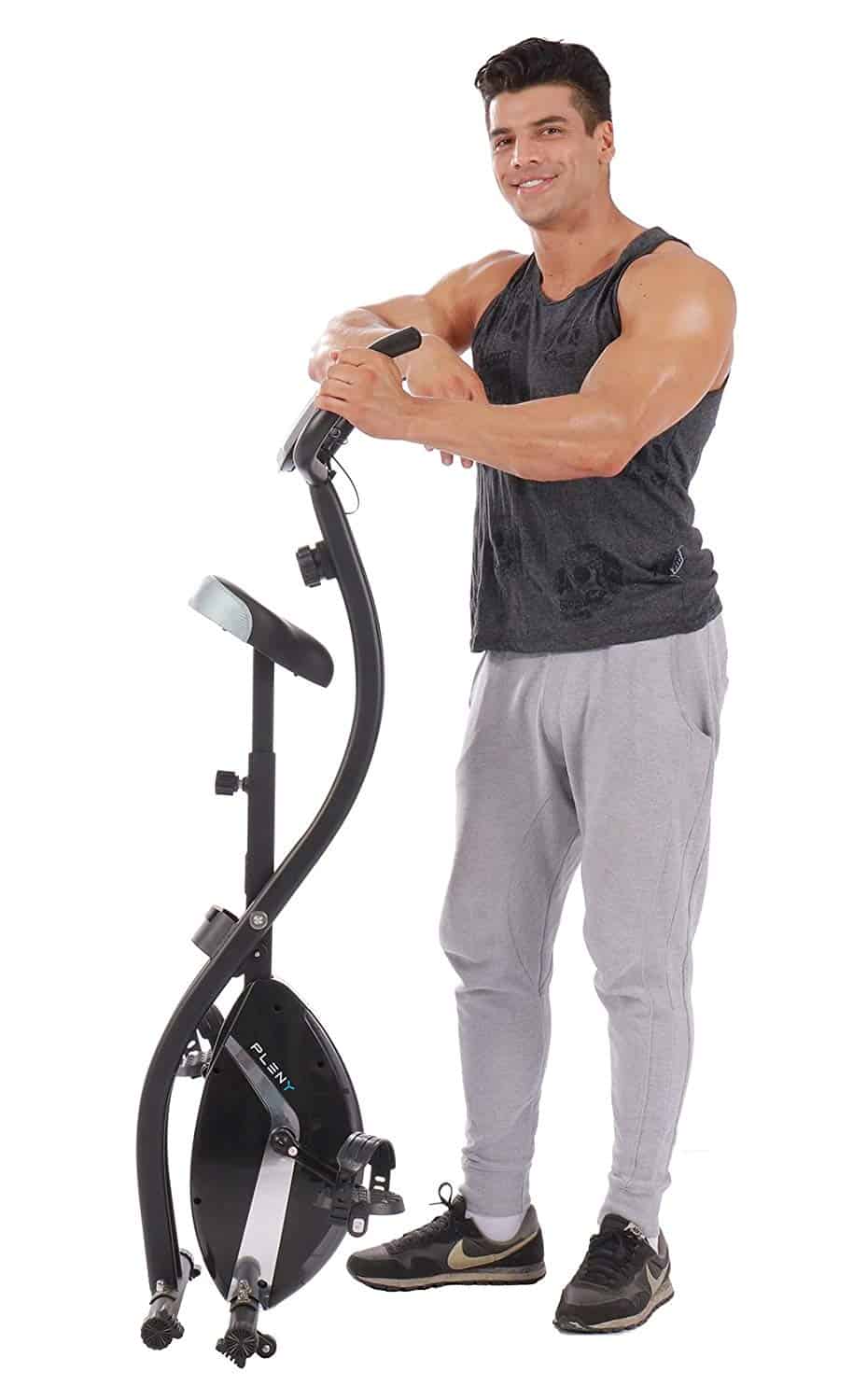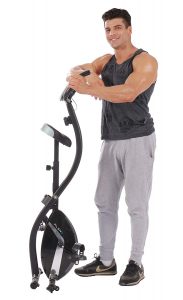 compact and foldable design. It is also a lightweight machine that is integrated with transport wheels at the front base for portability.
It has a small footprint of 34 inches long by 16 inches wide and foldable dimensions of 16.15 inches wide by 6.7 inches long by 55.2 inches tall. This bike can fit in a standard closet when folded or some unlikely place.
Approval Rating
The approval rating on the PLENY Foldable Upright Stationary Exercise Bike on Amazon suggests that it is a well-received bike. The majority of the users who cared to review it on Amazon are satisfied with the bike's performance and would recommend it.
There are seventy-six Amazon customer reviews at the time of this review with an average of 4.4 stars out of 5 stars which speak volumes of the bike's popularity.
If you need further answers regarding this machine you could go to Amazon and get first-hand info from real users.
Pro/Features Overview
Unique ''S'' arc design that makes mounting and dismounting it very easy
Its overall build is sturdy and durable
It has a space-saving design that takes less space during a workout and even lesser space for storage
The pedals are anti-skid designed with adjustable safety straps that secure the feet in place
It is very quiet and smooth during operation hence users can workout at any time of the day and you won't worry about disturbing the family or neighbors while exercising.
The bike provides challenging workouts due to its resistance system with 16 levels
The LCD monitor allows the user to track workout progress by displaying workout values such as Time, Speed, Distance, Odometer, Heart Rate, and Calorie
A user can set up target goals to a countdown
It is portable due to its transport wheels
A tablet holder is included
It is affordable
Cons
The seat is not very comfortable but could be enhanced by using a gel seat cover
Individuals that are shorter than 5'2 and taller than 5' 10 inches might have a problem using the bike
The tablet holder is not strategically positioned because the LCD monitor will be blocked when a device is placed on it
Product Dimensions and Specifications
34'' Length
16'' Width
46'' Height
7'' Length (folded)
16'' Width(folded)
55''' Height (folded)
Drive: Belt
Resistance: Manual magnetic with 16 levels
Pedals: Anti-skid designed with safety straps
LCD monitor
Seat: Large and padded, 2-way adjustable
Handlebar: Non-adjustable with HR sensors
Supports 260 pounds/118 kg maximum user weight capacity
Warranty
Shipping, Assembly, and Maintenance
Shipping
The PLENY Foldable Upright Stationary Exercise Bike is supplied in a package with dimensions of 48 inches by 16 inches by 8.5 inches and weighs 42.4 pounds/19 kg.
The shipping cost depends on the vendor you're purchasing from: some retailers such as Amazon provide free shipping for the United States residents and delivers right on time.
Assembly
Does the PLENY Foldable Upright Stationary Exercise Bike come assembled? NO, but some parts are pre-assembled.
Assembling the bike is pretty easy as you are only required to attach the front and rear stabilizer bars, the seat post, the seat, the handlebar, and the console. Moreover, an instruction manual is included in the package which could guide you through the process of assembly or you may choose to use the assembly video via a link which will be on the manual for quick and easy assembly.
All the tools needed for successful assembly are included as well and it will take about 30 minutes, more or less to completely assemble it.
Maintenance
There is no serious maintenance required for the PLENY Foldable Upright Stationary Exercise Bike. The drive and the resistance systems are well made and therefore you are only required to keep the unit clean from dirt and sweat at all times.
Also take a precautionary measure to examine the bike before use to make sure that all the parts are intact and none is loose, worn out, or broken.
Conclusion
The PLENY Foldable Upright Stationary Exercise Bike is a bike to consider purchasing if you are looking for something that is kind of different from the regular foldable bikes.  It has durable construction and features that could definitely assist you to achieve your fitness goals; features such as the resistance with 16 levels, the LCD monitor that displays the workout values, and allows you to set up goals.
On top of that, it is not even pricier than most average foldable bikes out there. We think that PLENY is only trying to get competitive by trying to bring something new, innovative, and useful to consumers.
[rank_math_rich_snippet]