The UREVO Foldable Under-Desk 2.5 HP Treadmill is a compact and portable cardio machine made for home and office use, and it is available in black and white color versions.
Its powerful and energy-efficient 2.5 horsepower motor provides a speed range of 1-12 km/h. It offers a seamless and very low noise operation that makes the treadmill useable around people.
A laptop can be placed on the tabletop where the console is designated.
However, if you did that you may not be able to view the monitor. Also, you may want to be careful so that the laptop doesn't slip off during workouts.
If you are looking to lose weight and improve overall physical fitness, or a treadmill you could tuck away under the couch or the bed, then this unit might just be up your alley.
Click right here to have a peek at the best price of the UREVO Foldable Under-Desk 2.5 HP Treadmill on Amazon.
Frame and Construction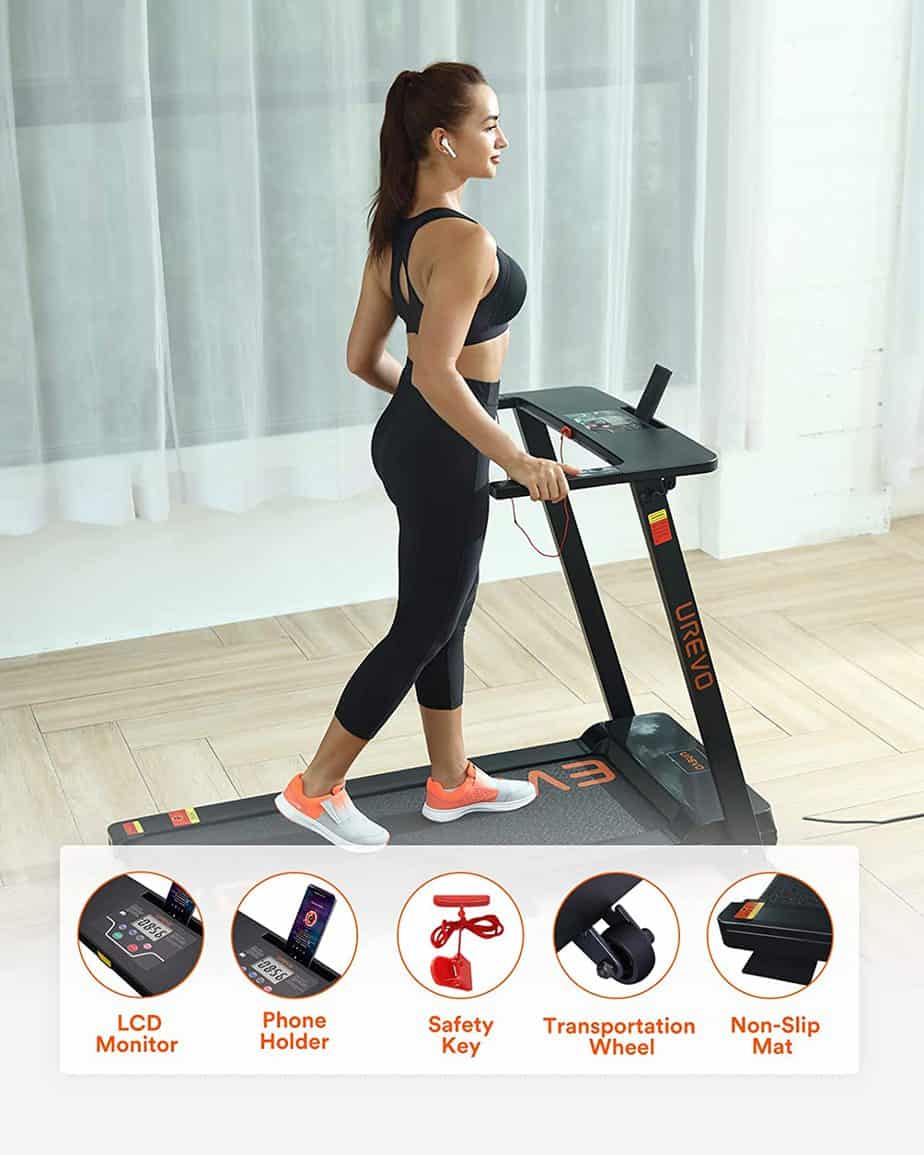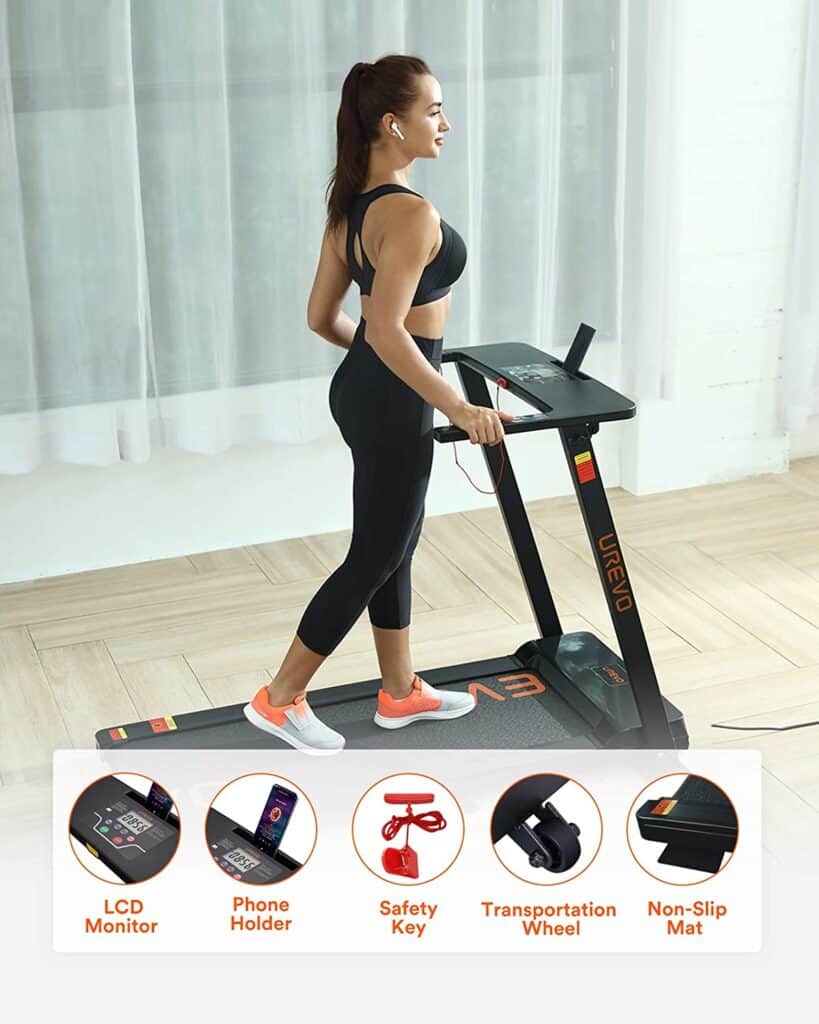 The UREVO Foldable Under-Desk 2.5 HP Treadmill is a few inches larger than the ANCHEER 2-in-1 Under-Desk Treadmill, but it doesn't function when the masts are collapsed.
Its overall assembled dimensions are 55.2'' long by 38.2'' wide by 27.8'' high. Hence, a workout area with perimeters of 4'6'' length by 3'18'' width is required. As per safety, an extra clearance of 2' is recommended around it.
The frame is made of anti-corrosion steel, and it supports 260 lbs./118 kg maximum user weight capacity.
There are 6 pcs of rubber mat included in the package meant to be placed under the treadmill for stability.
If the treadmill is to be used on a rug carpet, it is recommended to place the rubber mat under the front base (3pcs on each side) and adjust the levelers at the middle to prevent the tread belt from being pushed to the plastic housing around the motor which may cause artificial noise.
However, you may experience a noise that usually goes away after using it for a while.
This unit is lightweight and portable; it weighs 75 lbs./34 kg, and can easily be moved to the storage area via the transport wheels at the front base.
As aforementioned, when the masts and the tabletop are collapsed, the treadmill can be stored under the couch/bed.
That said, to vertically store it is complicated due to the transport wheels and the power cord. Nevertheless, you can do so by leaning it on the wall in an incline vertical position.
To fold up the unit, simply untie the big screws on the lower part of the masts and those on the table, and then fold.
Finally, there are anti-slip handlebars on each side of the table, designed for support and safe workouts. They do not have HR sensors on them; thus, they can't read and transmit your pulse data to the monitor.
The Deck of the UREVO Foldable Under-Desk 2.5 HP Treadmill
The deck comprises elements or multiple layers that make it reliable, safe, wear-resistant, and shock absorbing. Users can walk, jog, or run without experiencing slippage or strong stress on the joints.
The tread belt's dimensions are 45.7'' long by 16.5'' wide.
The Motor
The UREVO Folding Treadmill has a 2.5 horsepower motor whose operation is smooth, near-silent, and vibration-free, thanks to the small flywheel on it.
It is located at the front base, and it provides a speed range of 1-12 km/h (0.6-7.5 mph). The speed can be increased or decreased gradually by 0.6 mph via the +/- speed buttons on the console.
There are no quick-speed buttons that enable you to transition to a high or a lower speed instantly.
Evidently, the motor requires electricity to function. Hence, the treadmill has to be plugged into a 110V power outlet.
Incline
This treadmill does not have an incline system, and you should not try to artificially elevate the front base to create it because this might damage the frame, and could void the warranty.
Instead, go for a treadmill with an incline system if this is something that you can't do without.
The Console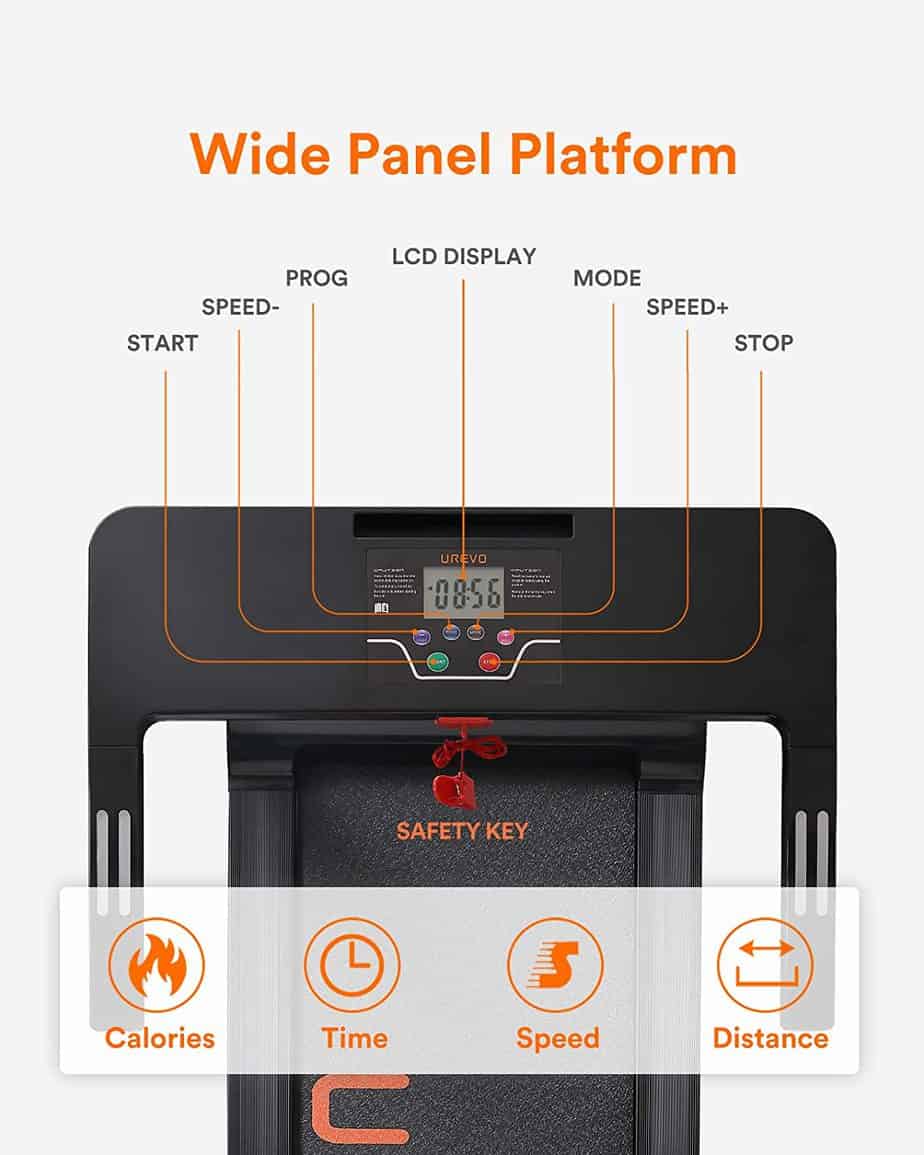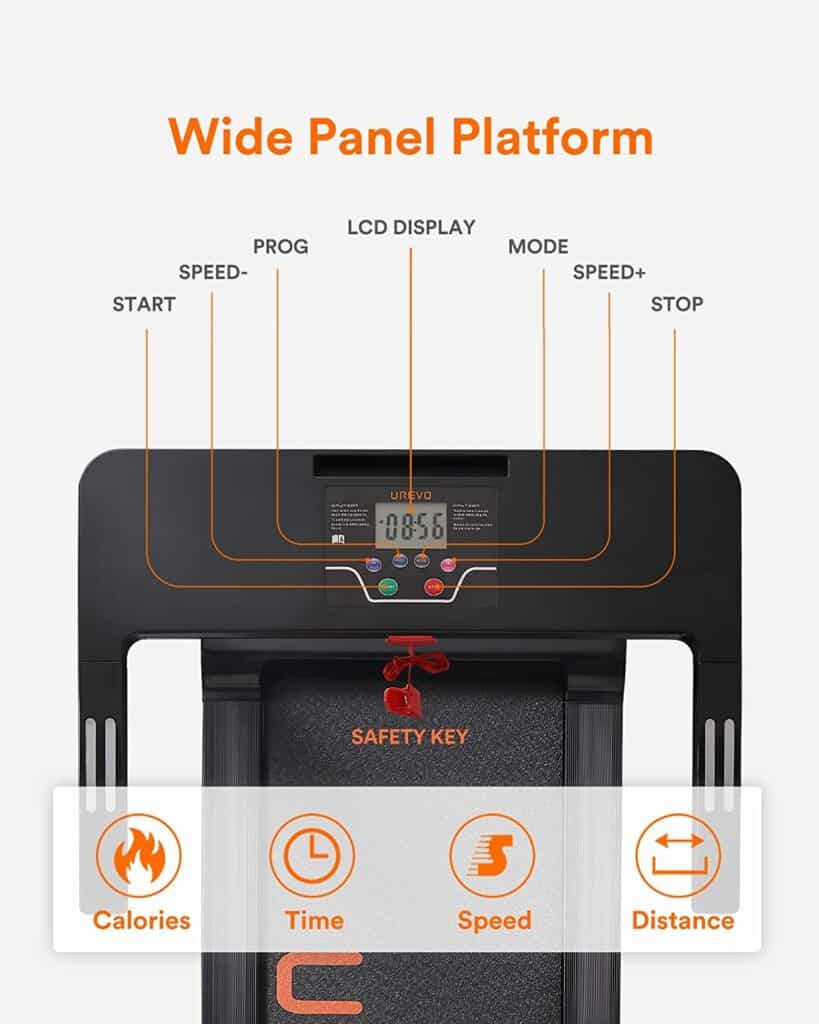 The UREVO Foldable Under-Desk 2.5 HP Treadmill has a console on its tabletop. It features an LCD monitor that tracks workout stats such as Time, Distance, Speed, and Calories.
This motivates and keeps you focused on achieving your fitness goals.
The LCD monitor is backlit; thus, its readability is good and sustainable because it won't be compromised even when viewed in a poorly lit room.
Distance and Speed metrics are measured in miles and mph, respectively, and cannot be toggled to km or km/h.
There are 12 preset workout programs designed to help you achieve specific goals such as weight loss, strength, and endurance improvement. When any of these preset workout programs is selected, the speed is automatically adjusted on your behalf.
However, when you turn on the treadmill and press the Start button instead of the preset Program button, you will be able to manually increase or decrease the speed level as you see fit.
It is also important to note that there is no pause button; so, you will be forced to turn off the treadmill whenever you wish to take a quick break. As a result, losing your current workout data.
But the workout data will not be lost if you step onto the wide and textured side rails without turning off the treadmill.
Accessory
There is a smartphone holder on the tabletop that could also accommodate some tablet devices of different sizes. This allows you to keep your device handy for taking calls, playing music, or watching a movie while exercising.
Storage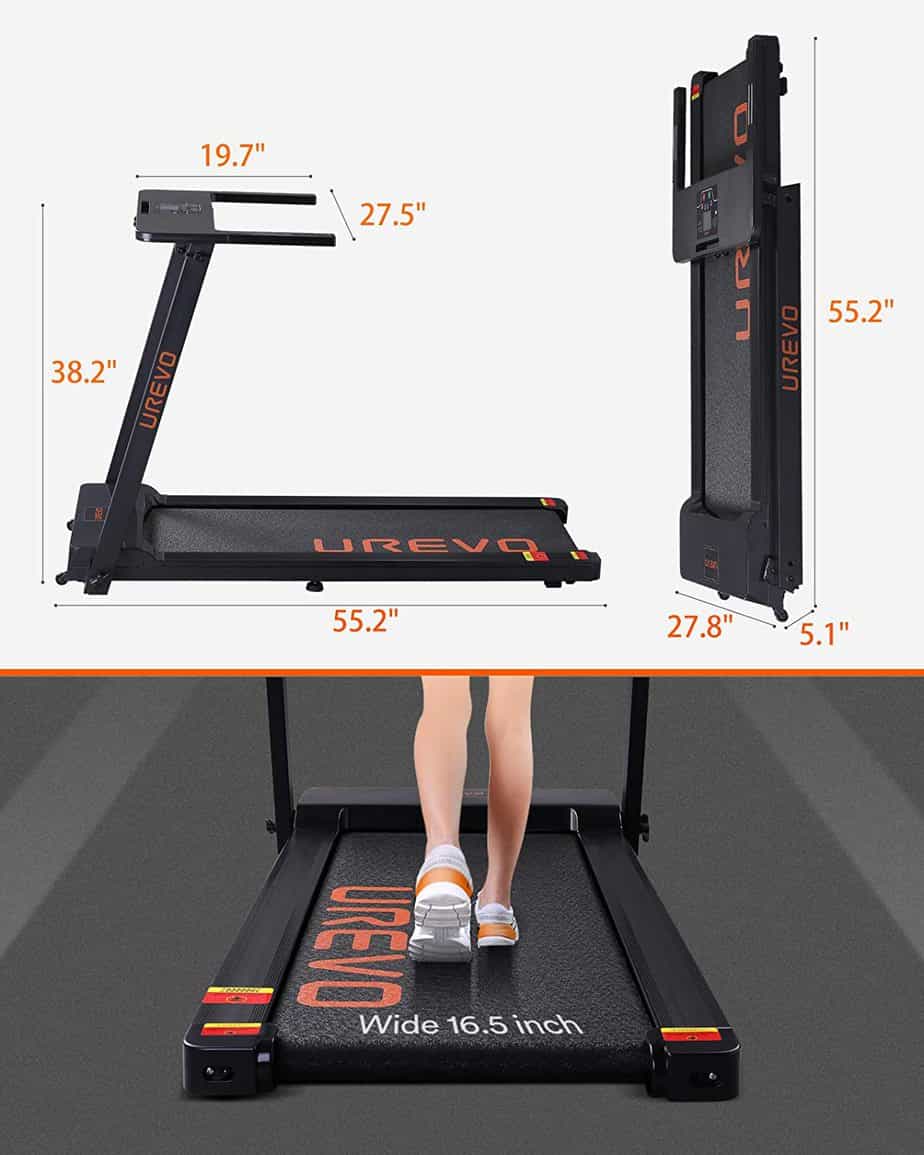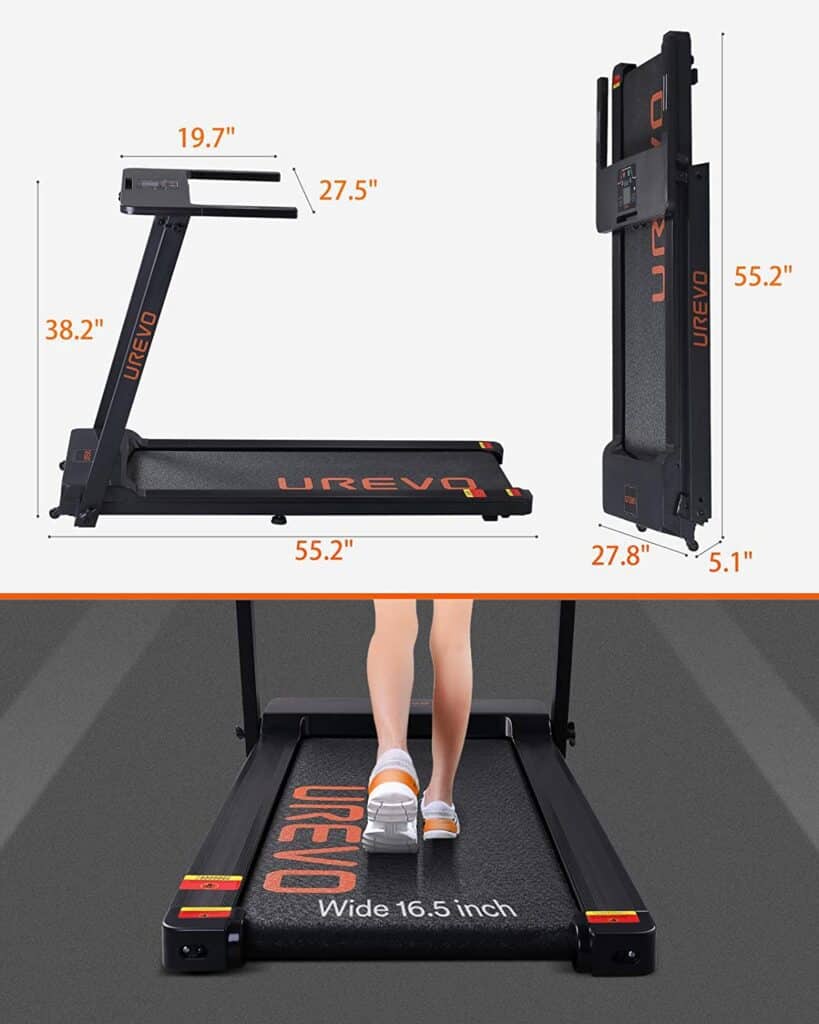 The UREVO Foldable Under-Desk 2.5 HP Treadmill is storage-friendly because it is compact, lightweight, portable, and foldable.
Once the console masts are folded, the dimensions become 55.2'' long by 27.8'' wide by 5.1'' high. So, you can literally store it under the bed/couch or have it leaned against the wall.
It only weighs about 75 lbs./34 kg, and there are transport wheels at the front base for portability.
Pros/Features Overview
Simple, decent, and neatly designed
Compact, portable, and foldable; thus, it is easy to move and doesn't take up space
Stable; and it is accompanied with 6 pcs of rubber mat for the legs
Supports a maximum user weight capacity of 260 lbs./118 kg
Has a powerful and energy-efficient 2.5 horsepower motor that provides smooth and near-silent operation and a speed range of 0.6-7.5 mph (1-12 km/h)
It is pre-installed, no assembly is required
The deck is anti-slip and shock-absorbing
Goal setting (count-down) for Distance, Time, and Calories
12 preset workout programs designed to help you achieve specific fitness goals
Backlit LCD monitor tracks workout stats such as Time, Distance, Speed, and Calories
It arrives with 2 small bottles of lubricant oil for the tread belt
Tablet holder included
It needs very little maintenance
Cons
No incline system
No contact grips nor wireless HR monitoring system
No water bottle holder
Warranty
12 Months for Parts and Components
Product Dimensions & Specifications
Length: 55.2''
Width: 38.2''
Height: 27.8''
Folded dimensions: 55.2'' L x 27.8'' W x 5.1'' H
Shipping dimensions: N/A
Table top dimensions: 27.5'' W x 7.87'' L
Tread belt dimensions: 16.5'' W x 45.7'' L
Shock-absorbing system: Yes
Net weight: 75 lbs./34 kg
Gross weight: 77.16 lbs./35 kg
Maximum user weight capacity: 260 lbs./118 kg
Frame: Steel
Motor: 2.5 horsepower
Speed range: 0.6-7.5 mph (1-12 km/h)
12 Preset workout programs
Goal setting for Time, Distance, and Calories
Console/Monitor: Backlit LCD monitor
Tablet holder: Yes
Transport wheels: Yes
Shipping
The UREVO Foldable Under-Desk 2.5 HP Treadmill comes in a single well-packaged box. Its delivery time depends on where you reside around the world.
Assembly
As aforementioned, this unit comes preassembled.
The only thing you need to do is to unbox it and tighten up the masts and the tablet-top/console. This takes only a few minutes to accomplish.
Maintenance
The tread belt needs to be lubricated periodically after every 30 hours of usage to keep it in good working condition. Additionally, 2 bottles of lubricant oil are included in the package.
Aside from that, ensure to wipe the treadmill clean of sweat and dirt after every use.
Further details are provided in the owner's manual
Conclusion
The UREVO Foldable Under-Desk 2.5 HP Treadmill has the build and features to help you exercise comfortably in the comfort of your home or office.
It has a space-saving design that will be highly appreciated by those living in a room or apartment with limited space.