The Exerpeutic TF900 High Capacity Fitness Walking Electric Treadmill is a basic treadmill for walking and perhaps for light jogging too. This means it does not support running exercises due to the motor capacity and the running surface size falls short.
However, it's sturdily built to support a maximum user weight capacity of 350 lbs./158.7 kg. The integrated 1.5 horsepower motor provides a maximum speed of 4 mph.
It has a standard console that features an LCD monitor that tracks workout progress by displaying data such as Time, Distance, Speed, and Calories.
It is indeed one of the best lightweight treadmills available one can consider using for walking exercises.
Click right here to have a peek at the price and of of the Exerpeutic TF900 High Capacity Fitness Walking Electric Treadmill on Amazon.
The Frame and Construction
The Exerpeutic TF900 High Capacity Fitness Walking Electric Treadmill has a heavy-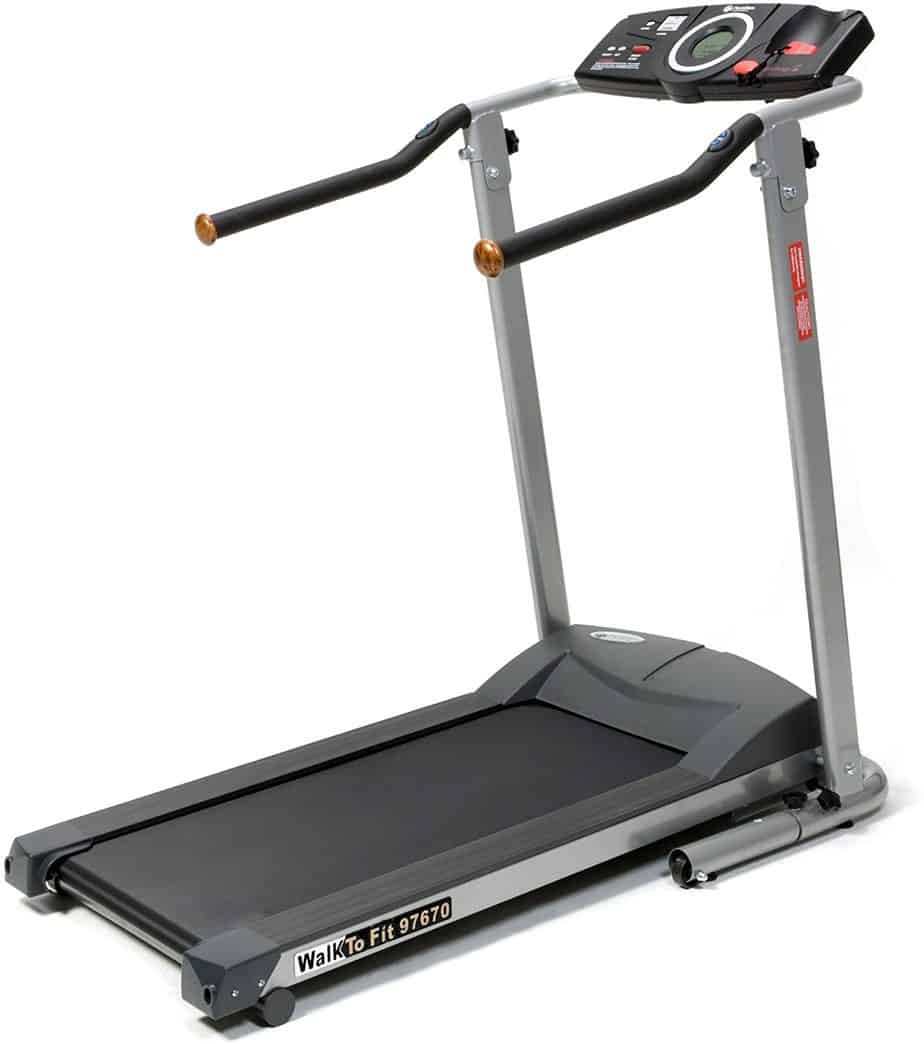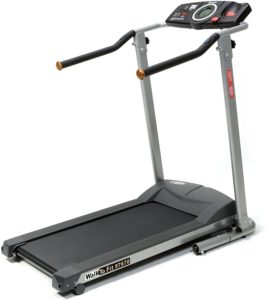 duty steel frame that holds up, while the cosmetic and safety parts such as the side rails' covers, the console cover and the motor cover are made of ABS material.
It is compact, stable, portable, foldable, and lightweight.
The overall assembled dimensions are 47" long by 29" wide by 51" high. In other words, it requires a workout area with dimensions of  4′ length by 2'5" width. Although, it is recommended to add an extra clearance of 2′ at the rear and on each side of it for safety and convenience reasons.
While its folded dimensions are 21" long by 29" wide by 51" high. Therefore, its length size reduces by more than half when folded for storage. You can easily fold it up and move it for storage with the help of the integrated transport wheels.
The treadmill weighs about 110 lbs./50 kg, and it features a robust base that fosters stability.
One other prominent aspect of this treadmill is the handlebars. They are extra long and coated with soft rubber foam for safety reasons. They provide security and balance while working out.
The Deck
The running surface dimensions of the treadmill are 46" length by 16" width. It is not cushioned and we can understand why; because it is designed for walking and light jogging exercises.
Motor
The 1.5 horsepower incorporated in the Exerpeutic TF900 High Capacity Fitness Walking Electric Treadmill provides a silent and smooth operation.
It is designated at the front base of the treadmill and it provides a maximum speed of 4 mph. The speed can be adjusted via the console or through the speed buttons on the handlebars.
Since the treadmill is motorized, it needs to be plugged into a power outlet for it to be functional.
The Console
The treadmill comes with a basic console that features a nonbacklit LCD monitor,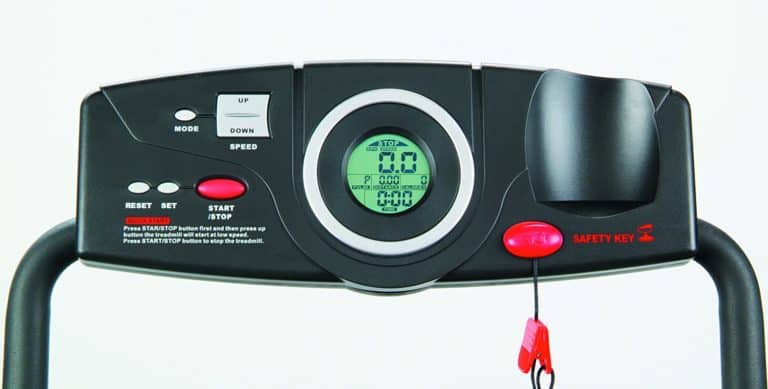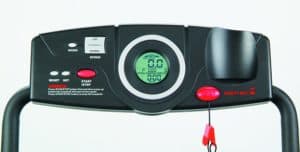 and navigation buttons that include Start/Stop, Set, Reset, Mode, Speed, and Safety Key.
The digital monitor displays workout stats such as Time, Speed, Distance, and Calories. Its readability is great because the font size is large. However, it could be compromised if viewed in a room that is poorly-lit.
There are no workout programs, no heart rate monitoring function, or a tablet holder.
Incline System
The Exerpeutic TF900 High Capacity Fitness Walking Electric Treadmill does not have an incline system.
Storage
The unit has a space-saving design that allows you to simply fold it up for storage when you are done exercising with it. It has transport wheels integrated into it to facilitate the relocation process.
It is a compact treadmill that becomes even more compact when folded.
Accessory
There is a water bottle holder on the treadmill's console that could also be used for holding a remote controller or keys.
Features/Pros
Obviously, this unit is very affordable and can be purchased at half the price of some basic walking treadmills. Most folks on a budget can afford to add the Exerpeutic TF900 High Capacity Fitness Walking Electric Treadmill to their home gym.
It is compact and foldable in nature, therefore, could save a lot of space and can fit in small rooms. A user can simply fold it up and put away for storage when not in use.
It has a safety key with a lanyard clip that automatically stops the machine when there is accidental tripping.
It has got an LCD display monitor that allows a user to track workout progress and data such as distance, calories burned, and speed.
It has got safety rails of about 18'' that make a user feel secure during a workout.
It has a 5 HP motor that is best for ''walking'' workouts that is no more than 2 to 3 mph.
The running surface is 36'' x 16'' which is also best for walkers, but that makes the unit compact though.
Although, the Exerpeutic TF900 High Capacity Fitness Walking Electric Treadmill merely weighs about 110 but has a high capacity that supports up to 350 pounds maximum user weight…well, according to the manufacturer.
The unit has a maximum speed of 4 mph
Assembly is not required
Cons
First of all, if you are a user that wishes to run or even walk faster on this treadmill, then you are on the wrong treadmill review.
It does not have any workout program
No heart rate monitoring function
No incline
The LCD display is not backlit
Product Specifications
47'' Length
29'' Width
51'' Height
Weighs about 110 pounds
Warranty
5 Years for Motor
1 Year for Frame
90 Days for Parts
Shipping and Assembly
The shipping cost for the Exerpeutic TF900 High Capacity Fitness Walking Electric Treadmill depends on which retailer you are purchasing from. For instance, Amazon ships this product for free but that may not be the case with other retailers though.
This treadmill is delivered fully assembled. It can be used once it is unboxed and unfolded.
Conclusion
This unit is a basic treadmill that could still help a user to achieve physical fitness by engaging in walking or light jogging exercise.
However, it lacks some features that could even be found on the standard walking treadmills such as inclines, workout programming, comfortable cushioning, speakers for music, etc.
If you ever wish to have a better walker's treadmill that would, of course, cost more, then you should look up the Horizon T101 Treadmill right here.
Exerpeutic TF900 High Capacity Fitness Walking Electric Treadmill Review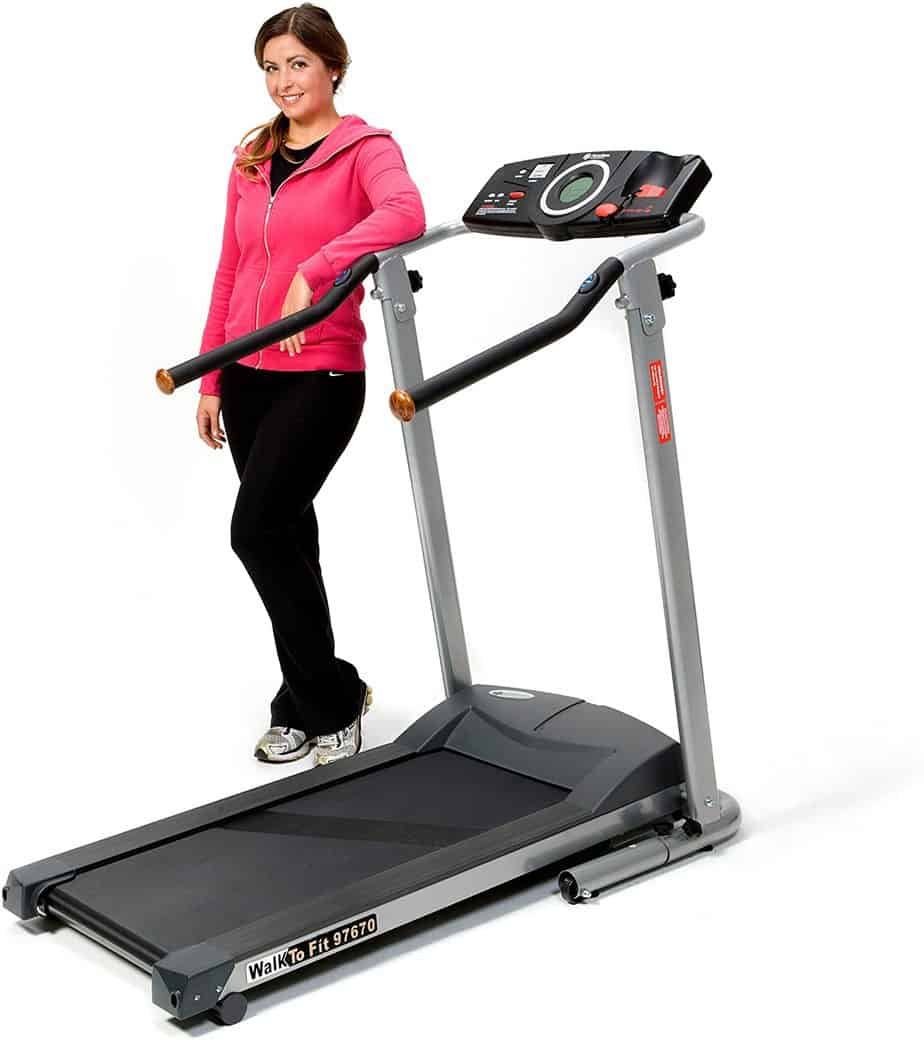 Exerpeutic TF900 High Capacity Fitness Walking Electric Treadmill
Product Brand: Exerpeutic
Product In-Stock: https://schema.org/InStock