The Sunny Health and Fitness SF-B2640 Air Bike Trainer is yet another piece of fitness equipment that was launched recently from the stables of Sunny Health and Fitness Company. This also comes with new and innovative features that make it stand out from its predecessors. It has got a space-saving design that would appeal to users that are having concerns about space or lack of space.
Usually, Air Bikes have unlimited resistance because the extent of the resistance depends on the user's fitness level. The resistance gets tougher when you go faster and easier when you go slower with your workout. However, this unit has a 17'' fan which makes its resistance more unique as the production of resistance depends on the speed and intensity applied. There are double hand grips that give you the option of different hand positions which also determine which upper body muscle groups you which to target such as the arm, shoulders, and back.
It has got self-leveling large pedals designed with safety in mind because it is non-slip with adjustable straps that would suit different feet sizes and also protect them from slippage during a rigorous or easy workout. The seat is an oversized 4-way adjustable seat that would allow a user to find the most suitable and comfortable position for an outstanding workout experience.
Its operation generally could be defined as smooth and quiet without any sort of noise that could disturb your family or neighbors and this also means you have the opportunity to watch your favorite TV show or listen to music while exercising.
Click right here to have a peek at the best price of the Sunny Health & Fitness SF-B2640 Air Bike Trainer, or click right here to check out the Marcy Air Fan Bike.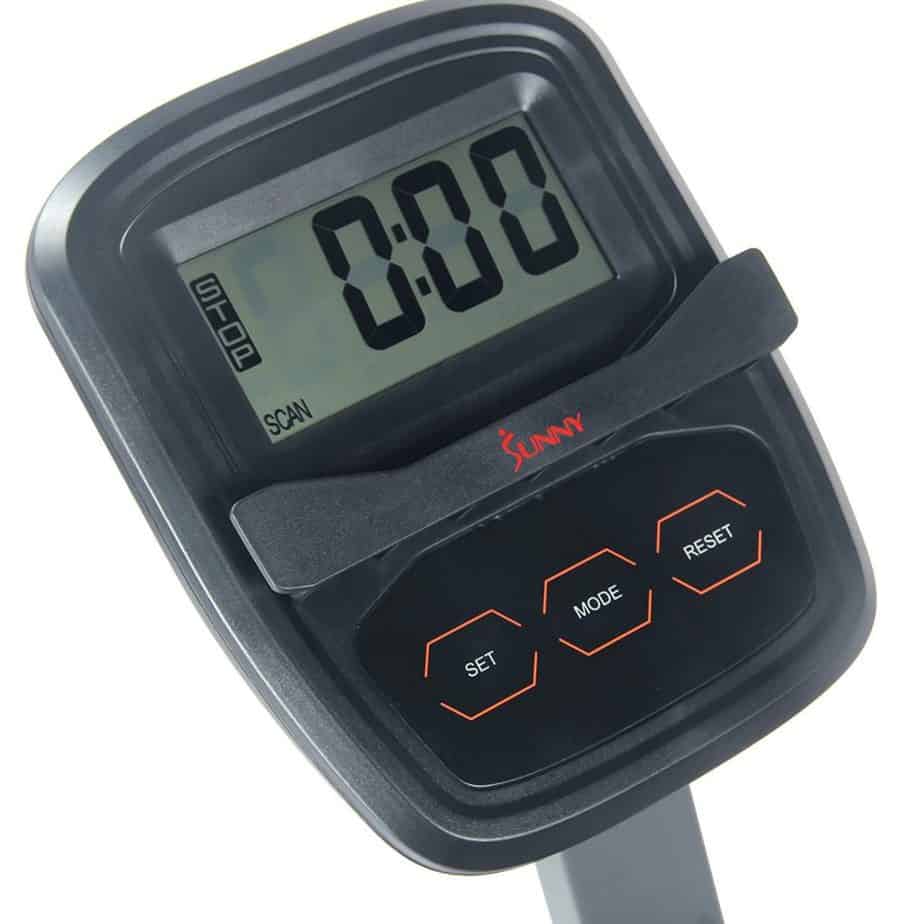 Overview of the Features/Pros
It has got small digital LCD display that allows you to see your workout data such as the calories burned, speed, distance, time and Odometer. A scan is also available which you could use to scan through these data one at a time or could set it to automatically scan through every 6 seconds.
It is integrated with self-leveling non-slip pedals that are large enough with the surface area to push hard and keep your feet stable through the workout session.
It is a natural space saver because of its compact nature and can also be moved around the house easily with the help of the transports wheels.
Its dual hand grip positions of vertical and horizontal grip would allow you to target certain muscle groups.
The seat has 4-way adjustments which mean you can adjust up and down to get your suitable vertical distance to the pedals and adjust forward and backward to find your suitable horizontal distance to the handlebars for a comfortable workout experience.
It 17'' diameter large fan creates more air resistance which will ultimately result to effective workouts that would ultimately allow you to achieve your fitness goals quicker. However, this depends on your fitness level because you experience challenging workout when you push harder and faster, otherwise, the resistance will be low.
It has got a belt drive mechanism that reduces the noise and vibration during the pedal stroke making it possible to watch and listen to your favorite TV show or music without having to worry about disturbing the neighbors or the family as well because its operation is quiet and smooth.
It supports a 250 pounds maximum user weight and weighs about 71 pounds.
It is cheap
Product Dimensions
49.5'' Length
31.5'' Width
55'' Height
87 Pounds shipping weight
Shipping and Assembly
The shipping cost of Sunny Health and Fitness SF-B2640 Air Bike Trainer depends on the retailer you are purchasing from. Should you be buying from Amazon, then the shipping cost is free but that may not be the case with other retailers and Amazon offers the best and the cheapest price.
The assembly is relatively easy because the major components of this unit are delivered pre-assembled and so there are fewer parts to deal with. Moreover, it is also accompanied by an instruction manual that would walk you through the process of assembly nicely.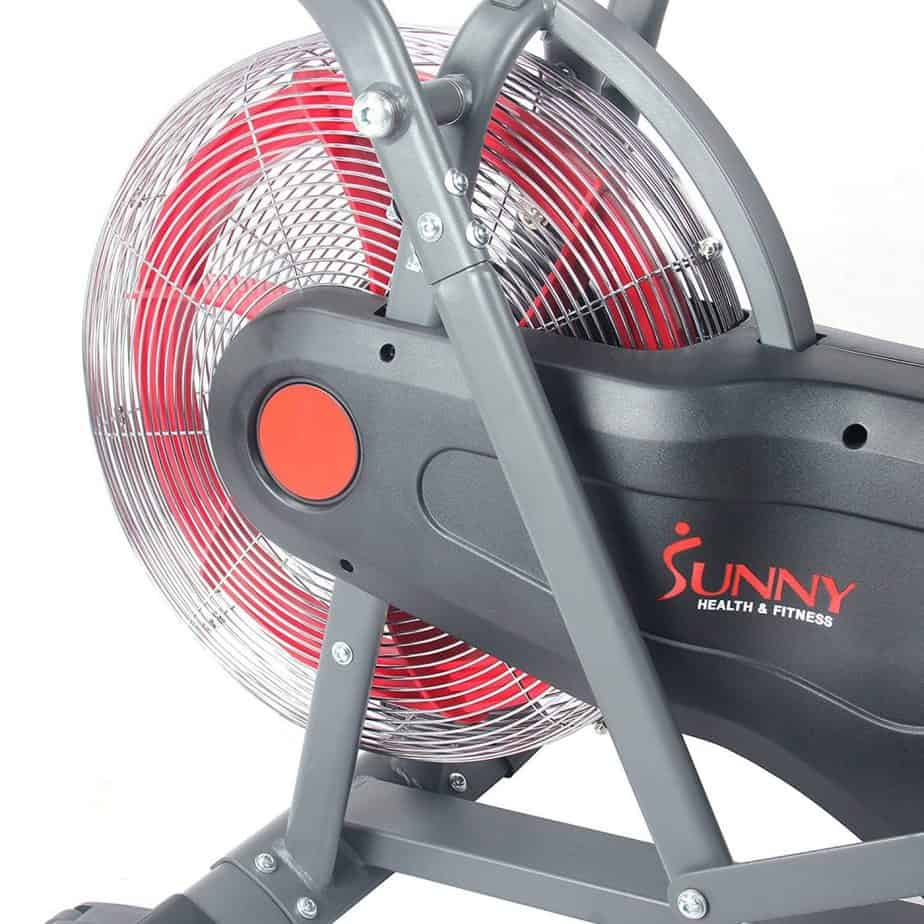 Conclusion
The Sunny Health and Fitness SF-B2640 Air Bike Trainer is affordable fitness equipment specifically designed for the home gym. It possesses features that would allow you to experience outstanding and effective workouts that would result in building that body.