THIS PRODUCT HAS BEEN DISCONTINUED!!! You may want to check out Runow Treadmill.
Ancheer has been unleashing different kinds of interesting workout equipment and I have been reviewing a few lately and I must say they have come to the fitness equipment manufacturing arena to revolutionize and make a mark and to make their presence felt. The Ancheer Treadmill APP Bluetooth Control Newest S9300 is one of those units they have launched lately and so far consumers love it.
The Ancheer Treadmill APP Bluetooth Control Newest S9300's popularity partly has to do with the price because it is good and mostly because of the features it possesses. As at the time of writing this review, 95% of 19 Amazon consumer reviewers thinks that this machine is without a flaw (of course, there must be some sort of drawbacks because nothing is ever perfect), that is judging from what they paid for it and what they are getting in return. Only 5% think that it is not so good and it does not have to do with the treadmill's functionality but as a result of a factory defect or mishandling during shipment.
The Ancheer Treadmill APP Bluetooth Control Newest S9300 has got quite a number of features and pros that could make your workout a remarkable and pleasant one. It has a 3.0 horsepower motor that is quiet during operation and drives the treadmill up to 16.8km/h or 10.4 mph. There is nothing like being able to work out whenever you want and where ever you want because you won't be disturbing anyone during the workout.
The running surface is about 49.6'' x 18'' in size just enough to allow you to walk, jog and run. However, that size may not be great for running because there could be some restrictions, especially for taller individuals. The running surface is also made up of a German Tank Shock Absorber System which takes care of slippage and reduces the impact on the joints.
There are also features for entertainment such as the MP3 and USB ports and tablet/phone holder.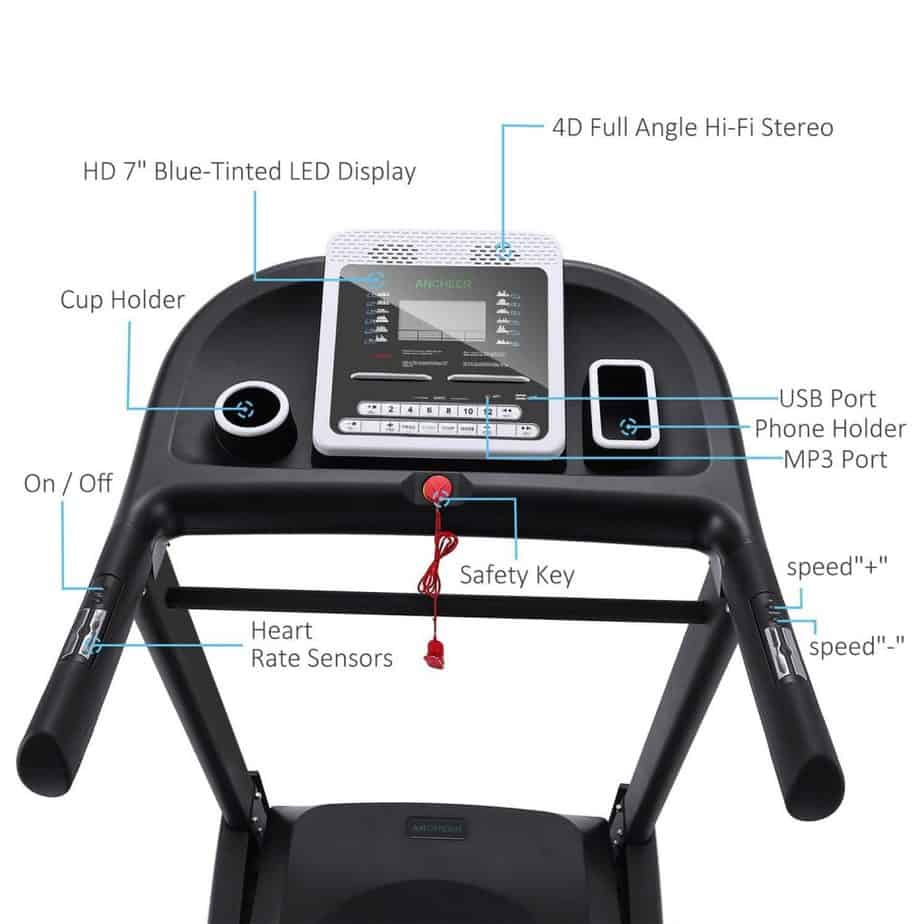 Features/Pros
It has 5'' High definition Blue-Backlit LCD Display that allows you to clearly see and read your workout data without any difficulty. Workout data such as the time, speed, distance, calories burned and your heart rate will be displayed distinctively and these will also motivate you to work out more and achieve your physical fitness goals.
It Hi-Fi Stereo and built-in MP3 connectivity would allow you to enjoy good and quality music while you workout.
It has 12 preset smart workout programs that present you with different effective workouts that would suit and work for you.
It has an Auto-Stop key that would enable you to automatically stop the machine in case of an accidental fall or tripping during a workout.
The 0 horsepower motor runs smoothly and quietly and speeds up to 16.8 km/h or 10.4 m/h. This has proven to be good for those that are living with a family member in the same apartment and neighbors around. It is possible for people to live downstairs while you workout upstairs without disturbing anyone.
It has a running surface of 49.6'' x 18.1'' enough for your wide range of workouts.
It has a shock absorber system that is made up of support layer, silencer layer, shock absorber layer, anti-slip layer and strengthens layer, which makes it be silent when you jog or run, reduces the impact on the joints, and prevents slippage during a workout.
It has got water bottle holder that would enable you to keep water handy in order to stay hydrated throughout your workout session, which is very important.
The tablet holder is also available and phone holder as well; You should be able to listen to your favorite music via your phone while working out. However, if you choose to use the tablet holder that would prevent you from seeing your workout data displayed on the LCD display because your tablet will block the view.
There are heart rate sensors embedded on the handlebars that would allow transmission of your pulse rate to the LCD Display screen. This will also enable you to stay within your target heart rate zone at all times and also help you intensify your workout which will lead to losing a lot more calories and achieving physical fitness.
There are quick or shortcut buttons on the left that would allow you to stop or start the machine and another one on the right that would allow you to adjust speed on the fly.
It saves space to have the Ancheer Treadmill APP Bluetooth Control Newest S9300 at home because of its Folding Soft Drop System. This makes folding and storage of this unit easy, hassle-free and safe because the 2 pneumatic shocks assist is doing just that.
It transport wheels also makes moving the unit around the room a lot easier.
Product Specifications
Speed: 1.0 to 16.8km/h
Product Dimension: 68.1'' L X 30.4'' W X 50.6'' H
Folding Size: 40'' L x 30.4'' W x 55.8'' H
Run Board/Belt Thickness: 15mm/0.6''
Rated Frequency: 50-60Hz
Voltage: 110V
Supports 286 pounds maximum user weight
Warranty
2 Years for Frame
3 Years for Motor
Shipping and Assembly
The shipping cost of the Ancheer Treadmill APP Bluetooth Control Newest S9300 varies, because it depends on where you are purchasing the unit from. Nevertheless, Amazon ships this product for free without any cost whatsoever if you are buying from them unless you opt for another shipping plan other than their standard shipping plan.
As for assembling this product, it is very easy because it only requires you to put on the screws as 95% of its parts have been preassembled already.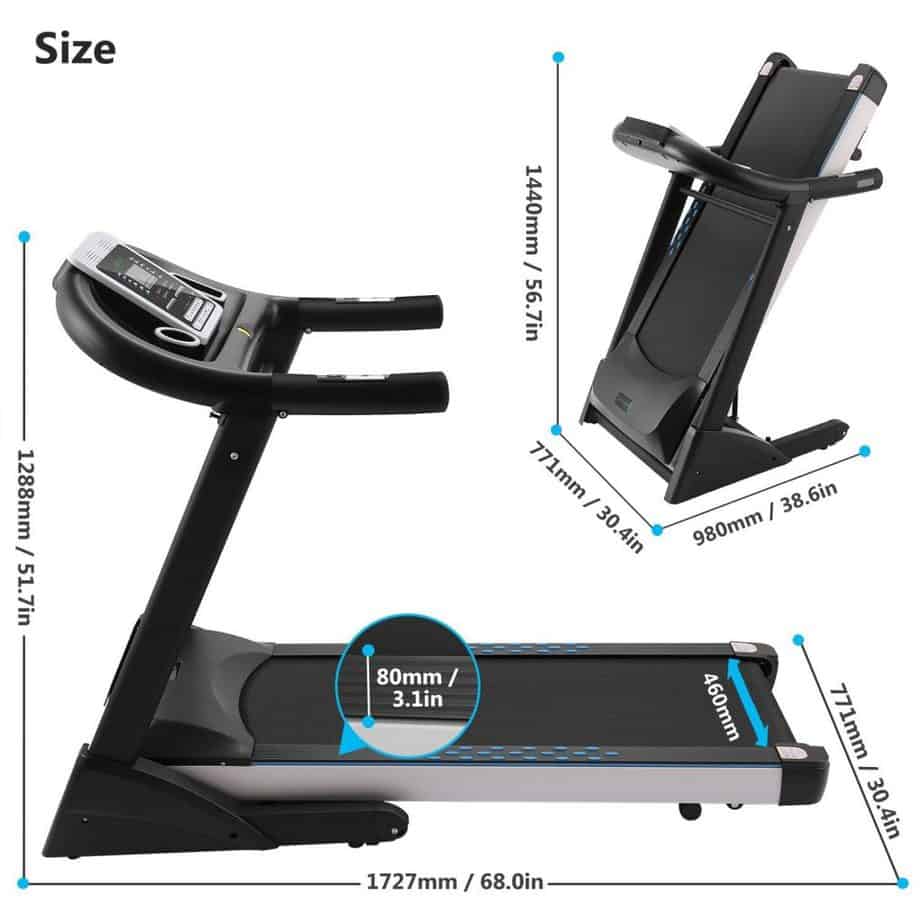 Conclusion
This product may not be perfect but it will surely satisfy and serve its purpose. The price is right as well and it has a reasonable and considerable number of features that would make your quest for physical fitness look like vacationing on some exotic Island.