The Exerpeutic Gold 975 Recumbent Exercise Bike is a beautiful machine endowed with useful features at a very affordable price. What else will be your excuse for not having a recumbent bike in your home gym? Well, my guess will be none except if you need a bike with additional features which could only be found on high-end units. Its 21 preset workout programs are a starter; this will surely get you on your way to achieving your fitness goals quickly.
It is equally designed such that you can step on and off easily even as you enjoy more comfortable workouts sessions. The seat has a comfortable backrest for your back with a well-cushioned seat that will not make you feel stressed or bored during a workout. Moreover, if you are worried about your size may not fit in; the seat is adjustable which could make anyone the size of 4ft11'' to 6ft6'' a lot comfortable. And it has an extended capacity to support 310 pounds maximum user weight.
The backlit LCD computer has a large easy to read the display without having to put pressure on your eyes in order to read your workout data.
Click right here to have a peek at the best price of the Exerpeutic Gold 975 Recumbent Bike, or check out other interesting recumbent bikes.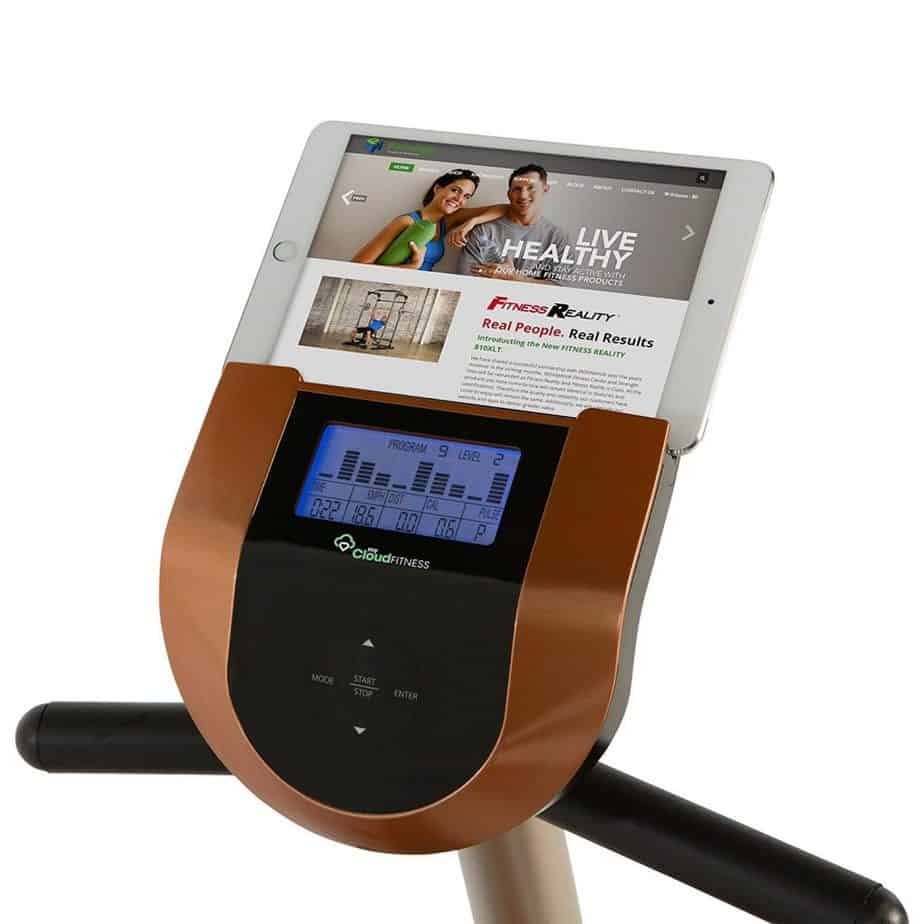 Features/Pros Overview
The Exerpeutic Gold 975 Recumbent Bike is integrated with various essential workout features such as the 21 preset programs which also work with the 3 computer goal workout settings; distance, time and calories burned. With these workout programs, you will never get bored with working out and attaining your fitness goals
The Exerpeutic Gold 975 Recumbent Bike has 16 level magnetic tension control system that allows you to work out the easy or the hard way.
It has got heart rate sensors embedded on the hand rests which will also help you to track and stay within your heart rate zone at all times.
Its large backlit LCD display has a good clarity that would not bother your eye when reading your workout data. Through the backlit LCD display, you will be able to read data such as the time elapsed, speed, distance, calories burned, heart rate and scan. In addition to that, it has 2 user profiles which allow you to keep your information and one other person's information.
It has a well-designed seat that is adjustable which will make it possible for individuals of different sizes to find it suitable. The backrest and the well-cushioned seat will also provide the additional comfort you need during a workout. Note that the seat must be properly set up in order to have the backrest and the seat align otherwise you may experience the problem of it not in alignment and this could cause great discomfort during a workout session.
This machine is integrated with a smart device holder that would allow you to do pretty much anything with your device such as watch your favorite movie or music during a workout.
This unit is smooth and quiet during operation because of its precision balanced flywheel and v belt drive. This is yet advantageous when you watch or listen to your favorite music or movie during a workout.
It has a Smooth Torque Cranking System that provides consistent and smooth pedaling motion.
It is sturdy and stable due to its adjustable leg stabilizers which would prevent tipping or movement during a workout.
There are transportation wheels to make movement around the room and storage a piece of cake.
It has large pedal designs with safety straps that would prevent foot slippage during a workout.
You can get this machine at a very affordable price on Amazon.
Cons
I can't fault this unit given the price it is being sold at and so you don't expect everything to be like perfect. As far as you are looking for that average recumbent bike for your home gym the Exerpeutic Gold 975 Recumbent Bike is still a good buy.
Warranty
Product Dimensions
58'' Length
5'' Width
5'' Height
Weighs about 71.6 pounds
Supports 310 pounds maximum user weight
Shipping and Assembly
The shipping cost for the Exerpeutic Gold 975 Recumbent Bike is free if you are purchasing it from Amazon, however, that may not be the case with other retailers.
As for the assembly, it is pretty easy to assemble because the main components are pre-assembled and the instruction manual is also included to help walk you through the process of assembly.
Conclusion
In my opinion, the Exerpeutic Gold 975 Recumbent Bike is a good buy given the price and the features available in it.