I am hooked and fascinated by Yowza elliptical equipment ever since I reviewed the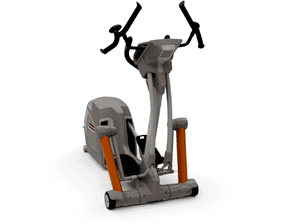 Sanibel i35 elliptical model. I taught it would worth it if I reviewed more of these products because I was kind of impressed with the last one I reviewed.
No doubt, elliptical trainers, treadmills, rowers, and indoor bikes are the major cardio exercising equipment that is mostly used for weight loss and physical fitness and it worth all the time to review any of them because of their impact on human health.
So, Yowza Islamorada is another elliptical trainer that is offered by Yowza fitness. It has a wide range of features that could make workouts both fun and entertaining. This unit happens to be their flagship model and one of the few high-end trainers you would appreciate. Even though Yowza Fitness is new to the fitness manufacturing arena compared to the big dogs, but it has quickly gained followers as a result of their unique designs.
Yowza Islamorada is no exception in terms of this uniqueness just like the rest of the products.
Click right here to have a peek at the price and of of the Yowza Islamorada Elliptical on Amazon.
Pros
Console– the Yowza Islamorada console is one of the finest and the best among the high-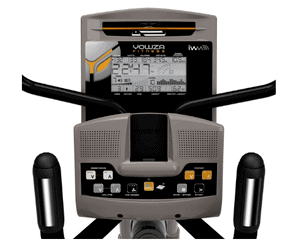 end elliptical trainers. Aside from its beauty, it provides you with all the information you would need to achieve your fitness goal and equally user-friendly as well. The console's interface is as simple as 1, 2, and 3 that you don't have to struggle to understand the stats it displays.
Weight Loss Scale– One of the ''uniqueness'' I always talked about this unit is the fact that it has an inbuilt innovative weight scale by which you can weigh your weight at all times to know your progress. This is innovative indeed! It is wireless and keeps you informed on how much weight you have been able to lose.
9 User profiles– With this feature, you can have everyone in the family registered on the user profile. This means that the machine can record and store stats of different users up to 9 profiles so that each time anyone is using the machine he/she will be able to see the previous data and progress without having to delete or remove another user's profile.
12 Preset Program– 12 pre-programmed workout plans will help you achieve your fitness goal.  These preset programs are designed to fit both the new and advanced users with different intensity levels and adjustments. This unit has an unprecedented incline of 60 degrees, yes, that is unique and you can only imagine what you will achieve with that! I guess the hardcore users will find this interesting indeed.
Motion Handlebars- Just like the Yowza Sanibel i35 Elliptical, this has the patented super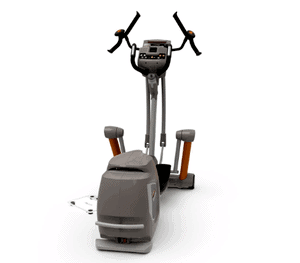 core motion handlebars that go rotationally; that is, instead of having the handlebars go up and down style, they go side to side, which has a tremendously positive effect on the oblique and the rectus abdomens muscles that will leave the user with an impressive flat tummy or 6 packs. Remember I said this unit has some 'unique' features and that is true.
The IWM – IWM stands for Intelligent Weight Management. The Yowza Islamorada is equipped with this feature to measure your weight and calculate your BMI using the inbuilt weight scale I mentioned earlier. The result of the BMI will then be sent to the user which generates a 'unique' workout that was designed to help lose weight more efficiently.  This is true when Yowza Fitness claims that they have added 7 additional features to this unit.
Stride Length– The stride is electronically adjustable from 19'' to 30''! Most hardcore users confessed that not one other kind of high-end elliptical trainer has this kind of stride length, true confession.
SureFit Foot Pedals– This very feature takes less stress on the knees, ankles, hips, and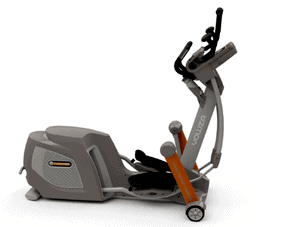 joints to the next level. You may know that ordinarily, elliptical trainers are good at putting less stress on these areas I mentioned. But SureFit Foot Pedals is a self-pivoting foot pedal that was designed to further reduce the strain and stress put on these areas.
Even the footpads have this soft gel that ensures comfort one user reviewer said he could use the unit without shoes.
Overview of the features and specifications
A user-friendly console that is yet advanced
Electronically adjustable stride 19' to 30'
Electronically adjustable incline from 0 to 60 degree
Unique IWM- Weight Management Software, plus wireless scale
Has up to 9 different user profiles
SureFit Soft Pivoting Foot Pedals
12 Preset workout programs
Heart rate monitor both strap and grip
iPad docking station with high fidelity speakers
Cooling Fan
Supports user weight 400 pounds
Warranty- a lifetime for the frame, and drive system, 7 years for all parts
Dimensions: 69'' x 33'' x 66''
Cons
Just like the Yowza Sanibel i35 elliptical that weighs about 220 pounds, this one weighs about 250 pounds. That is some weight there; therefore, it might be trouble for some people when it comes to moving or transportation. I thought I should let you know about that so that when you are making your considerations you might also consider that.
The other thing is the price. This unit indeed has a lot of great features, but some people might still think that the price is on the high side.

Click here to see the current price

.
Conclusion
No iota of doubt that the Yowza Islamorada is one unique elliptical machine that has a lot of features that are yet to be found in most high-end elliptical trainers. They are outstanding with a specifically designated assignment to the user/body.
In my opinion, if one can afford it, please, by all means, go get yours now at the Amazon, otherwise, you might want to look for something that is at par with what you can afford.
Feel free to post your comment in the comment box below.
[rank_math_rich_snippet]