The Spirit Fitness XIC600 Indoor Cycling Bike is a light-commercial grade bike that is designed for home use. It has a pretty close outlook and similarities to the Sole Fitness SB700 Cycling Bike.
Its console is telemetric (compatible with a wireless HR chest strap, the device is sold separately though). It features a belt drive and a friction resistance system, plus a heavy perimeter weighted flywheel that weighs 48.5 lbs./22 kg.
The heavy flywheel helps build momentum for a seamless riding experience and the micro resistance levels provide easy to extremely difficult workout challenges that are suitable for everyone at any fitness level.
Click right here to have a peek at the best price of the Spirit Fitness XIC600 Indoor Cycling Bike.
The Frame & Construction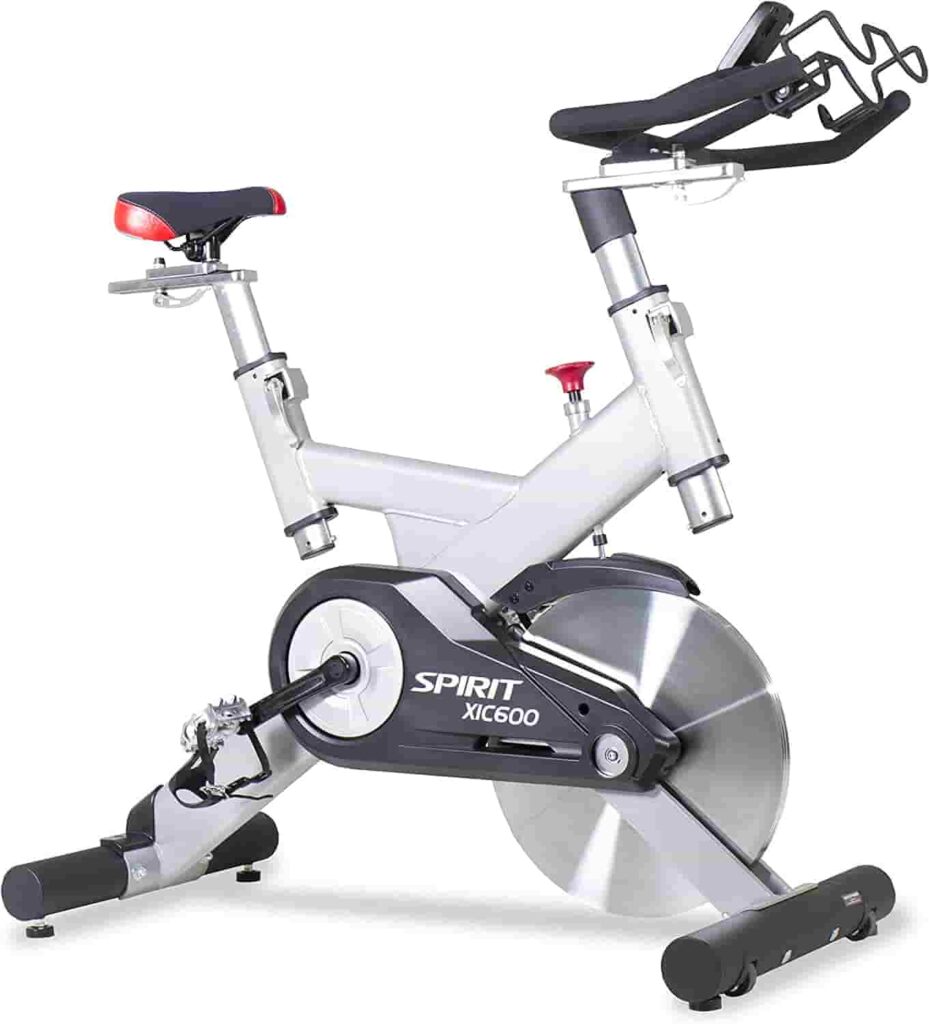 The Spirit Fitness XIC600 Indoor Cycling Bike is built to withstand hard use because its frame is made of thick rectangular quality steel tubing that is coated with grey anti-corrosion paint.
The entire body of the bike is mostly steel with the exception of the drive-train covers, the console covers, and the felt brake pad cover that are made of ABS material.
The flywheel, seat, and handlebar posts are chrome finish. Hence, the bike looks sleeky and elegant without losing its ruggedness.
It supports a maximum user weight capacity of 300 lbs./136 kg.
When it comes to stability, the bike has a base framework that features front and rear rounded steel stabilizers with adjustable levelers underneath them. They provide optimum stability with the option of adjusting the levelers if the platform is going to be used upon is not entirely even.
Moreover, the bike weighs 141 lbs./64 kg which is pretty heavy for a spin bike, but it keeps the unit grounded optimizing the overall stability.
Although, it is recommended to use a protective rubber mat underneath to protect the floor from damage.
If you are wondering how easy it might be to relocate the bike around the room. Well, that won't be a problem because there are transport wheels at the front base that would help in the process of moving it around.
The overall assembled dimensions of the Spirit Fitness XIC600 Indoor Cycling Bike are 42'' long by 21'' wide by 40.4'' high. Thus, this means the unit requires a workout area with measurements of 3'5'' (106.68 cm) length by 1'75'' (53.34 cm) width.
Also, additional clearance of 1' on each side and 2' at the rear would be needed for safe operation and easy access.
The Seat of the Spirit Fitness XIC600 Indoor Cycling Bike
The seat is similar to those found on a standard road bicycle. It is cushioned and covered with vinyl material. Should you ever need an extra cushion you can use a gel seat cover or wear cycling shorts.
Interestingly, the seat is 4-way adjustable. This means you can adjust the seat upward/downward or fore/aft. There are several positions available to adjust it vertically and a few inches horizontally.
Therefore, users up to 6 feet 5 inches tall could exercise with the bike without experiencing restrictions as regards their ability to fully extend their legs.  
Since it has a standard installation collar, replacing it with another saddle won't be a problem because options are widely available online or in a local bicycle shop.
The Handlebars
The handlebars are also 4-way adjustable just like the seat. This is great because it gives you options to work with in order to fit in and improve comfort.
Both the seat and the handlebars can easily be adjusted due to their lever-type adjustment mechanism.
The handlebars feature different workout grips that support normal riding, racing, and climbing postures. They are generously coated with soft rubber foam material for sustained comfort and safety.
This means you don't have the need to use a set of gloves to be able to work out longer without sustaining calluses.
Finally, 2 water bottle holders are attached to the handlebars for maintenance of hydration during workouts.
The Pedals
The Spirit Fitness XIC600 Indoor Cycling Bike has a set of toe-caged pedals with adjustable straps. They are designed to comfortably accommodate and secure different foot sizes. They are to be ridden with standard gym shoes only.
Unfortunately, the pedals are not dual-sided. We expected them to have a flip side that could allow users to train with special spin shoes because even less expensive bikes such as Sunny Health & Fitness SF-B1876 Cycling bike has them.
But the good news is that they can be swapped for dual-sided pedals if you ever desire to do so because their thread is 9/16''. Therefore, it won't be a problem to find a replacement.
The aluminum alloy pedals can support the weight of users that are within the stipulated maximum user weight capacity of 300 lbs./136 kg.
The Q-Factor is 8.1''
The Drive
This spin bike is equipped with a belt drive system that comprises a durable V-Poly belt, a 3-piece crankset, and solid crank arms.
A belt drive system is mostly preferred over a chain drive system because it provides a quieter and smoother operation, and doesn't require you to carry out any maintenance of any sort.
Moreover, its 48.5 lbs./22 kg precision-balanced flywheel keeps it stable (vibration-free) during operation and promotes consistent momentum.
Thus, your workout experience will be outstanding, and on top of that, you will be able to exercise any time of the day and anywhere it pleases you without having to be concerned that people around you might be offended.
The bidirectional drive system enables you to pedal in reverse as well. This gives you the opportunity to diversify your workouts and also tone more muscle groups. However, it also means, you cannot coast on the bike just as you could on a regular road bicycle.
The Resistance
The Spirit Fitness XIC600 Indoor Cycling Bike incorporates a manual friction resistance system with micro-adjustability.
This means that the resistance system comprises a felt brake pad, the flywheel, and a tension control knob. It is a friction-based resistance system where the brake pad comes in direct contact with the top surface of the flywheel to generate resistance.
When the tension control knob is turned clockwise or counterclockwise, the resistance becomes strong or weak, respectively.
The resistance system is manually operable and does not need electricity, and it provides unlimited resistance levels. Therefore, users of different fitness levels could work out within their comfort zone and beyond. Even seasoned athletes could be challenged by the level of intensity the resistance system provides.
The tension control knob could also be used to stop the flywheel from spinning by pushing it down. This is very important because the heavy flywheel has to be stopped whenever you wish to stop pedaling since the bike does not coast.
The downside of a friction resistance system is that there might be a squeaking sound when the resistance is applied but this is usually resolved by saturating the felt brake pad with a 3-in-1 oil or 10W oil. Do not use a silicone-based oil.   
Moreover, the brake pad might need a replacement at some point because it wears out due to friction.
The Console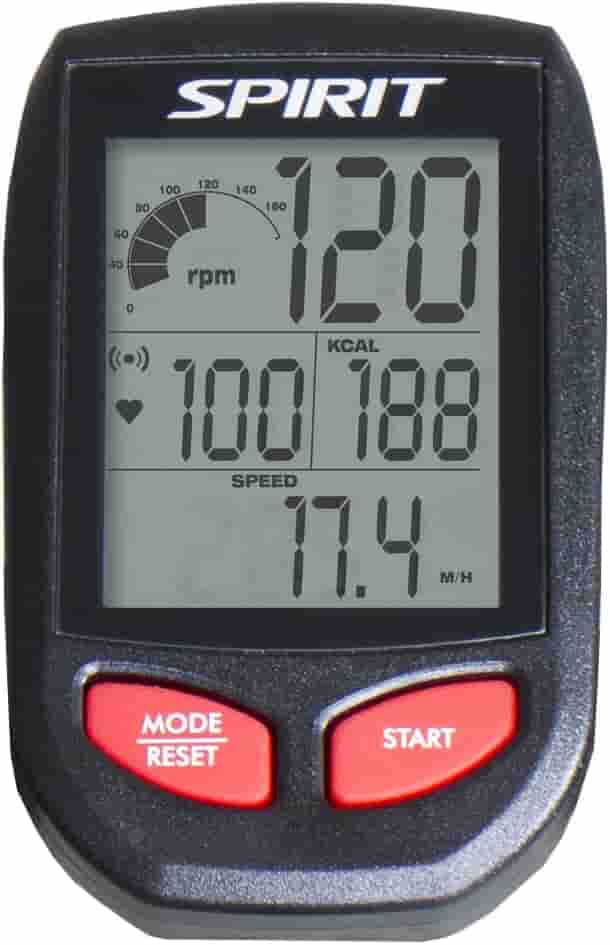 The integrated console is fairly decent because it features an LCD monitor that can simultaneously display multiple workout stats such as RPM with a Graphic bar, Time, Distance, Speed, Heart Rate, and Battery Indicator.
It is also telemetry-enabled. This means it is compatible with a wireless HR chest strap (the device is not included in the package, has to be purchased separately).
You can toggle the Distance and Speed units from miles and mph to km and km/h, and vice versa.
The console and the speed sensor are powered by 2 AAA batteries (included). Thus, to save battery power, the monitor hibernates when there is no activity on the bike for a few minutes, and it comes back to life automatically when the activity returns.
There are 2 easy-to-use navigation buttons on the console which include Mode/Reset & Start.
Unfortunately, there are no workout programs, no online app connectivity, and the LCD monitor is not backlit.
However, you will be able to set up a goal for Time and BPM. The countdown range for Time is 1-99 minutes, while 30-240 BPM for the pulse.
Remember, you will have to purchase the wireless HR chest strap device separately if you wish to keep an eye on your pulse rate because there are no EKG contact grips.
Accessory
There are water bottle holders attached to the handlebar. These are designed to enable users to keep water handy for the maintenance of hydration.
Storage
The Spirit Fitness XIC600 Indoor Cycling Bike is not foldable but it isn't large either. It is 42'' in length and 21'' in width.
Thus, a storage area with measurements of 3'5'' (106.68 cm) length by 1'75'' (53.34 cm) width will completely be fine.
There are transport wheels at the front base of the bike that enables an easy relocation process even though it weighs 141 lbs./64 kg.
The Pros/Features Overview
Sleek, elegantly, and sturdily built with light-commercial grade steel
It supports a maximum user weight capacity of 300 lbs./136 kg
Robust stabilizers with adjustable levelers for maximum stability
Operation is smooth, quiet, and vibration-free (thanks to the belt drive system and the heavy precision-balanced flywheel)
The console is telemetric (connects to a wireless HR chest strap)
The LCD monitor tracks workout stats such as Time, Distance, Speed, Heart Rate, Battery Indicator, and RPM with a graphic bar
Well-cushioned and 4-way adjustable handlebar with multiple grips for different workout postures
4-way adjustable and high-density seat
Toe cage pedals with adjustable safety straps
Countdown goal for Time and BPM
The 3-piece crankset, crank-arms and the pedals are strong enough to support the stand-up pedaling of a user that is within the maximum stipulated weight of 300 lbs./136 kg
Easy to maintain
Easy to assemble
Impressive warranty
Transport wheels included
Water bottle holders included
Con
HR chest strap device not included (To be purchased separately)
No tablet holder
The pedals do not support special spin shoes
The LCD monitor is not backlit
Warranty
Frame: Lifetime
Brake: 3 Years
Parts: 3 Years
Labor: 1 Year
Product Dimensions & Specifications
Length: 42''
Width: 21''
Height: 40.4''
Shipping dimensions: 41.9'' L x 8.7'' W x 39.1'' H
Net weight: 141 lbs./64 kg
Gross weight: 154.3 lbs./70 kg
Maximum user weight capacity: 300 lbs./136 kg
Frame: Light-commercial grade steel
Flywheel weight: 48.5 lbs./22 kg
Drive: Belt
Resistance: Friction, micro-adjustable levels
Pedals: Toe cages with adjustable safety straps
Handlebar: Multi-grip, 4-way adjustable
Seat: High-density, 4-way adjustable
Telemetric console (HR receiver)
Monitor: LCD, nonbacklit, 2 AAA batteries powered
Q-Factor: 8.1''
Water bottle holders integrated
Transport wheels integrated
Shipping
The Spirit Fitness XIC600 Indoor Cycling Bike is shipped in a box that weighs 154.3 lbs./70 kg with dimensions of 41.9'' long by 8.7'' wide by 39.1'' high.
The shipping box also includes the tools and instruction manual needed for assembly.
It takes a couple of days to weeks to have the product delivered.
Assembly
The bike is 85% preassembled from the factory. It only requires you to attach parts such as the front and rear stabilizer bars, the pedals, the handlebars, the water bottle holders, and the seat to the main unit.
This shouldn't take much of your time. However, due to the shipping weight, you will need someone to help you move and unbox it.
Tools and an instruction manual are included in the package to help you assemble it successfully.
Maintenance
The maintenance required for this cycling bike is not serious. That said, you need to regularly keep it clean, check and apply oil on the brake pad with 3-in-1 oil or 10W oil weekly, if necessary. Examine the bike to ensure that the parts are in good condition before using it for a workout.
Finally make sure to store it in a cool, dry, and clean area.
Conclusion
The Spirit Fitness XIC600 Indoor Cycling Bike is a belt-driven bike with a friction resistance system. It has a 48.5 lbs./22 kg precision-balanced flywheel, and a telemetric console that features an LCD monitor.
It has a light-commercial grade construction that supports a maximum user weight capacity of 300 lbs./136 kg.