The Spirit Fitness XBU55 Upright Bike is a light-commercial grade and residential machine designed to meet your daily physical workouts.
This is not your average upright bike but one that has some interesting features, very much similar to the SOLE LCB Upright Bike.  
However, the latter has a self-generated power system (no need to be plugged into the power source), and more resistance levels.  
That said, the XBU55 Upright Bike has Bluetooth FTMS connectivity that syncs it to the Fit Spirit app and to third-party apps such as Zwift and Kinomaps. This means you will be able to track workout progress via the app, share results with friends, explore exotic virtual trails, and more.  
Click right here to have a peek at the best price of this upright bike.
Frame & Construction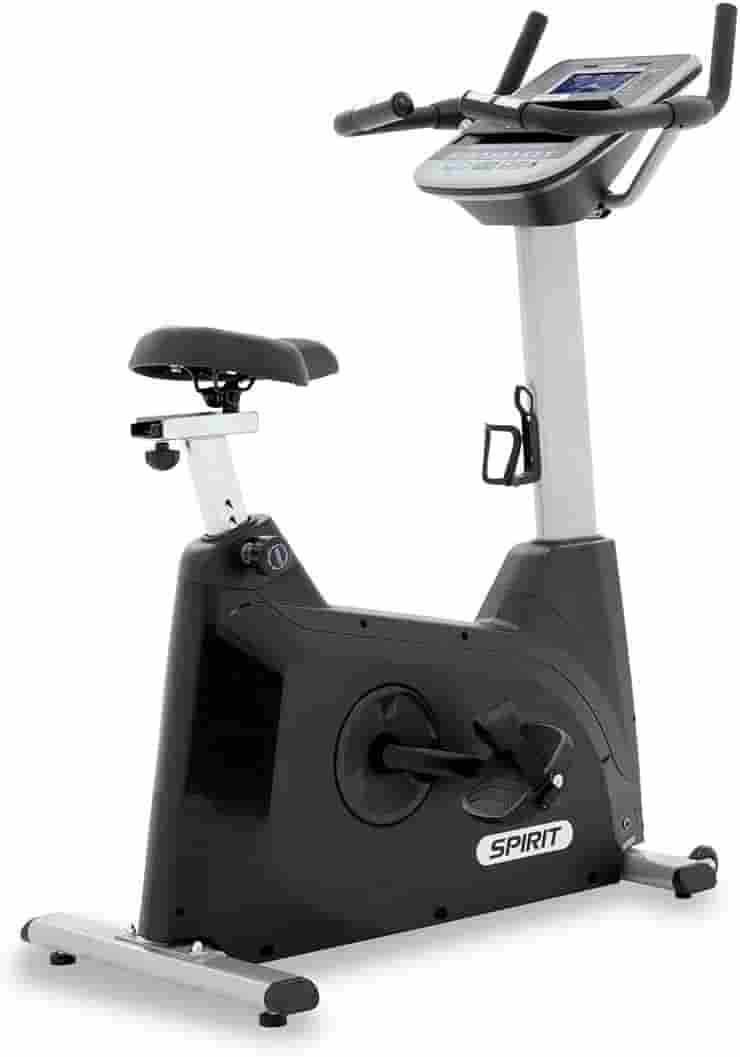 The Spirit Fitness XBU55 Upright Bike is built with a quality thick alloy steel frame that is coated with grey anti-rust paint.
While the drive system and console covers are made of ABS material. As a result, the unit is elegant and sturdy enough to support a maximum user weight capacity of 350 lbs./158.7 kg.
Users can easily get on and off of the bike without struggle due to its step-thru design. 
It weighs 100 lbs./45.3 kg which helps it to remain stable even as the stabilizers with adjustable levelers ensure optimum stability. Thus, your workout experience will be free of wobbling or instability despite its small footprint.  
The overall assembled dimensions are 42.5'' long by 21.7'' wide by 53.5'' high. Therefore, the workout area it requires would be 3'5'' in length (108 cm) by 1'8'' (55 cm) in width. Plus, additional recommended clearance of 1' on each side and 2' at the rear for safety and convenience reasons.  
Transport wheels are integrated at the front base of the bike to enable you to easily have it moved around the room or between storage and workout areas.
The Seat of the Spirit Fitness XBU55 Upright Bike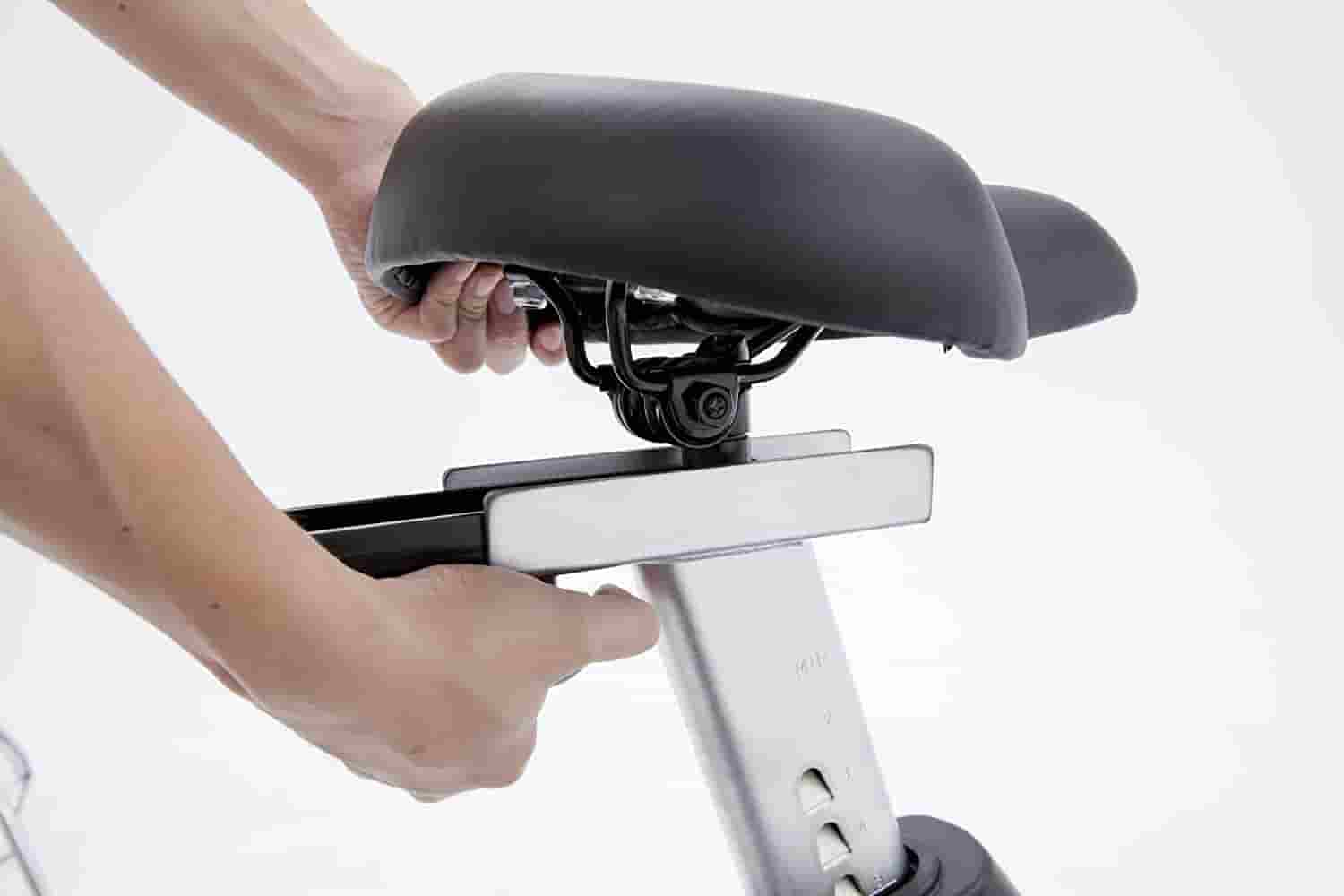 The seat on this bike is standard. It is more like every other saddle (although larger than a road bicycle seat) with an installment collar that could enable users to easily replace it if they so desire.  
It is cushioned and covered with vinyl material for comfort. However, it doesn't have springs underneath.
Usually, users purchase a gel seat cover to improve the overall cushioning of the seat. As stated earlier, you can have the seat replaced with any other seat of your choice easily.  
It could be adjusted 4-ways, I.e., fore/aft and up/down adjustability.  
The adjustment is a big deal because it helps you to fit in comfortably, and not all upright bikes' seats are 4-way adjustable.  
The Handlebar
The handlebar is nonadjustable. It is attached to the console mast, and strategically positioned to fit all users.  
It is multi-grip designed offering standard grip, parallel grip, race grip, and climbing grip. This means you should be able to alternate workout postures whenever you feel necessary.
The handlebar is coated with a soft rubber foam material that is intended to provide comfort and a firm grip. Thus, no slippery or calluses will be experienced no matter how long you spend on the bike. 
Also, heart rate sensors are integrated into the handlebar for the transmission of the pulse data to the monitor for your observation.  
The Pedals
The Spirit Fitness XBU55 Upright Bike is equipped with a set of self-leveling oversized and textured pedals with adjustable safety straps. They are made of quality plastic with a metallic core.  
The pedals are attached to solid crank-arms and a 3-piece crankset.
Different foot sizes can be accommodated and they are designed to be ridden with standard gym shoes.
The Q-Factor (distance between the inner left pedal to the inner right pedal) is 9.4'' while the stride length is 13''.  
The Drive
The upright bike has a belt drive system. This consists of a durable quality belt and a 30 lbs./13.6 kg precision-balanced flywheel.  
Thus, the bike's operation is smooth, quiet, and vibration-free as opposed to a chain-driven bike. You can concentrate on your workout without being distracted by unnecessary noise. Also, it doesn't matter if there are people around you or neighbors living next door, they won't be bothered by your workout activity. Isn't that great?
Moreover, no maintenance is needed before or after workouts.
Since the drive system is bidirectional (meaning you can pedal forward and as well in reverse) you can diversify your workouts to engage and tone more muscle groups.
The Resistance
The Spirit Fitness XBU55 Upright Bike has an eddy current magnetic resistance system. A resistance system that works when the unit is plugged into a power outlet, otherwise it can't be operated.
The +/- resistance buttons on the console have to be pushed to increase or decrease the resistance level or workout intensity. There are 20 adjustable levels available for variant workout challenges.  
The eddy current resistance system comprises a motor servo, a magnet, and the flywheel. The motor servo is responsible for moving the magnetic pad to & from the flywheel without direct contact with any element. But instead, the magnetic pad releases magnetic fields that cause a pull that ultimately generates resistance.  
So, the closer the magnetic brake pad is to the flywheel the stronger the resistance tends to be, and the farther away it is from it, the weaker the resistance becomes.  
As a result, level 1 resistance is weak, and level 20 is very strong, while in-between provides different variations of workout challenges that are suitable for the improvement of cardiovascular health, muscle group toning, and weight loss. 
The Console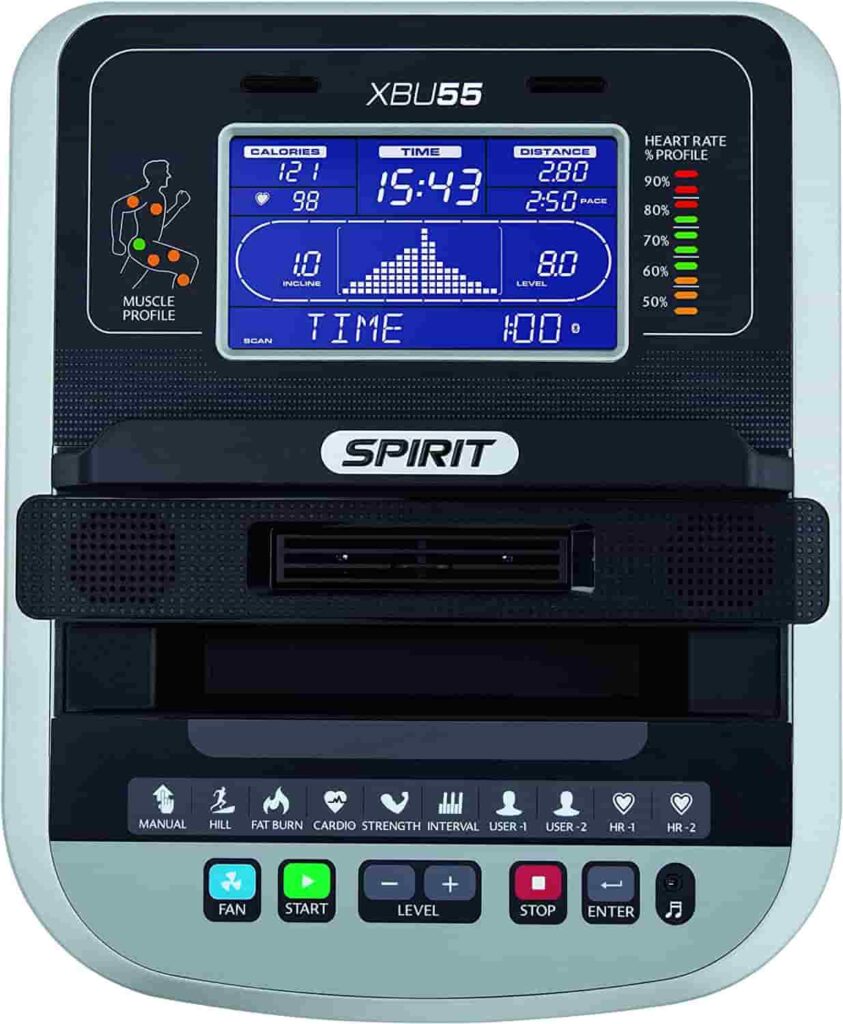 This bike is incorporated with an angle adjustable telemetric console that features a 7.5'' blue backlit LED monitor.  
The monitor tracks and displays multiple workout stats such as Time, RPM, Calories, Distance, Level, Speed, Segment Time, Pulse, Watt, Program Name, and Lap simultaneously. It has got high visibility that cannot be compromised even when viewed in a room that is not well lit.
Interestingly, you can track your heart rate by holding into the EKG contact grips or by wearing the included HR chest strap during a workout.
The console also features 10 workout programs that include Manual, Hill, Fat Burn, Cardio, Strength, Interval, 2 Heart Rate, and 2 User profiles. 
Manual Program allows you to workout based on the resistance level you choose to apply, while the preset programs that include Hill, Fat Burn, Cardio, Strength, and Interval have pre-assigned resistance levels designed to help you achieve their specified goal. However, there is still the possibility to make adjustments if you deem it necessary.
The 2 heart rates are set for 60% & 80% maximum heart rate zone and can be customized as well, while the 2 User Programs offer you the opportunity to create and save custom workout programs that are re-usable.
Accessory
There is a built-in tablet holder (which can accommodate a large tablet device conveniently) on the console and a water bottle holder that is attached to the mast right below the console. These are provided to help you keep a smartphone device and water handy for entertainment and proper hydration purposes. 
Moreover, a cooling fan, speakers, and an MP3 auxiliary port are integrated to make your time spent on the bike enjoyable and productive.
Although, the cooling fan is not large enough to provide strong air, and if a device is placed on the tablet holder, the display screen could be blocked.
Storage
This unit has a small footprint; hence, it won't take up too much space even though it is not foldable.
A storage area with measurements of 3'5'' length (108 cm) by 1'8'' (55 cm) width should be good.
Despite it weighing 100 lbs./45.3 kg, it can easily be moved around the room via the integrated transport wheels at the front base.  
Pros/Features Overview
Strong construction (light-commercial grade) 
It supports a maximum user weight of 350 lbs./158.7 kg 
Robust stabilizers and adjustable levelers for optimum stability 
It has a belt drive system that maintains smooth and quiet operation 
It possesses a heavy 30 lbs./13.6 kg precision-weighted flywheel that provides consistent momentum 
The seat is 4-way adjustable, large, and cushioned with a groove for breathability; it is also replaceable 
The handlebar is 4-way adjustable, coated with soft rubber foam, and has multiple grips  
The pedals are large, textured with adjustable safety straps; suitable for most foot sizes 
It has a large 7.5'' blue LED-backlit monitor that tracks workout stats such as Time, RPM, Calories, Distance, Level, Speed, Segment Time, Pulse, Watt, Program Name, and Lap 
EKG contact grips integrated 
The console features Bluetooth connectivity and it's telemetric (Wireless HR chest strap compatible) 
HR chest strap device included 
10 workout programs (Manual, Hill, Fat Burn, Cardio, Strength, Interval, 2 Heart Rate, and 2 User profiles) available  
Spirit Fit app and third-party apps are compatible; you will be able to work out on virtual trails, track workout progress online, share progress with friends, and more 
Eddy current magnetic resistance system with 20 adjustable levels 
Transport wheels included for easy relocation process 
Tablet holder included 
Water bottle holder included 
Cooling fan included 
Speakers & MP3 port for quality audio output 
Warranty is impressive 
Cons
The cooling fan is weak
A device placed on the tablet holder could block the view of the display screen of the monitor
Residential Warranty
Frame: Lifetime
Brake: Lifetime
Parts: 10 Years
Labor: 1 Year
Light Commercial Warranty
Frame: Lifetime
Brake: 5 Years
Parts: 3 Years
Labor: 1 Year
Product Dimensions & Specifications
Length: 42.5''
Width: 21.7''
Height: 53.5''
Shipping dimensions: 44.7'' L x 19.5'' W x 30'' H
Net weight: 100 lbs./45.3 kg
Gross weight: 115.7 lbs./52.4 kg
Maximum user weight capacity: 350 lbs./158.7 kg
Frame: Alloy steel
Flywheel weight: 30 lbs./13.6 kg
Pedal: Large, textured, and with adjustable safety straps
Q-Factor: 9.4''
Stride length: 13''
Seat: 4-way adjustable
Handlebar: Multi-grip & 4-way adjustable
Drive: Belt
Resistance: Eddy current resistance with 20 adjustable levels
Power: DC 12V/1.5A
Monitor: 7.5'' Blue LED
Programs: 10
Bluetooth connectivity
Spirit Fit app & third-party connectivity
EKG contact grips & Wireless heart rate monitoring integrated
HR chest strap included
Cooling fan included
Tablet holder included
Water bottle holder included
Transport wheels included
Shipping
The Spirit Fitness XBU55 Upright Bike arrives in a box that weighs 115.7 lbs./52.4 kg with dimensions of 44.7'' long by 19.5'' wide by 30'' high.
The time it takes to have it delivered depends on where you reside. It usually takes a couple of days to weeks for delivery to be made. 
Amazon offers free and paid shipping.  
Assembly
The assembly is a walk in the park, which means it's easy to install.
Simply use the included tools and follow the instructions in the manual for a stress-free assembly that won't take up to an hour.  
Maintenance
The XBU55 Upright Bike is maintenance-free. You only need to keep it clean on a regular basis and inspect it to be sure that every part is in good condition before use for a workout.  
Finally, the storage area should be clean, dry, and cool.  
Conclusion
The Spirit Fitness XBU55 Upright Bike is a luxurious upright bike that features a telemetric and app-compatible console. The monitor tracks a variety of workout stats simultaneously without compromising display clarity no matter the lighting condition of a room.  
There are 10 workout programs and EKG contact grips. An HR chest strap is included in the package.  
The operation is smooth & quiet due to the belt drive and eddy magnetic resistance system.