The Sunny Health & Fitness SF-B1876 Magnetic Resistance Cycling Bike is designed for home use. It is a belt-driven and magnetic resistance indoor cycling bike that provides smooth and quiet operation.
It has a unique structural design but has similar features as the Evolution Pro II.
Although, the latter supports higher user weight capacity, has dumbbell holders, and a 4-way adjustable handlebar. Other than that, both have the same features.
That said, the SF-B1876 Magnetic is significantly cheaper though.
Click right here to have a peek at the best price of the Sunny Health & Fitness SF-B1876 Magnetic Resistance Cycling Bike on Amazon.
The Frame and Construction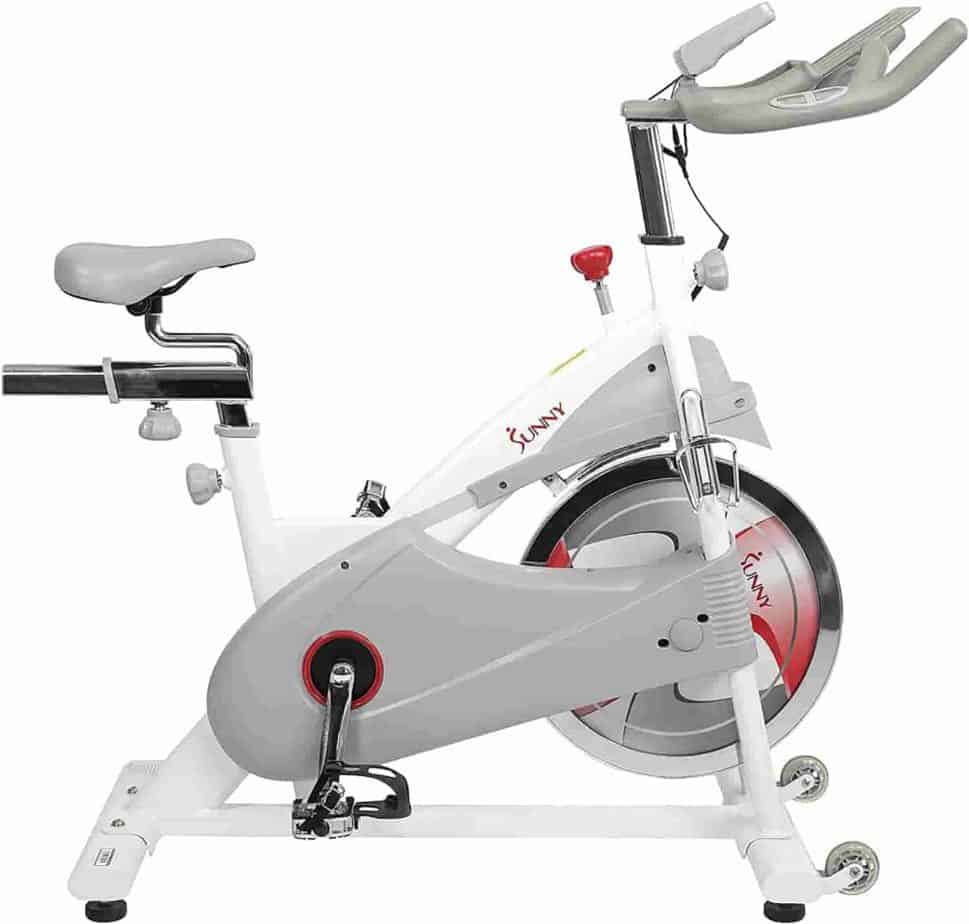 This magnetic resistance bike has a robust and fancy-looking construction/design that features an anti-corrosion steel frame and ABS-made coverings. The top part of the high inertia 40 lbs./18.14 kg flywheel and the seat & handlebar posts are chrome-plated.
The bike is sturdy enough to support users that are up to 300 lbs./136 kg.
The base is well though-out as it features front and rear steel stabilizers with adjustable levelers for unequaled stability. Moreover, its overall assembled weight of 109.2 lbs./49.5 kg further enhances the stability.
However, the use of a protective rubber mat prevents the bike from sliding on certain floors.
The bike can be moved easily via the front-mounted transport wheels regardless of its weight.
To roll it from one spot to the other within the room, simply tilt it toward the transport wheels while standing at the front of it and holding the handlebar.
The assembled dimensions are 50'' long by 20'' wide by 47.5'' high. Therefore, a workout area with a measurement of 4'16'' (127 cm) length by 1'66'' (50.8 cm) width is going to be needed.
Also, an additional 2' clearance is to be added around the bike for a convenient and safe workout experience.
The Seat of the Sunny Health & Fitness SF-B1876 Magnetic Resistance Cycling Bike
The seat looks pretty standard with average cushioning. Its dimensions are 10.5'' long by 6.5'' wide by 2.5'' thick.
However, it won't be a deal-breaker for most users as it can easily be upgraded by the use of a gel seat cover.
Better still, it could be replaced with another seat of your choice since the connection stem is standard. Hence, options are available online or in a local bicycle shop.
The seat is 4-way adjustable. In other words, it could be adjusted vertically (upward & downward) and horizontally (fore & aft) between several inches. As a result, users with inseams that are between 28"-40" can be accommodated.
In other words, 5'-6'5'' users can fit in without discomfort. Nevertheless, do check your inseam to ascertain if it is suitable for you.
The Handlebar
The handlebar has multiple grips. This means different grips allow you to train in different riding positions.
It is coated with soft rubber foam that prevents slippage and blister and instead provides secure and comfortable grips for prolonged workouts.
Heart rate sensors are also integrated into the handlebars to enable reading and transmission of your pulse rate data to the monitor. This only happens when the heart rate sensors are grasped during a workout.
The handlebar is 2-way adjustable. It means you can only adjust it vertically (upward/downward). Nevertheless, it helps users to customize the bike as they see fit for a comfortable and prolonged workout experience.
The Pedals
The pedals are dual-sided. They can accommodate standard gym shoes on one side, while the flip side allows you to train using special spin shoes.
Your feet will be secure and comfortable on whichever side of the pedals you choose to use. You can pedal aggressively and none of your feet will slip off.
The pedals are made of durable alloy steel and plastic, and they are attached to robust crank-arms and cranksets. Thus, you can pedal while standing or seated, it doesn't matter because they hold up.
The Drive
Apparently, the Sunny Health & Fitness SF-B1876 Magnetic Resistance Cycling Bike is belt-driven.
In other words, the drive system has a poly V-belt as one of its elements. Others include the cranks and the 40 lbs./18.14 kg high inertia flywheel.
Consequently, the operation is smooth and quiet; and due to the presence of the heavy flywheel, the bike provides a realistic riding experience with great consistent momentum.
So, if you intend to use this bike in a room or apartment with other people around, it won't be a problem as the noise level is very minimal.
Also, you can watch a movie or listen to music without interference from the bike's operation.
No maintenance is needed as opposed to a chain drive system.
This is a bidirectional drive system that enables you to pedal in the opposite direction if you so desire. But it also means you cannot coast on the bike.
Therefore, as a safety measure, whenever you wish to stop pedaling, always remember to apply the emergency brake by pushing down the tension knob.
The Resistance System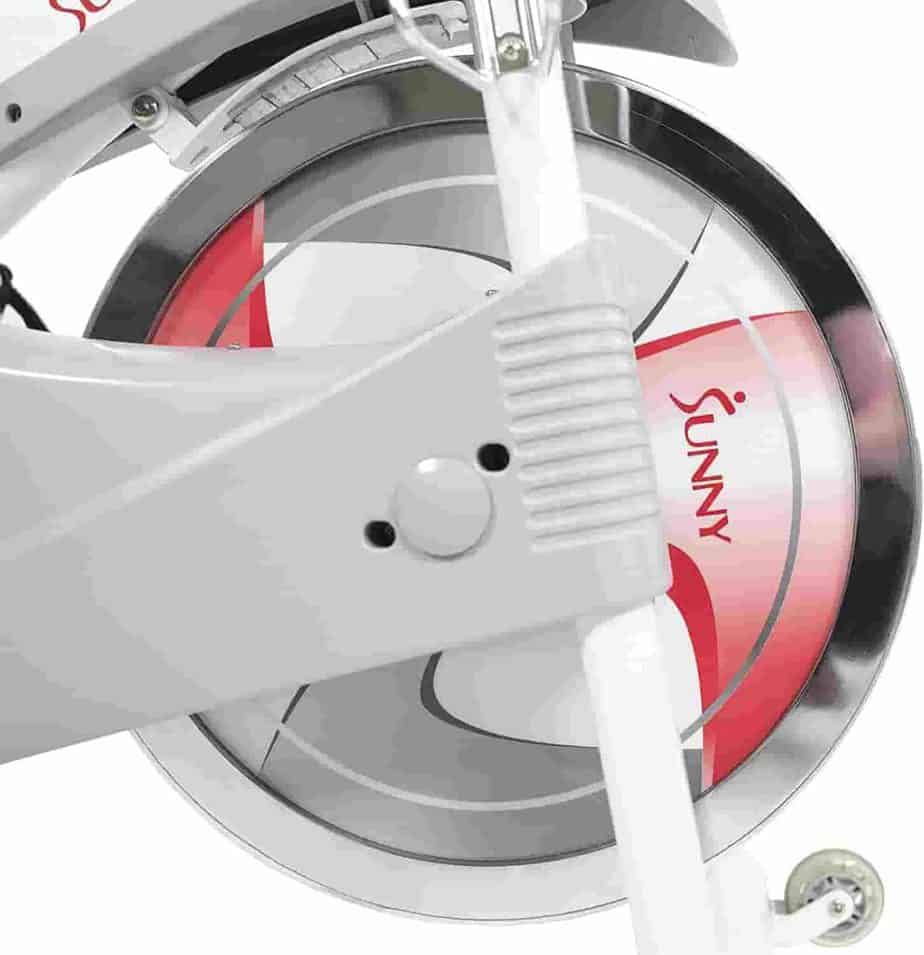 The resistance system featured on this bike is manual magnetic with infinite adjustability.
This means the resistance system includes a magnetic brake pad that emits magnetic fields on the flywheel to generate resistance without contact or friction.
The resistance system is micro-adjustable; meaning there are no predefined resistance levels. Instead, you will have to turn the tension knob clockwise or counterclockwise until you feel the right workout challenge suitable for you.
This is a popular resistance system among users because the bike's operation remains silent even when the resistance is engaged. On top of that, it doesn't require lubrication or any other maintenance.
Since this is a micro-adjustable resistance, it offers a wide range of workout challenges suitable for most users.
The Console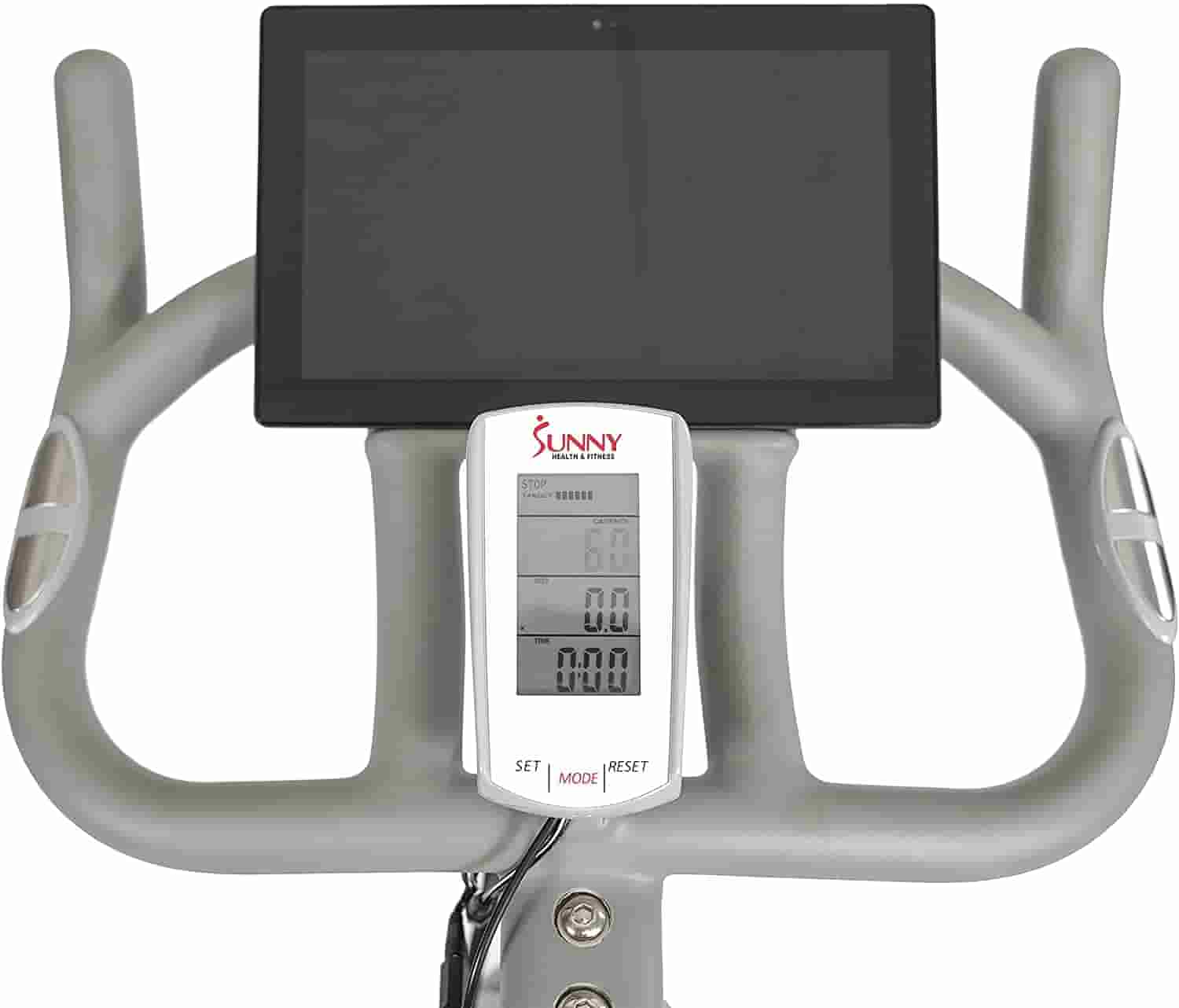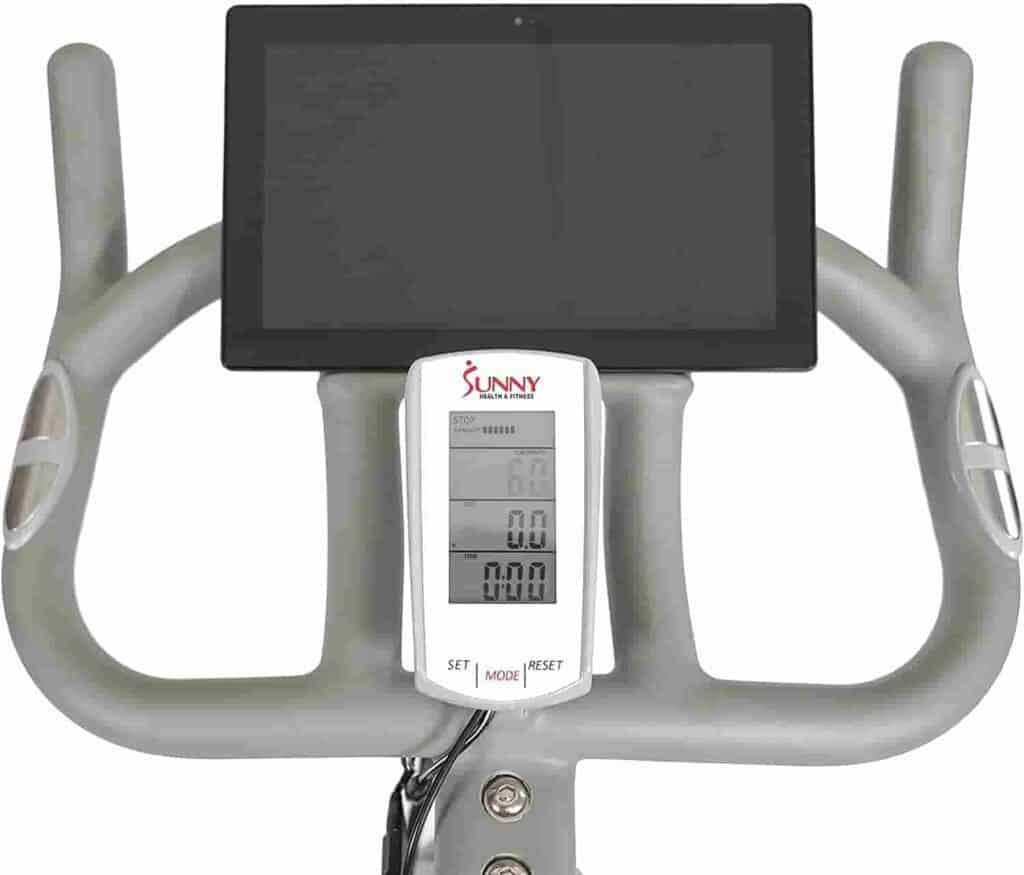 The console on the Sunny Health & Fitness SF-B1876 Magnetic Resistance Cycling Bike is the same as the one on the Evolution Pro II.
It features a digital LCD monitor that tracks multiple workout stats such as Time, Speed, Average Speed, Max Speed, Calories, Cadence, Average Cadence, Race, and Pulse.
Its readability is great. However, it could be compromised if viewed in a poorly lit environment because the monitor does not have a backlight.
Also, the console is not telemetric and it doesn't connect online either. This means your heart rate cannot be read via a wireless HR chest strap (only when the grips with heart rate sensors are held) and it's not compatible with any online app.
That said, there is a Race program that enables you to race against the computer using Time and Distance settings.
Speaking of, Distance and Speed measurement units can be miles/mph or km/km/h.
You can also set up a goal (countdown) for Time, Distance, or Calories.
The console is battery-powered, and it requires 2 AAA batteries (included) to function.
The monitor automatically turns off and on when there is no activity on the bike for 4 minutes and when activity returns, respectively. As a result, the batteries' power is conserved.
Accessory
There is a tablet holder for your device in case you wish to entertain yourself or watch workout videos. A water bottle holder is also integrated for hydration purposes, very important.
Storage
This bike is not overly large to overwhelm your space, especially when it comes to storage.
A storage area with a measurement of 4'16'' (127 cm) length by 1'66'' (50.8 cm) width will suffice.
The front-mounted transport wheels make the relocation process to be as easy as possible even though the bike weighs 109.2 lbs./49.5 kg.
Places like the garage or beside a wall are ideal for storage.
Pros/Features Overview
Durable and stable; thanks to its anti-corrosive steel frame and the stabilizers with adjustable levelers
It has an elegant design
Transportable by the integrated wheels
Customizable to fit users of different sizes and heights
The seat can easily be replaced if you want because there are compatible options widely available
It has a heavy high inertia flywheel that provides realistic riding experience and great momentum
The pedals are dual-sided (include toe cages and SPD)
The magnetic resistance system provides unlimited resistance levels
The operation of the bike is smooth and quiet; thanks to the belt drive and the magnetic resistance systems
The digital LCD monitor simultaneously tracks workout stats such as Time, Speed, Average Speed, Max Speed, Calories, Cadence, Average Cadence, Race, and Pulse
Goal setting for Time, Distance, or Calories is possible
Contact heart rate sensors integrated
Race program
Easy to store
It requires minimum maintenance
Easy to assemble
A water bottle holder is included
A tablet holder is included
Cons
The monitor is not telemetric, and it is nonbacklit
No online connectivity
Warranty
3 Years for the Frame
180 Days for Parts and Components
Product Dimensions and Specifications
Length: 50''
Width: 20''
Height: 47.5''
Shipping dimensions: 42.1'' L x 11'' W x 34.6 H
Net weight: 109.2 lbs./49.5 kg
Gross weight: 119.2 lbs./54 kg
Maximum user weight capacity: 300 lbs./136 kg
Supported inseams: 28''-40''
Frame: Steel
Flywheel: 40 lbs./18.14 kg high inertia
Drive: Belt
Resistance: Manual magnetic with micro adjustability
Seat: 4-way adjustable
Seat dimensions: 10.5" L x 6.5" W x 2.5" H
Handlebar: 2-way adjustable
Pedals: Toe cages and clip-in
Monitor: LCD (batteries included)
Transport wheels: Yes
Water bottle holder: Yes
Tablet holder: Yes
Shipping
This bike ships in a box that weighs 119.2 lbs./54 kg with dimensions of 42.1'' long by 11'' wide by 34.6'' high.
It is usually shipped out for free and takes a couple of days to get delivered in the US.
Assembly
Since it is partially preassembled on arrival, it doesn't take time to completely get it up and running.
Also, there is an instruction manual that guides you through the steps of the assembly, and the tools needed for the assembly are included as well.
Maintenance
There is no time-consuming or difficult maintenance required.
Simply make sure that the bike is kept clean after every workout session. Let it be also stored in a cool, clean, and dry area.
Always ensure to examine it before workouts to ascertain that every part is tight and good to go.
Conclusion
The Sunny Health & Fitness SF-B1876 Magnetic Resistance Cycling Bike supports 300 lbs./136 kg maximum user weight capacity.
It has a digital monitor that tracks multiple workout stats for focus and motivation. There is a Race program that is designed to challenge and bring the best out of you.