The Marcy NS-1000 Fan Bike is an affordable air bike. It is one of the most inexpensive bikes available that has got some great features.
It is a full-body workout upright bike that exercises over 80% of the body's muscle groups.
It probably shares a lot in common with the Sunny Health and Fitness SF-B2640 Air Bike Trainer.
Click right here to have a peek at the price of the Marcy NS-1000 Fan Bike on Amazon.
The Frame
The frame of the Marcy NS-1000 Fan Bike is made of steel tubing and very sturdy even though it is a basic bike. The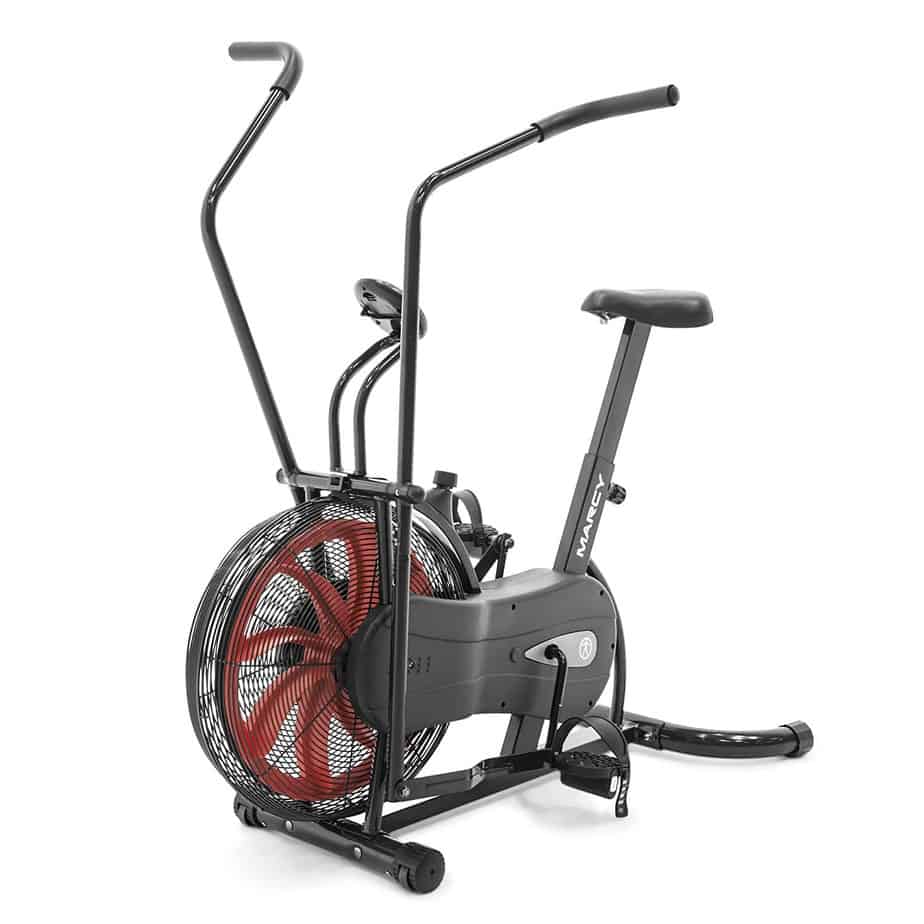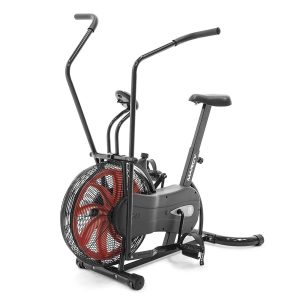 frame is also coated with anti-corrosion paint that would preserve it from rust.
It supports a maximum user weight capacity of 250 lbs./113 kg.
The bike is compact, lightweight, and portable. Its overall assembled dimensions are 45'' long by 26'' wide. In other words, it will require a workout area with perimeters of 3'8" length by 2'2" width.
Although, additional clearance of 2′ will be necessary around it for easy access and comfortable workout performance.
Its base features front and rear stabilizers that are incorporated with rubber caps for superlative stability and floor-friendliness. You won't experience a wobbling movement even during an intense workout.
Moreover, the bike's stability is further improved by its overall assembled weight of 58 pounds/26 kg.
The Seat
The seat on the Marcy NS-1000 Fan Bike is large, cushioned and contoured. It may not be the most comfortable seat but it does provide decent comfort. A gel seat cover could be used to enhance it.
It is 2-way adjustable; meaning it could be adjusted vertically (upward/downward). Even though it doesn't adjust horizontally, users of different heights can be accommodated comfortably.
The seat could be adjusted between 26"-34" high from the floor.
The Handlebars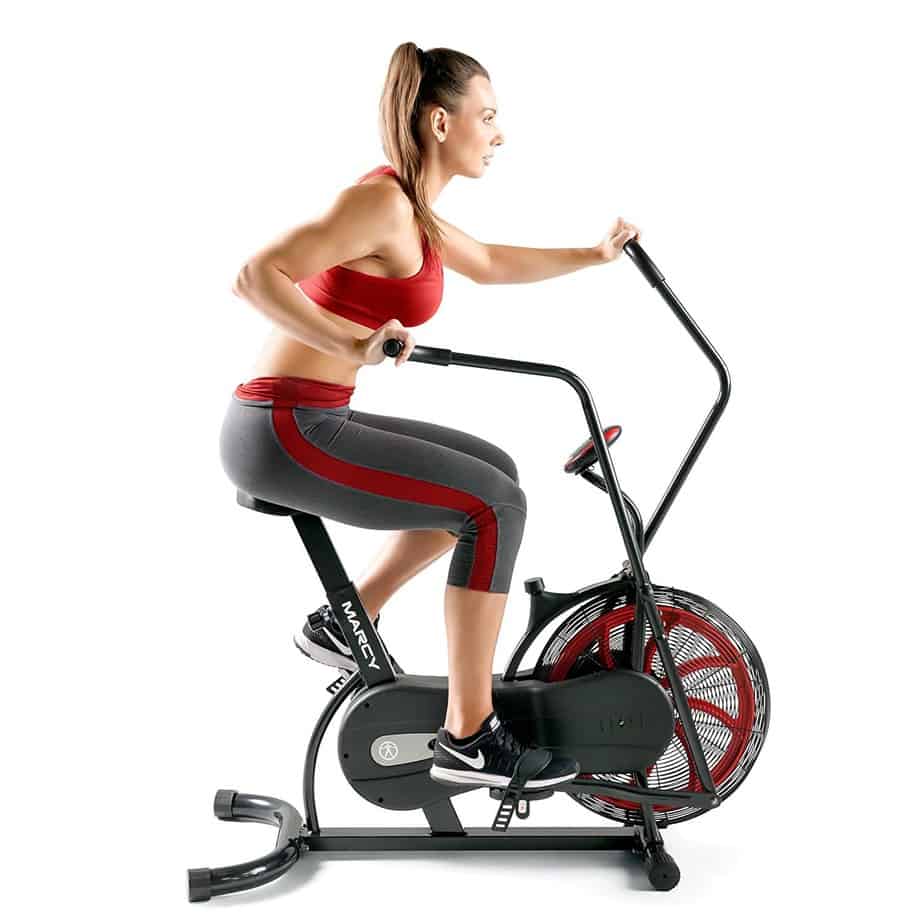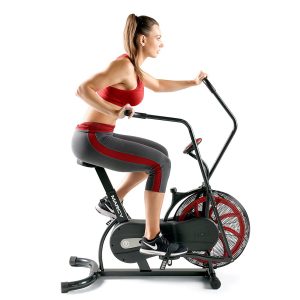 The Marcy NS-1000 Fan Bike is equipped with moveable handlebars. The curvy handlebars are coated with soft rubber foam. This provides long-lasting comfort that prevents slippage and blisters in the palms that may otherwise occur due to prolonged workouts.
The handlebars move as long as the pedals spin. Therefore, they are not independent, and there are no footpegs that allow you to rest your feet on while you try to exercise only the upper-body.
The Drive and Resistance
The Marcy NS-1000 Fan Bike has a chain drive system. This consists of a traditional chain that is used on a bicycle, and a fan flywheel.
Its transmission is smooth and quiet as long as it is being lubricated when it shows any sign of noise. Probably, this is the reason most people prefer a belt drive system instead.
However, the advantage of the chain drive system is that it is durable and its parts are available in any bicycle shop or online.
The Marcy NS-1000 Fan Bike features a dynamic air resistance system that uses the fan to create resistance.
The resistance is generated when you pedal, and its intensity is determined by your pedaling tempo. If you pedal faster, the resistance becomes more challenging, and when you slow down it becomes less challenging.
It also has a tension knob that allows you to increase or decrease the resistance level. But the intensity is still influenced by your pedaling ability while the fan offers a refreshing cooling effect.
Although, the fan is much smaller than the one on the Octane Fitness AirDyneX, thus, the resistance it generates won't be as dynamic.
Nevertheless, it generates resistance that could help you lose weight and improve your overall physical fitness.
The pedals made of durable plastic with a metallic core. They are anti-skid designed with adjustable safety straps that secure the feet.
They can only be ridden with a pair of standard gym shoes. If you wish to swap them, it's possible because they have 9/16" thread.
The Console/Monitor
This bike has a basic monitor that allows you to track your workout progress by displaying workout data such as time, distance, total distance, speed, and calories burned. It also has a Scan Function that enables you to view all the workout data one at a time, and it does this rotationally.
However, the calorie data being displayed may not be accurate because the current resistance setting cannot reconcile with the consoles' calorie tracking.
The monitor doesn't track the heart rate because it is not telemetry-enabled and the handlebars are not integrated with pulse sensors.
So, to be able to track your heart rate is to use an external heart rate device.
Although, on the upside, it has a feature called target settings that allows you to set a goal for Time, Calories, and Distance. This is done by selecting a target value for any of the workout data and let it countdown from the value to zero.
There are 3 navigation buttons; namely, SET, MODE, and RESET on the console. The SET button enables you to set a target goal for distance, time, or calories, while the MODE button allows you to toggle ON and OFF function, and to be able to choose a particular workout data to be displayed at all times.
While the RESET button allows you to clear the value on the console to zero.
The console is powered by 2.5V AAA batteries which are not included in the package (has to be purchased separately). upon purchasing the unit.
The monitor shuts down automatically after a few minutes of inactivity on the bike to save the batteries' power.
Pros
It has got transportation wheels that make relocation or storage easy
It has got adjustable levelers on the rear base
It has got mobile handlebars that is great for upper body workouts
It is sturdy and durable because of the frame that is made of steel tubing and can support about 250 pounds maximum user weight
It has got an adjustable seat that allows folks of different sizes to fit in.
It has a dynamic resistance that is also adjustable which not common with other air bikes
It emanates less noise
It requires little and periodic maintenance
It has a faction such as target settings for workout goals
It has a console that helps you track and display your workout data such as distance, total distance, speed, and calories
Pretty easy to assemble
Cons
It does not include heart rate sensors, which means it cannot track or display your heart rate data
The seat could be a little bit hard for some individuals
The monitor is a non-backlit type, therefore, cannot view or see workout data in the dark
There are no footpegs that allow a user to rest the feet for upper body workout
Product Dimensions
45'' Length
75'' Width
75'' Height
It weighs about 58 pounds
Supports 250 pounds maximum user weight
Warranty
2 Years limited warranty for parts alone and do not cover labor
Shipping, Assembly, and Maintenance
The shipping cost of the Marcy NS-1000 Fan Bike depends on where you are purchasing the product. Amazon ships this product for free but that may not be the case with other retailers.
Assembly is pretty much easy because it comes with the major components preassembled. On top of that, it is accompanied by an instruction manual that could walk you through the process of assembly without much hassle.
The major part that requires maintenance in this air bike is the chain drive which is also lubricated from the factory, however, you will need to lubricate it periodically, and every 6 months will be just fine.  Aside from that, you just need to keep on checking the bolts for anyone that requires tightening, clean, and dust the unit all the time too.
Conclusion
The Marcy Fan Exercise Bike is great for offering a full-body workout. It has got features that make achieving your fitness goals possible such as the unique air resistance system that is also adjustable so that you can work out with a tailored resistance that suits you.
Moreover, it is inexpensive, compact, and portable.
Marcy NS-1000 Fan Bike Review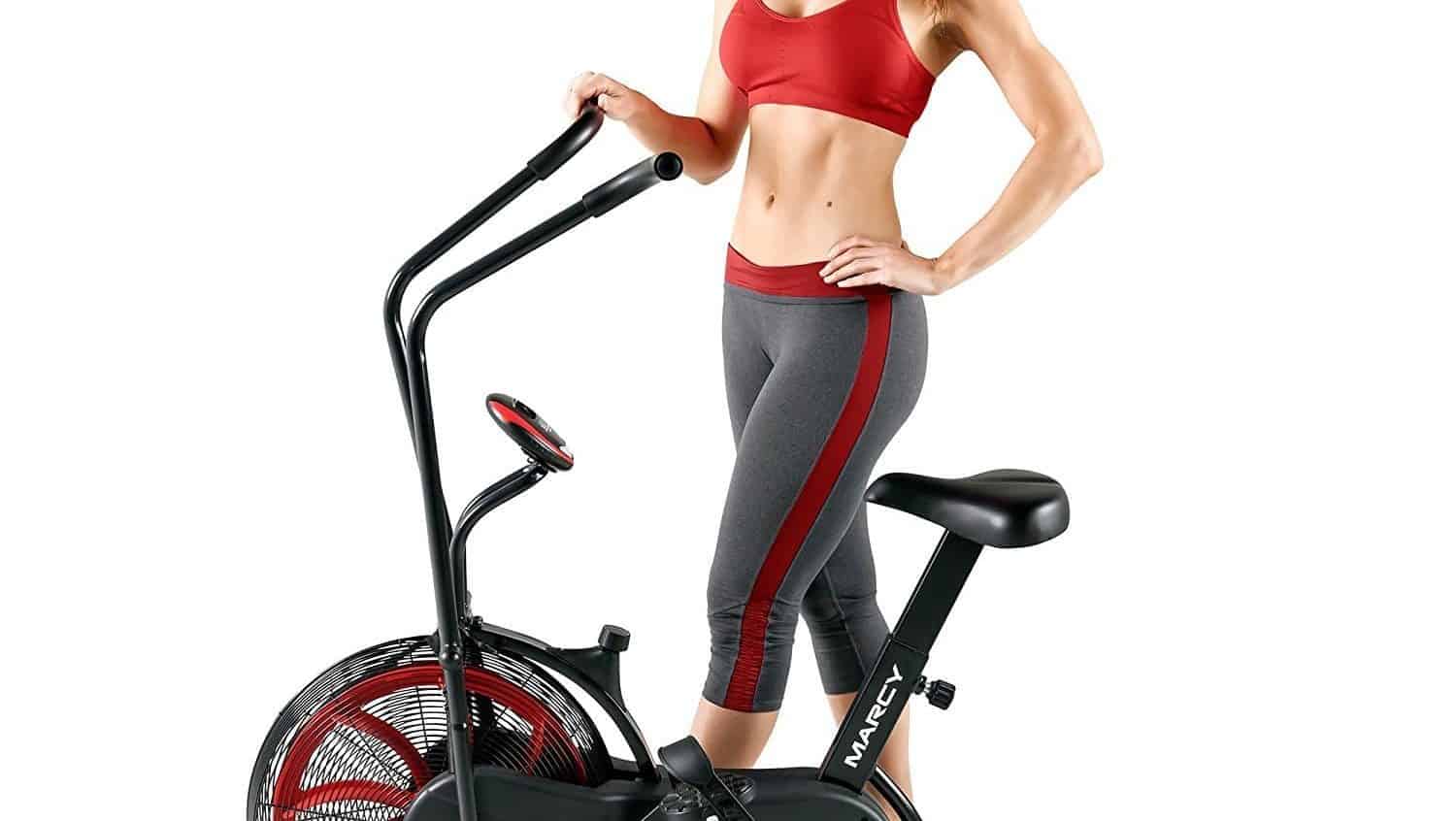 The Marcy NS-1000 Fan Bike is an affordable air bike available. As a matter of fact, it is one of the most inexpensive bikes available and on top of that
Product Brand: Marcy
Product In-Stock: InStock