The Sole LCB Upright Bike is obviously a light commercial bike built and designed to be used in a non-payment gym, police/fire station, or at home. Its overall construction is durable and sturdy to withstand several hours of usage a day (5 hours or less) and seven days a week.
It is the upgraded version of the Sole B94 Upright Bike. As a matter of fact, you may not tell them apart when they are displayed side by side, but the Sole LCB has expanded user weight capacity, additional features, and of course, costlier than the Sole B94.
You will find a comparison table below for a clear understanding of the two.
That said, the Sole LCB Upright Bike is one of the best buy indoor upright bikes available and in the same category as the 3G Cardio Elite UB.   
It has a quality and compact design that simply puts it ahead of many others. It supports 350 lbs./158.7 kg. maximum user weight capacity and it's integrated with EMS (Eddy Current Magnetic Self-Powered Resistance-System) with 40 adjustable levels.
In the meantime, if you wish to get an upright bike that is nearly as good as the Sole LCB Upright Bike, at a cheaper rate, that would be the Sole B94 Upright Bike or the Nautilus U618. Otherwise, click right here to have a peek at the Sole LCB Upright Bike.  
The Frame and Construction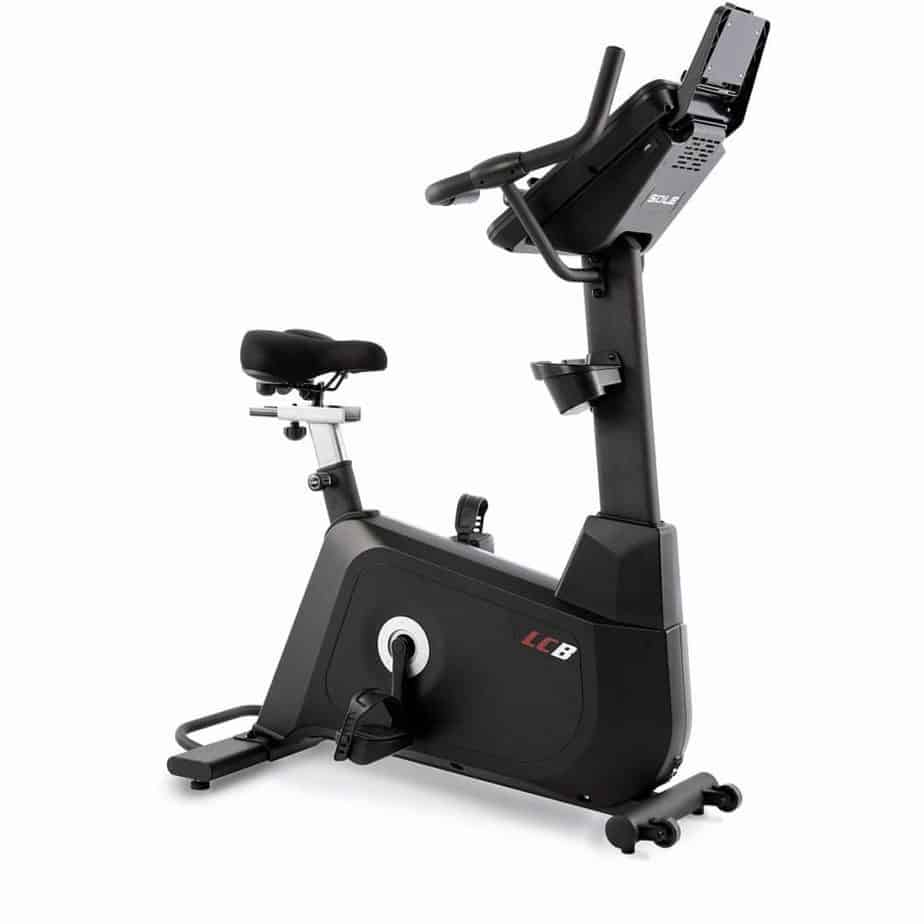 The Sole LCB Upright Bike features a solid, heavy-duty steel frame that not only supports 350 lbs./158.7 kg. maximum user weight capacity but lasts forever, the warranty is a testament to that.
The protective shrouds for the drive/resistance system are made of aluminum.
It is a very stable bike even though it has a small footprint. This is due to the base framework and of course its overall assembled weight.
The base features solid rounded/rectangular-shaped steel for front and rear stabilizers, respectively. And there are adjustable levelers underneath them which further make the bike viable to be used on any type of flooring.
It is a pretty heavy bike that weighs about 130 lbs./59 kg., which ultimately grounds it for optimal stability.
When it comes to moving the bike to and from the storage area, it's not difficult because it's equipped with transport wheels at the front base and a big handle at the rear for lifting it up.
The assembled dimensions of the bike are 44'' long by 23'' wide by 55'' high. Differently put, the bike requires a workout area with perimeters of 3'7'' length by 2' width. But you must consider adding extra clearance of at least 2' at the rear and on each side of the bike for a safe and enjoyable workout experience.  
The Seat of the Sole LCB Upright Bike
This bike's seat is larger than the average bike saddle. It is also contoured with a gel seat cover that provides lasting comfort in a prolonged workout session.
There are these big springs underneath the seat, designed to absorb and adapt to the user's movement during a workout.
It is 4-way adjustable; It could easily be adjusted vertically (upward/downward) and horizontally (fore/aft). There are several adjustable positions available in both directions which allow users of different heights (5'-6'5'') and sizes to be accommodated conveniently.
The adjustment knobs are big, easy to grip, and turn for quick adjustment. It takes only a few seconds to properly adjust the seat to a suitable position(s).  
The Handlebar of the Sole LCB Upright Bike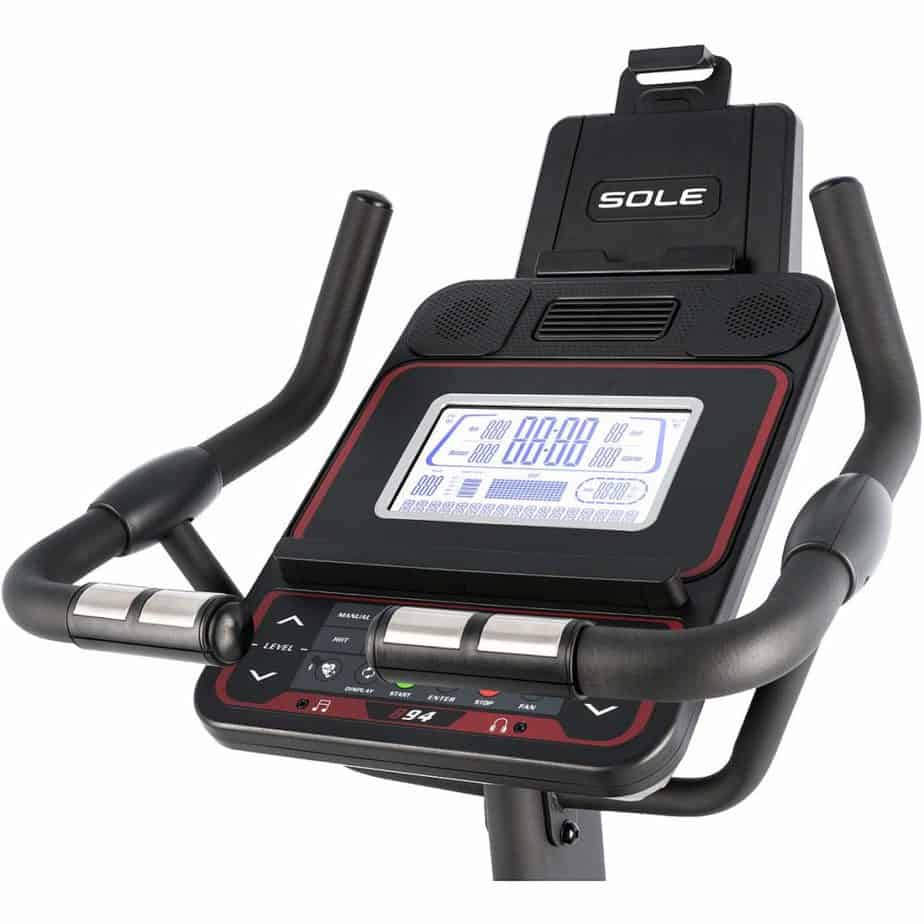 As opposed to the seat, the handlebar is not adjustable. However, it is optimally positioned on the mast for better suitability.
It is a multi-grip-designed handlebar with a couple of different grips for versatile workout postures. It is coated with a soft rubber foam that provides safety and enduring comfort so that you can work out longer without experiencing any slippage or blisters in the palms.  
The EKG HR contact sensors are integrated into the handlebar so that your heart rate could be read and transmitted to the monitor whenever they are held during a workout.
The Pedals
The balanced-weighted pedals are anti-slip designed with adjustable safety straps that keep the feet secure even during a vigorous workout. They are made of durable rubber with a metallic core.
Moreover, its Q-Factor (distance between the right and the left pedals) is narrow and good for the knees and the ankles as well.
The Drive
The Sole LCB Upright Bike is, of course, a belt-driven bike. The belt drive system consists of an anti-stretch belt, a solid crankset, crank-arms, and a heavy 30 lbs./13.6 kg perimeter weighted flywheel. It has one of the heaviest flywheels an upright bike ever possesses.
Thus, it provides consistent momentum that is characterized by smoothness and quietness.
The bike's operation is environmentally friendly in that you can exercise with the bike anywhere and any time you want while enjoying watching TV or listening to good music without having to amplify the volume beyond a normal level.  
In addition to that, the drive is maintenance-free. This means it is pre-lubricated and you are not required to lubricate or adjust anything any time.
The Resistance
The Sole LCB Upright Bike has an EMS resistance system. In other words, it has an eddy-current magnetic self-powered resistance system. Meaning that the bike has a built-in power generator that can power the console and the resistance system as you pedal.
There are 40 adjustable resistance levels, which can only be controlled via the buttons on the console.
It can be adjusted through the onboard quick keys that include 1, 4, 8, 12, 16, 20, 21, 24, 28, 32, 36, 40 resistance levels, and can also be adjusted gradually by an increment of 1 level via the up/down arrow keys.
The resistance system consists of magnetic brake pads and the flywheel; they generate resistance without having to come in direct contact, thus, preventing any wear and tear of any part involved.
Also, the transition from one resistance level to another is smooth, and even smoother during a workout.
The Console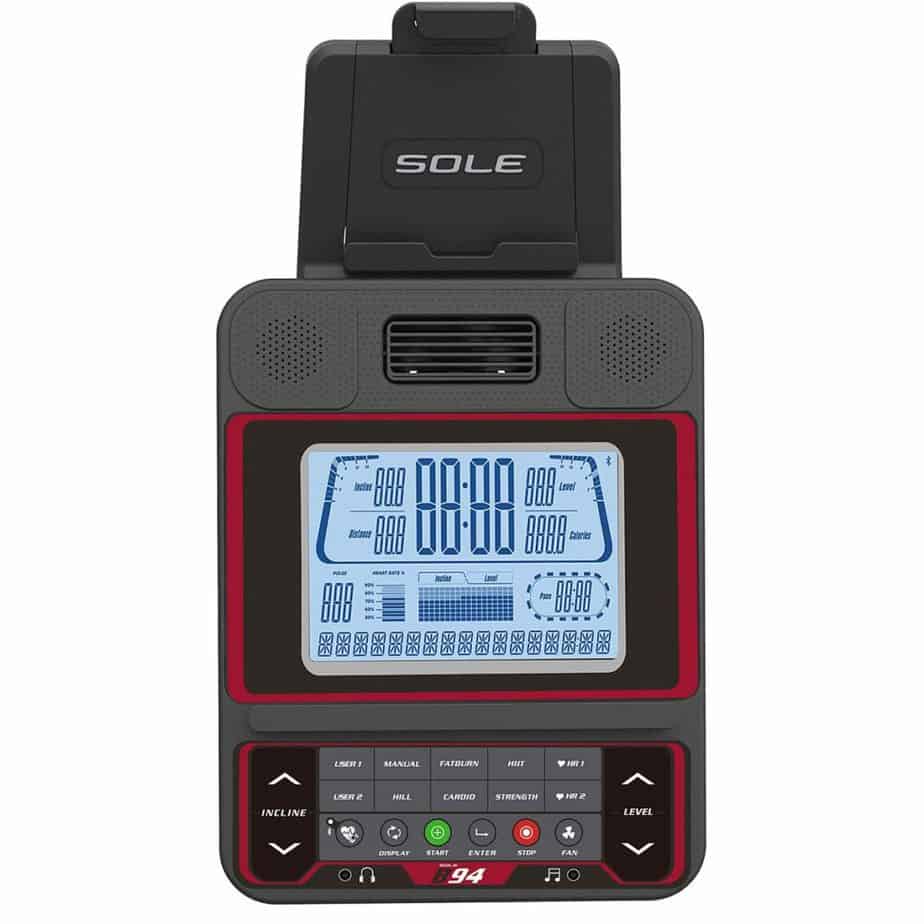 This bike comes with an advanced console that has several features such as a backlit monitor, Bluetooth audio speakers, a cooling fan, several navigational buttons, a USB port, and a tablet holder.  
The display screen is about 10.1'' in size and has a blue backlit. It tracks workout stats such as Time, Distance, Speed, Watt, RPM, Calories, and pulse with high readability that cannot be compromised by a poorly-lit environment.
Also, the resistance level that is being used is indicated.
Data such as age and weight must be inserted in order for the console to correctly calculate the calories burned.
The console is telemetry-enabled, meaning that it's compatible with a wireless HR chest strap. Aside from using the EKG HR contact sensors, this is a very good way to track your heart rate in order to maintain your target heart rate zone. Unfortunately, the wireless HR chest strap device is not included in the package.
There are 10 programs that include 6 standard programs (for Hill, Fat-Burn, Cardio, Strength, Internal, Fit-Test), 2 custom programs, and 2 heart rates. When any of these programs is selected, a certain resistance level is automatically assigned to you.
But of course, there is also the manual mode that gives you the opportunity of selecting any resistance level you desire.
Accessory
As aforementioned, the Sole LCB Upright Bike has quite a number of extras such as Bluetooth speakers that are compatible with smartphone/tablet devices. These enable you to enjoy listening to music via the built-in speakers if you don't wish to use earplugs.
The output quality is not the highest but better than most on average bikes and even smartphones.
There is a UBS port for charging your smartphone/tablet device while working out.
You can maintain proper hydration by using the twin water bottle holders that are designated on the middle part of the mast. They are within arm's reach as well.
A cooling fan is designated between the built-in speakers at the top of the console, but below the tablet holder. This keeps you cool while you work out to achieve your fitness goals.
Finally, there is a large tablet holder at the top of the console, wide enough to accommodate even a bigger tablet device without blocking the view of the monitor.
Pros/Features Overview
High-quality construction
Very stable and compact
Portable with transport wheels at the front base
It is a light commercial bike
Supports an expanded maximum user weight capacity of 350 lbs./158.7 kg.
The seat is comfortable and 4-way adjustable
10 programs including 6 standard programs, 2 custom programs, and 2 heart rate programs
EMS resistance system with 40 adjustable levels
It is self-powered; doesn't need to be plugged-in in order for it to be functional
The handlebar is multi-grip designed with integrated EKG HR contact sensors
10.1'' blue backlit monitor tracks workout progress
Bluetooth speakers
A cooling fan is included
USB charging port for a smartphone/tablet device
Water bottle holders included for proper hydration
30 lbs./13.6 kg heavy flywheel provides a consistent moment and smooth resistance transition
The bike's operation is smooth and quiet, thanks to its belt drive system
Low maintenance
Not difficult to assemble
Great warranty
Cons
The wireless HR chest strap device is not included in the package
No online connectivity
Warranty
Lifetime for Frame
5 Yeas for Parts & Electronics
2 Years for Labor
Light Commercial Warranty
Lifetime for Frame
3 Years for Parts & Electronics
1 Year for Labor
Product Dimensions and Specifications
Length 44''
Width 23''
Height 55''
Shipping dimensions: 46'' x 18'' x 30''
Product weight: 130 lbs./59 kg.
Shipping weight: 150 lbs./68 kg.
Maximum user weight capacity: 350 lbs./158.7 kg
Frame: Solid steel
Flywheel: 30 lbs./13.6 kg
Seat: 4-way adjustable
Handlebar: Non-adjustable
Heart rate monitoring: EKG contact sensors & HR chest strap compatible
Programs: 10 (6 standard programs, 2 custom programs, 2 heart rate programs)
Drive: Belt
Resistance: EMS (Eddy current magnetic) 40 resistance levels
Power: Self-powered
Bluetooth Speakers
USB port
Tablet holder
Water bottle holders
Cooling fan
Transport wheels
Shipping
The Sole LCB Upright Bike is shipped out in a heavy box that weighs about 130 lbs./59 kg with dimensions of 48'' x 18'' x 30''.
Amazon offers free standard shipping.
Assembly
The unit is not difficult to assemble as the major and complicated components are preassembled.
It is pretty simple and straightforward to put together as an instruction manual that walks you through the process and the tools needed for the job are all included in the package.
Assembly takes less than an hour to complete.
Maintenance
There is no major maintenance requirement needed.
Simply ensure that the upright bike is kept clean at all times with the console protected from liquids. Always examine the parts to ensure that they are tight and good before using the bike for workouts.
Conclusion
The Sole LCB Upright Bike is undoubtedly a sturdy and quality bike that also provides some impressive features that could help you stay focused and motivated while you try to achieve your fitness goals.
Having this upright bike at your disposal could really help to expedite the actualization of those goals, pronto.
Comparison-Table
| | | |
| --- | --- | --- |
| | Sole LCB | Sole B94 |
| Maximum User Capacity | 350 lbs./158.7 kg. | 300 lbs./136 kg |
| Workout Display | 10.1" TFT LCD | 9" LCD |
| Resistance Type | EMS | ECB-Self-powered |
| Resistance Level | 40-Level Magnetic | 20-Level Magnetic |
| Flywheel weight | 30 lbs./13.6 kg. | 20 lbs./9 kg. |
| Bluetooth Compatible | Yes | Yes |
| Tablet Holder | Yes | Yes |
| Water Bottle holder | Yes | Yes |
| USB Port | Yes | Yes |
| Pedals | Non-slip with adjustable straps | Non-slip with adjustable straps, 2 degrees inward slope |