The MaxKare Stationary Cycling Spin Bike is represented in black and yellow colors and this review is apparently all about the latter. The Yellow MaxKare Stationary Cycling Spin Bike is a spin bike designed for home use and might pass for one of the best entry levels and affordable spin bikes.
The handlebar is multi-grip designed with elbow pads that help to rest the arms comfortably while exercising with the bike.
Users of different fitness levels will appreciate the bike because it has a 44-pound/20 kg perimeter-weighted flywheel that provides enough momentum for smooth rides and also aids in intensifying resistance difficulty. Therefore, beginners and advanced athletes alike will be pushed to the limit by this cycling bike.
Its adjustability allows you to customize for suitability and comfortable riding posture. Multiple users could utilize it as well.
The display tracks workout progress by displaying workout stats such as time, distance, calories burned, speed, heart rate, and SCAN. This helps to keep you motivated and focused toward achieving your fitness goal(s).
Its construction is solid, features a steel frame that supports 264 pounds/120 kg maximum user weight capacity. Not foldable but compact and non-space invasive due to its small footprint.
It is a belt, front-driven bike that is equipped with a friction resistance system. Users often buy it with a protective rubber mat that enhances stability and protects the floor and a gel seat cover that improves the comfortability of the seat.
Click right here to have a peek at the price of the MaxKare Stationary Cycling Spin Bike on Amazon.
Frame and Construction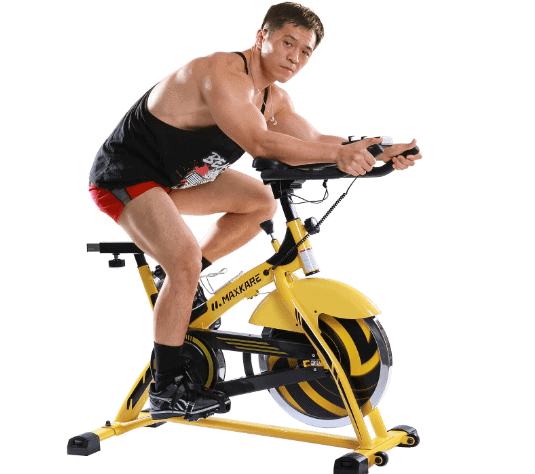 As aforementioned, the MaxKare Stationary Cycling Spin Bike features a steel frame that is coated with anti-corrosive and scratch paint. This is meant to preserve its quality and original looks in the long run.
The machine is mostly made of steel except for some parts (safety and cosmetics purposes) that are made of ABS material. Parts such as the belt and flywheel guards provide safety and a beautiful outlook.
The unit does not support high user weight capacity as some of the commercial spin bikes out there but does support 264 pounds/120 kg maximum user weight capacity.
Its overall assembled dimensions are 43 inches long by 19 inches wide by 45 inches tall. These show it has a smaller footprint than most standard indoor cycling bikes.
A workout area of 3'6'' long by 1'6'' wide will suffice and a ceiling height of at least 7' high will be necessary so that stand-up pedaling can be performed. That said, it is also necessary to consider adding extra clearance of 1'-2' at the rear and on each side of the bike if it is going to be used in a confined area for safety and convenience workout performance.
The base framework features rectangular steel front and rear stabilizer bars with a protective rubber cap on each end. This ensures that the bike does not wobble or shake during workouts. The levelers also allow the user to adjust and balance the base on a floor/surface that is crooked.
The front base also has transport wheels integrated into it for portability.
The Seat, the Handlebar, and the Pedals
The seat is completely customizable; whether you wish to adjust it vertically or horizontally, it is possible. In other words, the seat is 4-way adjustable. You can also use a gel seat cover to improve the feel and comfort of the seat. And if for any reason you desire to replace the seat with another you can because its connection mechanism is standard and therefore finding a replacement won't be a problem.
That said, the seat is not very slim in shape as the one on ASUNA Minotaur for instance. It is a little bit wider and padded to provide some level of comfort during seated workouts.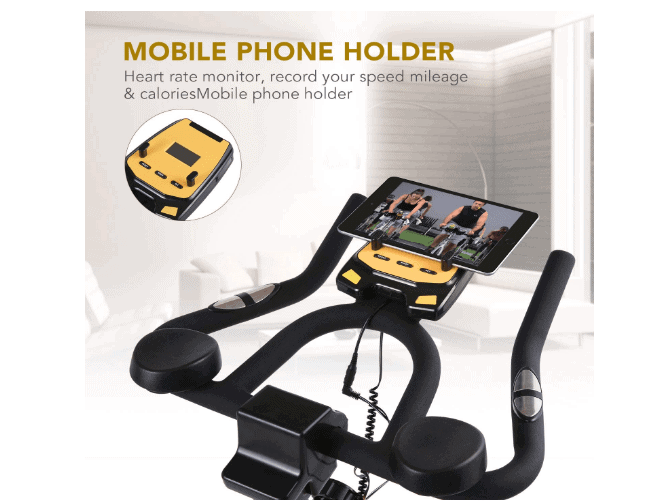 The handlebar features a multi-grip design for different workout postures. It even has a set of elbow pads that enable a user to comfortably work out in a certain posture.
It is 2-way adjustable; can be vertically adjusted.
One of the grips has the contact heart rate sensors embedded in them so that when gripped during a workout the heart rate is transmitted to the monitor for proper observation and maintenance of the heart rate target zone by the user.
The handlebar is also coated with a soft rubber foam material for secure and comfortable grips that prevent slippage or blisters in the palms. Therefore, the user should be able to train longer without feeling sore.
The combined adjustability of the seat and the handlebar makes it possible for multiple users to utilize the bike. It is stated, users between the heights of 4'11 to 6'3'' could find it suitable.
The pedals are not dual-sided designed. They feature toe cages with adjustable safety straps that accommodate standard gym shoes only. This means spin shoes cannot be used with the pedals; however, it is possible to swap them for SPD clips for spin shoes.
They (pedals) are made of metallic alloy and therefore very durable and can support stand-up pedaling of a user that is within the stipulated weight range.
The Drive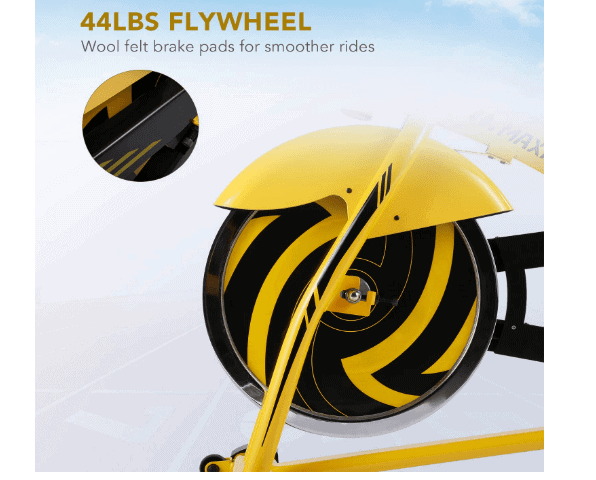 The MaxKare Stationary Cycling Spin Bike is incorporated with a belt drive system that provides smooth and quiet operation. The drive system consists of a heavy-duty belt, pulleys, crankset, crank arms, and the chromed perimeter weighted flywheel.
Unlike the chain drive system, this does not require any periodic lubrication or adjustments. However, it may not provide the feel of riding a real road bike like the former does but its near-silent operation and maintenance-free design endears it to so many spin bike enthusiasts.
As a result, you can train whenever and however you want without violating the family's and neighbors' quiet time. You may also watch your favorite TV show or listen to good music without having to amplify the volume up so high.
That said, you cannot coast on the bike as you could on a road bicycle because the flywheel and the pedals are fixed and as a result, you must apply the emergency brake by pushing the tension knob down especially when the flywheel is spinning so fast and you wish to stop pedaling abruptly.
The application of the emergency brake is necessary in order to prevent a mishap.
The Resistance
The MaxKare Stationary Cycling Spin Bike is equipped with a friction resistance system. This resistance system comprises the tension knob that is connected to the felt brake pad that is facing the chrome top surface of the flywheel.
Usually, a friction resistance system provides a variety of workout challenges that are suitable for everyone and the one on the MaxKare Stationary Cycling Spin Bike is no different.
It is simply manipulated by turning the tension knob clockwise to increase the resistance and anticlockwise to decrease it and push it down to stop the spinning of the flywheel.
The resistance is good for beginners, intermediaries, and advanced users.
However, it doesn't have predefined resistance levels as some spin bikes do. You just twist the tension knob either way until you feel you have the suitable resistance for exercise. It is in other words referred to as infinite resistance.
No maintenance is either required except in some cases you might need to apply a silicone-based lubricant on top of the flywheel surface to reduce any friction sound that may occur when the resistance is engaged.
The Console
The console on this unit is basic and it features an LCD monitor and a built-in tablet holder. The monitor is battery powered (2 AAA batteries) and with it, you keep track of your workout progress as it displays workout stats such as time, distance, speed, calories burned, and heart rate.
The readability is great as long as it is being viewed in a well-lit room or environment because it is not backlit.
It doesn't display multiple workout stats at a time but instead uses what is known as the SCAN function by default, exhibiting the workout data one at a time after a few seconds and rotationally. This way you can have a view of all the workout data but at different times. You can or may set a certain workout value of your choice to display constantly instead.
The monitor also allows you to set a goal count down for the time, distance or calories burned.
It can be turned ON/OFF via the MODE button and there are two other buttons (RESET & SET buttons) that help you to navigate.
The monitor also turns ON when there is activity on the bike and automatically turns OFF when activity ceases for a few minutes in order to save battery power.
Accessory
As mentioned above, the console features a built-in tablet holder that allows you to keep a tablet or any smartphone device handy for taking calls or for entertainment purposes during a workout.
However, if a device is placed on the tablet holder the display screen might get blocked.
The bike also has a water bottle holder that enables you to keep water within reach during exercises for hydration.
Storage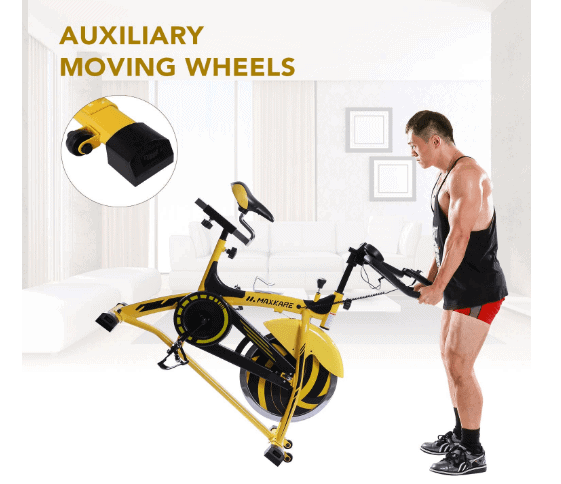 The MaxKare Stationary Cycling Spin Bike is easy to store away because it is portable and not too heavy, and compact. So, easy to move to a storage area and it doesn't take up too much space as well.
Basically, an area perimeter of 3'6'' long by 1'6'' wide will suffice and there are a lot of possible places to put it away.
Approval Rating
The unit has an impressive Amazon approval rating that is compelling. There are several reviews left on Amazon by users and the majority of them were appreciative of the bike and say they would recommend it.
Pros/Features Overview
Sturdy and stable
The perimeter weighted flywheel provides momentum for a smooth ride
Its operation is near-silent
The seat and the handlebar adjustability allow users to customize settings to suit them; as a result, users between 4'11'' to 6'3'' tall can be accommodated comfortably
The resistance system provides a variety of workout challenges that are suitable for everyone at any fitness level
Transport wheels are included
The LCD monitor tracks workout progress and allows you to set workout goals for time, distance, and calories burned
You can work out and be able to keep an eye and maintain your heart rate target zone
A tablet holder is included for a tablet or smartphone placement
A water bottle holder is integrated for hydration
Low maintenance
Easy to assemble
Elbow pads for the elbows
The pedals have toe cages that secure the feet and provide leverage and support for an aggressive thrust
It doesn't invade space
Cons
The monitor screen gets blocked when a tablet device is placed on it
The display is not backlit therefore will be difficult to view in a poorly-lit environment
Warranty
90-day full refund and 24-month warranty
Product Dimensions and Specifications
Length 43''
Width 19''
Height 45''
Weight: 92 pounds/42 kg
Supports 264 pounds/120 kg maximum user weight capacity
Drive: Belt
Resistance: Friction, infinite
Seat: 4-adjustable
Handlebar: 2-way adjustable
Pedals: Toe cages with adjustable straps
Flywheel: 44 pounds/20 kg
Transport wheels: Yes
Tablet holder: Yes
Water bottle holder: Yes
Console: Basic, LCD nonbacklit, displays time, distance, speed, calories burned, and heart rate, and SCAN function; set goals for time, distance, and calories burned
Shipping, Assembly and Maintenance
Shipping
The MaxKare Stationary Cycling Spin Bike is shipped in a box with dimensions of 44 inches by 9.3 inches by 32 inches and weighs 100 pounds/45 kg.
Its shipping cost varies as it is determined by the vendor you are purchasing from. Amazon charges about $10 for shipping and they deliver within days of order.
Assembly
The assembly of this unit is relatively easy and straightforward because the main components are preassembled. You only need to attach the front and rear stabilizer bars, the seat and the handlebar posts, the seat, the handlebar, the pedals, and the console to the core unit.
The assembly instruction manual is included in the package for easy follow-through. Tools required for the assembly are also included in the package as well.
It takes less than an hour to fully assemble it to a completely functional level.
Maintenance
No serious maintenance is needed when the bike is fully assembled. You probably need to apply a silicone-based lubricant on the flywheel top surface in order to reduce any unpleasant noise it might emit when the resistance is engaged.
Keep it clean from dirt and sweat at all times and ensure to examine it before use for any loose or broken part.
Conclusion
The MaxKare Stationary Cycling Spin Bike is an affordable standard spin bike that is capable of providing cardiovascular exercises in the comfort of your home. You will be able to work out with it and achieve fitness goals such as improving cardiovascular health, strengthening of the lower body muscle groups and the core, weight loss, endurance, and strength improvement.
[rank_math_rich_snippet]