The Miageek Fitness Folding Electric Treadmill is an affordable treadmill that is designed for home use. It enables users to basically walk and jog. The treadmill features basic functions that allow a user to improve cardiovascular health, lose weight and improve strength and endurance.
It is compact and portable; so, if you are looking for something small, quiet, and smooth then the Miageek Fitness Folding Electric Treadmill might just be where to look at. Great for home, dormitory, and office use.
The space-saving design allows you to easily fold up and store away when you are done exercising with it. Durably built to support 220 pounds/100 kg maximum user weight capacity.
The 1.5 HP motor is responsible for its smooth operation and support for walking and jogging exercises. Its console features a multi-functional LCD monitor that keeps track of the user's workout progress, including heart rate.
The running surface is designed with a level 6 damping system, high strength, high density, high elasticity double deck anti-slip, and anti-static lawn texture belt. This means it is safe to exercise on the treadmill, the impact on the joints is reduced, and no slipping.
However, the unit is integrated with a safety function also known as the auto-stop safety key that stops the treadmill's operation in the event the user trips or falls.
Click right here to have a peek at the price of the Miageek Fitness Folding Electric Treadmill on Amazon.
Frame and Construction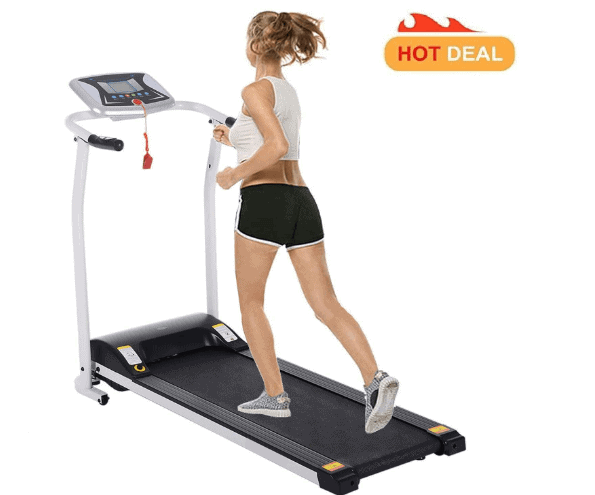 The Miageek Fitness Folding Electric Treadmill has a durable steel frame that supports users' weight up to 220 pounds/100kg, while a smaller percentage of the parts are made of plastic.
As aforementioned, the deck has a level 6 damping system that includes a non-slip layer, support layer, sound insulation layer, shock layer, avoidance layer, and compression layer. The surface has a wear-resistance surface that is also anti-slip. Therefore, the running surface is durable and safe to exercise on it.
The treadmill is really small and doesn't take up space like the Sole F63 2019 Folding Treadmill or the ProForm Performance 900i Treadmill does. Its overall assembled dimensions are 49 inches long by 23.53 inches by 42.13 inches tall. In other words, it will require a workout area of 4'1'' long by 2' wide and a ceiling height of at least 7' high.
The tread belt dimensions are 40.95 inches long by 14.04 inches wide. This means users who intend to walk or perform light jogging will find it useful.
Its space-saving design allows the user to fold and put it away when not in use without invading space as much as it does during usage. As a matter of fact, it could be stored next to a wall because the folded dimensions are 9.45 inches long by 23.53 inches wide by 47.25 inches tall.
No wobbling or shaking will be experienced during an exercise due to its base framework and its overall weight of 57 pounds/25.9 kg.
There are tread belt tension adjustments on each side of the decked rear and an easy self-lubrication point for the smooth operation of the belt.
This is simply an ideal machine for members of the family, office workers, and students that wish to lose weight and stay physically fit.
Motor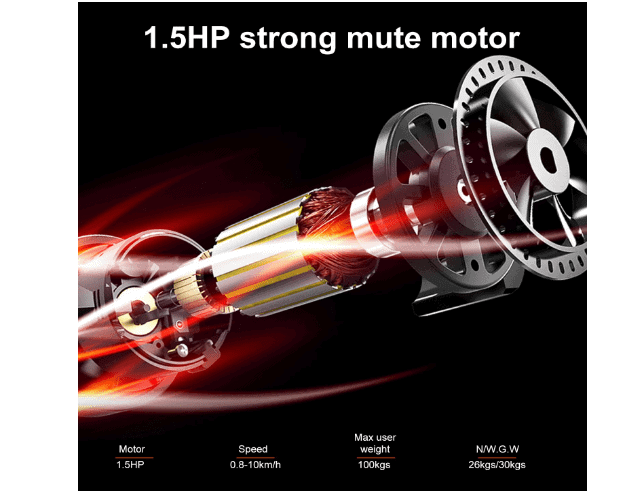 The Miageek Fitness Folding Electric Treadmill has a 1.5 HP strong mute motor that supports the walking and jogging activities without a breakdown.
The motor doesn't cause vibration and it's mostly responsible for the smooth and quiet operation of the treadmill. Users can train without being anxiously bothered by the knowledge that the family or the neighbors might be disturbed. Therefore, the user can channel all energy and concentration towards achieving fitness goals.
Moreover, watching a favorite TV show or listening to good music might be considered while working out in other to create the necessary distraction that helps to achieve one's overall goals.
The motor provides a speed limit range of 0.5-6 mph/0.8-10 kph. This is just enough for walking and jogging exercises. Speed is increased and decreased via the +/- speed buttons on the console.
The Console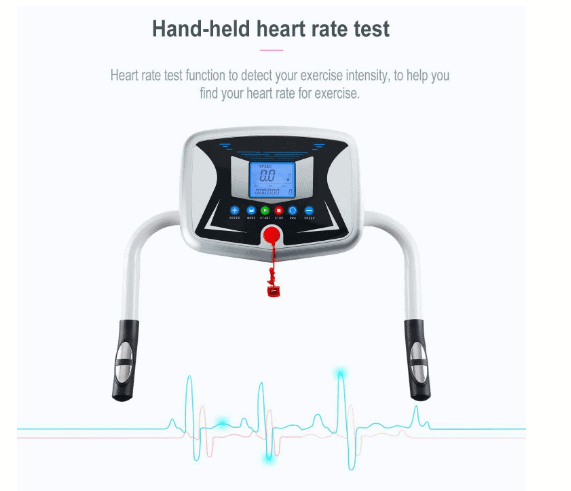 The treadmill is equipped with a simple yet very useful console that features a backlit LCD monitor and navigational buttons that include SPEED, MODE, START, STOP, PROG, and SAFETY KEY.
The monitor keeps track of speed, distance, calories burned, and time. it displays them simultaneously as there are four separate windows for them.
The display is good and readable and won't be affected by the state of the light in the room where it is being used.
The contact sensors must be held during a workout before the user can view and observe the heart rate data on the monitor. This is important because you will be able to work out to maintain your target heart rate zone at all times.
The console and of course the treadmill motor require a rated power source of 110v to be operational or functional.
Incline
Sorry, the Miageek Fitness Folding Electric Treadmill doesn't have an incline system.
Storage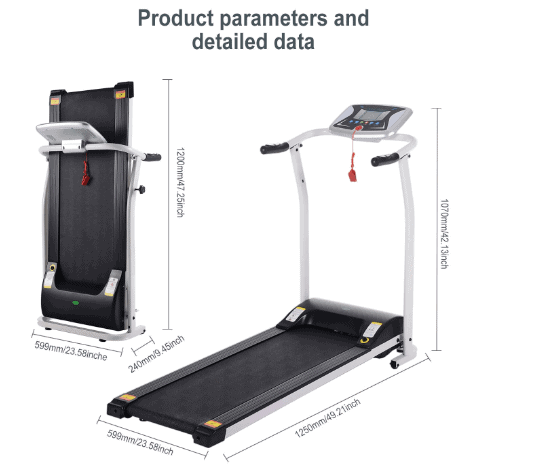 The Miageek Fitness Treadmill has a space-saving design that allows you to fold it up when not needed. It could be folded up to be stored next to a wall. Unfortunately, it can't be stored under the bed as some prospective users have expected.
However, it is significantly reduced when folded from its overall assembled dimensions. The folded dimensions are 9.45 inches long by 23.58 inches wide by 47.25 inches tall. This could have perfectly been fine under the bed if not for the console and the handrails that stick out.
Accessory
There is no accessory available on the Miageek Fitness Folding Electric Treadmill. You must improvise to keep water or a smartphone within reach for staying hydrated and entertained.
It does not also have a sound system.
Approval Rating
For the most part, users have expressed satisfaction for its quiet operation and compact design. Many users on Amazon see it as a good buy considering its price and the fact that it can fit in a small space and still offer decent workouts that lose weight and improve the overall physical fitness.
That said, it has a good approval rating on Amazon at the time this review was written.
Pros/Features Overview
It is durable and stable
Suitable for walkers and joggers
Supports 220 pounds/100 kg maximum user weight capacity
It is compact and has a space-saving design that makes storage easy and convenient
The motor is strong and quiet during operation
Running surface has a level 6 damping system that reduces the impact on the joints
Integrated LCD monitor keeps track of workout progress such as time, speed, distance, calories burned and heart rate
The contact sensors make it possible for the user to observe the heart rate data
It is portable with transport wheels
Easy to maintain
Easy to assemble
A tube of lubricant oil is included in the package
The treadmill is affordable
Cons
No water bottle and tablet holders
Sound system
No Incline
Not good for runners
Product Dimensions and Specifications
Length 49.21''
Width 23.58''
Height 42.13''
Folded dimensions: 9.45'' L x 23.58'' W x 47.25'' H
Running surface: 40.95'' L x 14.04'' W
Motor: 1.5 HP
Speed: 0.5-6 mph
Max. User weight: 220 pounds/100 kg
Rated voltage: 110V
Weight: 57 pounds/25.9 kg
Heart rate: Contact
Incline: No
Frame: Steel
Display: LCD monitor
Water bottle holder: No
Tablet holder: No
Transport Wheels
Shipping, Assembly, and Maintenance
Shipping
The Miageek Fitness Folding Electric Treadmill is shipped in a box. The shipping cost depends on the shipping policy of the vendor you are purchasing from. Amazon charges about $20 for shipping and delivers within days of order.
Assembly
Assembling the treadmill is never difficult as it comes with the main components pre-assembled. Even an 80-year-old can successfully assemble the treadmill.
Basically, you are required to attach the console mast and the console to the deck. The tools needed for the assembly and an instruction manual are included in the package.
It takes about 30 minutes more or less to completely assemble the treadmill to its functional state.
Maintenance
The treadmill is almost maintenance-free as you don't even have to lubricate it upon arrival before use. However, it may need to be lubricated after a period of time and usage in order to keep the tread belt running smoothly.
Ensure to keep the unit clean from dirt and sweat before and after use.
Conclusion
The Miageek Fitness Folding Electric Treadmill is a considerable machine for those that really need something small for Walkling and jogging.
It sure meets the need of people with a space problem that also wishes to acquire a home treadmill for workouts.
Miageek Fitness Folding Electric Treadmill Review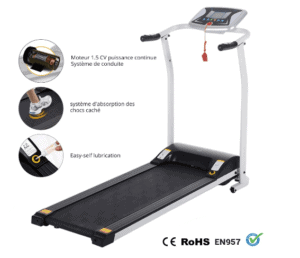 The Miageek Fitness Folding Electric Treadmill is an affordable treadmill that is designed for home use. It enables users to basically walk
Product Brand: Miageek Fitness
Product In-Stock: InStock