The SOLE E95S Elliptical is a high-end indoor elliptical machine that has got the features and the build to serve its purpose at home, which is to let the user comfortably transit and maintain top-notch physical well-being.
It is a full-body and low-impact trainer that is built to support 400 lbs./181 kg maximum user weight capacity. The 15'' adjustable physical-therapy designed pedals accommodate all foot sizes and adapt to different ways individuals walk.
The integrated console features an easy-to-read 10.1'' LED monitor that displays the workout stats simultaneously, offers the possibility to control the workout programs, the adjustment of the stride length, resistance level, and more.
There are other features that are included to make your workout experience fun-filled and productive. These features include the cooling fan, the USB port for charging, Bluetooth connectivity, sound system, etc.
Yes, it's pretty sizable, non-foldable, and would definitely require a little bit of space. Thus, not ideal for users living in a small room or apartment.
This elliptical machine is similar to the SOLE E95 Elliptical in so many ways, but the former has additional features.
In case you wish to see the differences between the E95S and E95 at a glance, below is a comparison table that does just that.
Click right here to have a peek at the SOLE E95S Elliptical.
Table of Comparison
| | | |
| --- | --- | --- |
| | E95 | E95S |
| Resistance | 400 lbs./181 kg | 400 lbs./181 kg |
| Flywheel weight | 27 lbs./12 kg | 30 lbs./13.6 kg |
| Max. Stride Length | 20"-22" | 18"-24" |
| Incline | Power Adjust. 1-20 | Nonadjustable |
| Pedals | Adjustable & cushioned | Cushioned & articulating |
| Bluetooth compatibility | Yes | Yes |
| Resistance | ECB, 20 levels | ECB, 20 levels |
| Programs | 10 | 10 |
| Telemetry-enabled | Yes | Yes |
Frame and Construction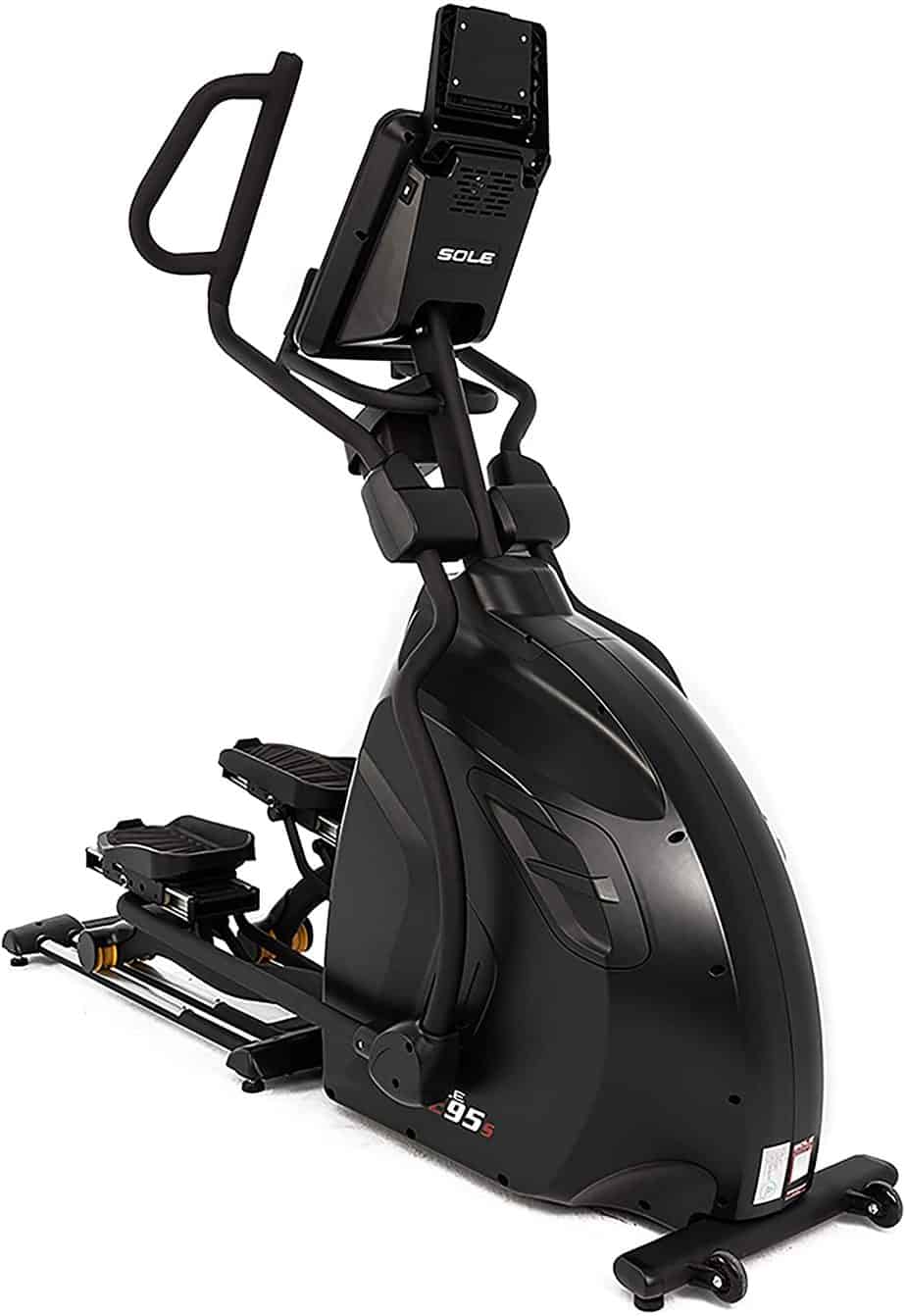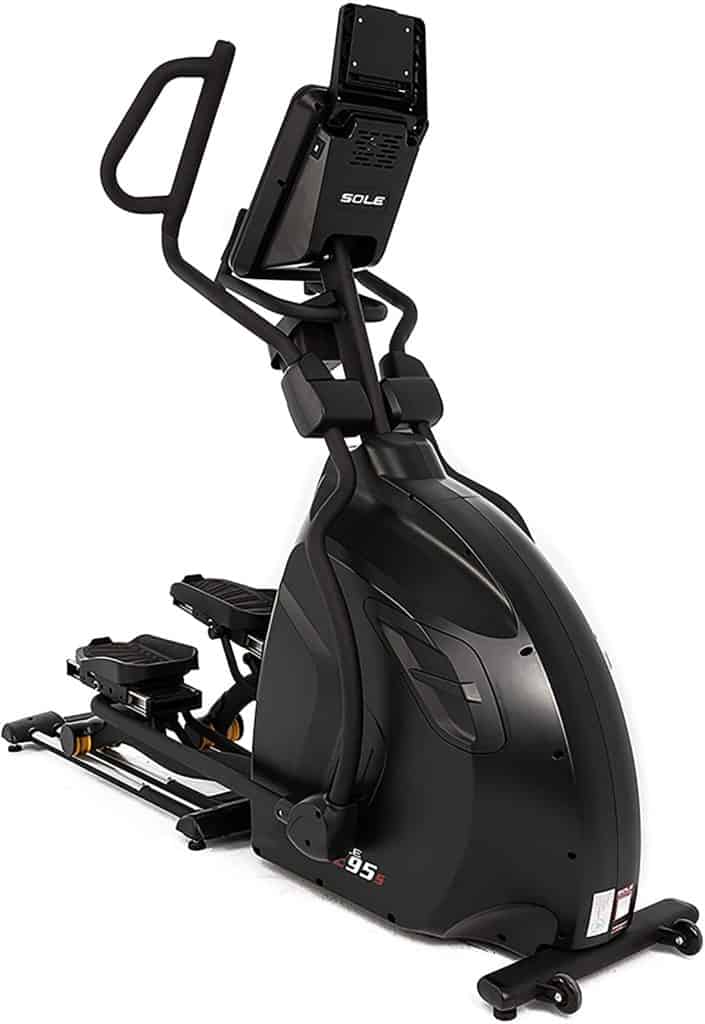 The SOLE E95S Elliptical frame is made of 38 mm heavy-duty steel. Its coverings and part of the pedals, the console, etc., are made of ABS plastic.
The frame is coated with black anti-corrosive paint that further fortifies it against the degradation that could be caused by the environmental effect over time.
There are two sections with three steel stabilizer bars at the base of the elliptical trainer that accommodates the drive and the rails. Underneath the stabilizers are rubberized adjustable levelers that enable the user to level up the machine on any type of flooring, be it crooked or even.
Thus, the SOLE E95S Elliptical is pretty stable and grounded considering the fact that it weighs about 265 lbs./120 kg as well.
To help in the relocation process of the machine, transport wheels are integrated at the front base.
As aforementioned, the machine is kind of bulky, so, it's going to need a sizable amount of space for a workout/storage. The assembled dimensions are 84'' long by 32'' wide by 70'' high.
Differently put, it will need a workout area with perimeters of 7' length by 2'7'' width, plus a recommended extra clearance of 2' around it for easy access and safety during workouts.
The Handlebar of the SOLE E95S Elliptical
There are 2 sets of handlebars on the SOLE E95S Elliptical. One set is fixed with EKG sensors integrated into them, while the other set is moveable with buttons on them to enable you to adjust the resistance level or the stride length on the fly.
They are both ergonomically designed to provide a universally suitable position for all users. The static handlebars are attached to the console mast, while the mobile handlebars run all the way down to the base, with the rollers and the pedals attached to them.
The two sets of handlebars are coated with a rubber foam that provides secure and comfortable grips that prevent slippage and blisters in the palms no matter the duration of your workout.
The Pedals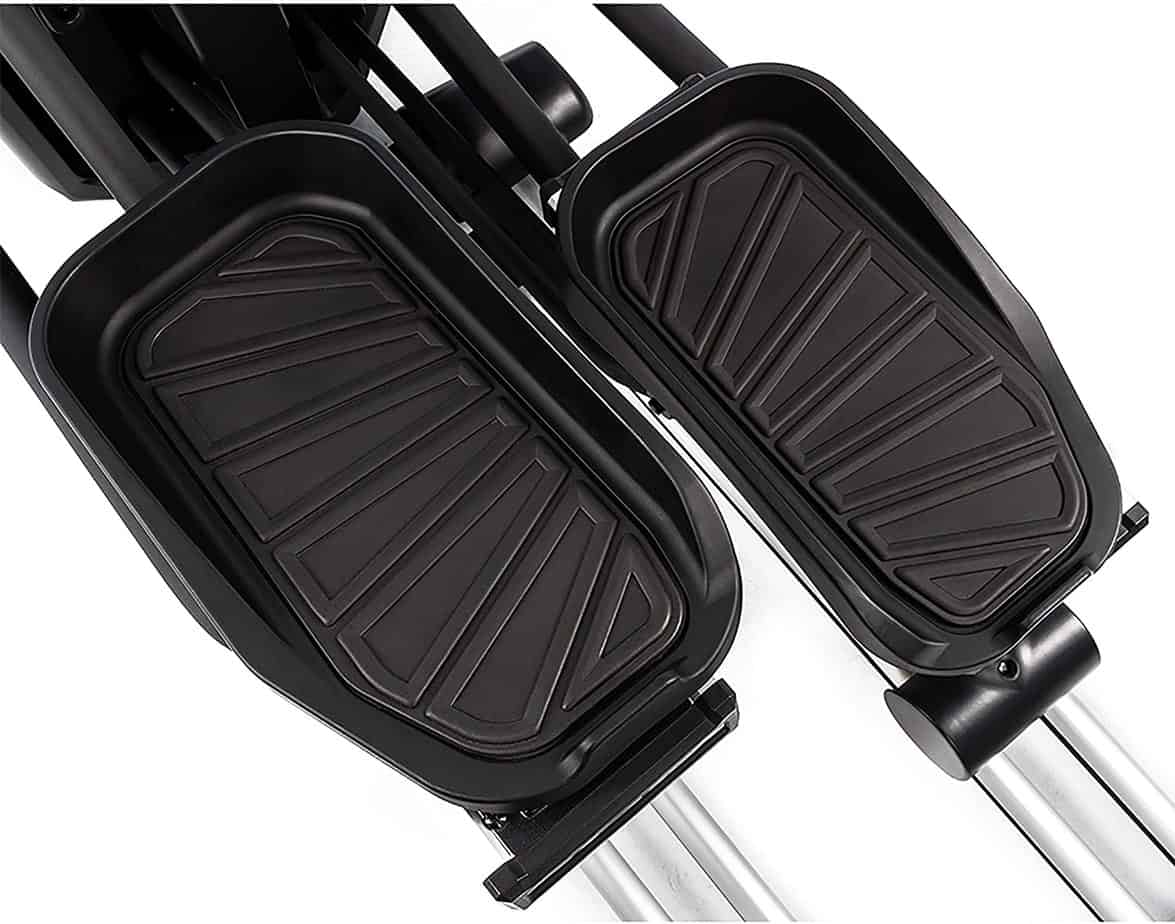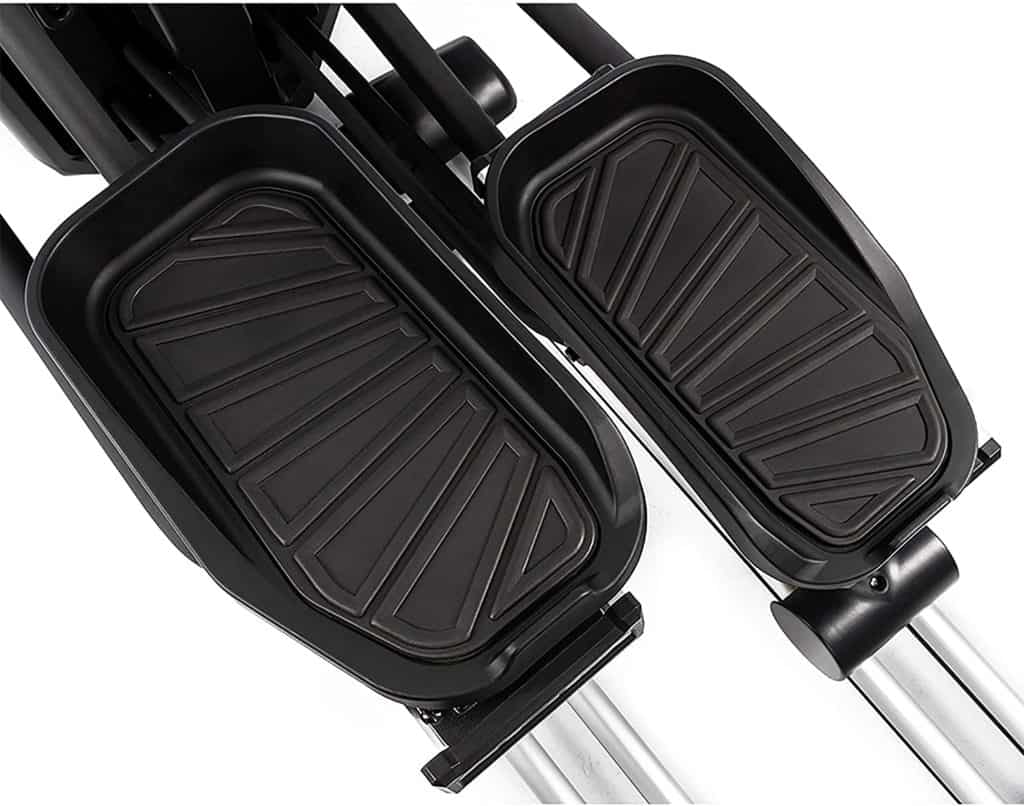 The large, textured, 15'' pedals with power adjustability have 2 degrees inward slope. They are designed and engineered to be suitable for all users regardless of their foot sizes or the way they walk.
As explained above, they are connected to the moveable handlebars and as a result, the pedals don't operate independently without the moveable handlebars moving as well. In other words, as long as you pedal, the mobile handlebars move also.
The pedals have power-adjustable stride lengths of 18''-24'' which help to reduce the numb toe effects and sore Achilles tendons. Consequently, you will be less concerned about being uncomfortable and be more focused on achieving your fitness goals.
You can simply adjust the stride length to get to your perfect comfort zone by the touch of a button.
It is pretty easy to get on and off the machine, due to the 14" step-thru pedal.
Moreover, the highest height position of the pedal is not stated, but it's presumed to be around 21''. So, if you are 6' or above your ceiling height should be 9' or more otherwise, there won't be enough clearance between your head and the ceiling when exercising on the machine.
The Drive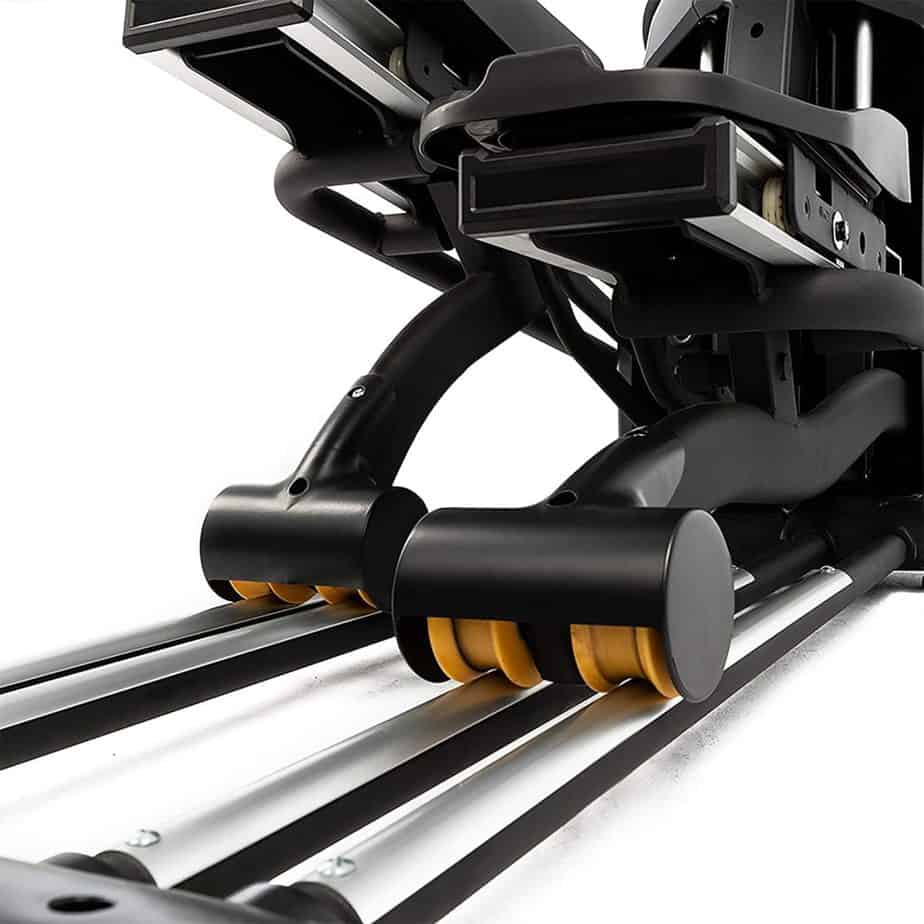 The SOLE E95S Elliptical is a front-driven machine that consists of a 30 lbs./13.6 kg perimeter weighted flywheel. This provides the momentum for smooth and quiet motion.
Therefore, exercising with the elliptical trainer at home at any time of the day won't be a problem for those around you. You may also watch a TV show or listen to your favorite music while working out without having to raise the volume beyond the normal level.
The drive is fixed; thus, you can pedal forward or backward.
Finally, the drive does not require you to take it apart in order to carry out maintenance; it's maintenance-free.
The Resistance
The SOLE E95S Elliptical has an eddy current electromagnetic resistance system (ECB). This is a power resistance system that is controlled via the console or the handlebar. Thus, it will require to be plugged into a power source in order to be functional.
There are 20 adjustable levels that provide different workout intensities that could be suitable and challenging for different users no matter their fitness level.
The 30 lbs./13.6 kg flywheel is one of the core elements including the magnetic brake that play a vital role in generating resistance.
Resistance is created without any friction between the parts in the resistance system. Instead, the magnetic brake emits a magnetic field around the flywheel for the generation of resistance.
It becomes more or less intense depending on the proximity of the magnetic brake to the flywheel as you adjust it via the console or the handlebar.
The elliptical machine's operation remains smooth and vibration-free even when the resistance is engaged and no part wears out as well.
Resistance can also be engaged automatically when a certain workout program is selected.
The Console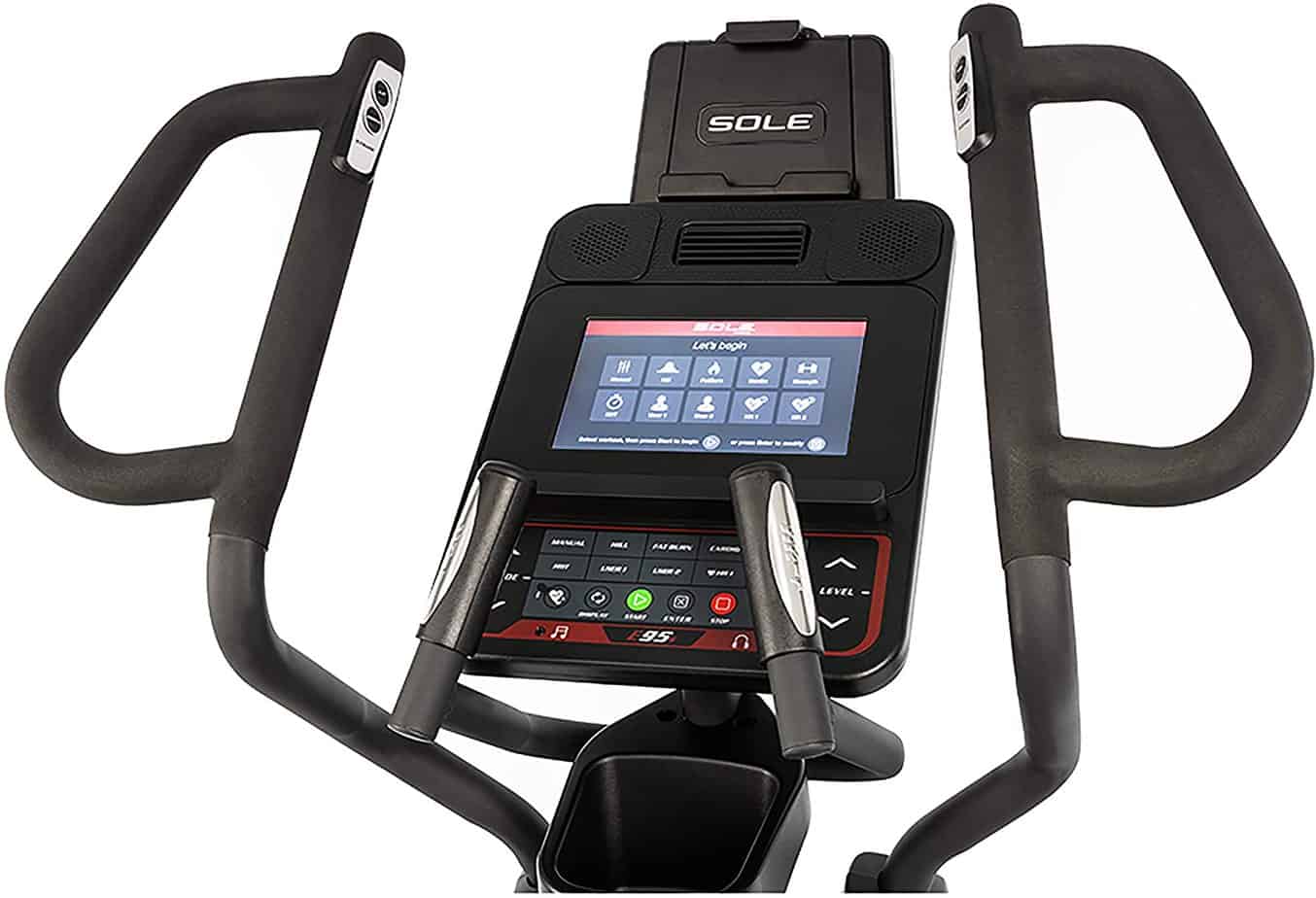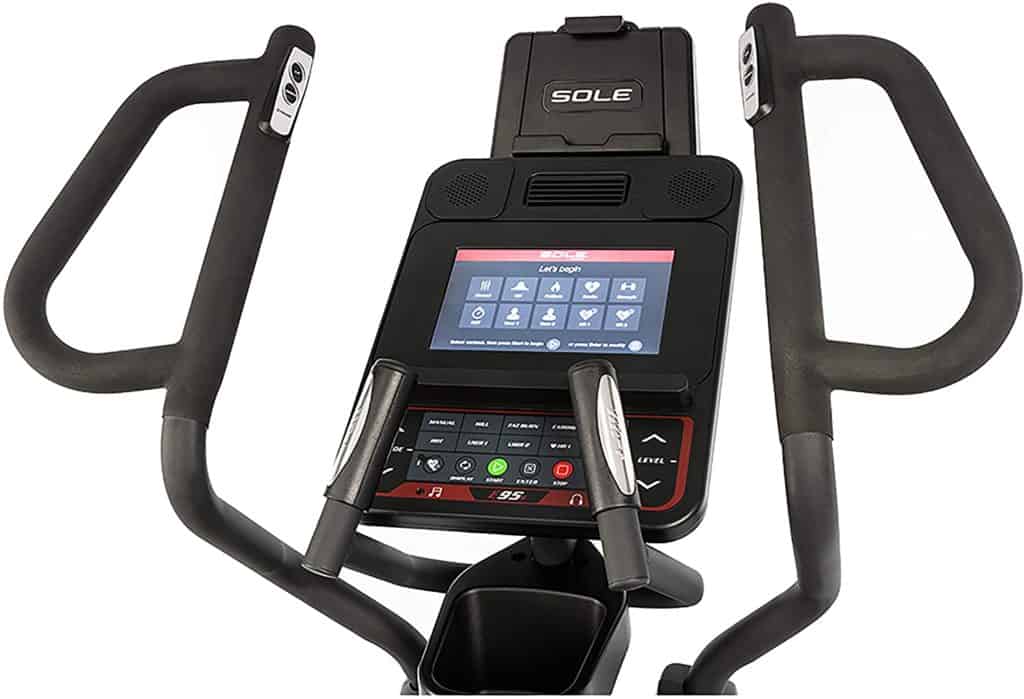 The SOLE E95S Elliptical has an adjustable console that features a large 10.1'' backlit easy-to-read monitor. It could be adjusted upward or downward for an enhanced view.
The backlit LED monitor tracks workout progress by displaying stats such as Pace, Time, Distance, Resistance, Level, Calories Burned, Heart Rate, and more.
Other features being featured on the console include 10 pre-set workout programs that include 6 Standard Programs (manual, cardio, fat burn, hill climb, interval, strength), 2 Custom Programs, and 2 Heart Rate Programs; Bluetooth compatibility, Bluetooth Speakers, Cooling Fan, USB Charging Port, wireless HR chest strap compatibility (HR chest strap included), and more.
The console has a lot of features designed to help you succeed even as you enjoy every bit of the workout activities.
The Bluetooth connectivity helps you to connect the built-in speakers with your smartphone device, and also to the SOLE app so that you can transfer workout data to your phone device; download and track your workout information for free.
Also, it's possible to transfer fitness data to other fitness apps such as Fitbit, Record, Mapmyrun, and Apple Health.
As you may have noticed, you can monitor your heart rate via the EKG contact grips or through the use of a wireless HR chest strap which is included in the package.
Accessory
A water bottle and tablet holders are integrated into the SOLE E95S Elliptical.
These are very essential to your physical fitness quest.
They are both strategically positioned within reach and optimized for usability.
You can keep water during a workout for proper hydration, and view your smartphone device without compromising the view of the elliptical machine's monitor.
In other words, stay hydrated, and be entertained as you work it out to attain the physical fitness you've always desired.
Storage
The storage of the SOLE E95S Elliptical will require a little bit of space. It's a heavy and bulky machine that is not foldable.
However, it won't really be a problem when you have to move it from one room to another due to integrated transport wheels at the front base. That said, moving it up or down the stairs might need two persons.
Pros/Features Overview
Very sturdy and durable
It's pretty stable
Supports a high maximum user weight capacity of 400 lbs./181 kg
Its custom-designed 2'' inward slope 15'' pedals are articulative and adjustable for optimum pedaling experience
Power adjustable stride length from 18'' to 24''
Dual handlebars: fixed and moveable
Transport wheels included
10 preset workout programs
Bluetooth compatibility for connection of the built-in speakers to the smartphone, and fitness apps
Track, download, and transfer workout data between the machine, smartphone device and the fitness apps
The adjustable console is suitable for everyone
The LCD backlit monitor tracks workout progress with high readability
Its operation is smooth and quiet
ECB resistance system provides 20 different intensity levels that challenge different users
The machine provides full-body and low impact workouts
Easy 14'' step-up height
30 lbs./13.6 kg flywheel makes the motion stable and consistent
EKG contact grips and Wireless HR chest strap monitoring systems
Water bottle holder included
Cooling fan included
Tablet holder included
USB Port for charging d
HR chest strap device included
Maintenance-free
Warranty is good
Responsive customer service
Cons
It requires a sizable space for workouts/storage
It's heavy and might require two persons to move it upstairs
The number of the workout programs are rather small compared to what is obtainable from less expensive elliptical trainers #
Warranty
Lifetime for the Frame
5 Years for the Electronics
5 Years for the Parts
2 Years for the Labor
Product Dimensions and Specifications
Length 84''
Width 32''
Height 70''
Shipping dimensions: 76'' x 22'' x 39''
Maximum user weight capacity: 400 lbs./181 kg
Net weight: 265 lbs./120 kg
Gross weight: 309 lbs./140 kg
Pedals: 15'', articulative and power-adjustable
Handlebars: Fixed and moveable
Heart rate monitoring: Contact grip and wireless chest strap
Bluetooth compatible with fitness apps and speakers
Incline: Fixed
Step-up height: 14''
Stride length: 18''-24''
Resistance: ECB, 20 adjustable levels
Programs: 10 (6 Standard Programs [manual, cardio, fat burn, hill climb, interval, strength], 2 Custom Programs, 2 Heart Rate Programs)
Flywheel: 30 lbs./13.6 kg
Display: 10.1'' LED
Frame: 38 mm thick heavy-duty steel
Drive: Front
Cooling fan
Tablet and water bottle holders
Transport wheels
Shipping
The SOLE E95S is shipped out in a box that weighs 309 lbs./140 kg with dimensions of 76'' x 22'' x 39''.
Amazon offers free shipping and delivers it within a couple of days upon purchase.
Assembly
This elliptical trainer is delivered with the major components preassembled. However, there are things to be done and might take several hours to put together if you have to do it yourself.
It will be a good idea to have a helping hand when unpacking and assembling it.
An instruction manual and the tools needed for successful assembly are included in the package.
There is also an option on Amazon where you can opt for an expert assembly. Someone comes by the house and assembles it on your behalf at a cost.
Maintenance
No serious maintenance is required.
It basically needs to be kept clean from dirt and sweat at all times. Ensure that the rails are clean and don't expose the console to liquid or moisture.
Examine the machine before use for any loose or broken parts. Act accordingly if there is any problem.
More maintenance details are outlined in the owners' manual.
Conclusion
The SOLE E95S Elliptical is the runner's machine, and also for everyone else that wishes to experience quality workouts that get them to improve their overall well-being by losing weight, toning the muscles, improving cardio health, and more.
Its articulating power-adjustable pedals offer a customized stride length that is suitable and comfortable for a user.
There are other several features (most of which are explained in this review) that make the time spent on this elliptical trainer worth the investment and the effort to attain physical fitness.