The Sunny Health and Fitness SF-E3862 Elliptical has several interesting features that make it one of the best elliptical machines available. However, it offers a 15.75'' stride length that is a couple of inches lower than the compact Schwinn 411 Elliptical's 18'' stride length.
That said, the elliptical machine is still a great deal of a choice for many people depending on their needs.
For instance, it features fixed-incline, textured, articulated foot pedals that provide maximum safety, and stability during a workout. There are 24 workout programs that target different fitness goals such as weight loss, muscle toning, cardio health, strength, and endurance improvement.
There is also a Body Fat Calculator program that enables the machine to calculate your Body Mass Index (BMI) based on the height, weight, age, and gender information supplied.
The elliptical trainer is built to support a maximum user weight capacity of 265 lbs./120 kg.
Click right here to have a peek at the Sunny Health and Fitness SF-E3862 Elliptical.
Frame and Construction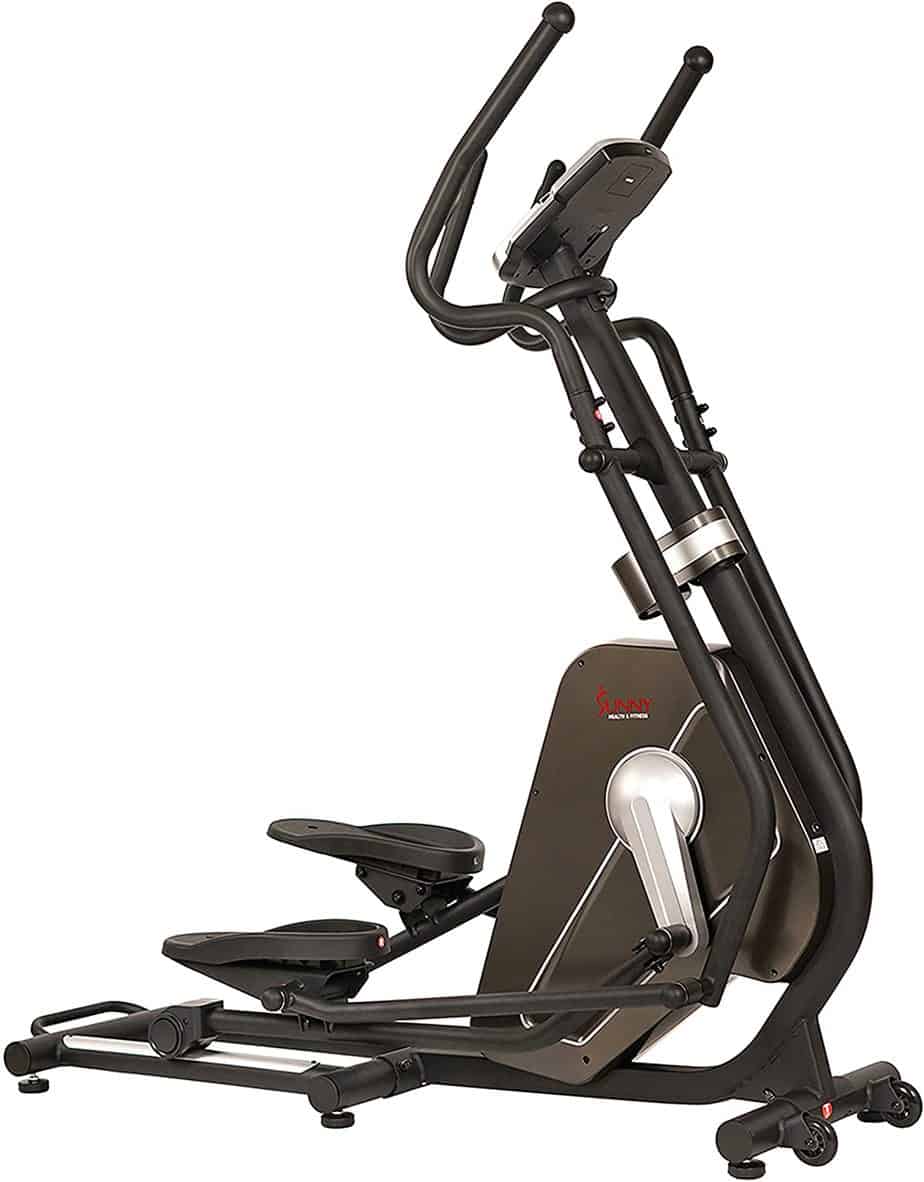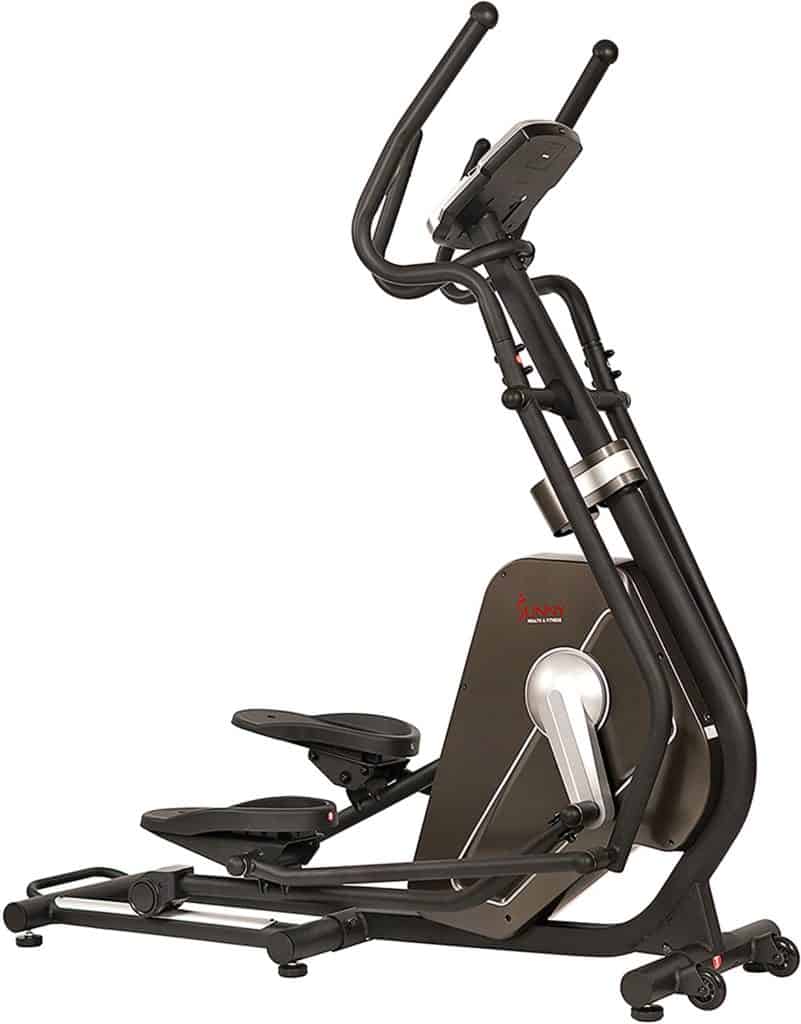 The Sunny Health and Fitness SF-E3862 Elliptical's build consists of two major elements, steel, and ABS materials. The frame is made of solid, heavy-duty steel while the coverings for the drive/resistance system, the pedals, the console, and several other small parts are made of ABS.
The steel parts are coated with anti-corrosive paint to prevent any degradation at any point in time.
The overall construction is sturdy and stable.
Speaking of stability; the SF-E3862 Elliptical Trainer has a well-designed and robust base that features six rubberized adjustable levelers. This means it's not only stable on well-leveled floors but including crooked ones.
Also, its overall assembled weight of 125.7 lbs./57 kg ensures that the trainer is well-grounded which ultimately boosts its overall stability.
Now, due to the weight, the assembly may require 2 pairs of hands to put it together.   
When it's fully assembled, it's pretty easy to move from one room to another regardless of its weight due to the integrated transport wheels at the front base and a lifting handle at the rear.
The machine is not really compact; its overall assembled dimensions are 63'' long by 21'' wide by 66'' high. Differently put, it requires a workout area with perimeters of 5'3'' length by 1'8'' width. A ceiling of 8' or more will be appropriate, however, this is in most part determined by the user's height.
For easy access and a convenient workout experience, it's recommended to consider adding extra clearance of at least 2' around the trainer, especially, if it's to be used in a confined area.
This elliptical trainer is a full-body and low-impact machine that gets you to lose weight and achieve other fitness goals with less stress on the joints and muscles.
The Handlebar of the Sunny Health and Fitness SF-E3862 Elliptical
The Sunny Health and Fitness SF-3862 Elliptical has two sets of handlebars that are fixed and moveable. They provide the flexibility that enables you to exercise the entire or just the lower body.
The fixed handlebars have the EKG contact sensors integrated into them so that your heart rate can be read when they are held during a workout, while the moveable handlebars allow you to exercise the upper body that includes the back, the arms, shoulders, and the chest.
You cannot use the moveable handlebars independently without having the pedals move as well. This is because they are fixed by design, therefore, both of them move simultaneously.
Both the fixed and moveable handlebars are coated with soft rubber foam that is designed to provide lasting comfort and safety even as you engage in a prolonged workout.
The Pedals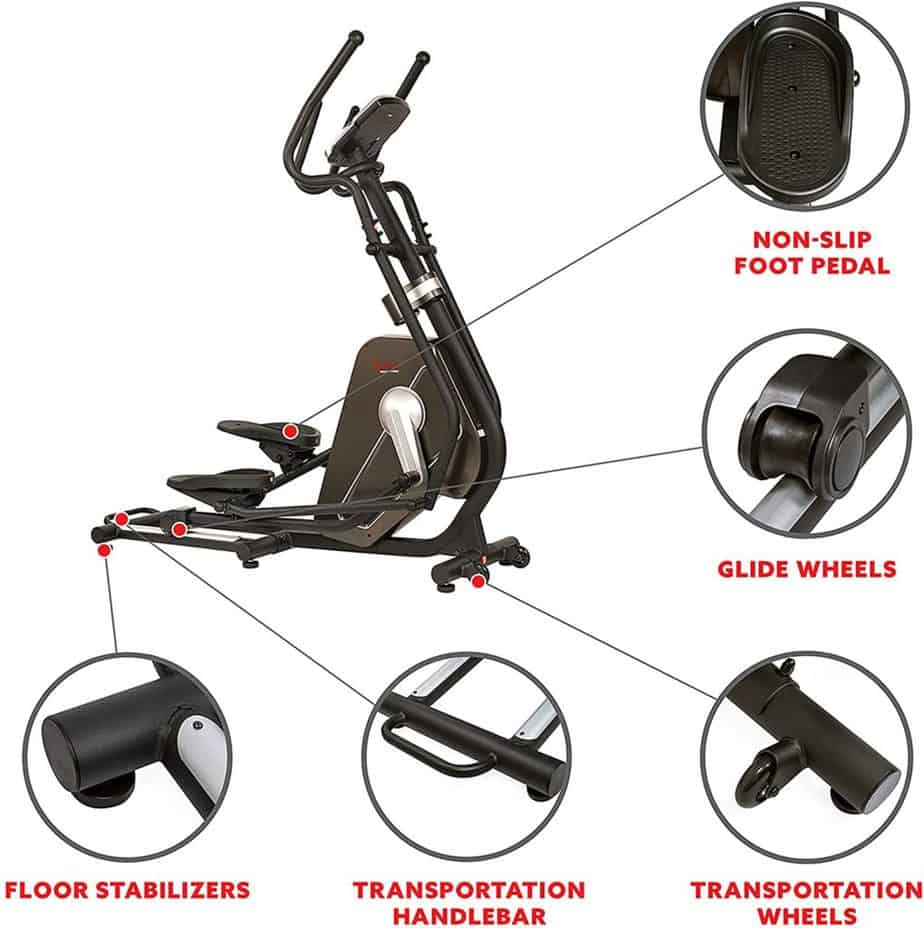 The pedals on the Sunny Health and Fitness SF-E3862 Elliptical are large, textured, with a protective border. They can conveniently accommodate different foot sizes.
They are connected to the crank-arms and to a couple of steel bars, two of which are integrated with wheel rollers (with internal ball bearings) that glide on the aluminum-covered rails. As a result, the pedals glide smoothly and quietly back and forth as you exercise on the trainer.
The step-up height (the lowest position) of a pedal is about 10'' while the highest position is about 17''. So, mounting and dismounting off of the trainer won't really be a hassle.
You can now also determine explicitly what your ceiling height should be considering what the highest pedal position is. Simply add your height to 17'' and also add an extra height of at least 20'' to get the right or suitable ceiling height for safe and comfortable workouts.
As aforementioned, the pedals have a stride length of 15.75'' which should provide a satisfactory range of motion for most users. However, very tall individuals that are more than 6' may experience leg extension restrictions. Again, this also depends on the individual's inseams.
The Drive
The Sunny Health and Fitness SF-3862 Elliptical is as expected, a belt-driven trainer. The belt is one of the elements that are responsible for smooth and quiet transmission.
Exercising with the elliptical trainer in a room or apartment won't really get in other people's way. You can watch your favorite TV show without having to keep the volume high beyond the normal range.
Moreover, the belt drive system saves you the trouble of having to take the shrouds apart in order to lubricate or adjust the belt because it doesn't need that, it's maintenance-free.
The drive is bidirectional; meaning you can pedal forward and backward. So, reverse pedaling is possible for workout diversification.
The Resistance
The Sunny Health and Fitness SF-E3862 Elliptical has a motorized magnetic resistance system. This means that it consists of a magnetic element, and a servo motor, thus, the elliptical trainer needs to be plugged into a power outlet before it will be functional.
There are 16 resistance levels that provide workout intensities that range between low to fairly difficult levels. For the most part, users that wish to improve or maintain their physical fitness should be able to do so with less stress.
The resistance level adjustment is not manually done but by a push of a button via the console, and it can also automatically assign one when a certain preset program is selected.
The operation of the trainer is smooth and vibration-free when the resistance is engaged, thanks to the perimeter-weighted flywheel. Unfortunately, the weight of the flywheel is unspecified, however, it is heavy enough to provide consistent momentum that enables steady motion.
The Console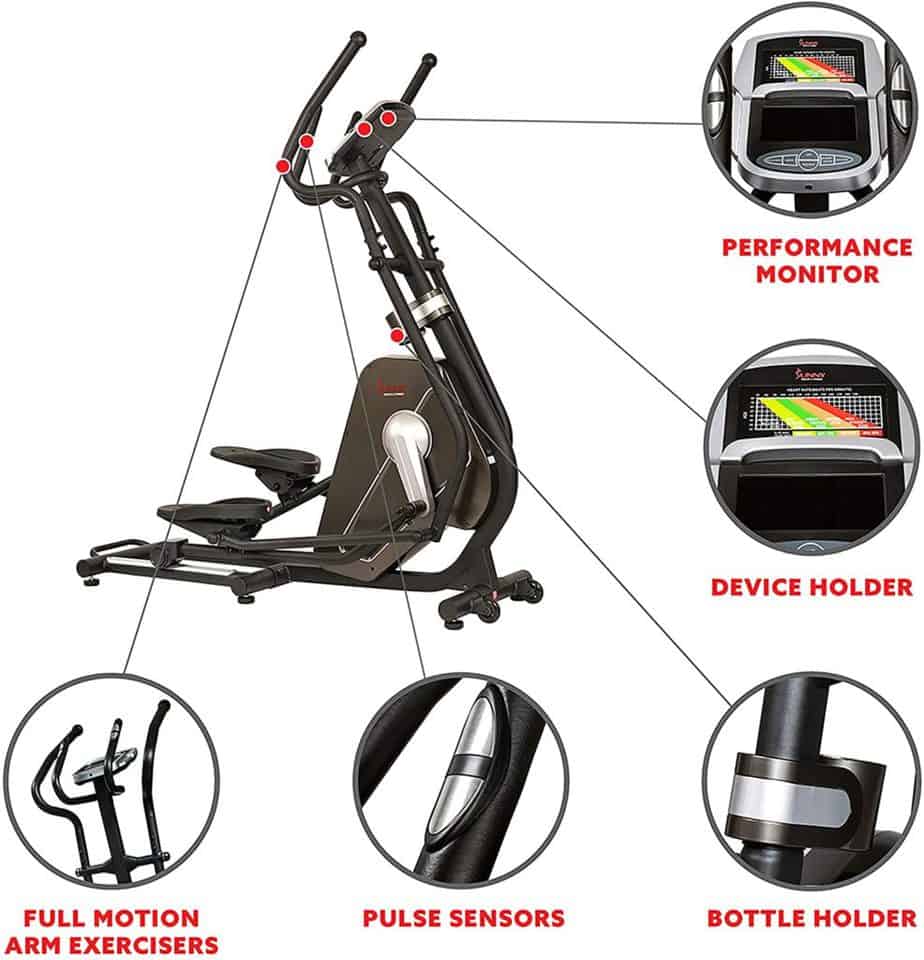 The Sunny Health and Fitness SF-3862 Elliptical is equipped with a mid-range console that features a blue backlit LED monitor.
The 6'' LCD monitor tracks workout progress by displaying workout stats such as Time, Distance, Total Distance, Speed, RPM, Watts, Calories, Heart Rate, and Target Heart rate with high readability that not even a poorly-lit environment can diminish.
In order to keep track of your heart rate, the handlebars with the EKG sensors must be held during a workout. This is the only way to have your heart rate read because the console is not telemetry-enabled and as a result, an HR wireless chest strap cannot be used.
The Speed and the Distance are measured in imperial units (mph and miles).
There are 24 workout programs that include a Manual Program (it allows you to adjust the resistance level as you see fit during a workout), 12 Preset Programs (each of them has 12 profiles with 16 selectable resistance levels), Watt Control Program (which allows the user to select a target value for Watt output), Body Fat Calculator Program (calculates the user's Body Mass Index based on height, weight, age, and gender supplied).
There are 5 HR-based Programs that include Target Heart Rate (which allows the user to select a boundary for the heart rate and the console notifies s/he if the heart rate falls below the target), and HRC Programs that target 55%, 65%, 75%, and 85% (any of these programs automatically select the resistance level, and if the user's heart rate falls below or exceeds the selected target heart rate it increases or decreases the resistance level respectively).
Then, there are 4 Custom User Programs that enable 4 different users to create and save their workout profiles. The workout profiles needed to be added per user include age, height, weight, and gender.
So, up to 4 users can utilize this elliptical trainer without having to alter anybody's profile.
On the downside, it is important to note that the console does not have Bluetooth, wireless capability, a cooling fan, or a sound system, and neither is it compatible with any online fitness app.
That said, in our own opinion, it has got a lot of other features that make up for what it doesn't have.
Accessory
The elliptical trainer has a water bottle and tablet holders. These are very essential for a fun-filled and productive workout.
They are both designated strategically to allow easy access. However, if a tablet is placed on the holder it will block the top section of the console that features a grid with the heart rate zones that are designed to be aimed at depending on the user's age in order to benefit from a good aerobic output and more.
Storage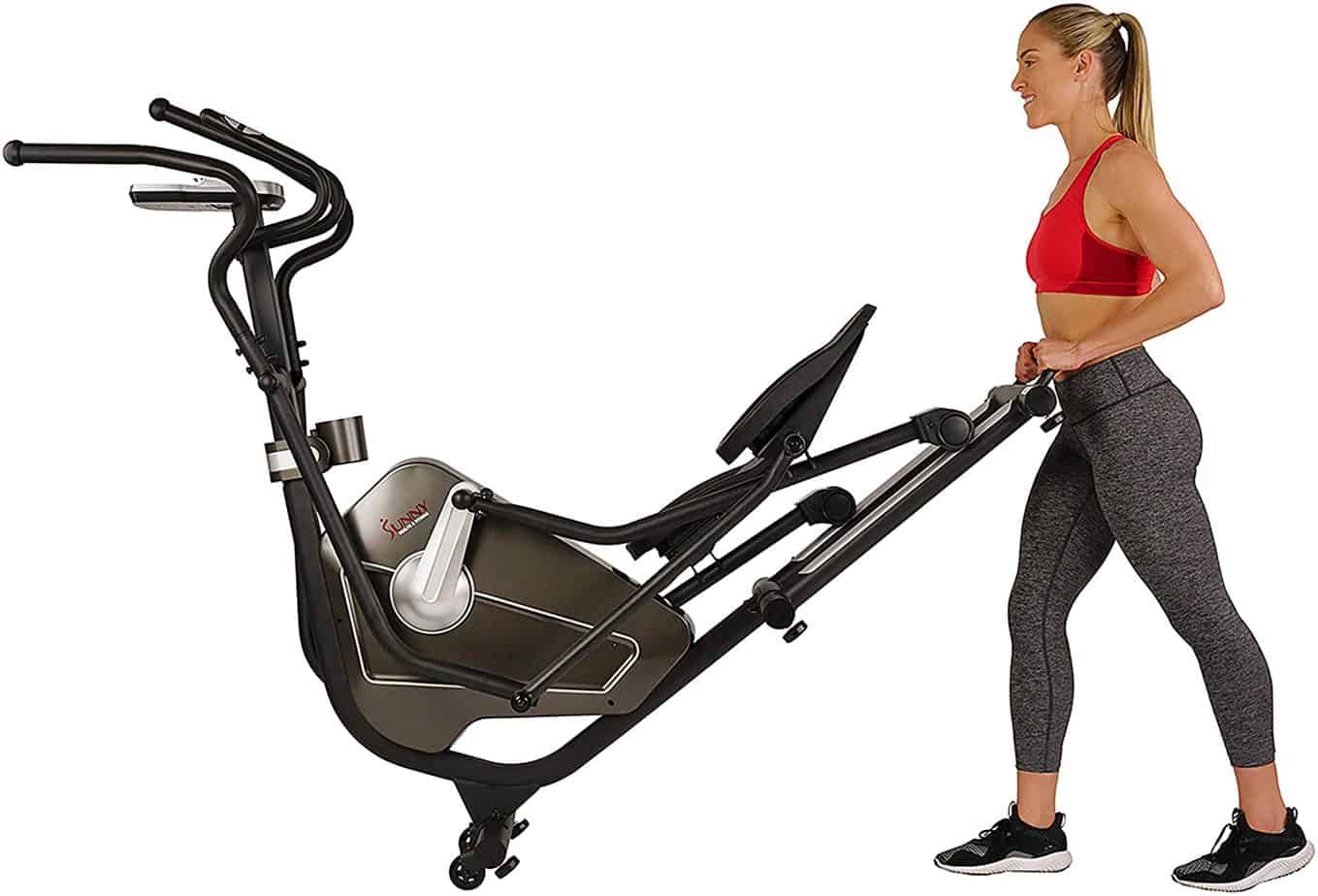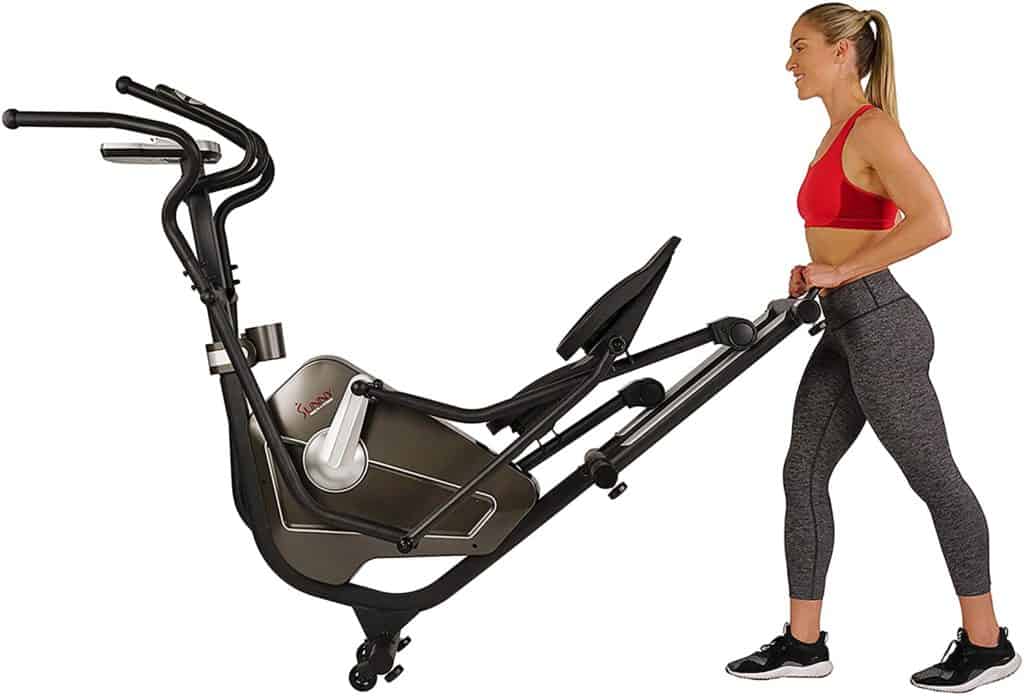 The Sunny Health and Fitness SF-3862 Elliptical is not foldable and it requires a little bit of space for storage.
The best place to store it should be in a garage or better still, leave it in a dedicated workout area if you can afford it.
Even though it weighs 125.7 lbs./57 kg, it's pretty easy to move around in the room. It is integrated with a lifting handle at the rear and transport wheels at the front base.
Approval Rating
At the time of this review, this elliptical machine has a good approval rating on Amazon.
The majority of the Amazon customers' reviewers have a very favorable view of the unit and they would gladly recommend it.
Moreover, other review sites have also rated it positively.
Pros/Features Overview
Very sturdy and stable
Supports a maximum user weight capacity of 265 lbs./120 kg
Adjustable rubberized levelers
Motorized magnetic resistance system with 16 adjustable levels
Transport wheels for an easy relocation process
24 workout programs including Body Mass Calculator Program
Goal settings for Time, Distance, Calories, Pulse, and Watts
2 sets of handlebars (fixed and moveable)
Large, and textured pedals
Operation is smooth, quiet, and vibration-free
LCD monitor with LED blue backlit screen tracks workout progress
EKG contact sensors
Low maintenance
Water bottle holder included
Tablet holder included
Not difficult to assemble
Impressive warranty
Cons
No Bluetooth or online connectivity
The console is not telemetry-enabled and it's not compatible with any fitness app
No sound system or cooling fan
Product Dimensions and Specifications
Length 63''
Width 21''
Height 66''
Net weight: 125.7 lbs./57 kg
Gross weight: 145.5 lbs./66 kg
Maximum user weight capacity: 265 lbs./120 kg
Frame: Steel
Resistance: Motorized Magnetic with 16 adjustable levels
Drive: Belt
Workout programs: 24
Display: LED blue backlit monitor tracks the Time, Distance, Total Distance, Speed, RPM, Watts, Calories, Heart Rate, and Target Heart rate
Incline: No
Tablet holder: Yes
Water bottle holder: Yes
Warranty
3 Years for the Frame
180 Days for the Parts
Shipping
The Sunny Health and Fitness SF-3862 Elliptical is shipped out in a single well-packaged box that weighs about 145.5 lbs./66 kg.
Amazon usually provides free standard shipping and makes delivery in a couple of days.
Assembly
This elliptical machine is shipped out with the major components preassembled.
You only need to attach the adjustable levelers, the base framework, the console mast, the pedals' bars, the pedals, the fixed and the moveable handlebars, and the console to the main core unit.
The details may seem a little more than explained above, but when you follow the instructions outlined in the manual you should be fine.
It will probably take anywhere from an hour to two hours depending on how good you are with your hands.
The tools needed for the assembly are also included in the package.
Maintenance
Overall, the trainer doesn't need any serious maintenance that requires taking parts apart.
That said, it will require periodic lubrication of the joints. Always make sure that the rails and the rollers are kept clean to avoid friction that may result in workout disruption and damages to the parts.
Further details on maintenance and precautions are included in the owner's manual.
Finally, ensure to check the unit for any loose or broken parts before a workout. Act accordingly, if there is any problem.
Conclusion
The Sunny Health and Fitness SF-E3862 Elliptical is obviously a recommendable trainer for home use.
It's not overly large, but it does require a little bit of space.
It is designed with useful features that were made to motivate and help you achieve your fitness goals in a fun-filled way.