The JOROTO MR35 Rowing Machine is the succeeding model of the MR30 with a revamped overall design. It's not foldable but has a space-saving design that allows the user to store it in a vertical form that only occupies a fraction of the workout space.
It is an affordable rowing machine that is made for home use with a commercial-grade construction. No surprise that most Amazon users have shown enthusiasm and excitement for the rower.
Built to support 250 lbs./113 kg maximum user weight capacity and has a manual magnetic resistance system with 10 adjustable levels.
The pivotal heel-guarded pedals are textured and large enough to secure and accommodate different sizes of feet. The inseam is not stated but the slide rail's length is 38.5'', therefore, suggesting that users up to 6' to 6'2'' can be accommodated.
Its digital display tracks workout progress to keep you focused and motivated.
Overall, it is in our opinion that this rower is cost-effective.
Click right here to have a peek at the JOROTO MR35 Rowing Machine.
The Frame and Construction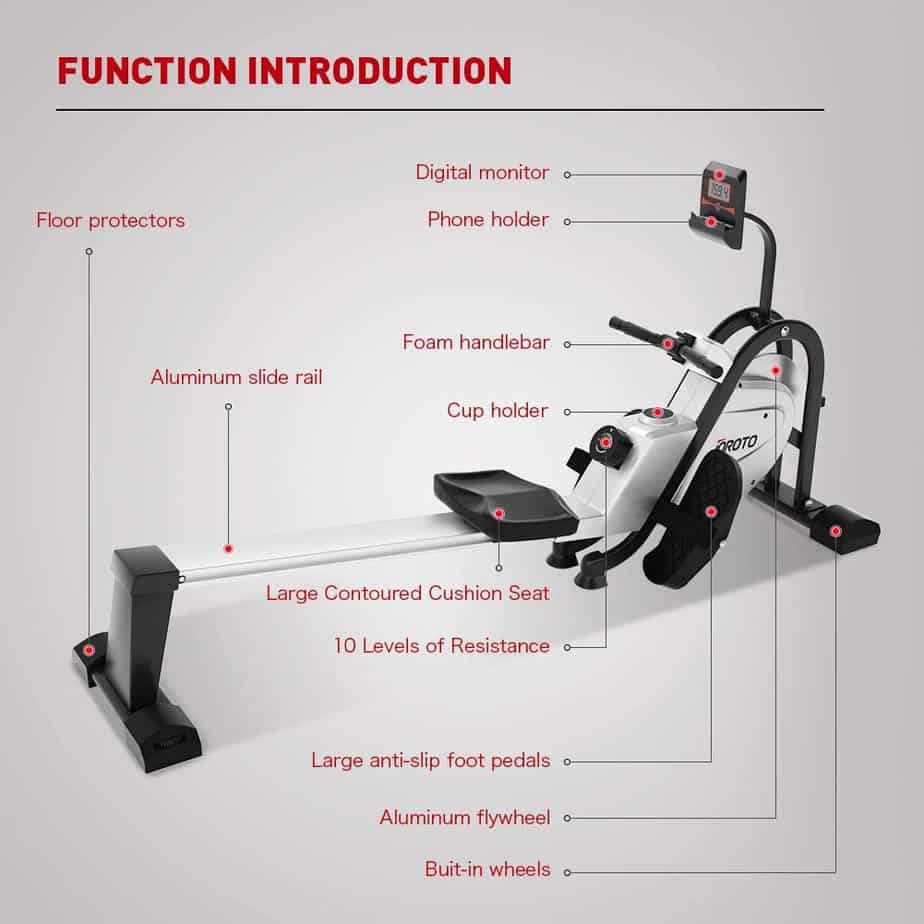 The JOROTO MR35 Rowing Machine construction is made of steel, aluminum, and ABS material. The frame is made of heavy-duty steel with the exception of the slide rail and the flywheel that are made of aluminum. While the drive and the monitor coverings, and other parts are made of ABS material.
The slightly inclined aluminum rail provides a smooth and consistent motion that is characterized by a recovery that is a bit faster and easier.
The curved steel bars at the front of the rower have rubberized pads that keep it stable and safe when it is stored uprightly.
It is also stable when it is being used for workouts due to its base framework that features formidable stabilizers with adjustable levelers at the rear. Hence, it could be leveled upon a crooked surface for optimal stability.
Moreover, its overall assembled weight of 53 lbs./24 kg may not be too heavy but it further stabilizes it.
The unit is not as large as some rowers, but it's going to require a little bit of space for workouts.
The assembled dimensions are 71'' long by 21'' wide by 36'' high. Therefore, it will require a workout area with perimeters of 6' length by 1'8'' width, with recommended extra clearance of 1'-2' around it for safety and easy access.
On the other hand, the storage dimensions are 22'' length by 21'' width by 71'' height. So, it only needs a fraction of the workout space for storage and there are transport wheels at the front base that help in the relocation process.
The Seat of the JOROTO MR35 Rowing Machine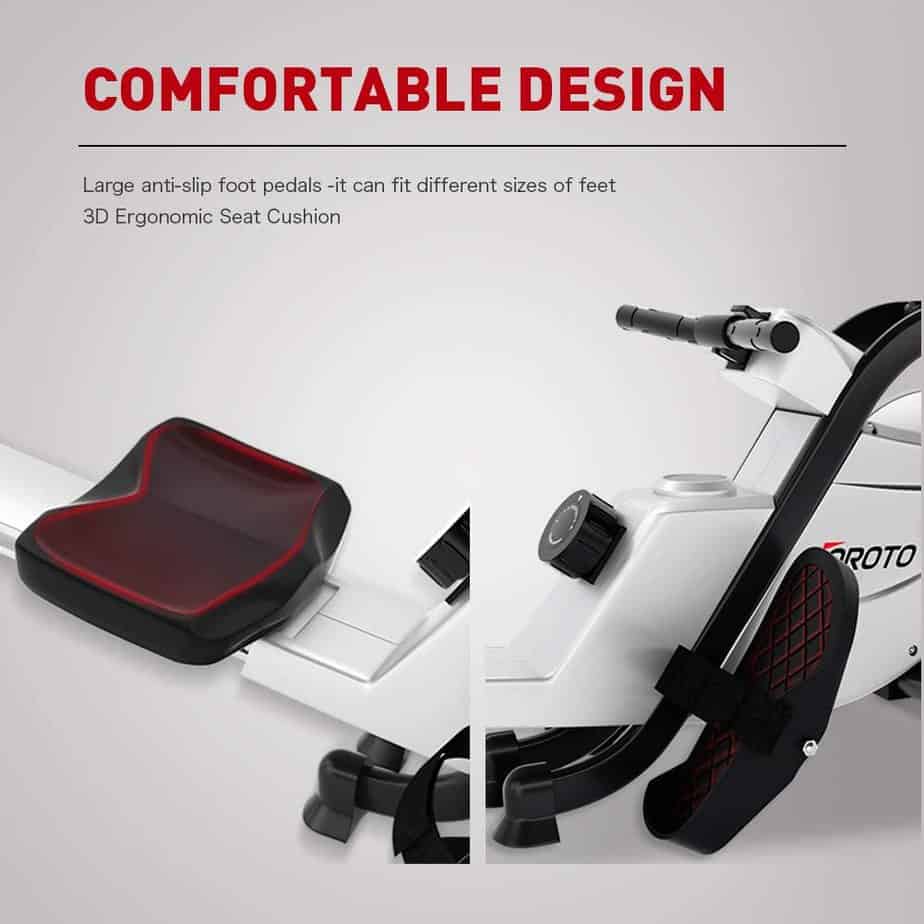 The seat on the JOROTO MR35 Rowing Machine is ergonomically designed with a contoured and padded surface. It provides lasting comfort and safety for free blood circulation that prevents numbness that comes as a result of a prolonged workout.
It is safe in the sense that its large surface accommodates the butt for movement adherence that also prevents slippage during high-intensity workouts.
The seat is attached to the rail with 2 concealed rollers on each side. Its back and forth glide transition is smooth and quiet.
Finally, the seat is 12'' high at its highest point.
The Handlebar
A slightly curvy (inside bend) and ergonomically designed handlebar is integrated into the JOROTO MR35 Rowing Machine.
It is foam-covered and has a durable high-quality 1'' nylon-made pull-cord that is attached to it. This means it is comfortable and safe to use.
Your hands and the wrists won't feel stressed no matter how prolonged your pulling activity gets.
However, there are no EKG sensors integrated into it for heart rate tracking.
The Pedals of the JOROTO MR35 Rowing Machine
The JOROTO MR35 Rowing Machine comes with large, anti-skid pedals that have heel guards.
They also have adjustable safety straps that further secure the feet in place.
Different feet sizes can be accommodated and they are meant to be used with a pair of standard gym shoes.
Of course, the pedals are pivotal for ankle adherence movement during a workout.
They are made of ABS material with a steel core.
The Drive/Resistance System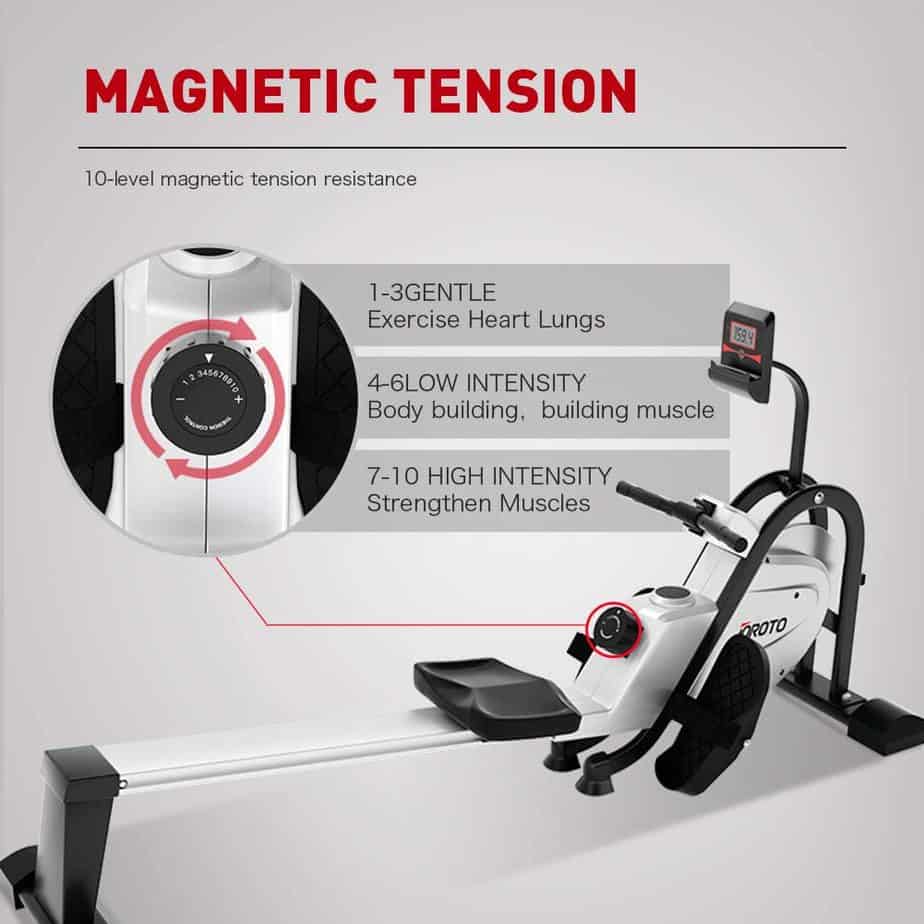 The JOROTO MR35 Rowing Machine has a belt drive system that produces smooth and quiet operations.
It consists of a 4.4 lbs./2 kg flywheel, pull-cord, and handlebar.
While on the other hand, it is also equipped with a manual resistance system that consists of 2 magnetic brake pads, one on each side of the flywheel.
The Resistance is generated when the magnetic brake pads emit a magnetic field around the flywheel. The closer they get to the flywheel the more intense the resistance becomes and vice versa.
It is frictionless, meaning that no part comes in direct contact when resistance is engaged, thus, no part is required to be replaced at any moment in time.
There are 10 resistance levels adjustable via the tension knob that is designated at arm's reach.
Turn the tension knob clockwise to increase the resistance intensity and turn anticlockwise to decrease it.
The resistance levels offer different workout challenges that are suitable for weight loss, muscle toning, cardiovascular health, and strength improvements.
However, 1-6 resistance levels produce low to medium level intensity due to the lightweight flywheel, but 7-10 resistance levels could get your heart started and ultimately help you to break a sweat.
Both the resistance and the drive systems offer an overall smooth and quiet operation that is void of vibration and are maintenance-free as well.
Exercising with the rower at any time of the day won't bother the people around you, including the family and the neighbors. You will have the opportunity to watch your favorite TV show while working out without having to increase the volume beyond the normal range.
The Console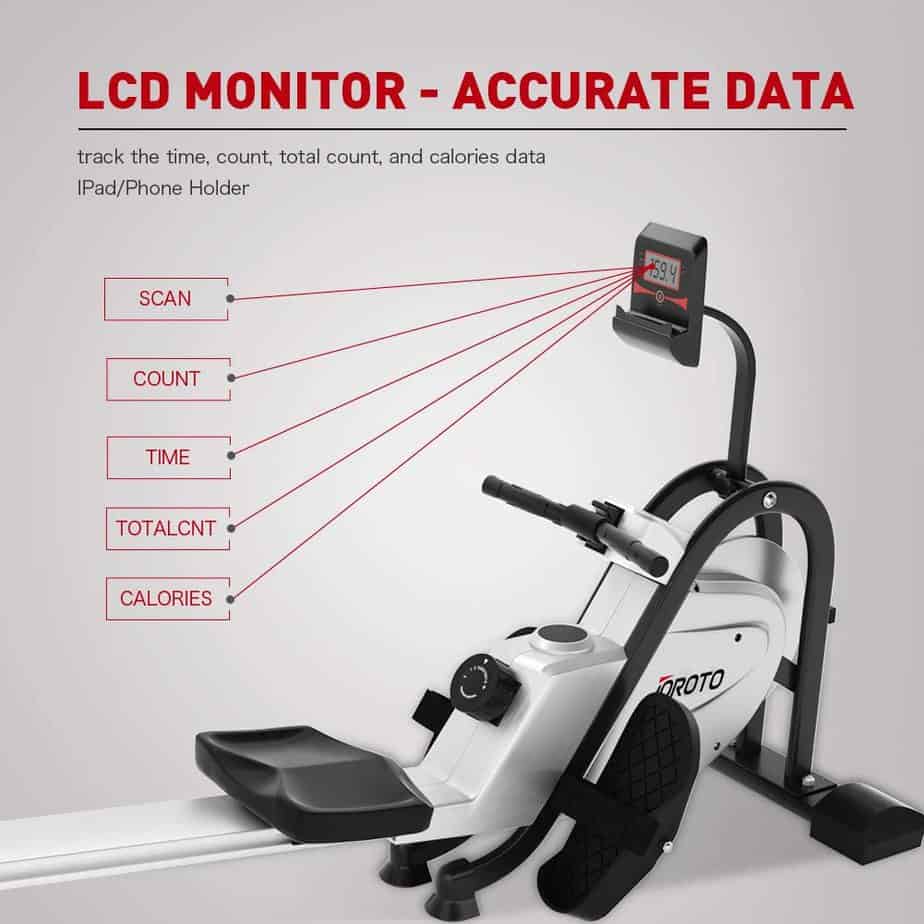 The JOROTO MR35 Rowing Machine is incorporated with a basic console that features an easy-to-read digital display.
Unlike the MR30's console that is telemetry-enabled with an LED-backlit monitor, the MR35's console is the opposite with fewer features.
That said, the monitor tracks workout progress by displaying data such as Time Elapsed, SPM/Count, Total Count, and Calories Burned.
It also has a SCAN function that displays the workout stats rotationally one at a time every few seconds. Although, you can program a certain workout value of your choice to display constantly if you so desire.
The angle adjustment of the console allows users to optimize and customize the view of the monitor per individual's height.
The monitor is battery-powered; and so, as a way of reducing the energy consumption, the monitor shuts down automatically when there is no activity on the rower for 4 minutes, and it automatically powers ON when activity resumes.
It's also possible to manually power it ON/OFF by pressing the MODE button.
The multi-function MODE button is used to clear data, to set up the SCAN function or static display of a workout value, and more.
Accessory
The JOROTO MR35 Rowing Machine is equipped with a tablet holder.
It is on the console and should be able to hold a smartphone or a tablet device securely for entertainment purposes during a workout session.
Although, the view of the monitor will be blocked by any smartphone device that is placed on it.
There is also a cup holder that helps to keep water handy for proper hydration during workouts.
Storage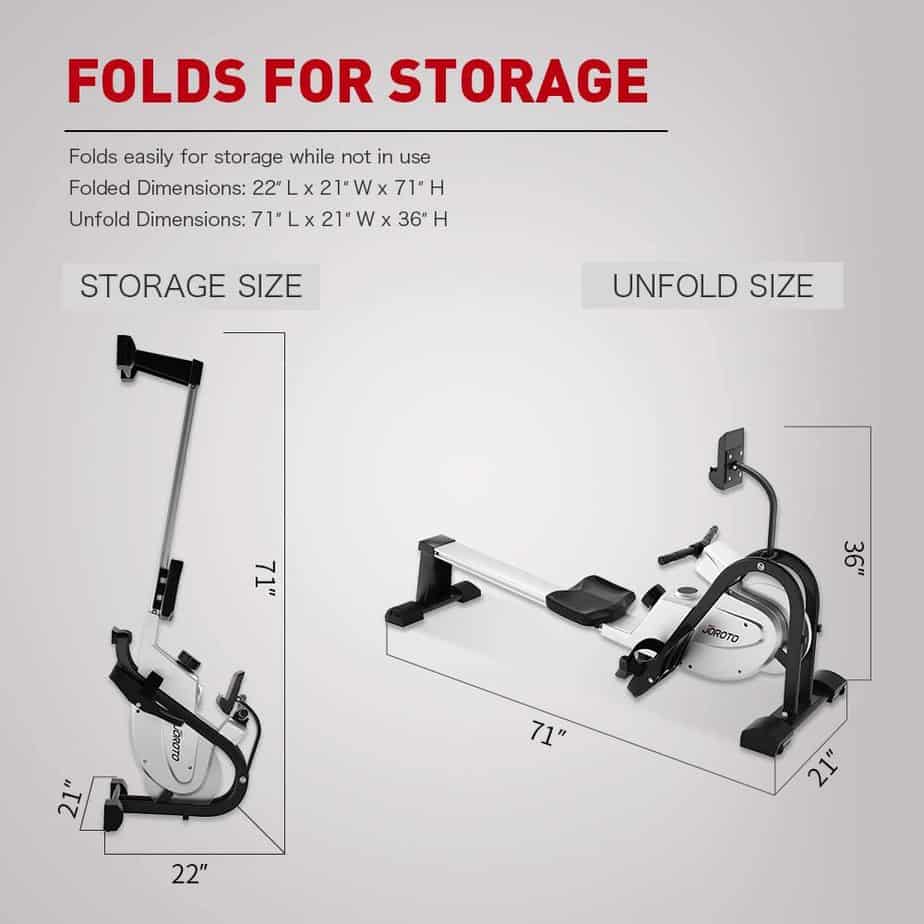 This rowing machine has transport wheels for an easy relocation process and can be stored vertically.
It takes only minimal storage space and it can be stored at the corner of the room.
Approval Rating
The JOROTO MR35 Rowing Machine has a decent amount of Amazon customers' reviews that show an impressive overall approval rating. This means that the majority of the users or owners are satisfied with the price, the quality, and the usability of the rower.
In other words, it's recommendable.
The Pros/Features Overview
Stable and Durable
Sleek looking design
Supports a maximum user weight capacity of 250 lbs./113 kg
A space-saving design that allows it to be stored vertically
Adjustable/folding console mount for setting a proper view
Operation is smooth and quiet
Resistance system with 10 levels provides challenging workouts that target weight loss, muscle toning, improved cardio health and strength
The rower offers full-body and low impact workouts (gentle on the joints and impact over 80% muscle groups of the body)
The large, contoured, and padded seat provides enduring comfort and safety
The pivotal pedals are large, textured, with safety straps and heel guard; thus, they offer comfort and safety and can accommodate different feet sizes
38.5'' rail length could allow 6'-6'2'' tall individuals to row without leg extension restriction
Its LCD monitor tracks workout progress
Transport wheels included for an easy relocation process
Tablet holder included
Cup holder included
Low maintenance
Not difficult to assemble
Cons
The monitor is not backlit
It will require a little bit of space for workouts
No heart rate monitoring function
Warranty
Product Dimensions and Specification
Length 71''
Width 21''
Height 36''
Shipping dimensions: 41'' L x 24.5'' W x 11.25'' H
Maximum user weight: 250 lbs./113 kg
Net weight: 53 lbs./24 kg
Gross weight: 62 lbs./28 kg
Vertical position dimensions: 22'' x 21'' x 71''
Frame: Steel and aluminum
Flywheel: Aluminum, 4.4 lbs./2 kg
Rail length: 38.5''
Resistance: Manual magnetic, 10 adjustable levels
Seat: Large, contoured and padded
Handlebar: Ergonomically curvy and foamed
Pedals: Pivotal, anti-skid designed and large with adjustable safety straps
Pull-cord: 1'' durable nylon
Display: Nonbacklit LCD display, tracks Time Elapsed, SPM/Count, Total Count, and Calories Burned
Transport wheels: Yes
Tablet holder: Yes
Cup holder: Yes
Shipping
The JOROTO MR35 Rowing Machine is shipped out in a box that weighs 62 lbs./28 kg with dimensions of 41'' L x 24.5'' W x 11.25'' H.
Amazon provides free shipping and delivers the product in a couple of days after order.
Assembly
The assembly of this rower is not difficult as the major components are preassembled.
You only need to attach the front and the rear stabilizers, the rail, the seat, the end caps, and the pedals to the core unit. This can be assembled by an average skilled person and could only take a maximum of an hour or less.
Its bolts, nuts and the required tools for the assembly are included in the package. A manual and a video clip for assembly guidance are available as well.
Maintenance
The rower doesn't need any special maintenance other than to keep it clean at all times especially the rail. Prevent the console from coming into contact with a liquid.
Examine the machine for any loose or broken parts before use.
Conclusion
The JOROTO MR35 Rowing Machine is a recommendable aerobic machine. It brings the gym to the comfort of your home.
Experience full-body and low-impact workouts that raise the heartbeat and help you break a sweat.
Lose weight, improve your cardiovascular health and strength with the MR35.