The Sole E35 Elliptical Trainer is the preceding model of the Sole E75, & E95. It has features that are geared toward making your workout productive and enjoyable.
It's been revamped and recalibrated over the years with certain changes to its outlook and the console design. These changes took place within the years 2013, 2016, and 2020 and they are meant to offer better and user-friendly workout experiences.
This low-impact full-body cardiovascular machine provides challenging workouts for weight loss and muscle toning.
It is non-foldable, large, and sturdily built for performance that is almost impeccable, void of instability.
Click right here to have a peek at the price of the Sole E35 Elliptical Trainer on Amazon.
The Frame and Construction
The Sole E35 Elliptical Trainer is equipped with a durable anti-corrosion powder-coated steel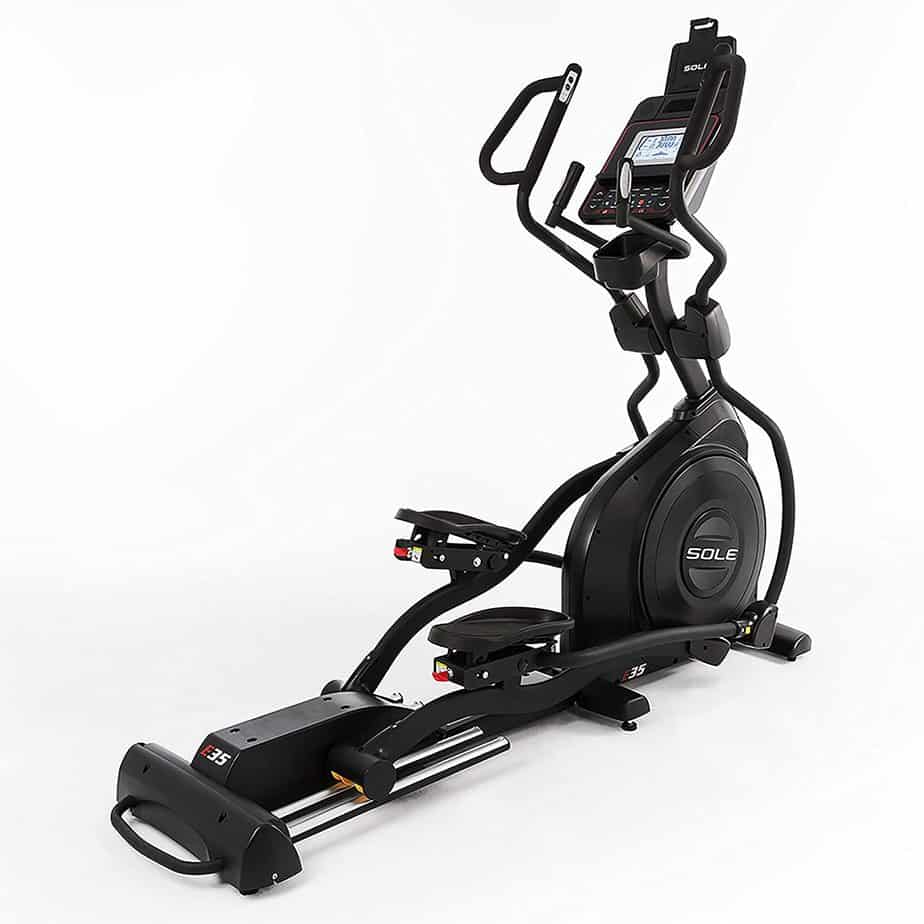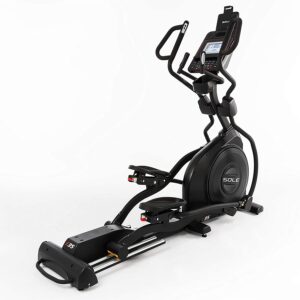 frame and several other parts that are made of ABS material. It is huge and sturdy enough to support a maximum user weight capacity of 375 lbs./170 kg.
That being said, it is specifically designed for home use.
The base features 3 stabilizers with adjustable levelers underneath them for maximum stability that doesn't budge even on a crooked surface. On top of that, the unit's assembled weight of 231 lbs./104.7 kg complements its overall stability.
You can easily relocate the machine despite the fact it's heavy. The front-mounted transport wheels and the lifting handle at the rear base come handy during the relocation process.
The assembled dimensions are 82" long by 31" wide by 71" high. So, the elliptical trainer will require a workout area with perimeters of 6'9" length by 2'6" width, and additional extra clearance of 2′ around it for easy access and safety.
To determine the suitable ceiling height for the machine, simply add 25" (maximum incline and clearance) to your height.
For instance, a 6′ user needs a ceiling height of 72" (user's height) + 25" = 97" (8'1").
Finally, the step-up height is 14".
The Handlebars
The Sole E35 Elliptical Trainer has 2 sets of nonadjustable handlebars; one set is static, while the other is dual-action.
The static handlebars are attached to the console mast and they incorporate heart rate sensors that read and transmit the pulse rate data to the monitor when held during a workout.
While the dual-action multi-grip handlebars are also attached to the mast, but by extension are connected to the pedals. Thus, when the pedals move so do the handlebars as well, and vice versa.
They also integrate gradual adjustment buttons for incline and resistance, and their multiple grips provide workout variance.
Lastly, the 2 sets of handlebars are cushioned with soft rubber foam for secure and comfortable grips that allow you to work out longer without experiencing slippage or blisters in palms.
The Pedals of the Sole E35 Elliptical Trainer
The Sole E35 Elliptical Trainer comes with custom articulating adjustable 15" pedals that are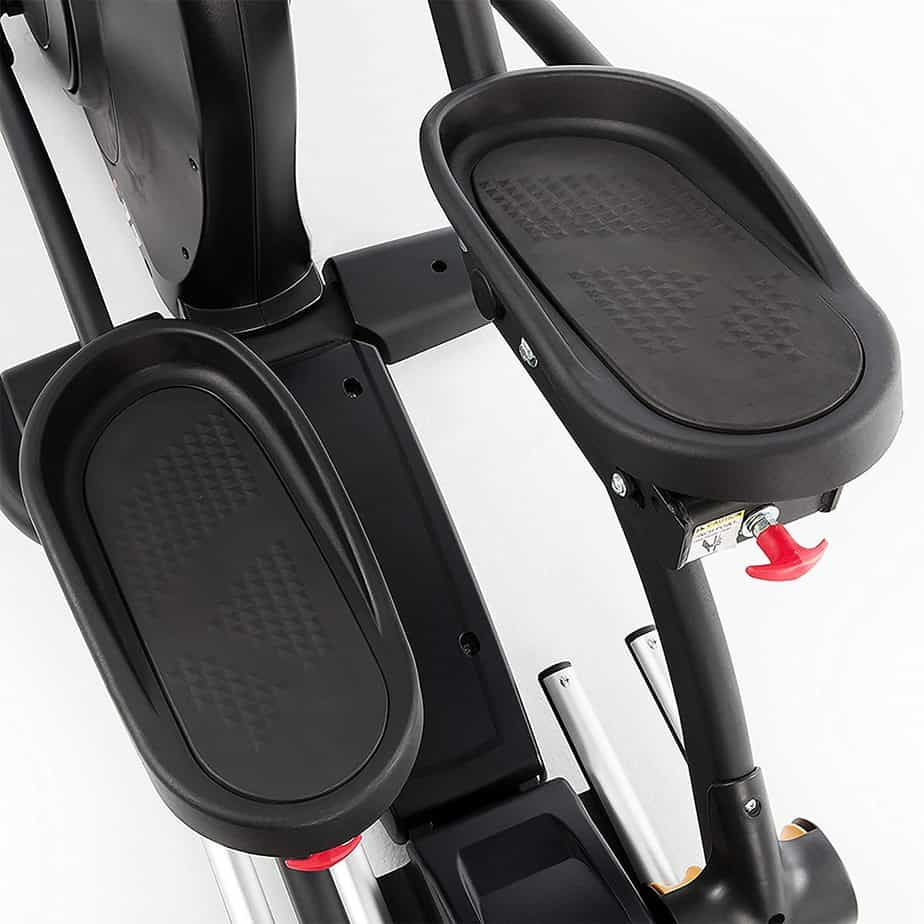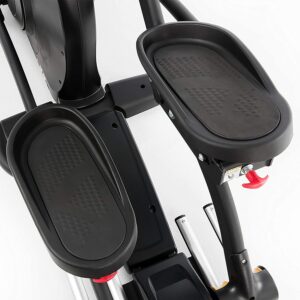 developed in collaboration with a physical therapist. They have a 2-degree inward slope design and are adjustable to 3 level positions for natural footing that reduces ankle stress.
The pedals are large and textured, and they are made of durable plastic and steel core. Each of them is connected to a gliding steel bar with big rollers.
Their stride length is 20" and could reach 22" when the incline is adjusted to its maximum. Thus, 6'5" tall users can utilize the machine and be able to workout with powerful strides.
The Incline
The Sole E35 Elliptical Trainer is incorporated with a 0%-20% power incline, meaning that the machine has to be plugged into a power outlet for it to be functional.
It comprises a small motor that is designated at the rear base and a lift that elevates and de-elevates the pedals each time the incline is adjusted.
The incline can be adjusted by an increment of 1% via the control buttons on the left moveable handlebar and those on the left side of the console. There are no quick incline buttons for rapid adjustment.
Interestingly, you can adjust the incline while actively working out on the machine.
The inclusion of an incline and a certain resistance level make your workout uniquely challenging for better results. In other words, you can burn more calories and actively engage muscle groups such as the glutes, quads, and calves.
The Drive
The E35 Elliptical Trainer has a front-drive system that comprises a durable v-poly belt. Its operation is smooth, quiet, and vibration-free, thanks to the integrated 25 lbs./11.3 kg high inertia flywheel.
Resultantly, you won't be distracted by any noise coming from the machine during a workout and those around you won't be either.
It also doesn't need you to periodically take the shrouds apart for lubrication or adjustment; differently put, it is maintenance-free.
The Resistance
The Sole E35 Elliptical Trainer features an eddy current magnetic resistance system with 20 adjustable levels. The internal mechanisms are mainly a small servo motor, a magnetic brake, and the flywheel.
To generate resistance, the servo motor moves the magnetic brake close to the flywheel and emits magnetic fields that ultimately cause a drag. So, the level of resistance is determined by how close or farther the magnetic brake is to the flywheel.
This type of resistance system presents at least 2 upsides that include the fact that no part wears out in the course of generating resistance, and consequently, no maintenance is required.
Secondly, the operation of the machine remains smooth, quiet, and vibration-free even when it operates at a high resistance level.
Users can experience low, medium, to high challenging workouts due to the 20 resistance levels available.
The adjustment of the resistance is done via the buttons on the right side of the moveable handlebar and those on the right side of the console. However, the resistance and the incline are automatically adjusted when a preset workout program is selected.
The Console
The console is where some of the Sole E35 Elliptical Trainer's interesting features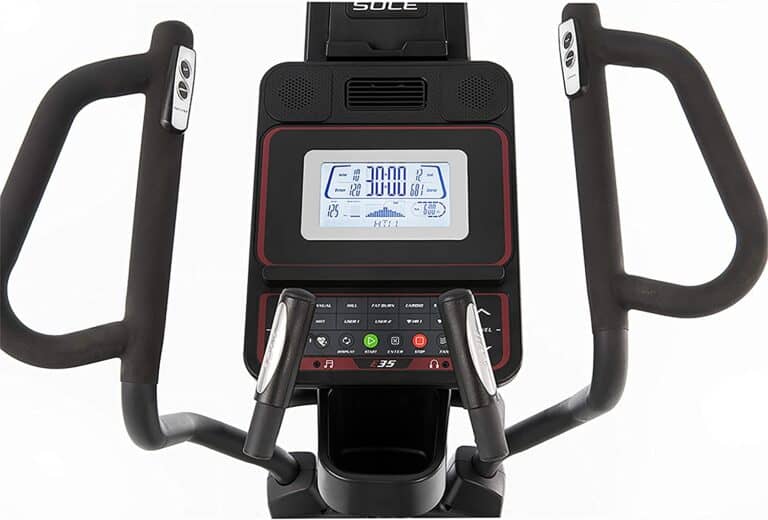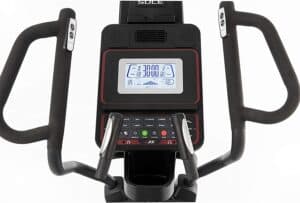 reside. It features a 7.5" backlit LCD monitor that tracks workout stats such as Time, Speed, RPM, Distance, Watts, Calories, Incline, and Pulse.
These are displayed with high readability that is not diminishable no matter how poorly-lit the environment is.
Your heart rate can be tracked when you grasped the EKG contact grips or use a wireless HR chest strap (included).
The console integrates 10 workout programs that include 6 standard programs (Manual, Hill, Fat Burn, Cardio, Strength, Interval), 2 User Defined, and 2 Heart Rate.
The standard programs are designed for achieving specific goals just as their names suggest, except for the Manual program that gives you control over the selection of resistance and the incline.
The User Defined Programs allow you to create and store custom programs that could be used and reused in the future. While the Heart Rate Programs are preset at 60% and 80%, and if any of them is selected, the machine automatically adjusts the resistance when necessary to keep your heart rate close to the selected percentage.
You can sync the Bluetooth-enabled console to SOLE Fitness App via an Andriod or iOS-based phone. This enables you to track and store your workout progress online and integrate the information with other apps such as MyFitnessPal, Apple Health, MapMyRun, and more.
Accessory
There are features designed for fun that are available on the console which include the Bluetooth compatible built-in speakers, a USB charging port, an auxiliary port, a strategically positioned tablet holder, and a cooling fan.
These guarantee fun-filled workout experiences, from start to finish.
Also, there is a water bottle holder that is attached to the mast for keeping proper hydration.
Storage
The Sole E35 Elliptical Trainer is fairly large, heavy, and nonadjustable. Therefore, it's going to need a little bit of storage space.
However, even though it weighs 231 lbs./104.7 kg, the front-mounted transport wheels and the rear lifting handle make the relocation process less stressful.
A storage area with perimeters of 6'9" length by 2'6" width should be able to accommodate the machine.
Pros/Features Overview
Professionally designed and sturdy
It provides low-impact full-body cardio workouts
Its stability is optimal
Supports a maximum user weight capacity of 375 lbs./170 kg
There is a Manual program, 5 preset workout programs (Fat Burn, Cardio, Hill, HIIT, and Strength), 2 User Defined, and 2 Heart Rate Programs that target specific goals such as weight loss, muscle groups toning, strength, and endurance improvement
0-20% automatic incline system increases workout difficulty for attaining fitness goals
Eddy current magnetic resistance system with 20 adjustable levels for workout variance and challenges
You can keep an eye on your target heart rate zone at all times by using the EKG contact grips or the wireless HR chest strap (included)
The Bluetooth enabled console is compatible with SOLE Fitness App which in turn allows you to connect to other apps such as MyFitnessPal, Apple Health, and more for tracking and storage of workout data, etc.
The 15" adjustable cushioned pedals with 2 degrees inward slope provide articulating natural movement
The pedals' 20"-22" stride length makes it possible for 6'5" tall users to workout with powerful strides
The machine's operation is smooth, quiet, and vibration-free
It doesn't require serious maintenance
A water bottle holder for keeping proper hydration is included
Fun and entertaining features such as  a tablet holder, a sound system, and a cooling fan are included
Transport wheels and a lifting handle integrated for an easy storage process
The warranty coverage is impressive
Cons
It is bulky
There are no quick adjustment keys for resistance and incline
Warranty
Lifetime for the Frame
5 Years for the Parts and Electronics
2 Years for Labor
Product Dimensions and Specifications
Length 82"
Width 31"
Height 71"
Shipping dimensions: 66" L x 23" W x 34" H
Net weight: 231 lbs./104.7 kg
Gross weight: 260 lbs./118 kg
Maximum user weight capacity: 375 lbs./170 kg
Drive: Belt
Resistance: Eddy current brake (ECB), 20 levels
Frame: Steel
Handlebars: 2 sets (fixed & moveable)
Pedals: 15", cushioned, adjustable, 2 degrees slope
Incline: 0-20%, automatic
Stride length: 20"-22"
Step-up height: 14"
Heart rate monitoring: Contact & wireless (device included)
Display: 7.5" backlit LCD, console adjustable
Bluetooth connectivity
SOLE Fitness App compatible
Flywheel: 25 lbs./11.3 kg
Transport wheels: Yes
Tablet holder: Yes
Water bottle holder: Yes
USB charging port: Yes
Bluetooth compatible speakers: Yes
Cooling fan: Yes
Auxiliary port: Yes
Shipping
The Sole E35 Elliptical Trainer is shipped out in a box that weighs 260 lbs./118 kg with dimensions of 66" L by 23" W by 34" H.
It is delivered to a given address in a couple of days without shipping cost by Amazon.
Assembly
The assembly of this unit is not complicated but will require attention to the instructions on the owner's manual and patience.
Since the major components are preassembled, you only need to connect the 2 frames and then attach the stabilizers, the mast, the handlebars, the pedals, the console, and a couple of other parts to the main core unit.
The tools needed for the assembly are included in the package too.
Maintenance
Simply keep the machine clean, especially the rails. Do not expose the console to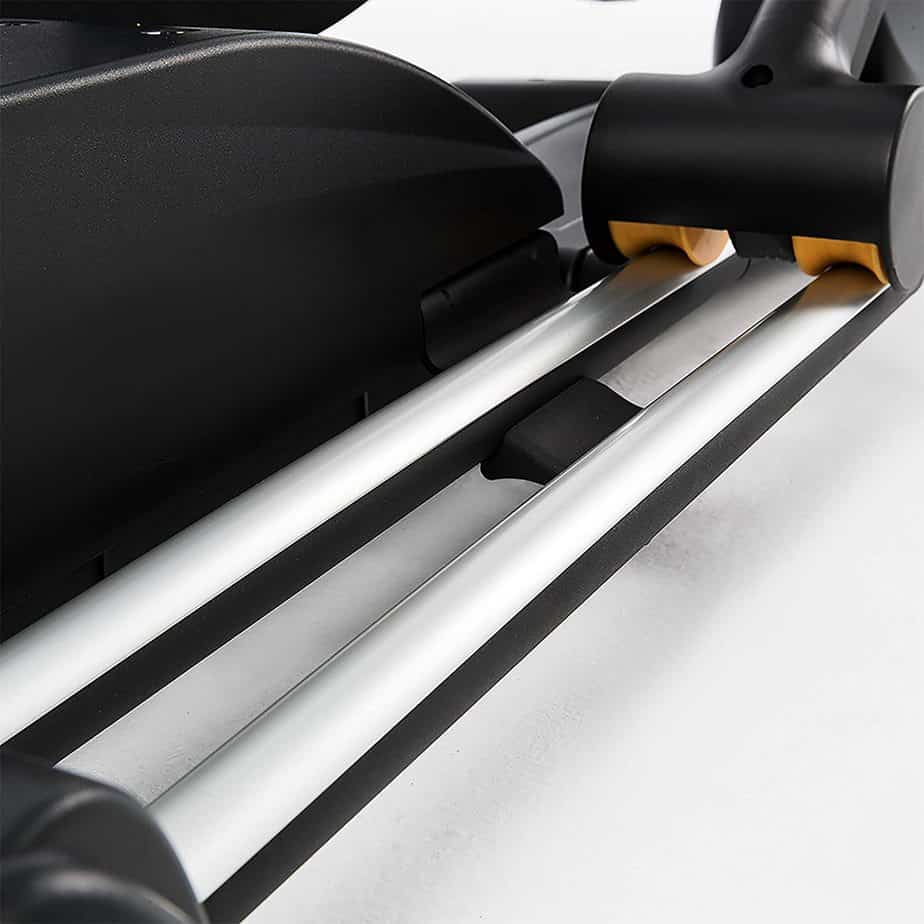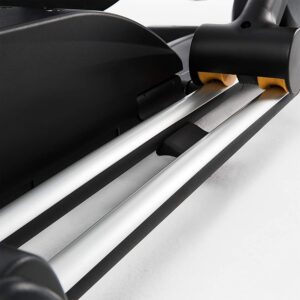 liquid, moisture, or direct sunlight.
Before using the machine for a workout, routinely inspect it to make sure no part is loose or broken. If there is any issue immediately fix it by tightening or replacing the ailing part.
Conclusion
The Sole E35 Elliptical Trainer is an ideal and recommendable home fitness machine. It can be the ultimate companion you need to achieve your fitness goals and stay physically healthy.
Sole E35 Elliptical Trainer Review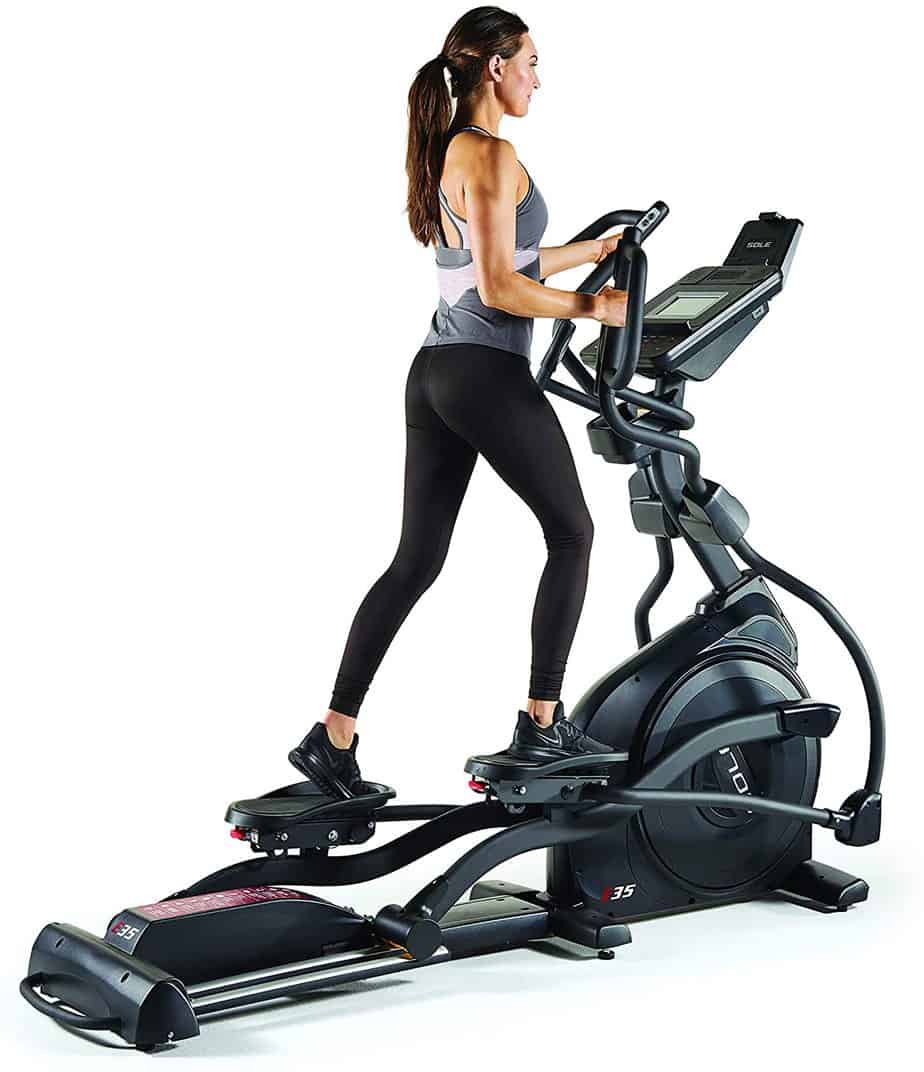 The Sole e35 Elliptical Trainer is upgraded in 2016 and will best suit both experienced and a newbie athletes. The upgrade was done in the areas of the
Product Brand: SOLE
Product In-Stock: https://schema.org/InStock