The Gazelle Supreme Glider Home Workout Machine is a simple, yet sophisticated piece of equipment that helps users to engage in low impact and full-body cardio workouts. It has additional features than the Gazelle Edge and the SF-E902 Air Walk Trainer.
Its users are impressed by its innovative design, especially the integrated power-piston resistance system. It supports a higher maximum user weight capacity of 300 lbs./136 kg, and users of different heights can work out without their strides being restricted.
Its patented dual-action split suspension allows you to exercise with freedom of movement and a complete range of motion. It targets muscle groups such as the shoulders, arms, chest, core (abdomens), thighs, and butts.
Click right here to have a peek at the price of the Gazelle Supreme Glider on Amazon.
The Frame and Construction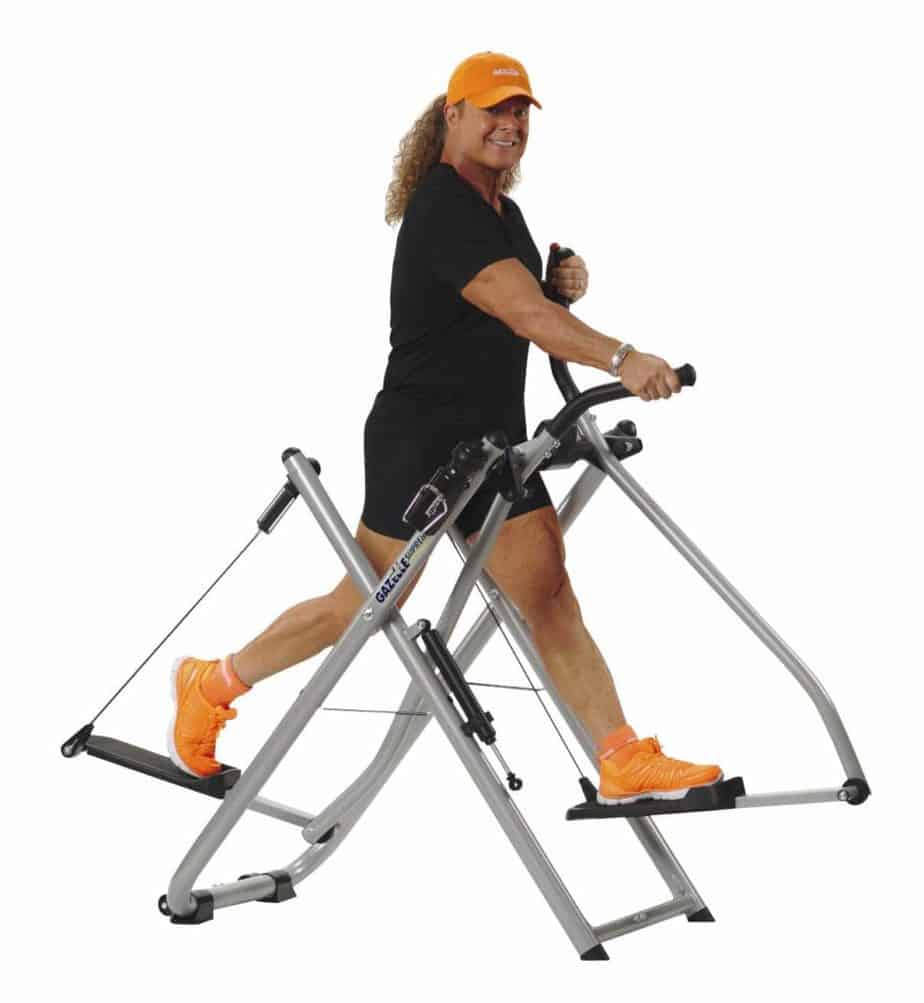 The Gazelle Supreme Glider Home Workout Machine with mode no. GSUPCAT is a solid cardiovascular machine that has an innovative and simple construction.
It features a silver anti-corrosion-coated steel frame that is 2" in diameter, and it is also foldable.
It is not a large unit, but due to its stride length, it might need a little bit of extra clearance around it.
Speaking of, the assembled dimensions are 44" long by 32" wide by 55" high. This means it requires a workout area with measurements of 3'7" length by 2'7" width. However, an extra clearance of 3′ at the front and the rear, and 2′ on each side of it will be necessary for a safe, easy access, and full stride workout experience.
Since the foot to pedal height is 6" and doesn't go any higher than that, thus, a ceiling height of 7′-8′ (depending on your height) should be fine.
The folded dimensions are 65" long by 30" wide by 13" high. It folds flat for easy storage; in other words, it can fit under a bed/couch that has at least 14" clearance underneath. Moreover, it can be leaned against the wall if you want.
The front and the rear bases rest on plastic caps for stability. But since they are not adjustable, the unit needs to be placed on a well-leveled floor to avoid instability during workouts. Although, depending on the type of flooring you have, the use of a rubber mat might improve its overall stability.
The Handlebar of the Gazelle Supreme Glider Home Workout Machine
This unit integrates ergonomic vertical dual-action handlebars that are slightly curved for better arms' swing. They are also equipped with soft rubber foam for secure and comfortable grips that prevent slippage or blisters in the palms regardless of your workout frequency or duration.
Interestingly, HR sensors are also integrated for reading and transmission of the heart rate data.
The handlebars' movement is not independent of the pedals because they are interconnected to mimic a walking pattern.
Finally, the handlebars are approximately 13" apart, and they are suitable for every user regardless they aren't adjustable.
Pedals
The pedals are large, and anti-slip designed to safely accommodate different foot sizes.
Aside from their connection to the dual-action handlebars, their rear ends are held to the slanted main frame tubings by durable iron cables.
In other words, the design is a patented technology also known as a dual pivot system. Thus, users can work out with a greater range of motion that reduces the impact on the joints.
Resistance
The Gazelle Supreme Glider Home Workout Machine is equipped with a hydraulic resistance system. This consists of 2 hydraulic pistons on each side of the frame, and are connected to the dual-action handlebars for arms resistance.
The hydraulic cylinders could be adjusted from level 1 to 6 in case you wish to increase or decrease the resistance you feel during a workout. Although you can freestyle by de-attaching them.
However, with or without the pistons attached, your workout position can increase or decrease the level of impact the arms get.
For instance, leaning backward while working out gets the arms and the back muscle groups toned a lot more than leaning forward while working out.
Users have different experiences when it comes to whether or not the unit is silent during workouts. Some users feel it's quiet while some think otherwise.
If the cylinders make an unbearable squeaky sound, you may have to contact the vendor for a solution. But if the joints are responsible for the noise, review the assembly to ensure that you did everything by the book, and lubricate them, hopefully, the noise will go away.
Console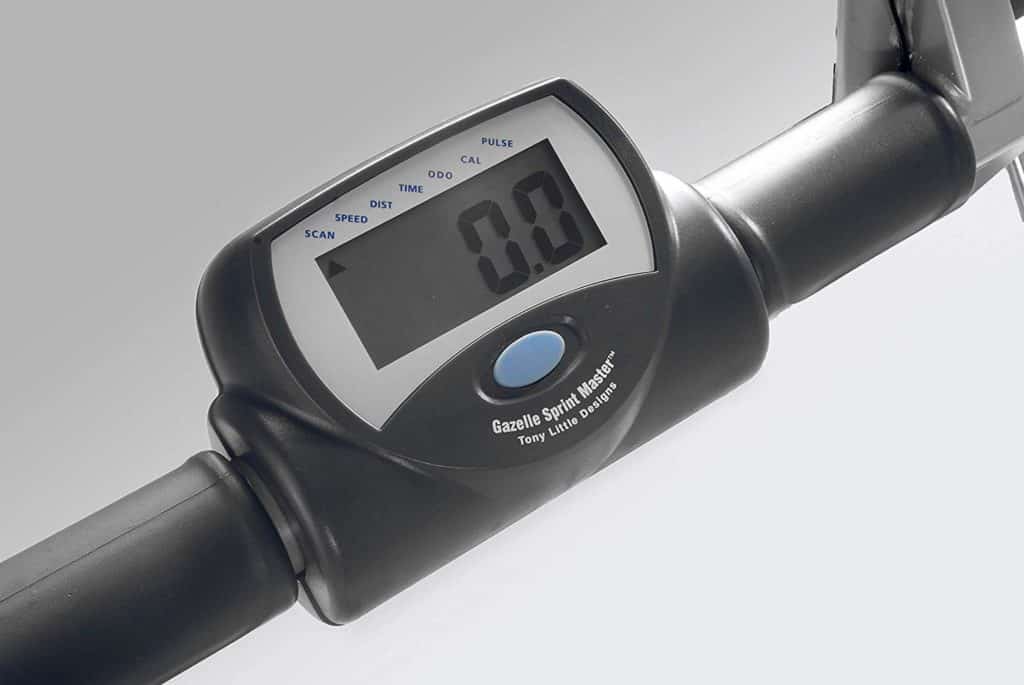 The Gazelle Supreme Glider has a nonbacklit LCD monitor attached to the horizontal steel bar right below the handles. Its designation is well within the view of the user, thus, the workout data displayed are easy to read as long as the illumination in the room is good.
It displays workout stats such as Time, Distance, Speed, Calories Burned, and Heart Rate. The Pulse Rate gets displayed once the handlebars with the HR sensors are held during workouts.
The workout values are shown and switched one at a time after every few seconds by the SCAN function. However, you can override the SCAN function to instead set a certain workout value of your choice to show constantly without switching to another.
The monitor is powered by the included 3 AAA batteries, and it is designed to automatically turn on when it senses activity on the unit and turns off when activity ceases for 4 minutes to save the batteries' power.
It is also possible to turn it on manually by pushing the button on the console.
Accessories
A bottle holder is attached on the right side of the cardio machine which also includes a water bottle. Therefore, you can conveniently maintain proper hydration during workout sessions.
Exercise Guide
The Supreme Glider is accompanied by 3 DVDs for 1) Total Body Workout, 2) Tony Little's Quick Shape Workout, and 3) Tony Little's Ultimate Body & Mind Workout.
The DVDs help you make the most out of the glider.
For instance, the DVDs instruct you on how best to hold the handlebars and position yourself to target a certain muscle group and more.
Storage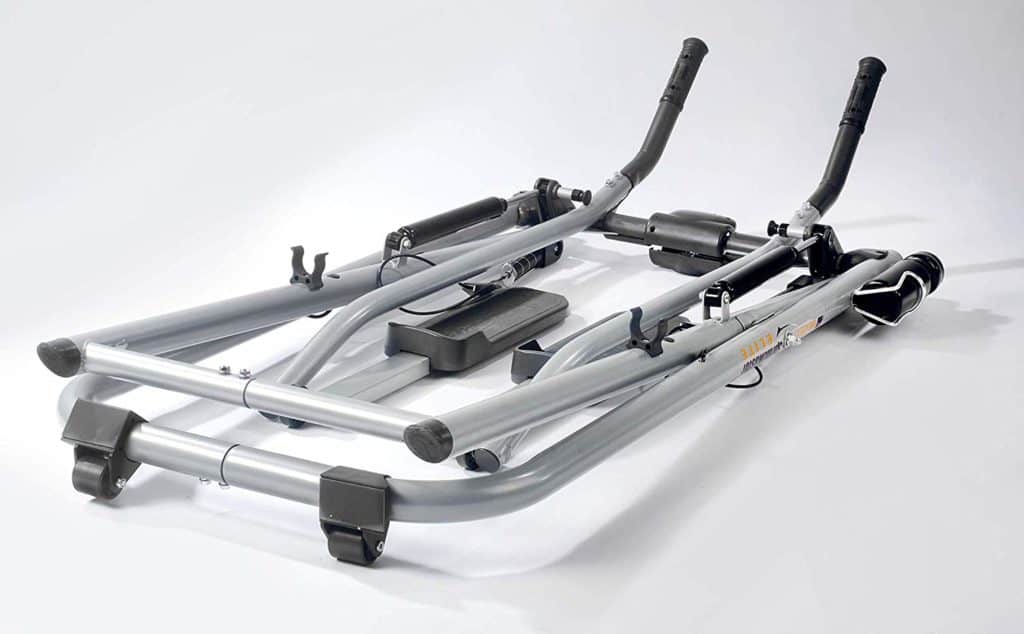 The Gazelle Supreme Glider Home Workout Machine is a foldable, and lightweight unit. It only weighs about 57.5 lbs./26 kg with folded dimensions of 60" long by 29.5" wide by 13" high.
In other words, a storage area with measurements of 5′ length by 2.5" width will suffice and it can be stored under a bed/couch with at least 14" clearance.
Users can easily move it from one location to another via the integrated transport wheels at the rear base.
Pros/Features Overview
Compact, lightweight, and foldable; it takes little space for workouts and a lot less for storage
Supports a maximum user weight capacity of 300 lbs./136 kg
The monitor tracks workout stats such as Time, Distance, Speed, Calories Burned, and Heart Rate
It provides low impact cardio workouts that are gentle to the joints
The hydraulic resistance system provides challenging workouts especially for the arms, back, and shoulders muscle groups
The large and textured foot pedals can accommodate different foot sizes safely and comfortably
Its operation is smooth and quiet, thus, suitable for home and office use
22 oz water bottle and holder are included for the maintenance of proper hydration
3 workout DVDs and a nutrition guide are included
Easy to maintain
Assembly is not difficult
Cons
There is a common complaint by users about how it gets squeaky; however, lubricating the joints usually takes care of the problem
Warranty
Product Dimensions & Specifications
Length: 44"
Width: 32"
Height: 55"
Folded dimensions: 60" L x 30" W x 13" H
Shipping dimensions: 55" L x 24" W x 5" H
Net weight: 57.5 lbs./26 kg
Gross weight: 68 lbs./31 kg
Frame: 2" dia. steel
Handlebar: Dual-action
Pedals: Large and textured
Resistance: Hydraulic
Monitor: Nonbacklit LCD
3 AAA batteries included
Bottle holder and water bottle included
Shipping
The Gazelle Supreme Glider is shipped in a box that weighs 68 lbs./31 kg.
The shipping cost depends on the vendor you are purchasing from. Nevertheless, Amazon provides free shipping and gets it delivered within days.
Assembly
The glider doesn't come completely assembled. So, there are a couple of parts to be attached to the main core unit.
The package includes an instruction manual and even the tools needed for the assembly. But we suggest using a YouTube video for the assembly because it virtually explains the process step by step.
It takes less than an hour to get it done.
Maintenance
It requires to be checked regularly to be sure that the parts are not loose or broken. Also, lubricate the joints periodically to keep them maintained for smooth performance.
Conclusion
The Gazelle Supreme Glider Home Workout Machine offers low-impact full-body cardio and resistance training. Regardless of your fitness level, you will be able to enjoy stretching, walking, running, skiing, and more.
[rank_math_rich_snippet]