The SNODE RW100 Water Rowing Machine is your basic indoor cardio exercise equipment. However, it has a construction that supports a higher user weight capacity and a console that is app compatible as well.
Thus, it has an edge over the likes of MaxKare Water Rower.
Also, it provides dynamic resistance levels that are suitable for everyone that wishes to engage and experience challenging workouts for expedited weight loss and overall physical fitness improvement results.
Click right here to have a peek at the best of the SNODE RW100 Water Rowing Machine on Amazon.
The Frame and Construction
The SNODE RW100 Water Rowing Machine is designed and constructed for home use. It features a quality and sturdy steel frame with exception of the rail beam that is made of aluminum alloy.
It is finished with anti-corrosion and rust-resistant paint for longevity.
Not only does it stand the test of time, but it also supports an impressive maximum user weight capacity of 331 lbs./150 kg.
The rail is about 43'' long and supports up to 40'' inseam. This means taller individuals can exercise with the rowing machine without full leg stretch problems.
In other words, users that are up to 6'5'' tall are most likely to be accommodated.
The robust base framework with adjustable levelers and the overall assembled weight of the unit guarantees a stable workout experience.
Although, the use of a protective rubber mat creates a conducive platform for improved stability and prevention of sweat spill-over during workouts.
This is a fairly large rowing machine, but not as large as the Concept2 Model D rowing machine though.
The assembled dimensions are 79'' long by 20'' wide by 36'' high. Differently put, a workout area with perimeters of 6'58'' length by 1'66'' width is going to be needed. Also, an additional 2' clearance will be required around it for ease of access and safety.
The Seat of the SNODE RW100 Water Rowing Machine
The seat is one of the vital parts of an indoor rowing machine because it makes or breaks your workout experience. Hence, users must ensure that it provides sufficient comfort that could last them through a workout session.
That said, as for the seat of the SNODE RW100 Water Rowing Machine, it appears to have the design that does just that.
The saddle is contoured and cushioned so that your butt sits comfortably without any chance of slipping off during back-and-forth rowing motion. The dimensions are 10'' long by 12'' wide by 2'' thick.
It integrates 3 solid rollers, and it is attached to the 43'' long rail beam.
As a result, the movement is unhindered and quiet.
Having said that, this does not guarantee you are going to feel completely comfortable on the seat.
Therefore, if you wish to improve the level of comfort you can purchase a gel seat cover online.
Finally, the floor to seat height is about 16''. This is especially good for those with joints issues such as arthritis because they can get on and off the rowing machine without much struggle.
The Handlebar
The unit has an ergonomic straight handlebar that is cushioned with anti-slip rubber foam for comfortable and firm grips.
It is attached to a 1'' nylon strap that has its other end anchored to the recoil system of the water tank. So, the operation is smooth and quiet as opposed to a rowing machine with a chain anchor, and it does not require any periodic lubrication.
Having said that, the handlebar does not have HR sensors integrated into it, and consequently, the rowing machine can't read and transmit your pulse rate data to the monitor for observation.
However, there is a way around this problem if you wish to track and maintain your target heart rate zone at all times. You can use an external heart rate monitoring device such as an HR wristwatch.
Pedals
The pedals are large and textured with 1'' heel guards and adjustable safety straps for optimized stable foot placement.
They also pivot to provide the flexibility the ankles need during workouts to prevent excessive stress on them.
The Resistance
The SNODE RW100 Water Rowing Machine is equipped with a dynamic water resistance system. It comprises a dark-red water tank that contains 16 blades inside and a recoil system that has a 1'' nylon strap wrapped around it.
The resistance is built based on your workout tempo. In other words, the faster you work out, the harder and intense the resistance becomes, and the slower you go, the less difficult the resistance gets.
Simply put, there are no predefined resistance levels as the case with a magnetic rowing machine.
However, you can lower or raise the resistance intensity by reducing or increasing the water level in the tank.
To put it differently, more water in the tank increases the possibility of a more challenging workout experience than when it is less.
Still, the resistance is based on the user's rowing ability, and it is good for everyone, regardless of their fitness level, including professionals.
The resistance system does make some noise, but it is below that of an air resistance system. It is not problematic. On the contrary, it provides a soothing swoosh sound that mimics rowing in a real boat.
A siphon pump is included for easy removal and refilling of water in the tank.
The Console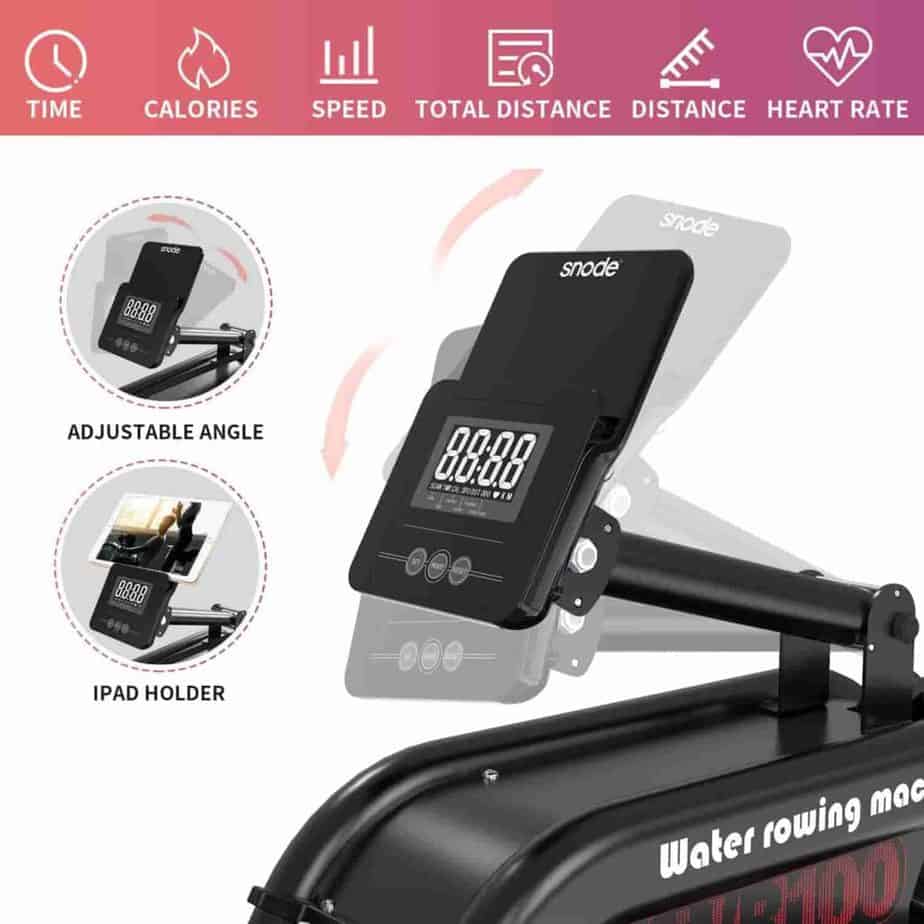 The SNODE RW100 Water Rowing Machine is Bluetooth-enabled and compatible with a FitShow app. It features an LCD monitor that tracks Time, Calories, Strokes, SPM, and Distance.
The Distance measurement unit is in kilometer and cannot be toggled to miles.
There is a SCAN function that rotates the display values one at a time after every few seconds.
However, you can still set a preferred workout value to show constantly instead if you so desire.
There are three navigation buttons on the console, namely the Mode, Set, and Reset. These are used to navigate through the functions of the console such as setting up a goal countdown for Time, Distance, and Calories.
The console has a Bluetooth feature that enables you to connect to the FitShow fitness app so that you can record your workout progress and follow your fitness plans through your smartphone/tablet device.
It is of course compatible with Android and iOS-based smartphones.
The console is battery-powered; no electricity is needed. To save power, the monitor shuts down automatically when the rower remains idle for 4 minutes, and it turns on when you start rowing or press the Mode button.
Accessory
There is a built-in tablet holder that is situated at the top of the console. This means you can place a device on the holder and still be able to view the monitor as well.
This enables you to watch a movie or stream music and still be able to track your workout progress.
Although, there is no water bottle holder. So, you will have to improvise to keep water handy for proper maintenance of hydration.
Storage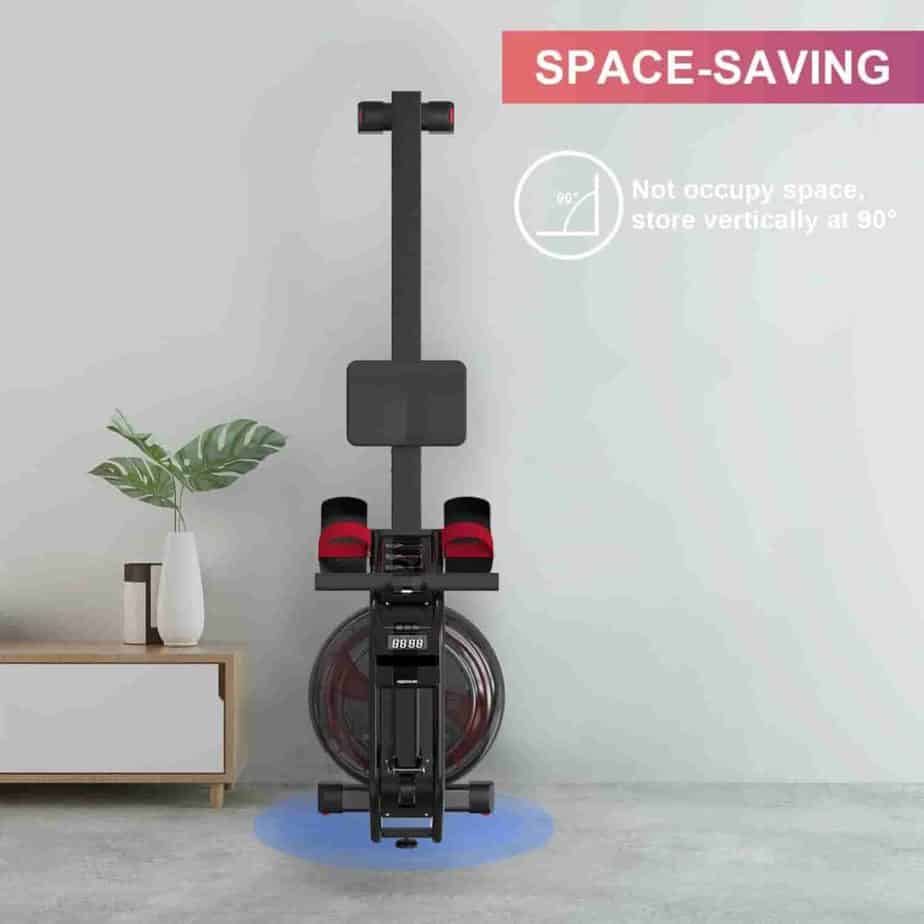 This rowing machine is not foldable as the Stamina 35-1450 Water Rower, but it can be stored vertically to save space.
It is easy to move around the room or apartment because it is not heavy and it integrates transport wheels.
The Pros/Features Overview
It is durably built to support a maximum user weight capacity of 331 lbs./150 kg
Its operation is not overly noisy, but instead provides a swoosh sound that brings the memory of rowing in a real boat
It is stable due to the base with adjustable stabilizers
The seat is contoured, cushioned, and fairly comfortable
The handlebar is cushioned with anti-slip rubber foam for secure and comfortable grips
It doesn't take up much space for storage and the integrated transport wheels help in the process of moving it around
The 43'' rail beam supports up to 40'' inseam; therefore, users up to 6'5'' can be accommodated
The console is Bluetooth enabled and compatible with FitShow app for tracking and recording workout progress via a smartphone (Android & iOS-based)
The LCD monitor tracks workout stats such as Time, Distance, Strokes, SPM, and Calories
You can also set countdown goals for Time, Distance, and Calories
The resistance system is dynamic and suitable for everyone, including the elderly, beginners, intermediaries, and professional athletes
The rowing machine provides full body and yet low-impact cardiovascular exercises that burn tons of calories and target muscle groups such as the shoulder, chest, abdominal, biceps, Knees, Calves, large gluteus maximus, and quadriceps
The maintenance requirement is low
Assembly is easy
A tablet holder is included
Cons
No heart rate monitoring system
No water bottle holder
Warranty
Product Dimensions & Specifications
Length: 79''
Width: 20''
Height: 36''
Shipping dimensions: 42.75'' L x 21.5'' W x 18.5'' H
Net weight: <90.4 lbs./41 kg
Gross weight: 90.4 lbs./41 kg
Frame: Steel
Rail length: 43''
Inseam support: 40''
Maximum user weight capacity: 331 lbs./150 kg
Drive: 1'' Nylon strap
Resistance: Water
Seat: Contoured and cushioned, dimensions; 10'' L x 12'' W x 2'' T
Handlebar: Straight and cushioned
Pedals: Large and textured with adjustable safety straps and heel guards
Bluetooth-enabled & FitShow app compatible
Console/Monitor: LCD
Floor to seat height: 16''
Siphon water pump included
Tablet holder included
Transport wheels included
Shipping
The SNODE RW100 Water Rowing Machine comes in a box and not two.
It contains the water tank and the frame, rail beam, stabilizers, pedals, handlebar, seat, owner's manual, tools, and the console.
The assembly is not complicated, and everything you need to know about putting it together is explained in the instruction manual.
It takes about an hour to assemble it.
Maintenance
Basically, always keep the rowing machine clean after every workout session. Examine it before a workout to be sure that every part is good and not broken.
The water in the tank will require to be replaced periodically.
Conclusion
The SNODE RW100 Water Rowing Machine offers complete body and low impact cardio workouts that engage about 85% of the body's muscle groups.
So, it not only raises your heart rate and metabolism for significant weight loss but also chisels those muscle groups as aforementioned.
SNODE RW100 Water Rowing Machine Review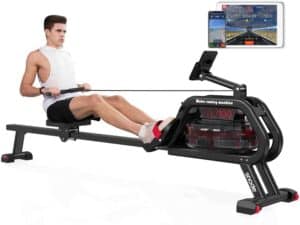 The SNODE RW100 Water Rowing Machine is your basic indoor cardio exercise equipment. However, it has a construction that supports a higher user weight capacity and a console that is app compatible as well.
Product Brand: Snode
Product In-Stock: InStock