The Schwinn IC4 Indoor Cycling Exercise Bike is more than your average spinning unit. It is at the top of the Schwinn IC series that has the likes of Schwinn IC2, & IC3.
This indoor cycling bike is almost a total contrast to those two except for the fact that they have the same frame design. Other than that, the IC4 includes more advanced features that inspire and motivate users.
Some of these features include the micro-adjustable magnetic resistance system (adjustable to up to 100 levels), Bluetooth wireless HR chest strap compatible console (HR armband included);
Coaching app connectivity (i.e. compatible with Peloton app, Zwift app, Explore the World app, and more), dual-sided pedals, fully adjustable seat, and handlebar, it supports a higher maximum user weight capacity of 330 lbs./149.6 kg and more.
On top of that, it has favorable reviews by real users on Amazon.
Click right here to have a peek at the Schwinn IC4 Indoor Cycling Exercise Bike.
The Frame and Construction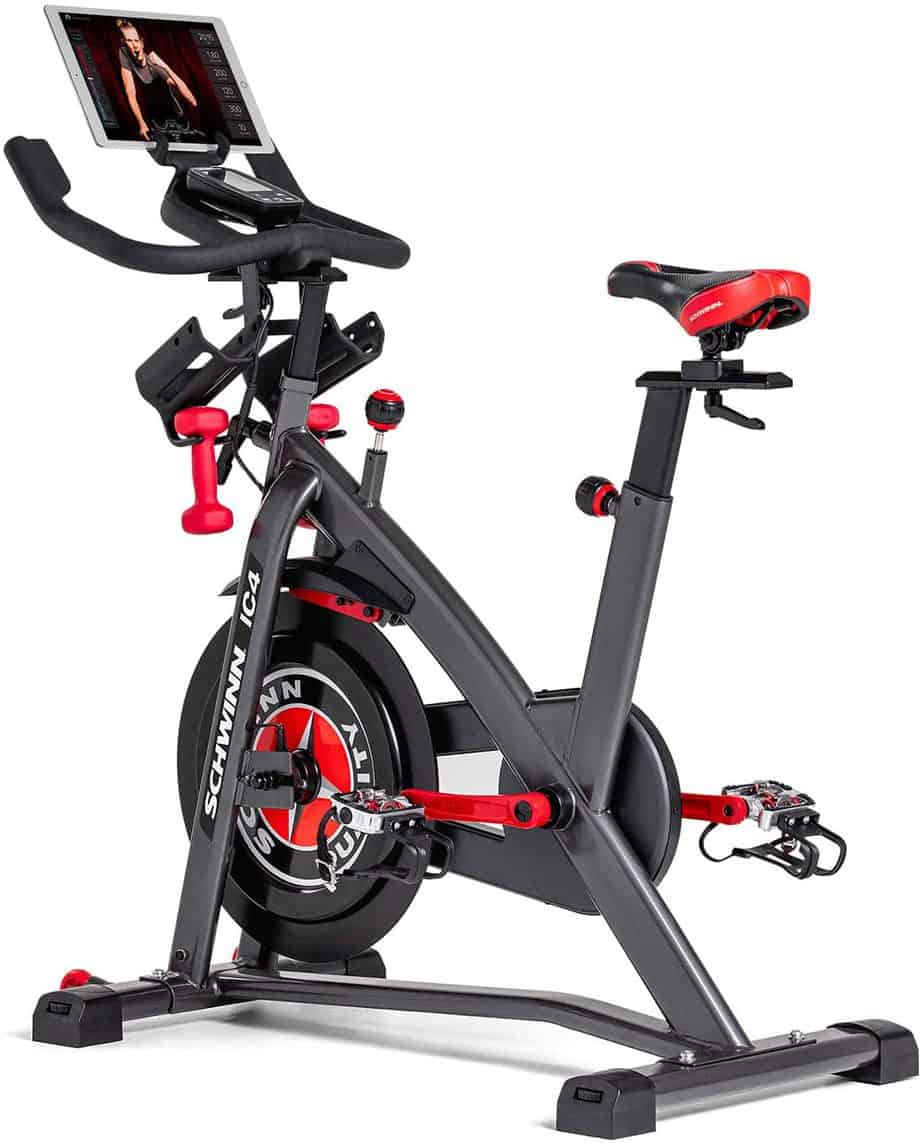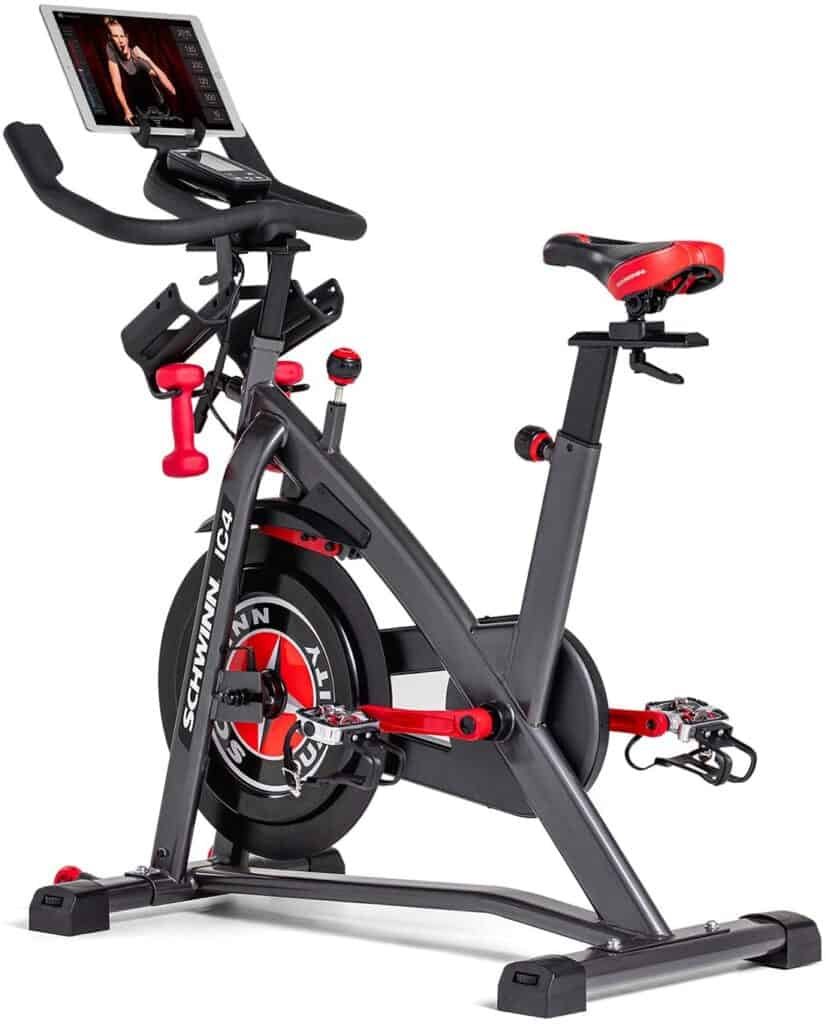 First thing first, the Schwinn IC4 Indoor Cycling Exercise Bike is released on September 30, 2019, and it comes with a standard home-use warranty.
Its construction integrates a heavy duty anti-corrosive steel frame that establishes outstanding sturdiness and durability. Other parts such as the belt cover, the dumbbells/water bottle holders, tablet holders, and end caps are made of durable plastic.
Hence, the bike is the embodiment of quality and elegance.
Moreover, it has a robust base framework that features steel adjustable stabilizers with rubber end caps for floor-friendliness and stability. So, you can level up the bike on a surface that is not entirely even for stable workouts.
Although, it is a good practice to place the bike on a protective rubber mat to create a viable solid workout platform, and to prevent damaging the floor as well.
The assembled dimensions are 47.8'' long by 21.20'' wide by 51.8''high. Consequently, the bike is going to need a workout area with perimeters of 4' length by 1'8'' width, and an extra clearance of 2' around it for safety and a comfortable workout experience.
Users can easily have it relocated via the front-mounted transport wheels even though it weighs 106 lbs./48 kg.
The Seat of the Schwinn IC4 Indoor Cycling Exercise Bike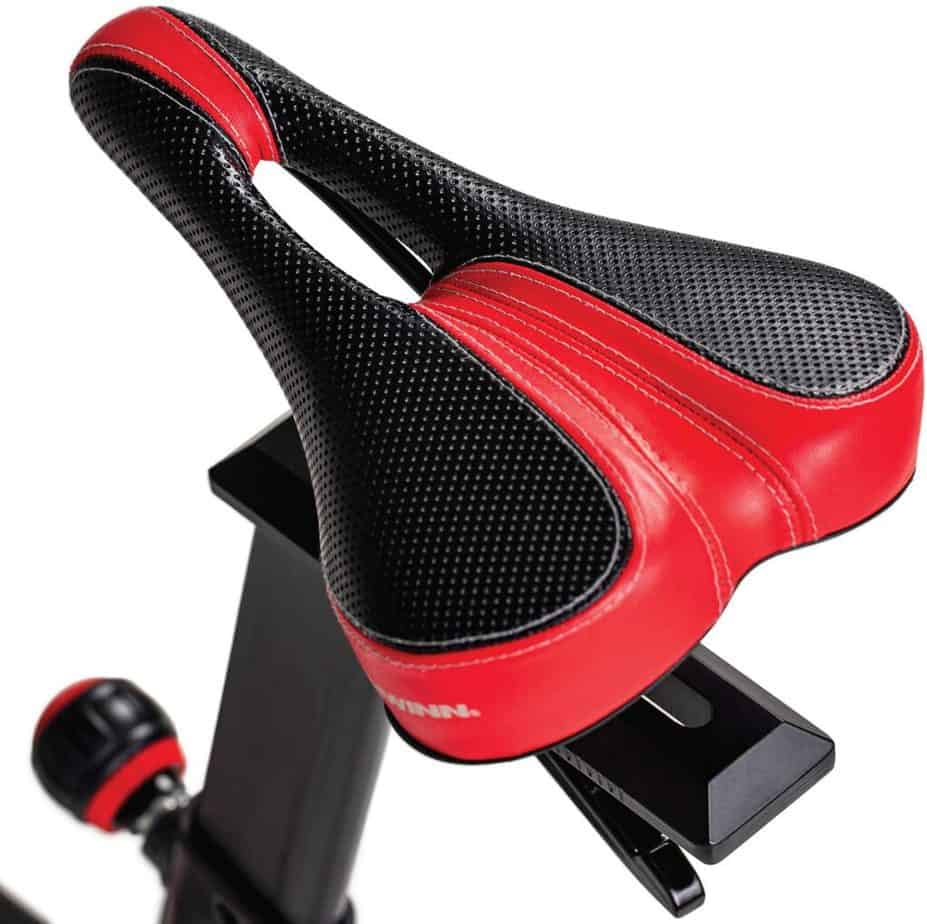 The integrated race-style seat is padded with layers of foam and a groove on it for lasting comfort during workouts.
It can be improved if necessary by the use of a gel seat cover, padded cycling shorts, or even having it replaced entirely with another option of your choice.
It is 4 way adjustable, meaning it can vertically (upward/downward) and horizontally (fore/aft) be adjusted for optimum workout position. As a result, users of different heights (4'9'' – 6'5'') and sizes can workout with the bike.
The Handlebar
The handlebar is also 4-way adjustable. It complements the seat's adjustability and thereby enhancing the bike's overall customizability. So, users can micro-adjust the bike to fit their unique height and size.
The multi-grip and ergonomic handlebar is coated with anti-slip rubber foam. Hence, working out in different postures is possible even as it provides secure and comfortable grips that could outlast the duration of a workout session.
Pedals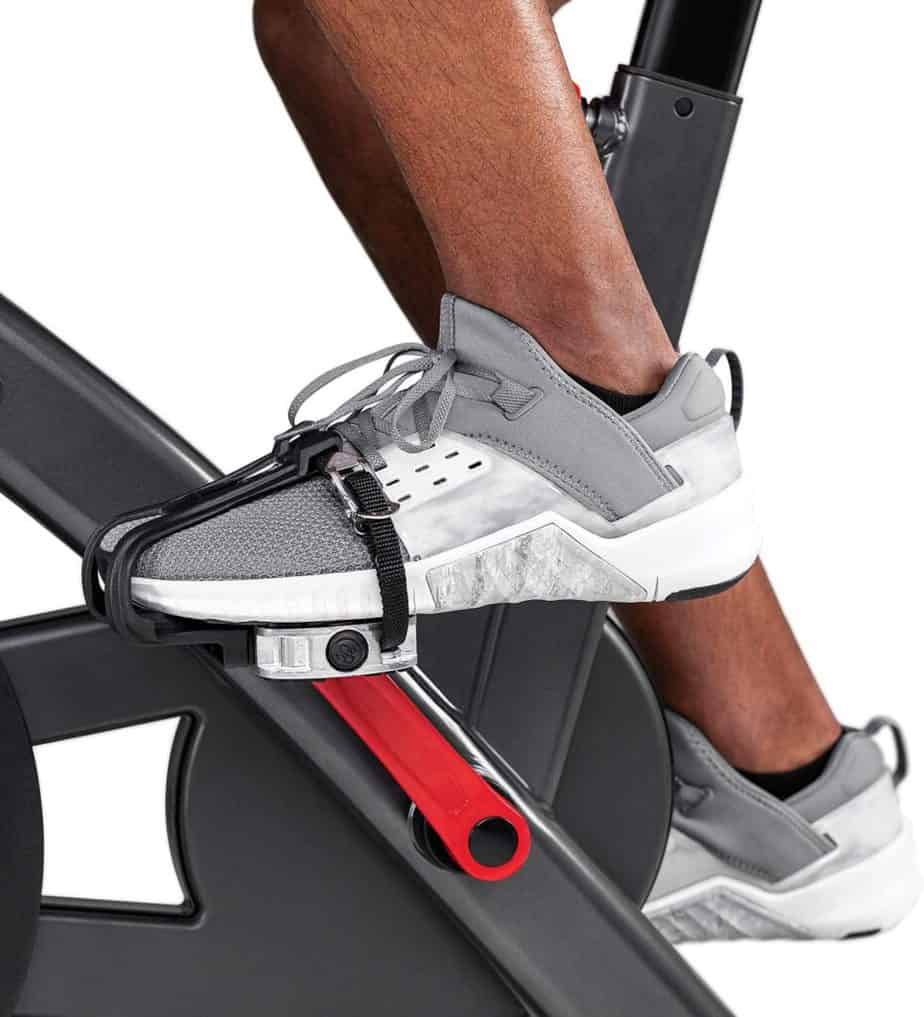 Just as aforementioned, the Schwinn IC4 Indoor Cycling Exercise Bike is equipped with a set of dual-sided pedals. This means that the pedals are toe caged on one side, and have clip-ins on the flip side.
Therefore, users can choose to use a pair of standard gyms or a pair of clip-in shoes for workouts. They both offer maximum footing stability with the latter being more adherent in terms of foot placement and pedaling.
Since the pedals are made of metallic alloy and are attached to a solid crankset, and crank-arms, users whose weight is within the stipulated maximum user weight capacity of 330 lbs./149.6 kg can safely perform out-of-seat cycling style.
The Drive
The Schwinn IC4 has a belt-drive system that provides smooth and quiet operation, and it does not require you to periodically check and lubricate or adjust any of the internal elements.
Speaking of, the drive comprises a durable anti-stretch belt, a 3-piece crankset, solid crank-arms, and pulleys.
It is also bi-directional, meaning you can pedal in reverse to diversify your workouts and to tone more muscle groups.
However, you can't coast on the bike as one could on a road bicycle since the flywheel and the pedals are fixed, thus, they spin concurrently. Hence, as a safety measure, ensure to push the tension knob down whenever you wish to quickly stop pedaling and exit the bike.
The Resistance System
The Schwinn IC4 Indoor Cycling Exercise Bike has a manual magnetic resistance system with 100 micro-adjustable levels. Users of different ages and fitness levels can always engage in suitable productive workout activities.
The resistance system mainly consists of a magnetic brake pad, the tension knob, and then the 40 lbs./18 kg high inertia flywheel. When the magnetic brake pad emits magnetic fields around the flywheel, it causes a drag and ultimately generates resistance without friction.
The resistance becomes intense and challenging when the magnetic brake gets close or closer to the flywheel and it becomes less intense when it is farther away.
As you may have noticed, no maintenance is required and no part needs to be replaced after some time as opposed to a friction resistance system.
To increase or decrease the resistance level, simply turn the tension knob clockwise or counterclockwise, respectively.
Moreover, when the resistance is engaged, it doesn't make any sound, and the spinning motion of the flywheel remains vibration-free due to its weight.
Since the resistance is manually adjustable, it doesn't need to be connected to a power outlet for it to be functional.
The Console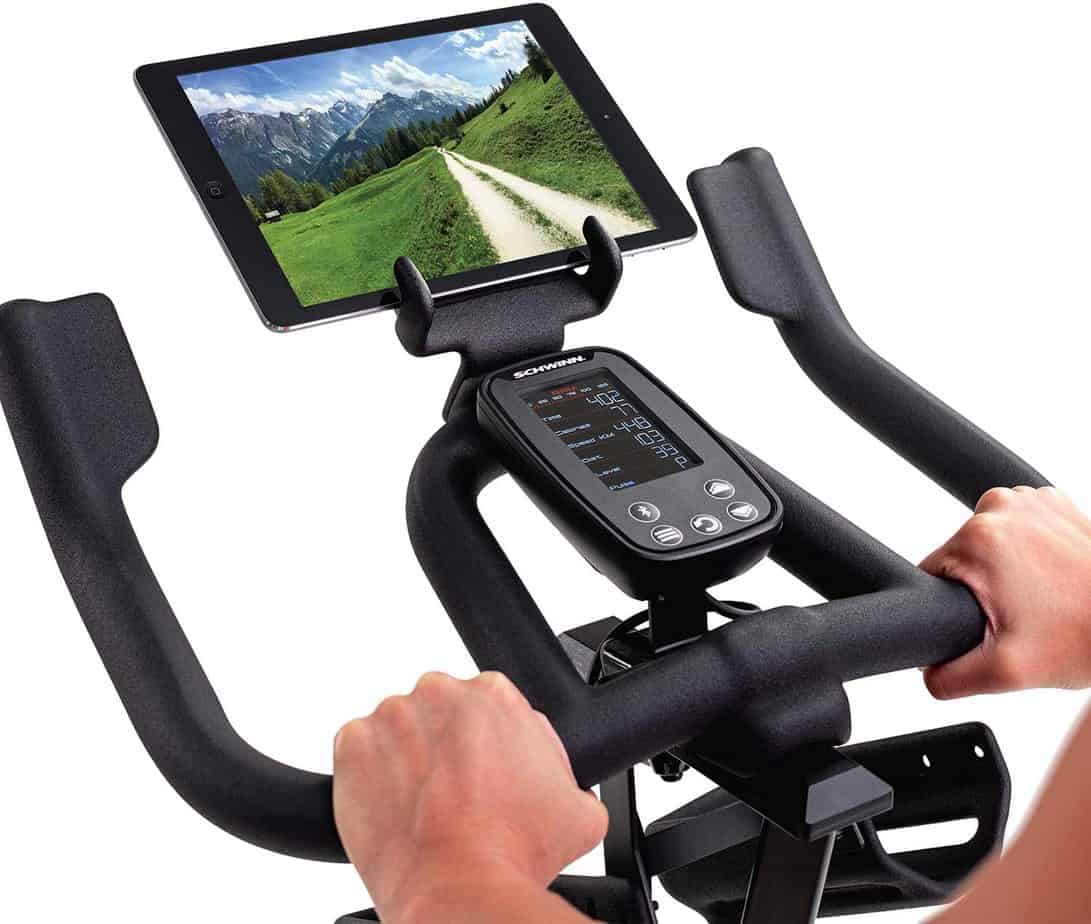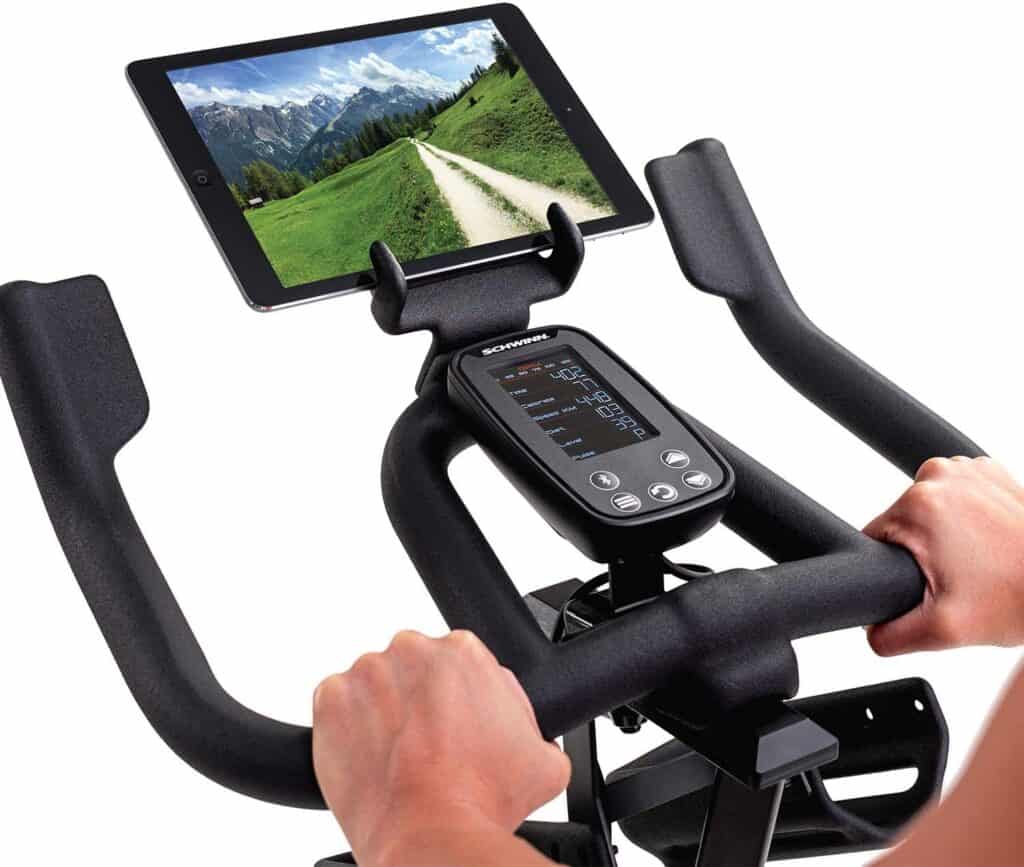 The console is another piece of an advanced feature on this bike. Although, it needs to be powered by electricity, and for this reason, the package comes with a 9V DC, 1.5A adapter for it.
It features a multi-digital backlit LCD monitor that can display workout data such as Time, Distance, RPM, Calories, Speed, and Pulse simultaneously. The Speed and Distance can be measured by km/h or mph, and miles or kilometers, respectively.
The metrics are displayed with high readability that cannot be diminished even when viewed in a poorly-lit room.
As aforementioned, the unit comes with a Bluetooth HR armband that can be used to track the heart rate.
Users can set up a goal (countdown) for Time, Distance, and Calories.
There are 5 easy to use navigation buttons that include a key for Bluetooth activation/deactivation, Reset key, Enter key, increase (up) and decrease (down) keys.
The console has premium digital connectivity. In other words, it is compatible with coaching and cycling apps such as the Peloton app, Zwift app, Explore the World app, and many more.
Connecting to any of these apps could allow you to train in exotic virtual trails from around the world, and track your workout progress online, stream thousands of live and on-demand classes, and interact and race against others, and more.
This can be achieved by downloading the app on an Android or iOS Smartphone and syncing it with the console via Bluetooth.
However, you can't use any of the apps unless you subscribe.
A USB port is integrated to help keep your Smartphone device charged up at all times during a workout session.
Accessory
Interestingly, just as the Pooboo Pro Model D77, the Schwinn IC4 Indoor Cycling Exercise Bike includes a pair of 3 lbs dumbbells for upper body strength workouts.
There are also two water bottle holders and a tablet holder that can securely accommodate a large tablet device. So, you can keep water within reach for proper hydration and a tablet device for virtual training, and entertainment.
Storage
This cycling bike is pretty much easy to store because it is compact and portable.
A storage area with perimeters of 4' length by 1'8'' width can accommodate it and the transport wheels at the front base facilitate the relocation process.
You can't run out of ideas of where to store it since it can be stored in a corner of the room, under the staircase, or in the garage.
Pros/Features Overview
The bike is sturdy, stable, and durable
It supports a maximum user weight capacity of 330 lbs./149.6 kg
It exudes elegance
It is completely customizable (seat & handlebar are 4-way adjustable), thus, users between the heights of 4'9'' to 6'5'' can utilize the bike
The seat is ergonomically designed to provide lasting comfort, and it can be swapped for another if necessary
The multi-grip handlebar is coated with anti-slip rubber foam material so that users can train longer in different cycling postures without experiencing slippage or blisters in the palms
The dual-sided pedals allow users to use either a pair of standard gym shoes or SPD shoes for cycling activity; they both provide maximum footing stability
Users can pedal in reverse
The magnetic resistance system offers 100 micro-adjustable levels that are suitable for everyone regardless of age or fitness level
The 40 lbs./18 kg high inertia flywheel provides consistent momentum for vibration-free motion
The belt drive system's operation is quiet and smooth; thus, the bike is home and environmentally friendly
It integrates Bluetooth console that connects with HR armband (included), and online apps such as Zwift app, Peloton app, Explore the World app, and more; therefore, you can maintain your target heart rate zone, be able to train on virtual trails, and track your workout progress online, and more
A backlit LCD monitor that tracks workout data such as Time, Distance, Calories, Speed, RPM, and Pulse Rate is included
Goal setting for Time, Distance, and Calories
The maintenance requirement is low
Assembly is easy
The warranty coverage is good
USB charging port
A set of 3 lbs dumbbells for upper body workout is included
2 water bottle holders for hydration are included
A tablet holder is included
Cons
You will have to subscribe before you can access any of the coaching and cycling apps
The monitor can only be powered by electricity via the included adapter; no battery option
Warranty
10 Years for the Frame
3 Years for Mechanical Parts
1 Years for Electrical Parts
90 Days for Labor
Product Dimensions and Specifications
Length: 47.8''
Width: 21.20''
Height: 51.8''
Shipping dimensions: 40.5'' L x 33.5'' W x 10'' H
Net weight: 106 lbs./48 kg
Gross weight: 120 lbs./54.43 kg
Maximum user weight capacity: 330 lbs./149.6 kg
Supported height: 4'9'' to 6'5''
Drive: Belt
Resistance: Manual magnetic with 100 adjustable levels
Seat: 4-way adjustable
Handlebar: 4-way adjustable
Pedals: Toe caged & SPD
Frame: Steel
Flywheel: 40 lbs/18 kg
Base with adjustable levellers
2 pieces of 3 lbs dumbbells
Console: Backlit LCD with multiple display windows
Bluetooth connectivity for HR armband & online apps
Water bottle holder: 2
Tablet holder: Yes
Transport wheels: Yes
Shipping
Amazon ships this cycling bike for free and gets it delivered in a few days.
It is shipped out in a single box that weighs 120 lbs./54.43 kg with dimensions of 40.5'' long by 33.5'' wide by 10'' high.
Assembly
The assembly process is similar to most average indoor cycling bikes. Since it arrives with the major components preassembled, you only need to couple up other parts such as the seat/handlebar posts, the seat, the handlebar, the pedals, the base stabilizers, and the console.
You are going to be guided by the included instruction manual, and the tools required for the assembly are included too.
It takes about 30 minutes, more or less to complete the assembly.
Maintenance
Always wipe the unit clean after every workout session. Do not expose the console to liquid, direct sunlight, or moisture.
Endeavor to examine the bike before use to be sure that all the parts are tight and in good order.
Conclusion
Those that seek to acquire a bike that is more than average may consider adding the Schwinn IC4 Indoor Cycling Exercise Bike to their home gym.
It has features that could motivate you, inspire you, and excite you at the same time so that you can achieve your fitness goals.