Indoor cycling bikes are specifically for cardio workouts that mainly target the lower body and the core but hardly target the arms and shoulders, and there has not been a typical indoor stationary spin bike that provides an overall body workout except there are some upright foldable bikes that have innovative arm resistance bands integrated into them to help provide the needed upper body workouts.
That said, Pooboo Pro Indoor Belt Drive Exercise Bike with Dumbbells Model D770 comes with two small purple dumbbells that allow the user to also get arms workouts. In other words, the user can get a semblance of upper body workout even though it may not be very intense and challenging but it is a token gesture from the manufacturer to the user and therefore, this is seen as an added advantage over other indoor cycling bikes.
This bike was launched in the second quarter of 2018 and has positive reviews that suggest it belongs to the best spin bikes category.
It is made of steel and ABS materials and supports 330 pounds/1149.6 kg maximum user weight capacity. Its overall performance is very much appreciated because it has a belt drive system with a 29-pound/13 kg perimeter weighted flywheel that provides smooth and quiet operation.
It is compact yet suitable for 6.4 feet tall users. It's portable because it is integrated with transport wheels at the front base. It is stable because it has a very good base framework.
The elderly, folks that are recovering from injury, and everyone else that wishes to lose weight and stay healthy could find this bike very interesting and useful.
Click right here to have a peek at the price of the Pooboo Pro Indoor Belt Drive Exercise Bike with Dumbbells Model D770 on Amazon.
The Frame and Construction
The Pooboo Pro Indoor Belt Drive Exercise Bike with Dumbbells Model D770 is solidly built with a durable steel frame, integrated with enduring ABS-made guards for the flywheel and the belt.
It is coated with mainly black anti-corrosion and rust paint that preserves the quality and face value from depreciation.
Its sturdiness is just revealed on the high user weight capacity of 330 pounds/149.6 kg it supports.
It has overall assembled dimensions of 49 inches long by 23.6 inches wide by 53 inches tall which will not overwhelm your space. If measured by feet this means a workout area of 4 feet long by 2 feet wide and a ceiling height of 7 feet will be just fine for the bike.
The base framework features front and rear stabilizer bars that have four adjustable levelers beneath them. The bike is designed with great base support and adjustable levelers that allow the user to balance the bike on a surface that is not level in order to achieve maximum stability.
The bike weighs about 80 pounds/36 kg, this helps it to stay grounded and eliminate any possible movement during a workout.
Even though the adjustable levelers have a surface gripping effect it is recommended to place the bike on a protective rubber mat especially if you are going to use it on a hard surface such as a tiled or wooden floor.
The bike's seat and handlebar are adjustable thereby making it possible for users of different heights and sizes to be accommodated.
There are transport wheels integrated into it which make the relocation process of the bike very easy regardless of its weight.
Two small purple dumbbells are included in the package for upper body workout with the holders at the seat's back.
The Seat, the Handlebar, and the Pedals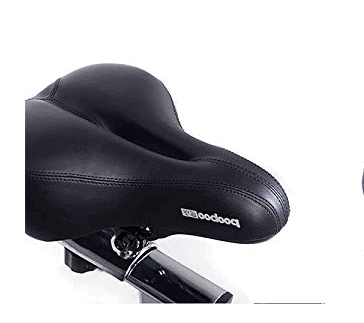 The seat on the Pooboo Pro Indoor Belt Drive Exercise Bike with Dumbbells Model D770 is ergonomically designed to provide a decent comfort that will allow the user to workout longer. It has even two springs underneath the seat designed to make it more comfortable. It is padded and covered with a leather material that also ensures durability.
But just in case you are wondering if you could improve the comfort of the seat if necessary, the answer is yes, you can. You could use a gel seat cover on it or even replace the seat completely with another one of your choices because the connection system is standard.
The seat is 4-way adjustable, which means it can be adjusted vertically (upward/downward) and horizontally (fore/aft). Users between the heights of 5 to 6.4 feet will be able to find a suitable position for workouts. Even shorter individuals with long legs and taller folks with short legs will also be able to use it.
While on the other hand, the handlebar is 2-way adjustable; it can be adjusted upward and downward. This makes the bike a lot more flexible and likely to be suitable and comfortable for users.
It has a multi-grip design that features three different modes, namely, mountaineering mode, hill-climbing mode, and flat mode. These modes/grips provide a variety of workouts that target different muscle groups and also add fun to them.
The handlebar is coated with soft rubber foam material for comfort and a secure grip that prevents slippage and blister in the palms.
The EKG sensors are also embedded in it so that heart rate data can be transmitted to the monitor for proper pulse tracking and maintenance of the heart rate zone target.
A tablet holder is also integrated with the handlebar so that the user can have the opportunity of listening to good music or watch a movie while exercising on the bike.
The pedals feature toe cages and adjustable safety straps that secure the feet in place and provide support for aggressive and full thrust.
They can only accommodate standard gym shoes and not spin shoes. However, if you wish to use spin shoes then you should let the manufacturer know so that they can send you a pair that supports spin shoes, but that comes with an extra charge of course.
The Drive
The Pooboo Pro Indoor Belt Drive Exercise Bike with Dumbbells Model D770 has a belt transmission system that is quiet and smooth during operation.
The user can enjoy watching the TV, listening to music without having to turn the volume up while exercising with the bike. Also, the family and the neighbors are not going to be disturbed by the workout activities.
The drive system consists of a durable heavy-duty belt, pulleys, 3-piece crankset, solid crank arms, the 29 pounds/13 kg perimeter weighted flywheel, and the pedals. The crank arms and the pedals are capable of supporting a standing ride.
The user can pedal in reverse because the drive is bidirectional and this exercises more muscle groups. That said, a user cannot coast on this bike because the flywheel and the pedals spin together and simultaneously and it is only imperative to halt the workout activity by pressing down the tension knob.
The resistance
The Pooboo Pro Indoor Belt Drive Exercise Bike with Dumbbells Model D770 has a friction resistance system that uses a brake pad and the flywheel to generate resistance.
When the brake pad and the flywheel get in direct contact resistance is generated. The tension knob is used to control the resistance strength. To increase or decrease the resistance strength simply twist the tension knob clockwise or anticlockwise respectively.
Most spin bikes use this type of resistance system and it is very effective and efficient as well. It provides unparallel resistance strength that is suitable for everyone. This means the elderly, a beginner, and a professional athlete can use it and appreciate the effect.
However, the problem is the user may not be able to track strength and endurance improvement because the bike does not have predetermined resistance levels. Therefore, it will be almost impossible to know the level of resistance being used.
Moreover, the brake pad will require a replacement as time goes on but this usually takes time and depends on how frequently the user uses the resistance.
The Console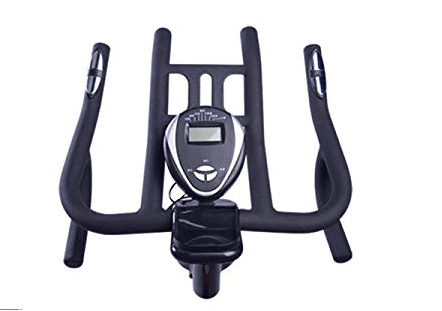 The console on this bike is basic and capable of tracking the workout progress because of the LED monitor on it.
Again, as aforementioned, the console does not have any extra features such as programs or wireless connectivity but has a monitor that displays time, distance, speed, calories burned, and pulse.
These workout values will surely keep the user motivated and focused on achieving the fitness goal(s) in mind.
The monitor displays data/metrics with high clarity as long as it is being viewed in a well-lit environment because it is not backlit.
Its SCAN function displays all data one at a time after a few seconds and rotationally but the user can choose to set a preferred workout data to display constantly without changing throughout the entire workout session and can also reverse to the SCAN function at will.
The console is not powered by electricity but by batteries.
The monitor auto shuts down when there is no activity on the bike for a few minutes in order to save the battery power and it also turns ON when activity resumes. The monitor can also be turned ON/OFF by pressing a button.
Accessory
The Pooboo Pro Indoor Belt Drive Exercise Bike with Dumbbells Model D770 is integrated with a tablet holder which is very necessary for entertainment.
The tablet holder is positioned well so that the monitor's screen is not blocked when a device is placed on it. This does not prevent the user from viewing the workout data even as he/she enjoys the movie or listening to good music.
There is no other accessory available on this bike aside from the tablet holder. You can improvise for keeping water within reach for hydration during workouts or better still purchase a universal water bottle holder separately.
Storage
The Pooboo Pro Indoor Belt Drive Exercise Bike with Dumbbells Model D770 doesn't require a large space for storage.
Just as aforementioned, 4 feet long by 2 feet wide space area will suffice to store the bike.
You may decide to leave it right where it is being used for workouts if you have space because it has a gorgeous outlook or you may store it under the staircase or in the closet.
It is very portable even though it weighs 80 pounds/36 kg because it has transport wheels at the front base.
Approval Rating
This bike has very favorable Amazon users' reviews. The users think that they made a very good investment by purchasing the Pooboo Pro Indoor Belt Drive Exercise Bike with Dumbbells Model D770.
Its average approval rating is very impressive and you can read more right here.
Pro/Features Overall
It is sturdy and stable
It supports a higher user weight capacity of 330 pounds/149.6 kg
Its seat is comfortable and adjusts 4-ways
The handlebar feature multi-grip design that offers a variety of workouts and is 2-way adjustable
Its features an LED monitor that displays time, distance, speed, calories burned and pulse
It has a belt drive system that provides smooth and quiet operation and doesn't require maintenance
A tablet holder is included
It has a friction resistance that is highly efficient and suitable for all users
It has a 29-pound/13 kg perimeter weighted flywheel that generates consistent momentum
It is easy to assemble
It is portable and easy to move from one room to another
It is not very bulky therefore even people with space problem can afford to keep it
It is an ideal spinning bike for the home that matches the gym's quality
Two small dumbbells are included for upper body workout
Cons
The monitor is not backlit
It does not have online connectivity
It does not have a water bottle holder
Dimensions and Product Specifications
49'' Length
24'' Width
53'' Height
Weight: 80 pounds/36 kg
29 pounds/13 kg perimeter weighted flywheel
Seat: 4-way adjustable
Handlebar: 2-way adjustable
2 small purple dumbbells included
Pedals have toe cages and safety adjustable straps
A tablet holder included
Drive: Belt
Resistance: Friction
Shipping, Assemble, and Pedals
Shipping
The Pooboo Pro Indoor Belt Drive Exercise Bike with Dumbbells Model D770 is shipped in a box with dimensions of 44.8 inches by 11 inches by 35 inches and weighs 92 pounds/41.7 kg.
The shipping cost is determined by the shipping policy of the retailer you are buying from, but some vendors such as Amazon provide free shipping to United States residents.
Assembly
The assembly of this bike is not difficult because it comes partially assembled.
You only need to assemble or attach the stabilizer bars, the seat and handlebar posts, the seat, the handlebar, and the console to the frame.
It takes about 30 minutes, more or less to completely assemble the bike.
An instruction manual is also included in the package.
Maintenance
The maintenance of the Pooboo Pro Indoor Belt Drive Exercise Bike with Dumbbells Model D770 is not serious.
Its drive system is basically maintenance-free and so is the resistance system, except that the brake pad may wear out over time because of its friction with the flywheel.
You need to always examine the bike before use for any part that may have loosened or broken in order to avoid an accident and further damage to the bike.
Finally, ensure to always keep it clean from dirt and sweat at all times.
Conclusion
The Pooboo Pro Indoor Belt Drive Exercise Bike with Dumbbells Model D770 is an ideal indoor cycling bike for home use. It possesses the quality and functionality that convey the same gym workout experience.
Pooboo Pro Indoor Belt Drive Exercise Bike with Dumbbells Model D770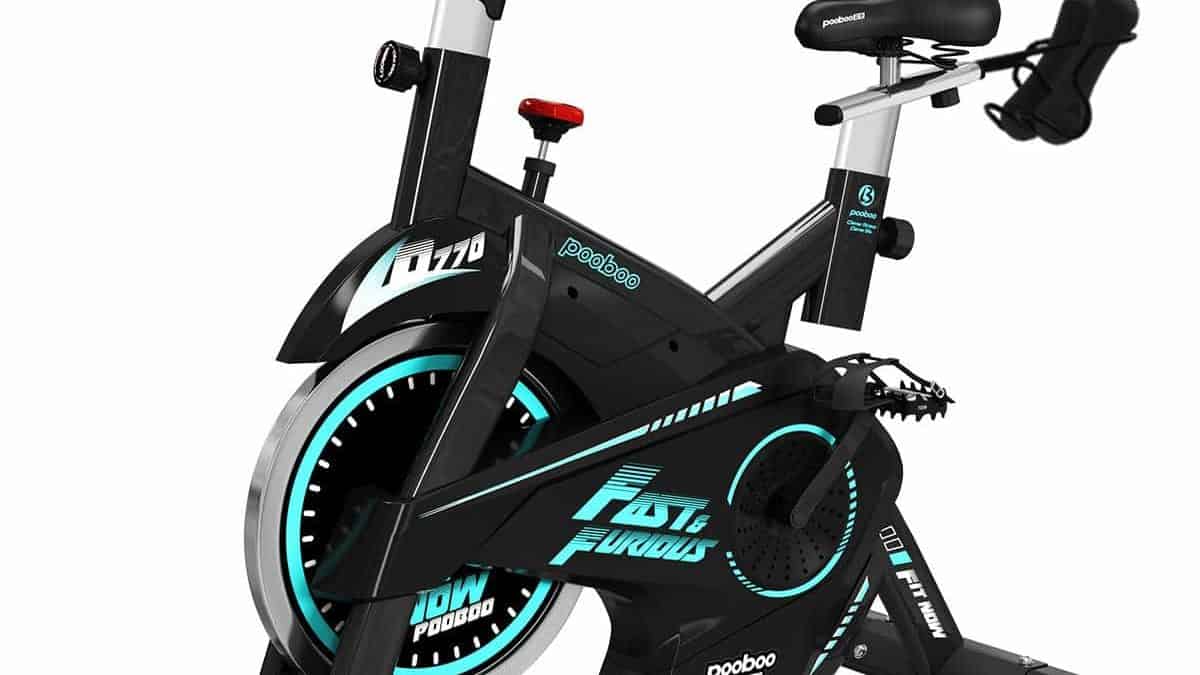 Pooboo Pro Indoor Belt Drive Exercise Bike with Dumbbells Model D770 is solidly built with a durable steel frame, integrated with an enduring ABS made
Product Brand: Pooboo
Product In-Stock: InStock