The SereneLife SLFTRD25 Smart Folding Treadmill is the upgraded model of the SereneLife SLFTRD18 Treadmill. It is pricier than the latter but has additional or improved features.
For instance, it has an upgraded 1.5 horsepower motor and provides a higher speed range, has a slightly larger running surface, integrated with a 3-level manual incline system, and more.
It is designed to be used at home or in the office for walking, jogging, and running activities. Users will feel comfortable while using it around people due to its relatively quiet operation.
However, if you are a serious runner, this might not be the best choice for you due to the motor capacity and the running surface that is not very spacious.
Otherwise, it could help you to lose weight and improve overall physical fitness.
Click right here to have a peek at the SereneLife SLFTRD25 Smart Folding Treadmill.  
Frame and Construction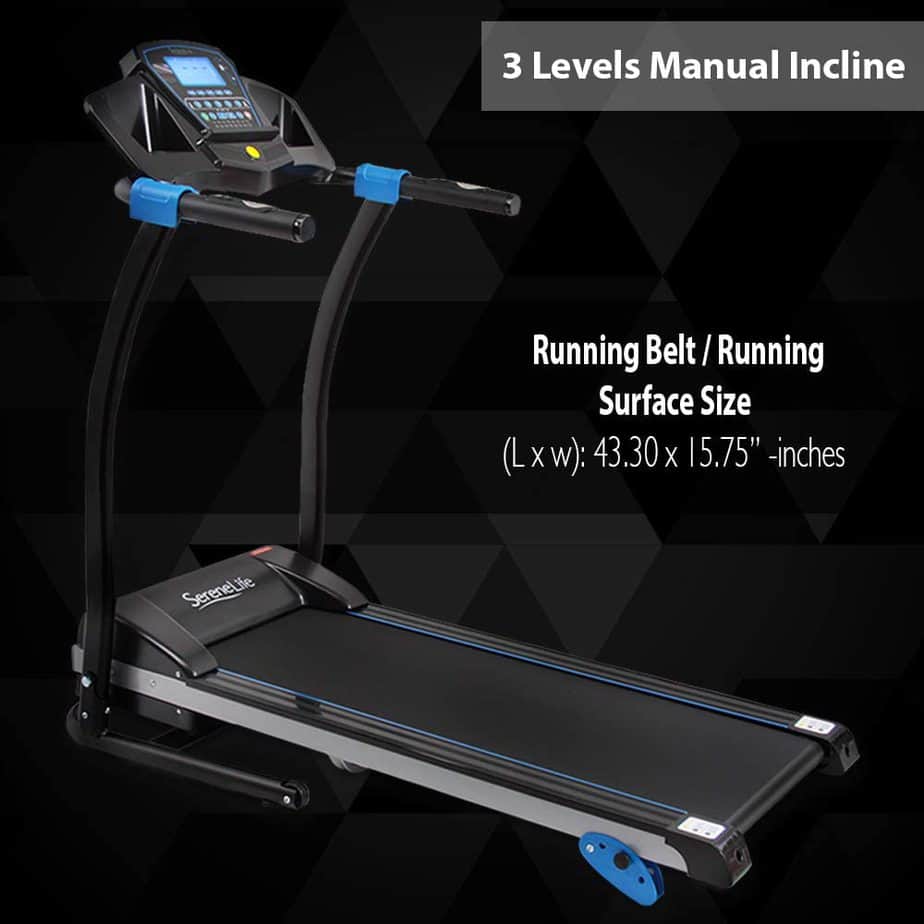 The SereneLife SLFTRD25 Smart Folding Treadmill is first available on July 23, 2018.
It features a solid aluminum frame and ABS made side rail covers, motor cover, and console covers. Users that are up to 265 lbs./120 kg or less can utilize the treadmill.
The incorporated crossbar at the front base, and its assembled weight of 74.96 lbs./34 kg ensure that users experience enhanced stability during a workout; and there are transport wheels integrated for easy relocation process.
However, ensure to use the treadmill on a solid and even surface to avoid slope sidedness that could cause wobbling.
The treadmill's dimensions are 54.73'' long by 26.78'' wide by 49.61'' high. Therefore, it will need a workout platform with measurements of 4'6'' length by 2'3'' width; and for safety and easy access reasons, an extra clearance of 2' will be needed around it.
Having said that, it takes less space for storage because it's foldable. In other words, when folded its length becomes half of its assembled size.
As a result, a storage area with measurements of 2'2'' length by 2'3'' width can accommodate it (treadmill).
Also, folding and unfolding the unit won't be a problem because the Soft Drop system that features a hydraulic cylinder, in most part, does the heavy lifting for you.
The anti-skid surfaced tread belt ensures you don't slip during workouts and its dimensions are 15.75'' width by 43.30'' length. Of course, this is not a large running surface but it does allow most users to walk, jog, and run on it.
Moreover, the cushioned deck reduces the stress users may experience on their joints while jogging or running.
Bluetooth Connectivity
The SereneLife SLFTRD25 Smart Folding Treadmill features a Bluetooth BLE 4.0 version. It has up to 16+ range and doesn't require a password for the connection. Thus, you can easily link the treadmill with the FitShow app for online workout progress tracking and fitness goals sharing via social media.
The free FitShow app is downloadable from the Google app store and compatible with Android, iOS-based smartphones, and laptops.
To connect to the app, simply turn on the Bluetooth of the device you wish to use, and then click on the main menu button (Indoor) to search for an available device and pair it.
The Motor of the SereneLife SLFTRD25 Smart Folding Treadmill
The Smart Folding Treadmill is equipped with a powerful, energy efficient, and plug-in designed 1.5 horsepower motor that provides a speed range of 0.6-7.5 mph (up to 12 km/h).
Its operation is smooth and even quieter than the foot fall of the user during jogging or running exercises.
It is designated at the front base of the treadmill, and covered with a plastic cover for safety. It requires a 120V power outlet to function.
The Console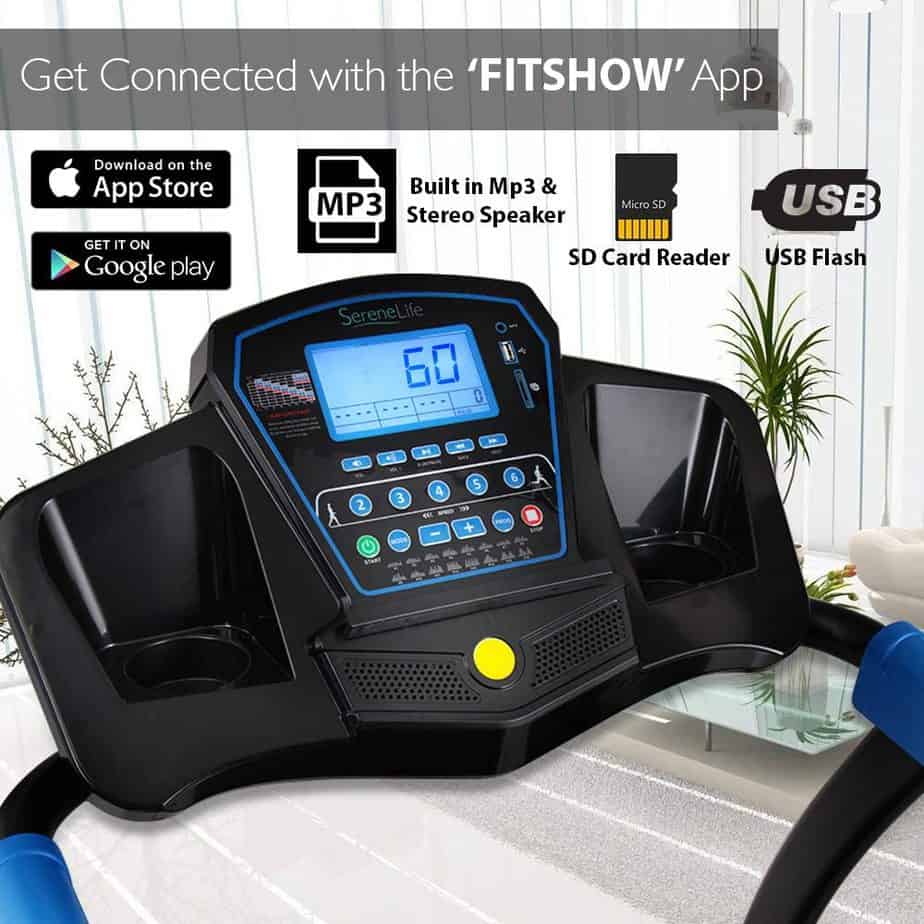 The console has a 5'' blue backlit LCD monitor that tracks workout progress such as Time, Distance, Speed, Calories Burned, and Heart Rate. Its readability is good and won't diminish even when viewed in a poorly-lit room.
The heart rate is only viewable when the contact grips (handrails with heart rate sensors) are held during a workout, otherwise, it won't be displayed on the monitor.
The console is not telemetric, meaning a wireless heart rate chest strap can't be used for pulse monitoring.
There are 16 preset workout programs (P01-P16) that offer different workout challenges for achieving your fitness goals. When any of the programs is selected the treadmill automatically adjusts the speed level.
However, when it's in a manual mode, you can manually and gradually increase or decrease the speed via the short cut buttons on the right handrail or quickly do so through the 2, 3, 4, 5, 6 buttons on the console.
Moreover, goal setting for Time, Distance, and Calories is available. In other words, you can set a goal for any of the aforementioned values to count down until it reaches zero while you work out on the treadmill.
Accessory
The treadmill has a number of accessories that include 2 cup holders, a tablet holder, a card reader, a USB port for a flash drive, and a sound system (built-in speakers & MP3 port).
Therefore, the time spent on this treadmill can be fun as you exercise to achieve your fitness goals.
Incline System
The SereneLife SLFTRD25 Smart Folding Treadmill features a 3-level manual incline system. It could simply be adjusted manually via the adjuster that is located at the rear deck.
Although, if you wish to use the incline, you will have to get down from the treadmill to make adjustments before getting back on for a workout. Unlike a treadmill with an automatic incline system that allows you to adjust the incline while working out on it.
Finally, the deck can be flat or in an incline position if you want.
Storage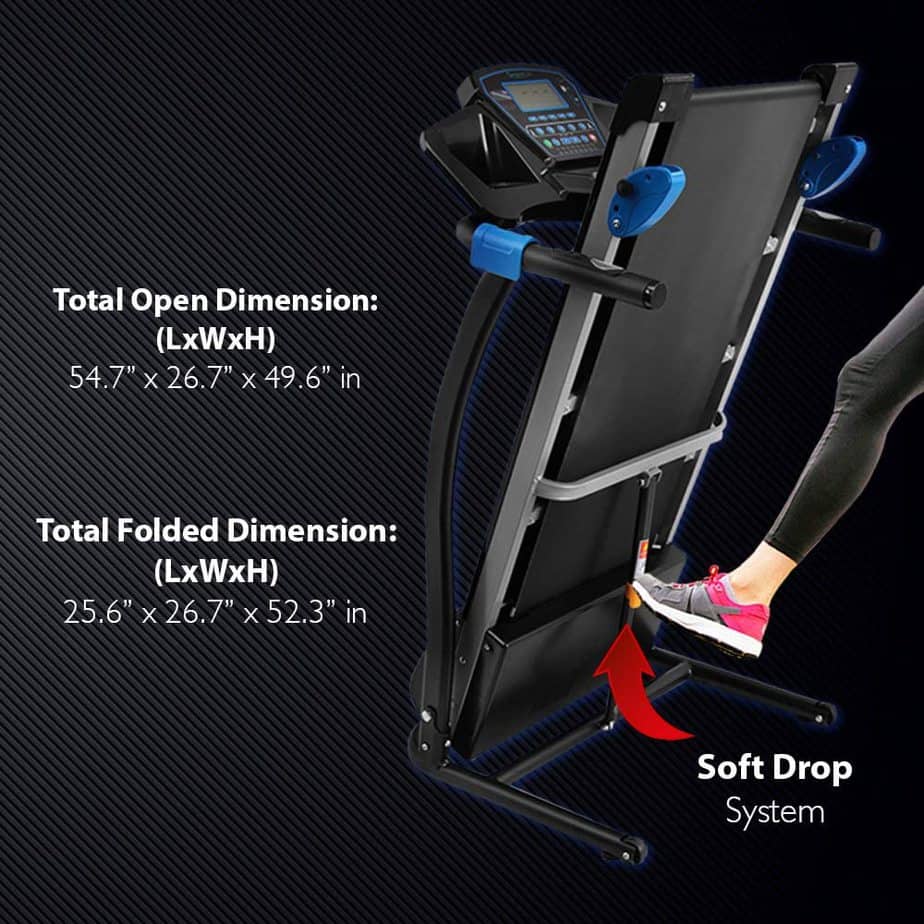 This unit is compact, and foldable; hence, it doesn't take up too much space, especially for storage. The reason is because when it is folded its dimensions become 25.6'' long by 26.7'' wide by 52.3'' high, and so an area with measurements of 2'2'' length by 2'3'' width can accommodate it.
The folding process is facilitated by the SoftDrop system. This helps you to easily and safely fold and unfold it without causing damage to the floor or hurting the foot.
Also, the integrated transport wheels enable you to move the treadmill from storage to workout area, and vice versa.
Approval Rating
Its average approval rating after hundreds of Amazon customers' reviews is impressive. This goes to indicate that the majority of its users are satisfied by the product's quality and performance.
Pros/Features Overview
Built to support 265 lbs./120 kg maximum user weight capacity
It features a 1.5 horsepower motor that provides a speed range of 0.6 mph- 7.5 mph
Users can walk, jog, and run on it for weight loss, cardiovascular health improvement, and more
Its compact and foldable design makes it to be adaptable in a room that is not so large
The 4-layer running surface is textured and cushioned for safety and reduced stress on the joints
Goal setting for Time, Distance, and Calories
There are 16 preset workout programs designed to help you achieve your fitness goals
The 3-level manual incline system provides diversified workouts that burn tons of calories and tone muscle groups
The treadmill's Bluetooth version BLE 4.0 with a wireless range of 16+ ft. syncs with the FitShow app via Android, ios-based smartphone, or laptop so that you can record your workout stats, personalized workouts, competitions, and more
The unit has contact grips for heart rate monitoring
The 5'' LCD monitor tracks workout stats such as Time, Distance, Speed, Calories, and Pulse
Easy to assemble
Low maintenance requirement
Transport wheels for easy relocation
Tablet holder, sound system, USB port, card reader & cup holders included for hydration and entertainment purposes
Cons
The treadmill is not for serious runners due to the low motor capacity and the small tread belt size
No pause button
Warranty
Product Dimensions & Specifications
Length: 54.73''
Width: 26.78''
Height: 49.61''
Folded dimensions: 25.6'' L x 26.78'' W x 52.3'' H
Shipping dimensions: 58.66'' L x 22.44'' W x 11.61'' H
Tread belt size: 43.3'' L x 15.75'' W
Net weight: 74.96 lbs./34 kg
Gross weight: 87.1 lbs./39.51 kg
Maximum user weight: 265 lbs./120 kg
Motor: 1.5 horsepower
Speed range: 0.6 – 7.6 mph
Frame: Aluminum
Heart rate monitoring: Contact grips
Console/Monitor: 5'' backlit LCD
Programs: 16 preset
Goal setting for Time, Distance, and Calories
Bluetooth BLE 4.0 with 16+ ft. wireless range capacity
Apps: FitShow
Incline: Manual, 3 levels
Transport wheels: Yes
Cup holders: Yes
Tablet holder: Yes
Built-in speakers, MP3 port, USB port, and card reader
Shipping
Amazon provides free shipping for this product and gets it delivered in a couple of days.
Assembly
The assembly is pretty simple and straight-forward. Any person with average skill can successfully assemble it without hassles.
Besides, you are only required to attach the 2 masts, the handrails, and the dashboard to the core unit. In less than an hour, you will be able to get the treadmill ready for use.
Maintenance
No serious maintenance is needed, except to keep clean at all times. Do not expose the console to direct sunlight, moisture, or liquid, and the tread belt might need to be lubricated periodically.
Conclusion
The SereneLife SLFTRD25 Smart Folding Treadmill is equipped with features that could help anyone that wishes to lose weight, improve heart and lungs' health, tone lower muscle groups, and more to succeed.
The included extras such as the sound system, water bottle holders, tablet holder, USB port, and card reader ensure that your workout experience is not only productive but also convenient and without dull moments.