The Schwinn IC3 Indoor Cycling Exercise Bike is the upgraded version of the Schwinn IC2. It is first released on September 30, 2019.
It has a few additional notable features such as the dual-sided pedals, telemetric console, higher user weight capacity support, better micro-adjustability, a heavier high inertia flywheel, and a belt drive system.
Its friction resistance system provides unlimited resistance levels and its overall design ensures that you experience low impact and high energy workouts in the comfort of your home.
You don't have to go to the gym to be able to lose weight and improve your overall physical fitness.
Click right here to have a peek at the Schwinn IC3 Indoor Cycling Exercise Bike.
Frame and Construction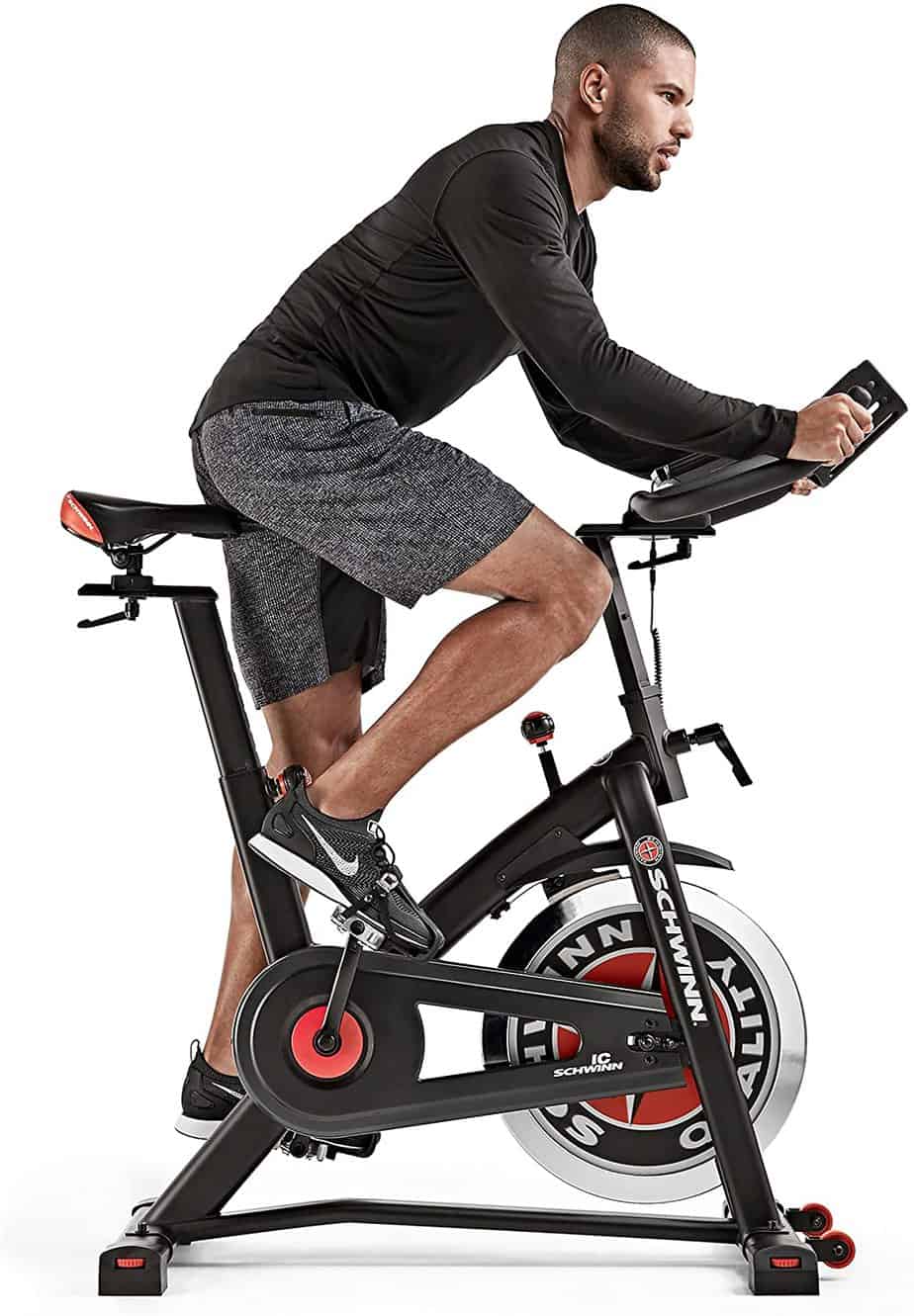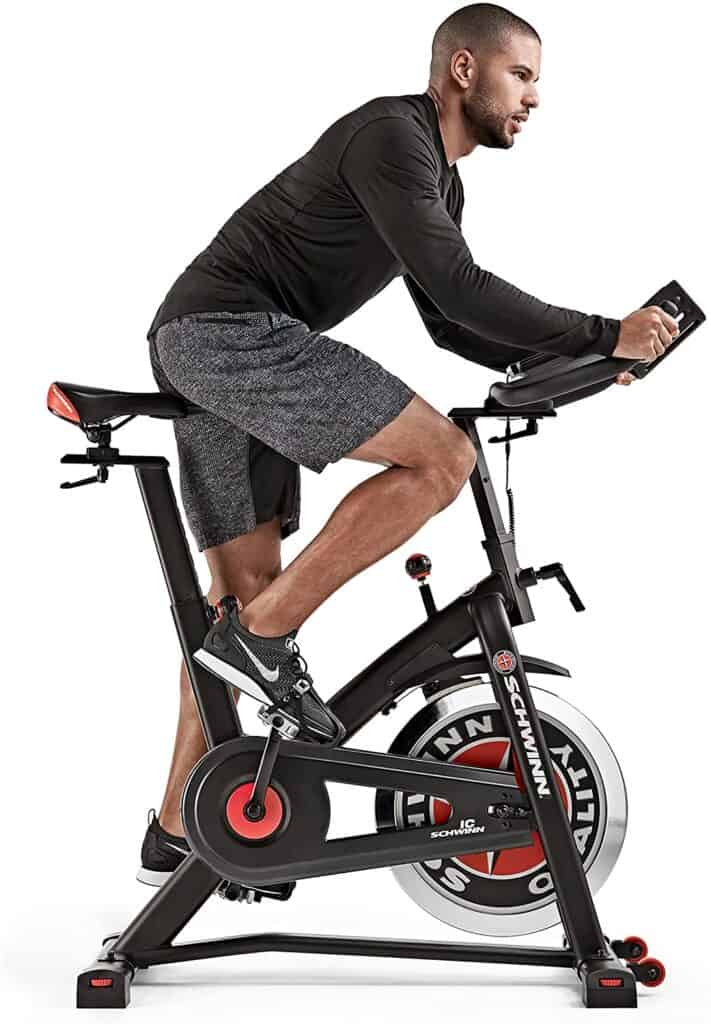 The Schwinn IC3 Indoor Cycling Exercise Bike is designed for home use and its construction features a heavy-duty anti-corrosive steel frame that supports a maximum user weight capacity of 300 lbs./136 kg.
Its other parts that are made of ABS material include the belt guard and the felt brake pad cover; hence, it generally exudes elegance and quality.
The robust base framework integrates adjustable steel stabilizers that promote maximum stability and floor-friendliness. However, the use of a protective rubber mat might further improve the workout platform for better stable workouts.
The bike is not foldable but it is not close to being overly large. Its overall assembled dimensions are 48.7'' long by 21.2'' wide by 49.8'' high. Therefore, it is going to need a workout area with perimeters of 4'1'' length by 1'8'' width and additional clearance of 2' around it for easy access and safety.
The Seat of the Schwinn IC3 Indoor Cycling Exercise Bike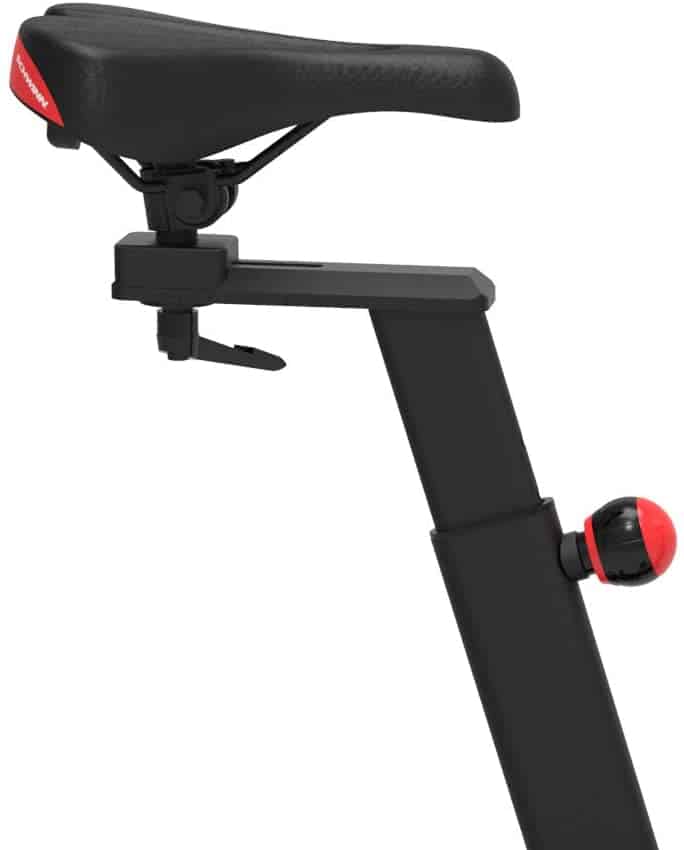 This spin bike comes with a race-style ventilated seat that provides air permeability for sustained comfort during a prolonged workout.
Having said that, you can use a gel seat cover, or padded cycling shorts to improve its comfort level if there is a need for that.
Moreover, it is possible to exchange it with another option you may have in mind since its connection mechanism is standard; hence, options are widely available online or in local bicycle shops.
The fully adjustable seat could be adjusted vertically (upward/downward) and horizontally (fore/aft). The lowest seat's inseam is 29'' and users between the heights of 4'9''- 6'5'' can conveniently be accommodated.
The Handlebar
The Schwinn IC3 Indoor Cycling Exercise Bike features an ergonomic and multi-grip-designed handlebar that is also 4-way adjustable. As opposed to the IC2's handlebar, it can be adjusted vertically and horizontally, providing the flexibility needed for proper customization.
In other words, the bike is fully customizable; hence, most users can fit in without any problem.
Its multiple handles allow users to perform different styles of cycling comfortably and safely. Slippage or blisters won't be experienced even when you work out consistently and longer.
A water bottle and tablet holders are included on the handlebar so that users can maintain proper hydration, and be able to keep a smartphone/tablet device handy for entertainment purposes.
Although there are no HR contact grips, nevertheless, users can still view their heart rate data if or when they use an HR chest strap device since the console is telemetric.
Pedals
Interestingly, the Schwinn IC3 Indoor Cycling Exercise Bike is equipped with a set of dual-sided pedals that are capable of accommodating standard and clip-in (SPD) shoes.
In other words, one side of the pedal is toe caged, while the flip side is SPD. So, regardless of which side you wish to use for workouts, your feet are going to be secure and comfortable during a high-speed workout.
The pedals are attached to a 3-piece crankset and durable crank-arms that are solid enough to support out-of-seat pedaling by any user that is within the stipulated maximum weight of 300 lbs./136 kg or less.
The Drive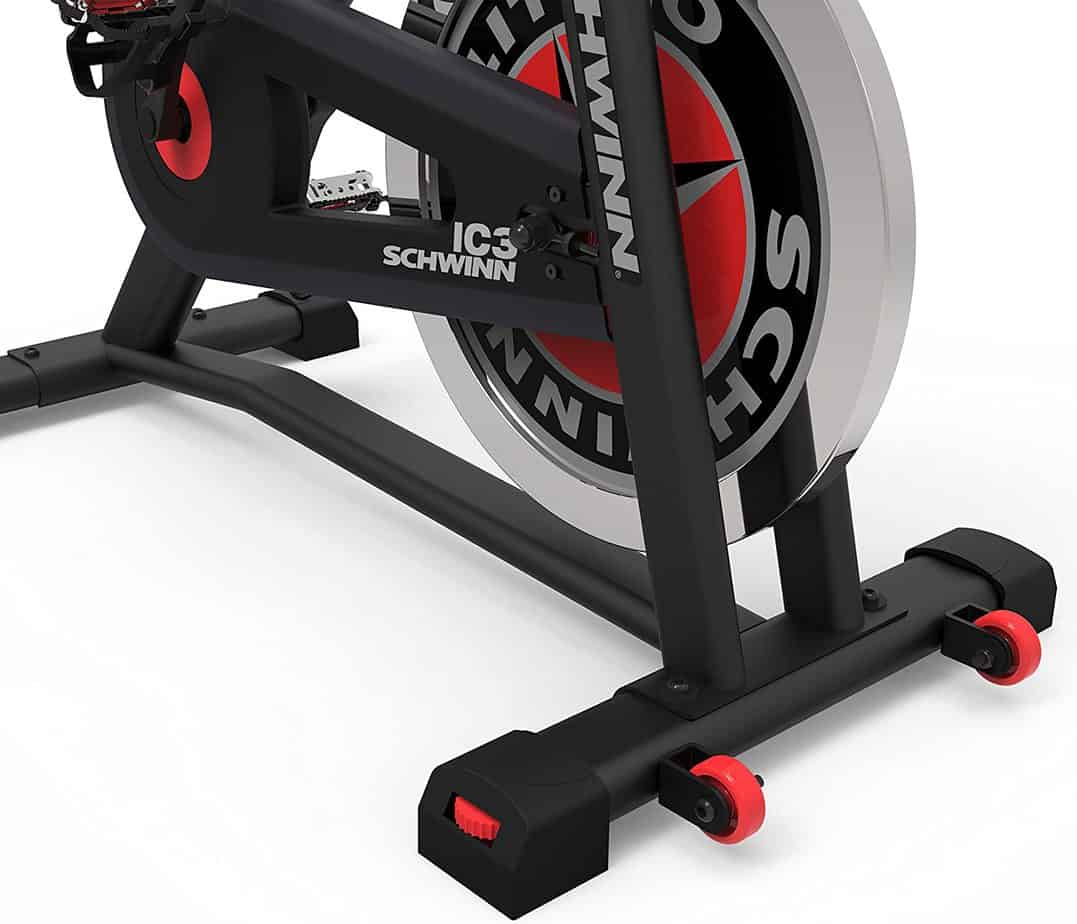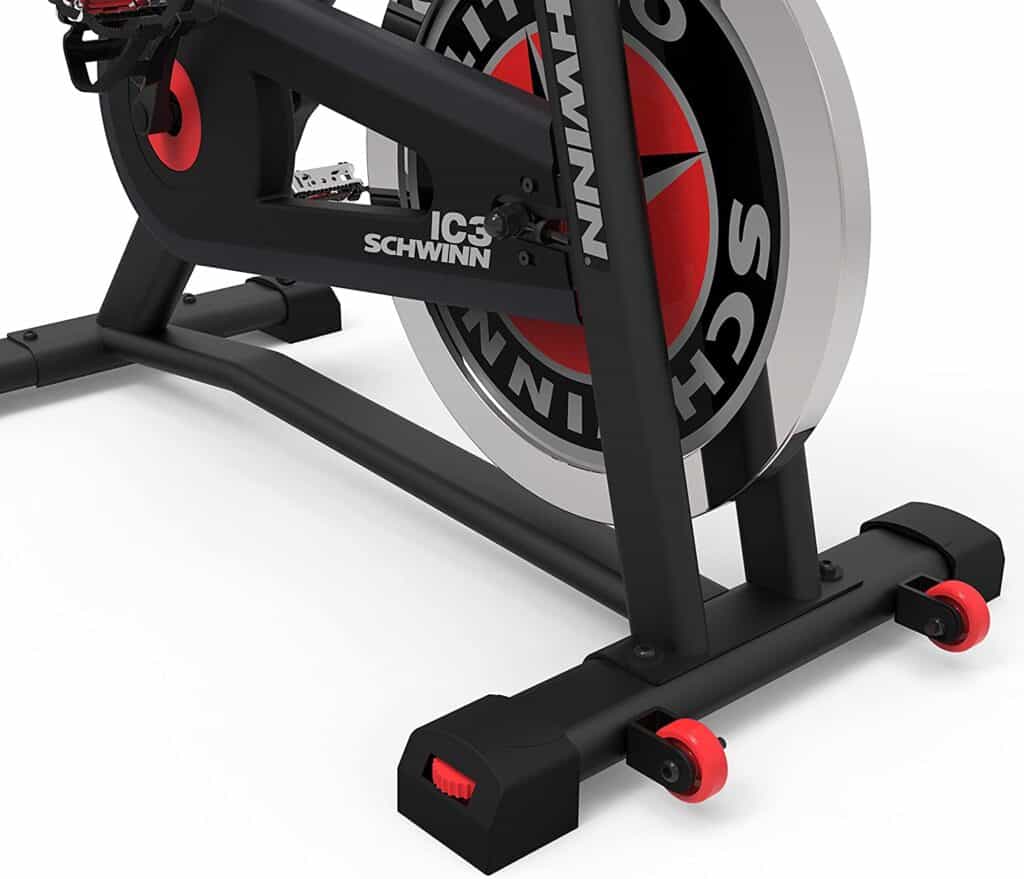 This cycling bike has a belt drive system that consists of a heavy-duty poly-V belt, pulleys, cranks, and the high inertia 40 lbs./18 kg flywheel. This type of drive system is mostly preferred over a chain drive system for two reasons.
First, its operation is smooth and quiet, and secondly, it doesn't require any post lubrication or adjustment whatsoever.
Moreover, due to the integrated heavy flywheel, its motion is consistent without vibration.
Therefore, users can work out at any time of the day without being bothered that someone somewhere might be disturbed by their activities. Also, they can freely and conveniently watch a TV show or listen to their favorite music at a normal volume range.
You might be wondering if the bike supports reverse pedaling and standing rides. Yes, it does. You can pedal backward to tone more muscle groups and also ride while out of the seat.
That said, since you can't possibly coast on the bike, it is important to apply the emergency brake whenever you wish to quickly stop pedaling; and this is done by simply pushing the tension knob on the mainframe tubing down.
The Resistance
The Schwinn IC3 Indoor Cycling Exercise Bike features a friction resistance system that mainly comprises a wool brake pad, the tension knob, and the flywheel. These are mechanisms that generate resistance.
The upside of this type of resistance system is that it produces unlimited resistance levels that are suitable for all users of all ages and fitness levels. While the downside is that you may find it difficult to figure out when you have started using higher resistance levels since they are not predefined.
The resistance can be increased or decreased by twisting the tension knob clockwise or anti-clockwise, respectively. However, to avoid a squealing sound that may occur when the resistance is engaged, always saturate the wool brake pad with silicon-based oil and this could also slow down the brake pad from wearing out.
The Console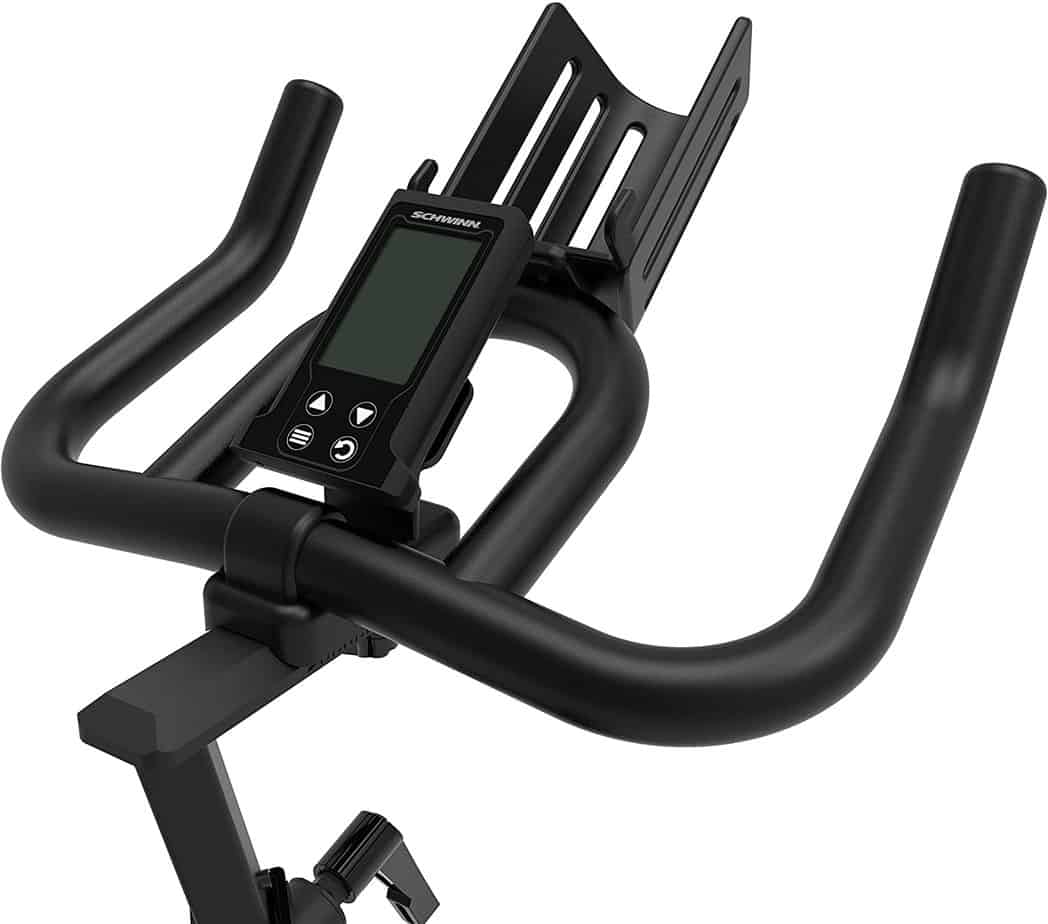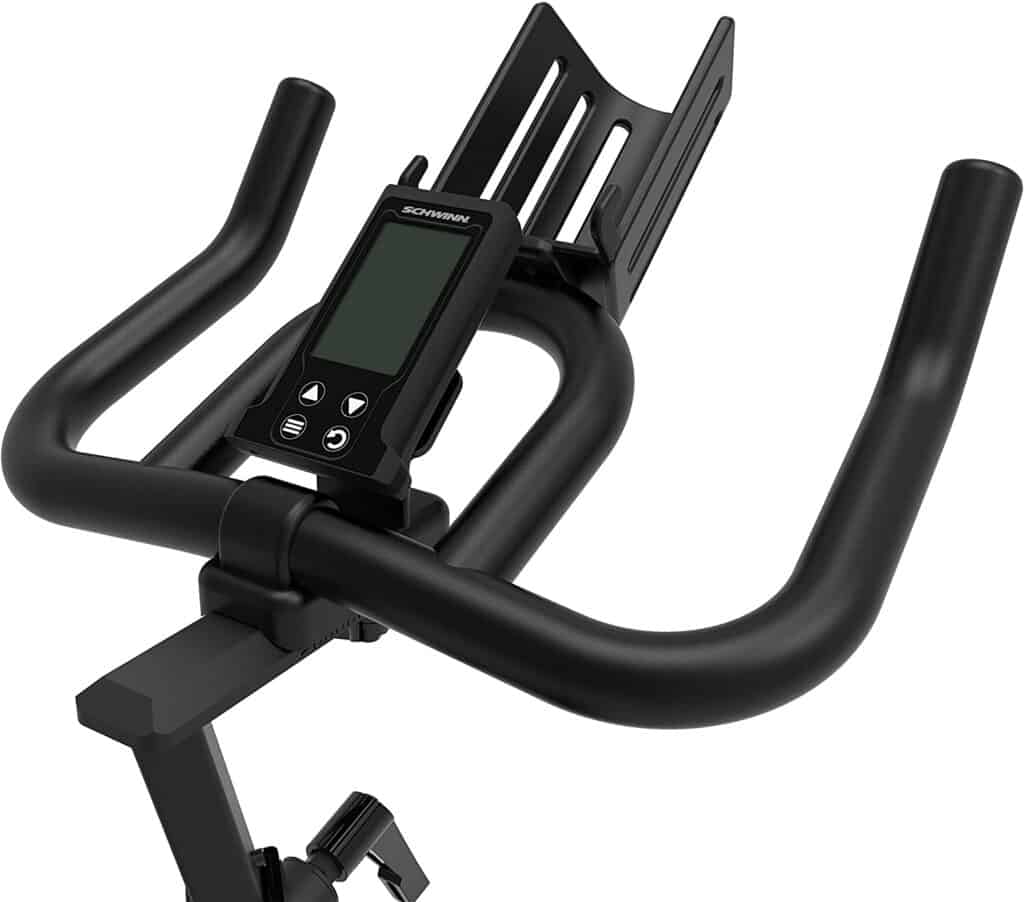 Unlike the console on the Schwinn IC2, this Indoor Cycling Exercise Bike has a fairly advanced console that is telemetry-enabled. It features an easy-to-use LCD monitor that is capable of displaying multiple workout data simultaneously.
Although, the Speed and RPM are displayed alternatively when the setting is on SCAN and the measurement unit for the Speed and Distance are km/h and km, respectively.
As aforementioned, there are no HR contact grips but you can view your heart rate if you use an uncoded Polar Electro HR chest strap transmitter that operates in the 4.5 kHz-5.5 kHz range (not included).
Additionally, you can set goals (countdown) for Time, Distance, and Calories.
There are 4 buttons that are designed to help you navigate through the functions of the console, and these include the Mode button, Reset button, and +/- buttons.
The Mode button allows you to select functions and edit values (set workout goal), while the Reset button enables you to reset Time, Distance, and Calories goal to zero, and when pushed and held for 3 seconds the monitor restarts; and finally the +/- buttons are used to increase or decrease values.
The monitor goes into hibernation when the internal sensor fails to receive a signal of activity after 4 minutes in order to conserve the batteries' energy since it is powered by 2 AA batteries. It also automatically turns on when activity on the bike resumes.
Accessory
The Schwinn IC3 Indoor Cycling Exercise Bike is equipped with a water bottle holder and a table holder. These enable the user to maintain proper hydration and to be able to watch a movie, listen to music or play a game during a workout session.
Storage
This is not difficult to store away because it is portable and compact. It has transport wheels at the front base which help in the relocation process even though it weighs 101 lbs./45.8 kg.
A storage area with perimeters of 4'1'' length by 1'8'' width can accommodate it.
Therefore, it could be stored under a staircase or just next to a wall.
Approval Rating
The majority of Amazon customers and independent review sites have a favorable view of the Schwinn IC3 Indoor Cycling Exercise Bike.
As it stands at the time of this review, its approval rating on Amazon is positive.
Pros/Features Overview
It features a durable steel frame that supports a maximum user weight capacity of 300 lbs./136 kg
It is compact, portable, stable, and elegant
Users between the heights of 4'9'' to 6'5'' tall can utilize the bike
Its operation is smooth and quiet, and due to the heavy flywheel its spinning activity is vibration-free
The seat is comfortable and can be swapped if you want
The handlebar is multi-grip designed and coated with soft rubber foam material to provide secure and comfortable grips for different workout postures
The pedals are made of metallic alloy and are dual-sided; thus, they are durable and can be ridden with standard and SPD pedals
The bike's friction resistance system provides easy to extremely difficult workouts that are suitable for beginners, intermediaries, advanced athletes, and even those that are recovering from a physical injury
The LCD monitor tracks and displays workout data such as Time, Distance (km), Speed/RPM (km/h), Average RPM, Calories, and Pulse simultaneously
Goal setting for Time, Distance, and Calories available
The console is telemetric
The bike requires low maintenance
Easy to assemble
Tablet and water bottle holders are included
Cons
The monitor is not backlit and the HR chest strap device is not included
Warranty
10 Years for the Frame
2 Years for Mechanical Parts
1 Year for Electronic Parts
90 Days for Labor
Product Dimensions & Specifications
Length: 48.7''
Width: 21.2''
Height: 49.8''
Shipping dimensions: 40.5'' L x 34.25'' W x 10'' H
Net weight: 101 lbs./45.8 kg
Gross weight: 114.4 lbs./51.89 kg
Frame: Steel
Maximum user weight capacity: 300 lbs./136 kg
Users heights: 4'9'' to 6'5''
Drive: Belt
Flywheel: 40 lbs./18 kg
Resistance: Friction with unlimited resistance levels
Seat: 4-way adjustable
Handlebar: Multi-grip, 4-way adjustable
Pedals: Dual-sided (toe caged & SPD)
Console/Monitor: LCD, and telemetric
Transport wheels: Yes
Tablet holder: Yes
Water bottle holder: Yes
Shipping
The Schwinn IC3 Indoor Cycling Exercise Bike ships out in a box that weighs 114.4 lbs./51.89 kg with dimensions of 40.5'' L x 34.25'' W x 10'' H.
Shipping is free of charge by Amazon, and the product gets delivered in a couple of days.
Assembly
The assembly of the bike is straightforward and simple. When the instructions on the owner's manual are followed, you will be done in less than an hour.
The reason is that the manufacturer has already assembled the complicated components. Therefore, you are to only attach the seat/handlebar posts, the seat, the handlebar, the stabilizers, the pedals, and the console to the main core unit.
Moreover, the tools needed for the assembly are included in the package.
Maintenance
Lubricate the wool brake pad with silicon-based oil to prevent a potential squealing sound from occurring when the resistance is engaged and to also slow it down from wearing out.
Wipe the bike clean after a workout session, and inspect it before use to ensure that all the parts are tight and in good condition.
Protect the console from getting in touch with liquid, moisture, or direct sunlight.
Conclusion
The Schwinn IC3 Indoor Cycling Exercise Bike is recommendable and is designed for home use. Its solid construction allows users that are up to 300 lbs./136 kg or less to be able to exercise with it.
The dual-sided pedals are awesome because they can accommodate standard and special spin shoes.
The unit offers low-impact cardiovascular workouts that could burn tons of calories and improve the heart and lungs' health.