Exerpeutic Folding Magnetic Upright Bike with Pulse is yet another affordable upright bike for those that would love to have an exercise bike at home but couldn't because of low budget. Christmas has come early for you because this machine can be purchased at a very good price on Amazon.
However, for the fact that it is retailed at a good price doesn't compromise its quality. On the contrary, it could even compete with some high priced folding upright bikes.
It is a compact machine that wouldn't stand in the way if you are someone that lives in a small apartment, and its folding design also makes it possible for it to be put away out of sight.
Its computerized LCD exhibits key performance metrics such as the calories burned,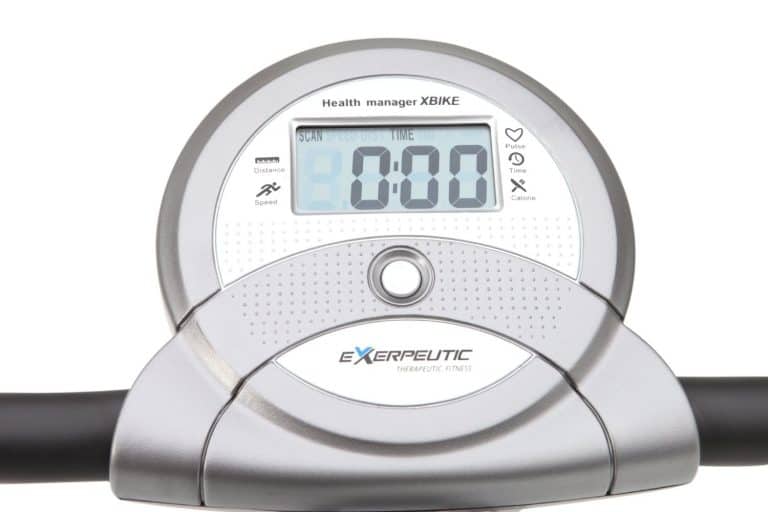 distance, speed, and duration of workout even as a user is able to monitor heart rate through the sensors in the handlebars. And this makes it easier to monitor and maintain your heart rate zone while working out. To make challenging workout possible 8 different resistance settings are integrated, and what this means is that a user can intensify workout in order to achieve the desired goal(s).
Click right here to have a peek at the best price of the Exerpeutic Folding Magnetic Upright Bike with Pulse.
Features/Pros
The v-belt drive with the well-balanced flywheel provides the smooth and quiet ride during a workout, which means a user can conveniently watch TV or listen to music and also not disturbing anyone like the family or the neighbor.
It is foldable that a user can fold it up until it becomes half its size for easy storage.
It has got heart pulse sensor fitted on the handlebars which allow the user to monitor the heart rate and also enables him to stay within heart rate zone during a workout.
It has 3 pieces high torque cranking system that ensure a smooth and consistent pedaling movement.
Its 8 level magnetic tension control system allows the user to be able to experience a challenging workout that will yield the desired result.
It has got a large pedal design with safety straps that ensure the feet are protected from slippage during a workout.
It has got transport wheels that enable the user to move the equipment around with ease.
It has got leg stabilizers extended to prevent any movement or tipping during exercise.
It has got a padded seat that was designed to ensure comfort to the user while working out.
It supports 5' 3'' to 6' 1'' users as it can be easily adjusted to the suitable position for a workout.
It supports up to 300 pounds user weight.
It has got computerized LCD that displays workout data such as calories burned, distance, time, speed, and pulse.
It has got a 1-year warranty on the frame and 90 days on other components.
Cons
In as much as this equipment is good for taller individuals shorter users may find it a little uncomfortable as they will have to stretch their legs' muscles in order to move the pedals.
The highest resistance level is not as high as it should be compared to some high-end machines because it can't raise your heart rate easily.
Shipping and Assembly
Usually, shipping is free if you are buying from Amazon but this is only available to U.S residents.
As for assembly, there are basically only 4 steps to setting this machine up and with the use of the manual and tools provided you will be working out on this machine in no time.
Conclusion
Everyone cannot spend so much money on workout equipment because they can't afford it otherwise, they would. Therefore, if you are on a low budget and looking for something that could keep you fit at home, then the Exerpeutic Folding Magnetic Upright Bike with Pulse is the machine to look up. Of course, it has got its downside that has to do with intensity workout and not too good for shorter individuals, but it's still a good buy at $100+.
We think that its downside has been compensated with the pros and its great features like the LCD monitor that allows a user to monitor the heart rate other workout metrics.  The truth is that some other more expensive upright bikes do not even have some of the features this machine possesses.
[rank_math_rich_snippet]