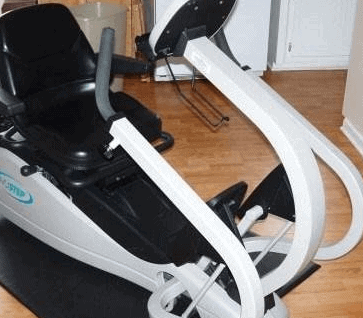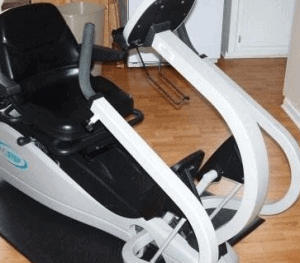 This recumbent bike has not been available for a long time. The 3G Cardio Elite RB might be a good alternative.
The Nustep TRS 4000 Recumbent Cross Trainer is one fancy-looking fitness piece of equipment. And I might add that it is not only looking fancy but has got the features that would qualify it as one of the best fitness equipment. It is armed to the teeth with all the features that would make it suitable for offering comfort while exercising and enabling the user to achieve goals as well.
This beauty is proof that one can really be working out and achieving goals while having fun doing so. Yes, that's right; it could be very difficult and tiresome for some folks when exercising, if they had an option they will pass. But the Nustep TRS 4000 Recumbent Cross Trainer is one outstanding machine that would be admired by even a non-athletic enthusiast.
Having it around you alone would make you want to exercise…lol. Well, enough of the appraisals and let's see what else makes this machine tick.
To further buttress what I just said about having fun while working out, you have the opportunity of riding a bike and taking the stairs at the same time. And not just that, it also allows you for a seated cardio exercise using a step motion. In other words, it has the functionalities of a typical recumbent bike that targets the legs and a step machine that targets the gluteus.
As a result, it has the ability to improve cardio endurance, tone the leg muscles and also reduce the degree of strain on your spine, hips, and knees during a very vigorous cardio workout session.
Now let's have a look at the features of the Nustep TRS 4000 Recumbent Cross Trainer that make it an exceptional machine that offers convenience, portability, even as you achieve results.
Click right here to have a peek at the price of the
Nustep TRS 4000 Recumbent Cross Trainer on Amazon.
Features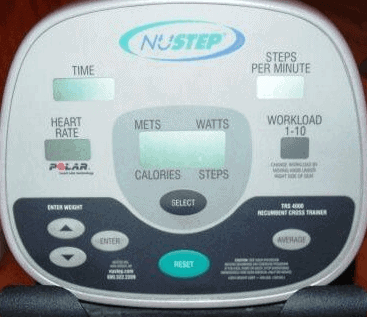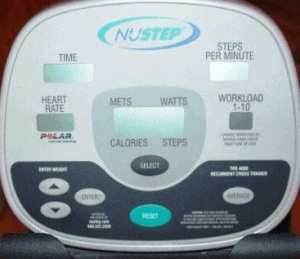 • Its design is unique in that it increases the metabolism of the body even as it also stimulates the motion of natural walking while a user is working out.
• It has a great tension level that is adjustable to allow even a seasoned athlete and cardio enthusiast to challenge himself to reach his highest potential and target heart rate endurance ability.
• The seat could be said to have a shock absorber that ensures that you feel comfortable while exercising free from all the shocks and vibrations that could emanate from the equipment while working out.
• This is the perfect equipment for everyone's apartment, especially those that have a smaller space. It is very portable and weighs just 205 pounds, therefore storage and mobility will never be a problem for homeowners.
Pros
There are very many pros that could be identified with this machine. Many homeowners most probably would consider the treadmills, elliptical trainers, or even exercise bikes for their home gyms, but it would be a great idea and advantageous to have one of the TRS 4000 Recumbent Cross Trainer in your home gym for reasons obvious.
Aside from all the aforementioned features and advantages of this machine, let me just say that this machine is designed specifically for home users. It offers a similar workout as the elliptical or treadmill but with less energy and footprint.
In addition to that, it is equipped with features that will fit or accommodate everyone's varying fitness levels. Check this out; it has about 10 different workouts that can be selected for a different form of workout routines, ranging from high to longer intensive options, and slower options that might just be perfect for those that are new to cardio workouts.
While people that have back pains or a similar problem could use the seat position to try out other options for workout routines, even though anyone that prefers to sit could do that. To avoid spinal compression, joint pain, or someone suffering from arthritis, exacerbation, the Nustep TRS Recumbent Cross Trainer has always been recommended by the physical therapist.
And moreover, I hope you do remember how easy it is on the joints even as it helps to work on the gluteus, calves, and quads; while the improved tension allows you to attain a higher heart rate that leads to better cardio endurance. Speaking of higher cardio endurance; this will also result to attain high-calorie burn that will ultimately help you to lose weight.
Cons
Seriously I don't really see any, except if you would consider 205 pounds as very light, which I believe most people will be fine with that. Aside from that, the machine is almost perfect!