This is the Schwinn 270 (MY17) Recumbent Bike with model number 100515 that was released in 2017 after the 2013 version. It is the revamped version of the older model with noticeable changes in the structural design and the user-friendly console. It is also Bluetooth-enabled and compatible with the Schwinn Trainer App and other third-party apps as well.
As a result, your workouts will be smarter, enjoyable, and productive.
Click right here to have a peek at the best price of the Schwinn 270 Recumbent Bike (MY17).
The Frame & Construction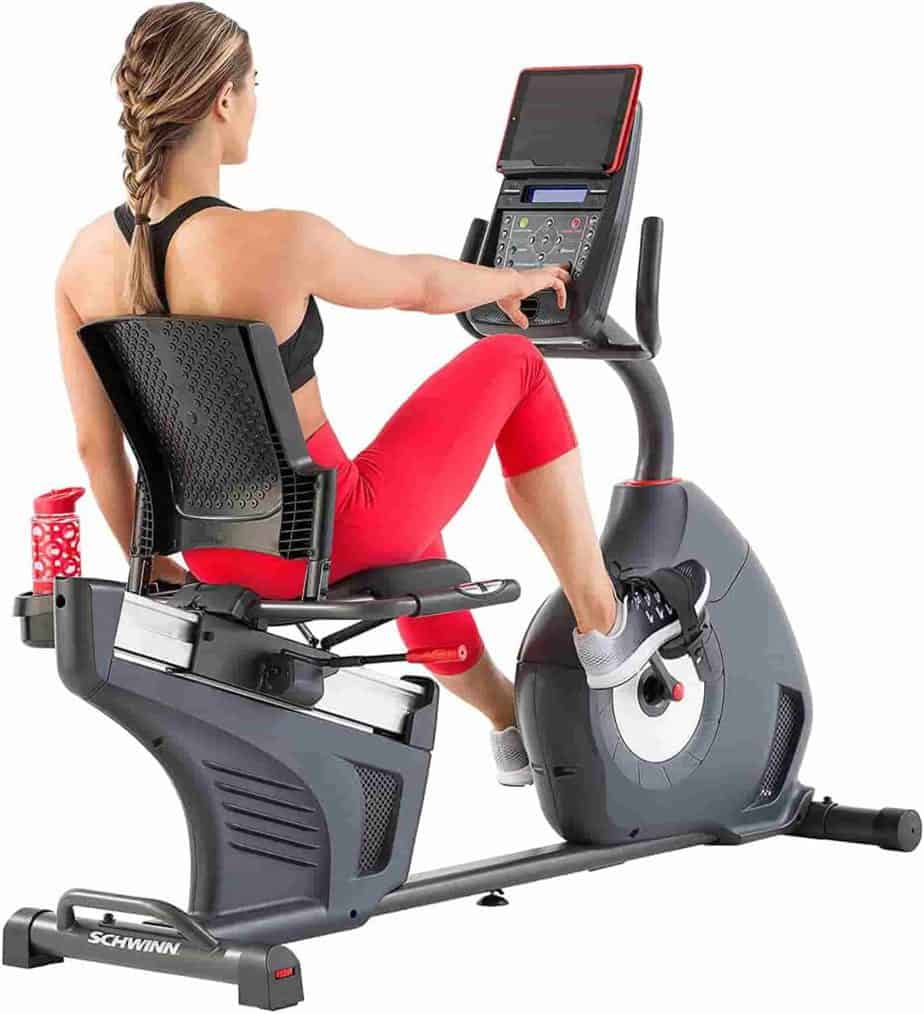 Of all the recumbent bikes, the Schwinn 270 (MY17) is one of the well-built ones that also integrate fitness goal-oriented features. It is sturdily built from the ground up, featuring a steel frame that is powder-coated with anti-rust paint.
Other parts such as the drive system covers, the seat base coverings, the console exterior, and the stabilizers' end caps are made of durable plastic.
Consequently, the bike looks elegant and sturdy enough to support a maximum user weight capacity of 300 lbs./136 kg.
To the physically challenged, they can easily mount and dismount the recumbent bike with ease due to its step-thru design.
The base features front and rear stabilizers that ensure stable workout experiences, and there are adjustable levelers that enable users to enhance the overall stability of the bike.
This bike is slightly larger than most standard recumbent bikes. Its overall assembled dimensions are 64'' long by 27.7'' wide by 49.9'' high. In other words, it will require a workout area with measurements of 5'33'' (162.56 cm) length by 2'3'' (70.35 cm) width. This is of course excluding the recommended extra 2' clearance that is required around it for safety and easy access purposes.
As for the assembled weight, it weighs 86.6 lbs./39.28 kg, which further boosts the stability. However, some folks might think that the relocation process might be a little bit difficult because of the weight. But on the contrary, it is pretty easy due to the integrated lifting handle and the transport wheels at the rear and front bases.
The Seat of the Schwinn 270 Recumbent Bike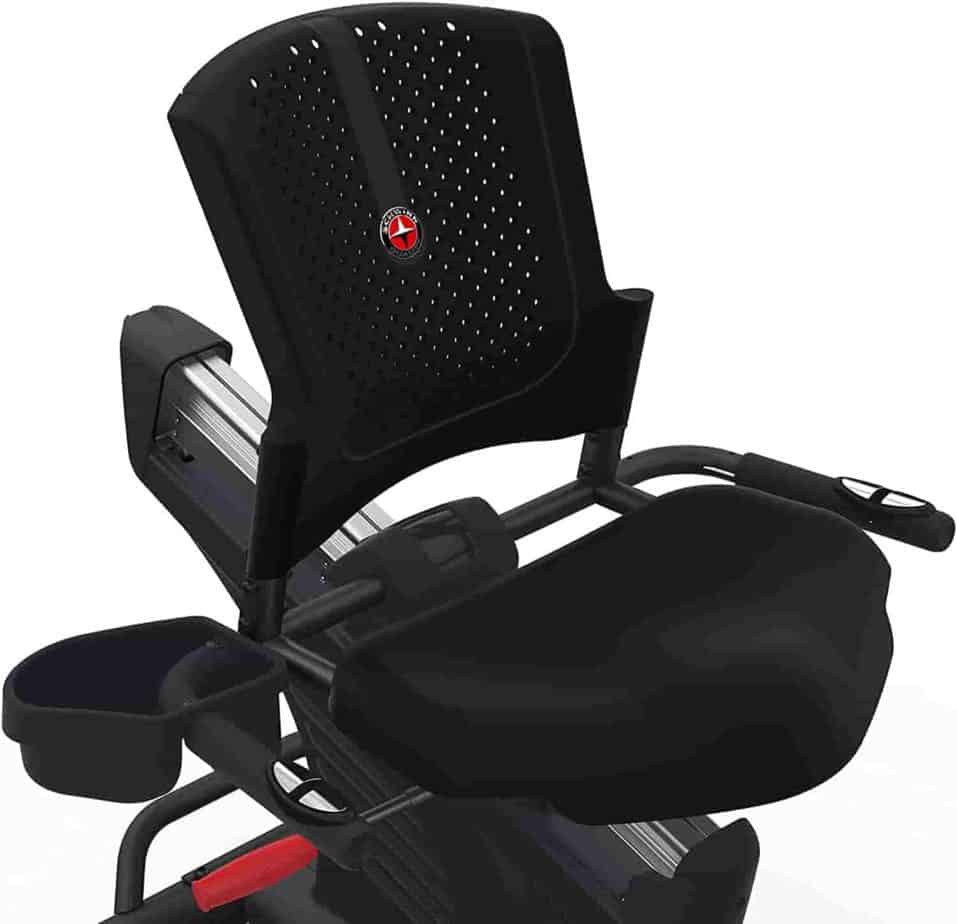 The seat is contoured and padded for maximum comfort. It also has a large ventilated backrest that enables you to sit back in a relaxed manner for aggressive pedaling.
It is attached to a slanted aluminum slide; thus, users can easily and quickly adjust it via the integrated lever on the right side of it while still seated.
The adjustment is 2-ways (fore/aft); although, the height increases when adjusted backward, and decreases when adjusted forward due to the rail that is inclined.
Because of the lumbar support and the slider, users between the heights of 5' to 6'6' tall can fit in; although, 5'2'' to 6' could feel a lot more comfortable.
The Handlebar
The Schwinn 270 (MY17) Recumbent Bike e has 2 sets of non-adjustable handlebars. A set is attached to the console mast, while the other set is located on the seat. These are designed and positioned to enable users to work out in different postures.
They are both cushioned with soft anti-slip rubber foam for comfortable and firm grips.
The handlebars on the seat have EKG HR sensors that transmit the user's heart rate data to the monitor when grasped during a workout.
The Pedals
The pedals are textured and standard-styled with adjustable safety straps. They are self-leveling and can accommodate gym shoes/trainers and different foot sizes comfortably and securely.
If you want, they can be ridden barefoot, but for safety reasons don't.
The Q-Factor (the distance between the inner left pedal and the right inner right pedal) is 10''. This might be way too much when compared to a road bike's Q-Factor. But it's fine because this is a recumbent bike and not a cycling bike. Therefore, the idea that your feet will not be in a natural aligning position while exercising is not correct.
The Drive
This is a belt-driven bike; meaning, it has a belt drive system that consists of a durable anti-resistant belt, a pulley, a solid crankset, and durable 7.5'' crank-arms. It produces a smooth and quiet operation, as opposed to a chain drive system.
So, your workout activities won't be a disturbance to other occupants around your space, and you can enjoy watching a TV show/movie or listening to music during a workout session.
Also, the belt drive system is maintenance-free; no periodic lubrication or adjustment is required.
If you so wish to pedal in reverse to tone more muscle groups, you can because the drive is bidirectional.
The Resistance System
The Schwinn 270 (MY17) Recumbent Bike has a motorized magnetic resistance system. This means the bike has to be plugged into a power outlet (adapter included) in order for the resistance to work.
The resistance system consists of elements such as a small servo motor, a magnet, and a 13 lbs./5.89 kg high inertia flywheel.
Technically, resistance is generated when the magnet emits magnetic fields around the flywheel. So, when the resistance is increased or decreased, the servo motor shifts the magnet close or farther away from the flywheel.
Since no friction occurs during the process of generating resistance, no maintenance is needed, and the smooth and quiet operation of the bike remains unchanged.
There are 25 resistance levels that can be adjusted via the gradual keys or the 1, 5, 9, 15, 21 quick keys on the console. Also, the resistance automatically applies when any of the preset workout programs are deployed.
The magnetic resistance system offers light to very challenging workout experiences; thus, users of different fitness levels can engage in result-oriented exercises.
The Console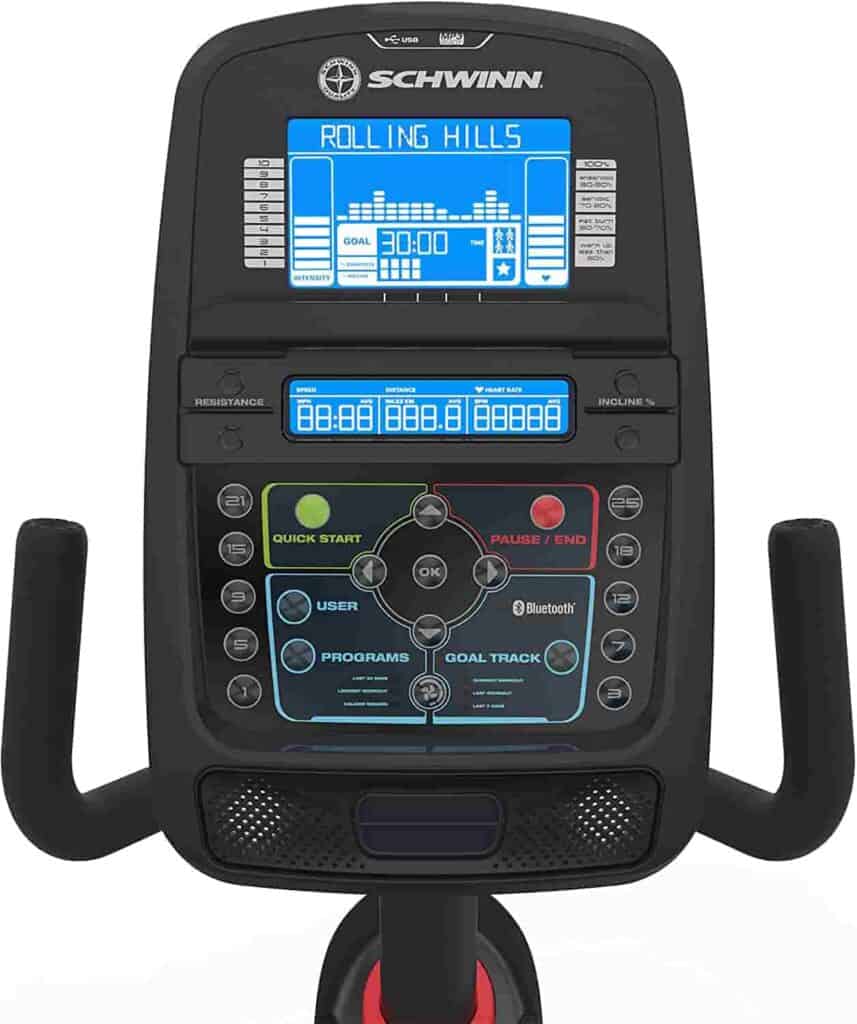 The console is where lies some of the juicy features of the Schwinn 270 Recumbent Bike because it is Bluetooth enabled, and SchwinnConnect compatible (plus other third-party apps). It features Dual Track blue backlit LCD monitors that track workout stats such as Time, Distance, Speed, Pace, Calories, Resistance Level, and Heart Rate.
These data can be synchronized with some of the workout apps. Thus, you can instead track your workout progress via a smartphone/tablet device, and if you want, you may transfer the workout data using a flash drive to an online fitness account.
The Speed and Distance data are measured in mph/km/h and miles/km, respectively. This means you can toggle for a preferred measurement unit.
Meanwhile, since the dual-track LCD monitors are backlit, the readability is awesome and undiminishable regardless of the lighting status of a workout environment. Moreover, you can keep a tablet device on the holder and still view your workout progress.
The console is telemetric; meaning it's possible to track your heart rate using a wireless HR chest strap (not included) other than the EKG sensors on the handlebar. It is compatible with a Polar 4.5 kHz-5.5 kHz wireless HR chest strap.
With the Explore the World app connectivity, over 50 global routes that automatically adjust to your speed as you work out are available to you. Interestingly, it is also VR compatible; this gives you access to a 3D virtual world.
There are 29 workout programs, and they are as follows; 12 preset workout programs that include Rolling Hills, Ride in the Park, Easy Tour, Steam Crossing, Pike's Peak, Pyramids, Mount Hood, Summit Pass, Uphill Finish, Cross Training, Intervals, and Stairs; 4 custom programs, 1 quick-start program, 9 heart rate control programs, 2 fitness tests (1 beginner & 1 advanced) and 1 Recovery program.
The preset programs automatically assign a resistance level when any of them is selected for a workout.
There are 4 user profiles that allow different users to personalize their workout by inputting data such as age, gender, weight, and height into the console for accurate calories burned output.
It is possible to set up a goal (countdown) for Time, Distance, and Calories.
Accessory
The Schwinn 270 Recumbent Bike 100515 has a number of relevant accessories that are designed to help make the time spent on the bike worthwhile. These include the built-in Bluetooth speakers on the console for quality audio output, a USB port for charging a smartphone and for data transfer, a tablet holder for device placement, a 3-speed cooling fan, and a water bottle holder on the left side of the seat for maintenance of proper hydration.
Storage
To put this recumbent bike away is not difficult or complicated because, despite its weight (86.6 lbs./39.28 kg), there are transport wheels and a lifting handle that makes the process easy.
It requires a storage area with measurements of 5'4'' length by 2'3'' width.
Pros/Features Overview
Competitive price
Sturdily and elegantly built
Supports a maximum user weight capacity of 300 lbs./136 kg
Stabilizers with adjustable levelers guarantee optimum stability
Seat with ventilated backrest is padded and contoured for maximum comfort
Seat is 2-way adjustable; hence, bike supports 5'-6'6'' tall individual
2 sets of handlebars (a set at the seat and the other at the console area)
Its toe caged pedals with adjustable safety straps support standard gym shoes and different foot sizes
The sleek console is Bluetooth-enabled, telemetric (HR chest strap device not included), and compatible with Explore the World, MyFitnessPal and more; thus, you can track workout progress, share workout results, and exercise on virtual terrains, including the use of VR device
EKG contact grips included
It has an eddy current magnetic resistance system with 25 on-board adjustable levels; this provides a range of workout difficulties suitable for weight loss, improvement of strength and endurance, and lower muscle groups toning
29 workout programs that include 12 preset, 9 heart rate control, 4 custom programs, 2 fitness tests, a quick-start, and a recovery program
4 user profiles
Goal setting for Time, Distance, and Calories
DualTrack blue backlit LCD monitor tracks over 13 workout feedback that include Time, Distance, Speed, Pace, Calories Burned, Resistance Level, and Heart Rate
Operation is smooth and quiet; thanks to the belt drive system
It offers low-impact cardiovascular workouts that are gentle to the joints
Warranty is impressive
Low maintenance
Easy to assemble
3-speed cooling fan included
USB charging and data transfer port included
Built-in speakers included
Water bottle holder included
A tablet holder/device tray is included
Cons
The Cooling fan is not strong
Wireless HR chest strap is not included; needs to be purchased separately
Warranty
10 Years on the Frame
2 Years on Mechanical Parts
1 Year on Electronics
90 Days for Labor
Product Dimensions & Specifications
Length: 64''
Width: 27.7''
Height: 49.9''
Shipping dimensions: 66'' L x 27'' W x 13'' H
Net weight: 86.6 lbs./39.28 kg
Gross weight: 101 lbs./45.81 kg
Maximum user weight capacity: 300 lbs./136 kg
Frame: Steel
Seat slider: Aluminum
Flywheel: 13 lbs./5.89 kg
Drive: Belt
Resistance: Eddy Current Magnetic, 25 resistance levels
Seat: 2-way adjustable, contoured, padded with lumbar support
Handlebar: 2 sets, padded with soft anti-slip rubber foam
Pedals: Toe cages with adjustable safety straps
Q-Factor: 10''/254 mm
Monitor: DualTrack, blue backlit, and telemetric
29 workout programs
Bluetooth-enabled
EKG contact grips
Compatible with MyFitnessPal, Explore the World and more
Tablet holder
Bottle holder
USB port
Transport wheels & lifting handle
Cooling fan
Speakers
Shipping
The Schwinn 270 Recumbent Bike is shipped out in a box that weighs 101 lbs./45.81 kg with dimensions of 66'' length by 27'' width by 13'' height.
There are free or paid shipping options available on Amazon.
Assembly
The assembling process of this recumbent bike is not complicated because the major components are preinstalled at the factory.
As a result, you are only required to attach the stabilizers, the seat, the console mast, the pedals, and the console to the core unit.
This takes about an hour.
Maintenance
Keep and store the bike in a clean, dry, and cool area. Also, inspect it before a workout session to ensure that every part is tight and in good condition.
Conclusion
The Schwinn 270 (MY17) Recumbent Bike is indeed a piece of recommendable exercise equipment. It is loaded with features such as the DualTrack console that is Bluetooth-enabled and fitness app compatible. It has 29 workout programs, an eddy current magnetic resistance system with 25 adjustable levels, and a sturdy steel frame that supports a maximum user weight capacity of 300 lbs./136 kg.
On top of that, it has built-in speakers, a 3-speed cooling fan, a USB port for charging and data transfer, a water bottle holder, a media tray, and more.