Over the years, the Schwinn A20 Recumbent Bike has been improved for better performance and user experience. It is pretty much like the Universal R20 in terms of structural design and capacity, or even better with the tweak.
It is one of the Schwinn series which also include Schwinn 230 and 270 recumbent bikes, and it happens to be the least of them all.
However, it has got some interesting features such as the belt drive, the eddy-current magnetic resistance system with 8 adjustable levels, the easy-to-read LCD monitor that tracks workout progress, 6 preset workout programs, and a Quick-Start program, and more.
Click right here to have a peek at the best price of the Schwinn A20 Recumbent Bike.
The Frame & Construction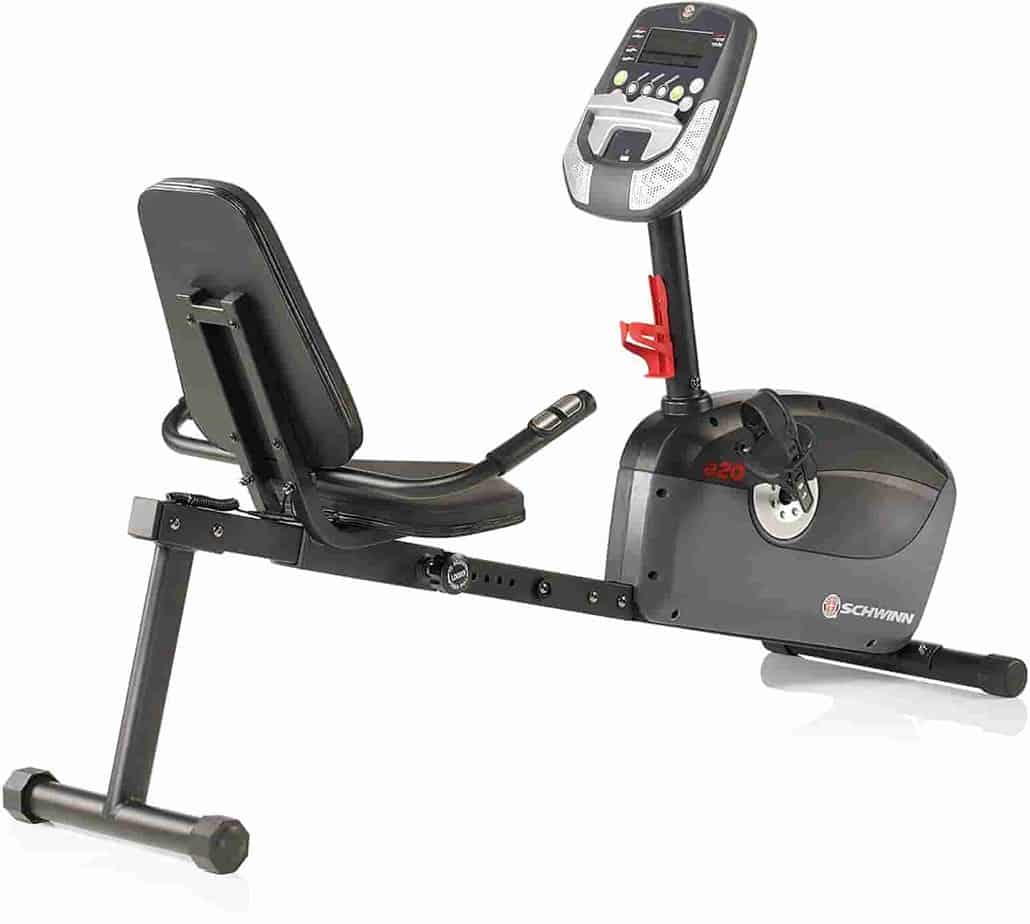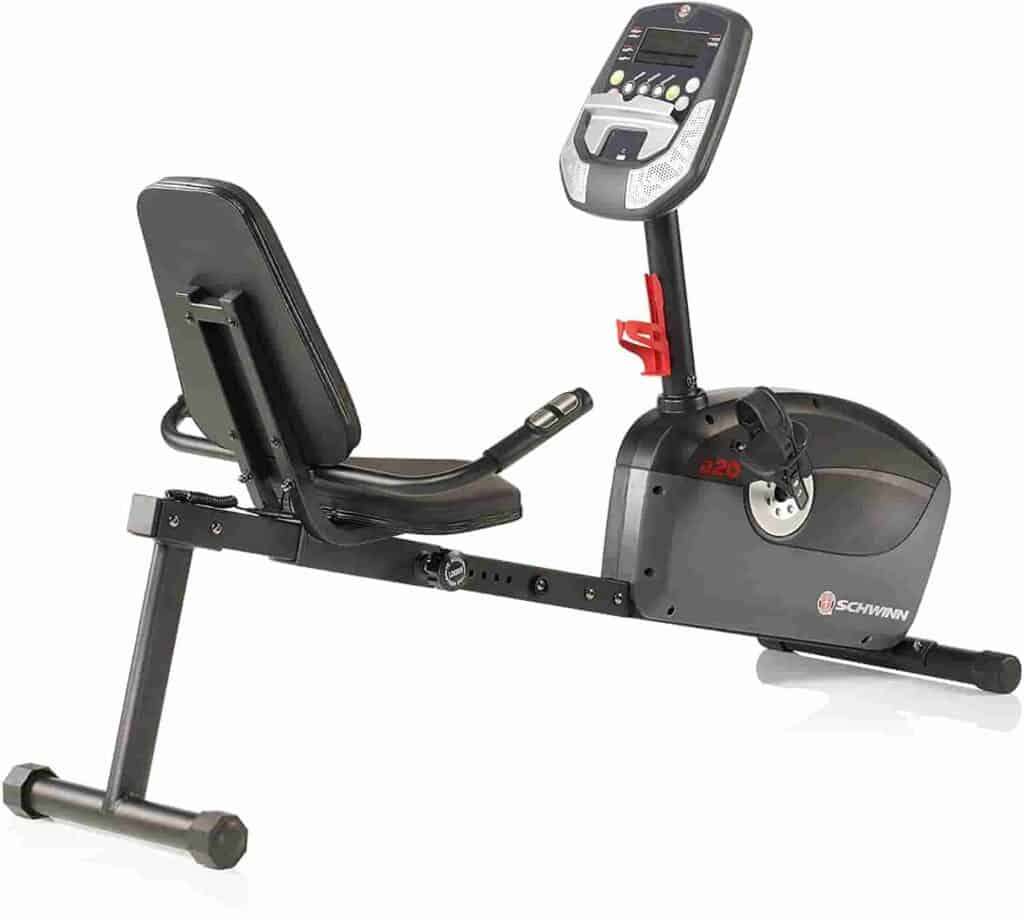 The Schwinn A20 Recumbent Bike has a sturdy steel frame that supports up to 275 lbs./124.7 kg, while the drive/resistance system covers and the stabilizer end-caps are made of durable plastic.
The seat rail is inclined, hence, when the seat is adjusted back and forth, the height also increases and decreases, respectively.
The bike is fairly stable during workouts even though it is lightweight (76 lbs./34.47 kg). The reason is that there are robust front and rear stabilizers with plastic end caps, and those at the rear are polygonal. So, users will be able to level up the bike, when necessary, in order to avoid wobbling.
A workout area with measurements of 5'08'' length by 1'58'' width is required because the assembled dimensions of the bike are 61'' long by 19'' wide by 40.5'' high. Also, an additional clearance of 2' is recommended on each side of it for general safety purposes.
The recumbent bike can easily be moved around the room due to the integrated transport rollers at the front base.
The Seat of the Schwinn A20 Recumbent Bike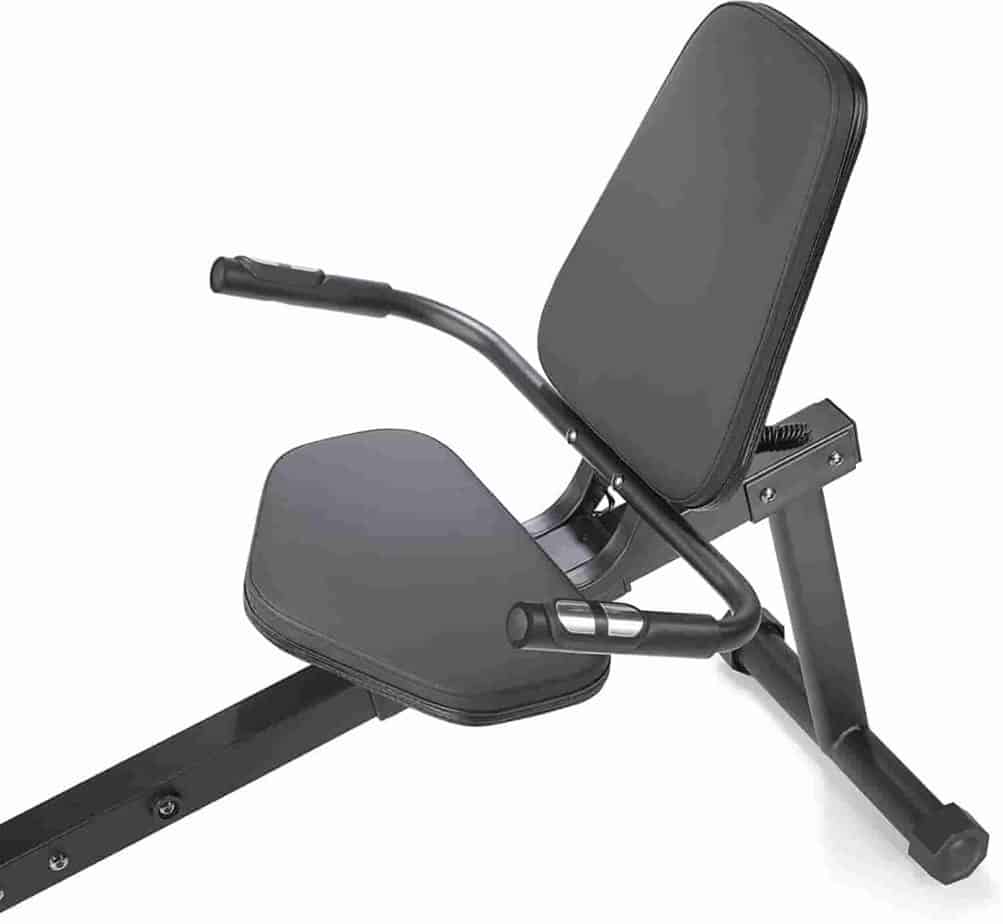 The seat is comfortable, and it offers good lumbar support.
As aforementioned, it is attached to a rail with several adjustment holes that are 1 inch between. These and the adjustment knob that is located at the right side enable users between the heights of 5'-6'2'' tall to easily make an adjustment for a perfect fit.
Having said that, it doesn't mean that taller individuals cannot utilize the bike, the problem is they may not be able to experience full leg stretch.
Finally, the seat is non-adjustable; meaning it (including the backrest) cannot independently be adjusted.
The Handlebars
The Schwinn A20 Recumbent Bike only has a set of handlebars that are attached to the seat. They are coated with anti-slip rubber foam material for a firm and comfortable grip.
Thus, you can work out longer without experiencing slippage or a change in the texture of your palms.
Heart rate sensors are embedded on them for heart rate data transmission (when grasped during a workout) to the monitor.
They are also non-adjustable as they are fixedly attached to the seat.
The Pedals
The pedals are made of durable plastic with a metallic core. They are self-leveling and textured with adjustable safety straps. In other words, they are simply designed yet effective at providing secure and comfortable foot placement.
They can be ridden barefooted or with standard gym shoes/trainers of different foot sizes.
The Drive
The Schwinn A20 Recumbent Bike is a belt-driven machine. Simply put, it has a belt drive system that consists of elements such as a durable belt, a pulley, a perimeter weighted flywheel (weight not disclosed), a crankset, and crank-arms.
As a result, its operation is smooth and quiet as opposed to a chain drive system. On top of that, it doesn't require periodic lubrication.
So, you can have more time to work out comfortably on achieving your fitness goals, and free of worries that others may be disturbed by your activities.
Since the drive system is bidirectional, you can pedal in reverse to diversify workouts and tone more muscle groups.
The Resistance System
This bike comes with an automatic magnetic resistance system that complements the smooth and quiet operation already provided by the belt drive system.
This is because resistance is generated with no friction, instead, the integrated magnetic brake emits magnetic fields around the flywheel to ultimately cause a drag that translates to resistance.
It also means that no part wears out in the process, thus, no maintenance is required as well.
Since the resistance system is motorized, the bike needs to be plugged into a power outlet via an adapter (not included) in order for it to work. Although it can also be powered by 4 D batteries (not included).
There are 8 resistance levels that can be adjusted through the UP/DOWN buttons on the console or automatically when any of the 6 preset workout programs is selected. They provide easy to fairly difficult workout experiences for weight loss, improvement of strength and endurance, and lower body muscle group toning.
The Console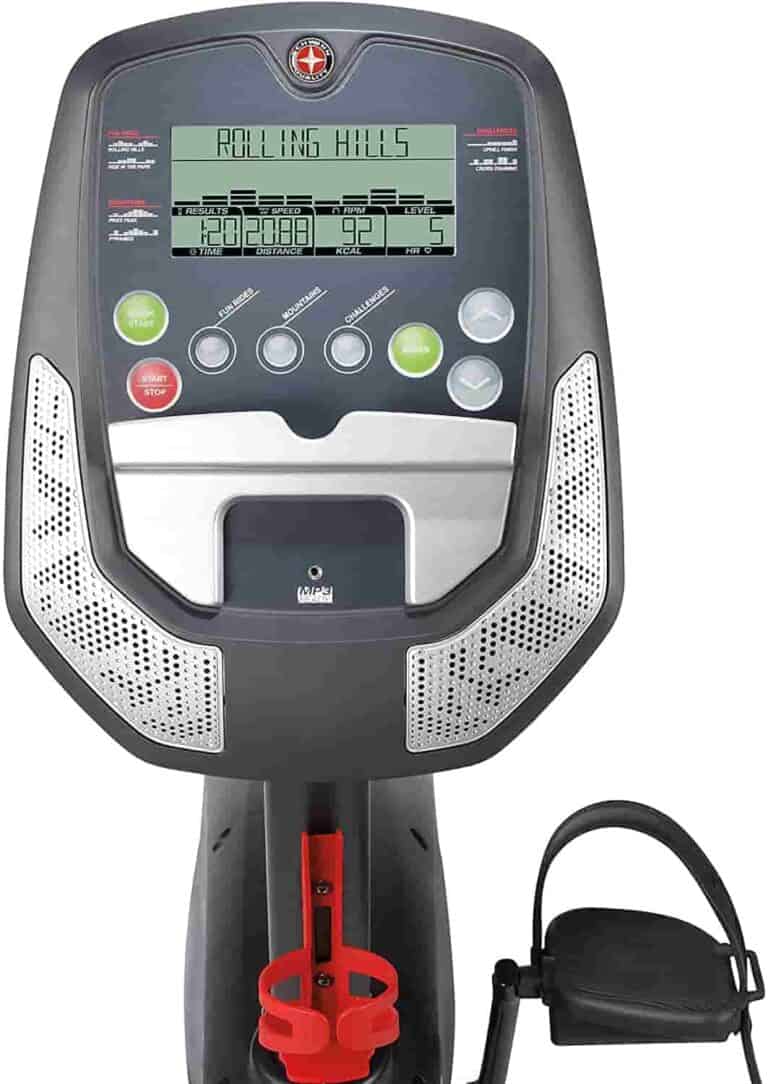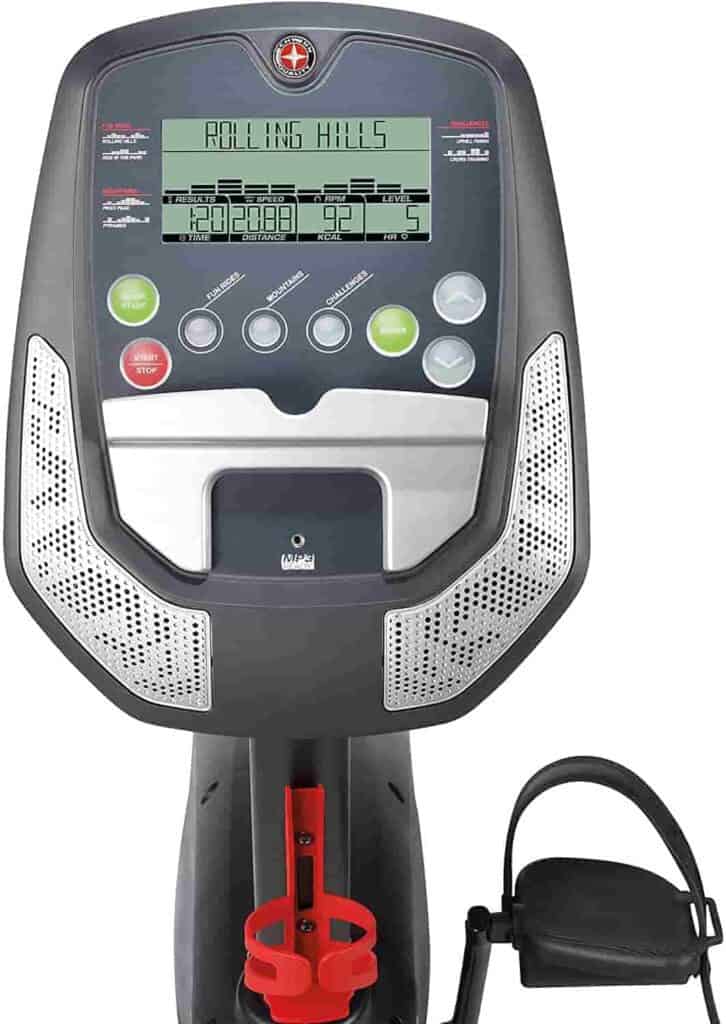 The console is fairly loaded with features that could make your workout experience productive and entertaining. These features include the LCD monitor, Quick-Start button, Start/Stop button, Program buttons, Enter/Select button, Resistance buttons, Built-in Speakers, MP3 port, and a Tablet Holder.
Workout stats such as Time, Distance, Speed, Kcal, RPM, Heart Rate, Resistance level, Results, and preset program are displayed by the monitor distinctively. However, its readability might be compromised if viewed in a poorly lit room because the monitor is not backlit.
The console is not Bluetooth-enabled or telemetric. In other words, it is not app compatible and does not connect to any wireless HR chest strap. The only way to read the heart rate is to grasp the handlebars with contact heart rate sensors.
There is a Quick-Start program that enables you to adjust the resistance as you see fit during a workout, while there are 6 preset workout programs that automatically assign a resistance level upon selecting one of them, however, you can set up the duration of your workout.
When you look at the console, there are 3 program buttons, each represented as Fun Rides, Mountains, and Challenges. Each of the program buttons offers 2 preset workout programs that include Rolling Hills & Ride in the Park, Pike's Peak & Pyramid, Uphill Finish & Cross-Training, respectively.
These are designed to help and inspire you to achieve your fitness goals.
Accessory
As stated above, the console has built-in speakers and an MP3 port for quality audio output, a tablet holder for the placement of a device, and a water bottle holder designated at the console mast for the maintenance of proper hydration during a workout session.
Storage
The Schwinn A20 Recumbent Bike is easy and convenient to store because it is lightweight, transportable, and less bulky.
Differently put, it weighs about 76 lbs./34.47 kg; and there are plastic wheels at the front base that enable users to roll it away.
A Storage area with measurements of 5' length by 1'60'' width will be accommodative.
Pros/Features Overview
Durable and sturdy; supports up to 275 lbs./124.7 kg
Robust stabilizers promote stability
Fore/aft seat adjustability enable users between the heights of 5'-6'2'' tall to be accommodated
The seat is large and padded with a lumbar support
The bike features a step-thru design that makes it easy for every user to step in and out of it regardless whether or not they are physically impaired
The handlebars are padded with soft rubber foam
There are contact grips for heart rate transmission
The pedals are textured with adjustable safety straps; they are accommodative of different foot sizes
The LCD monitor tracks several workout stats such as Time, Distance, Speed, Kcal, RPM, Resistance level, Heart Rate, and Program
7 workout programs; 1 Quick-Start & 6 presets (Rolling Hills, Ride in the Park, Pikes Peak, Pyramid, Uphill Finish, Cross-Training)
It has a belt drive system that provides smooth and quiet operation
The motorized magnetic resistance system offers 8 adjustable levels for different workout challenges
Transport rollers included
Tablet holder included
Built-in speakers & MP3 port
Water bottle holder included
Cons
A device placed on the holder may block the view of the monitor
The monitor is not backlit
The console is not telemetric or compatible with any app
4 D batteries and the power adapter are to be purchased separately; if rechargeable batteries are used, the adapter doesn't charge them
Warranty
3 Years on the Frame
1 Year on Mechanical and Electronic Parts
60 Days for Wear Items & Labor
Product Dimensions & Specifications
Length: 61''
Width: 19''
Height: 40.5''
Shipping dimensions: 36.5'' L x 23.5'' W x 13.5'' H
Net weight: 76 lbs./34.47 kg
Gross weight: 97 lbs./44 kg
Maximum user weight capacity: 275 lbs./124.7 kg
Drive: Belt
Resistance: Magnetic with 8 adjustable levels
Programs: 7 (Quick-Start & 6 preset)
Seat: Large and padded with lumbar support
Handlebar: 1 set (attached to the seat), padded but non-adjustable
Heart rate monitoring: Contact
Pedals: Textured with adjustable safety straps
Monitor: Nonbacklit LCD
Built-in speakers
MP3 port
Transport rollers
Water bottle holder
Tablet holder
Shipping
The Schwinn A20 Recumbent Bike's shipping box dimensions are 36.5'' long by 23.5'' wide by 13.5'' high, and it weighs 97 lbs./44 kg.
Some major retailers such as Amazon provide free shipping.
The Assembly
The assembly can be done by any averagely skilled person because the major components are preassembled right from the factory.
However, the parts that need to be attached to the drive/resistance system base include the seat rail, the seat & the backrest, the handlebar, the stabilizers, the mast & the console, and the pedals.
This process takes between an hour to two hours.
Moreover, an instruction manual with detailed descriptions and illustrations of the assembly is included in the package.
Maintenance
Since this is a belt-driven bike with a magnetic resistance system, no serious maintenance is required.
You only need to do the basic things such as keeping it clean after every workout session. Do a quick check on the parts before use to ensure that they are tight and in good condition.
Endeavor to store it in a moisture-free, clean, and cool area.
Conclusion
The Schwinn A20 Recumbent Bike is a magnetic resistance machine that is designed for home use. It provides low-impact cardiovascular workouts for weight loss, endurance and strength improvement, and lower body muscle group toning.
It supports 275 lbs./124.7 kg maximum user weight capacity and has a console that features 1 Quick-Start program and 6 Preset workout programs.