The ANCHEER Electric Under-Desk Elliptical Machine is one of those mini elliptical machines that could be used by seniors, office workers, gamers, and even those undergoing physical rehabilitation.
It is designed to be used indoors or outdoors for leg movement that promotes blood circulation.
It is operable when plugged or unplugged into a power outlet; thus, it has automatic and manual modes.
However, as opposed to Sunny Health & Fitness SF-E3908 Under-Desk, it only supports seated workouts, and other than promoting blood circulation, it is not suitable for those that want serious workouts for weight loss.
Click right here to have a peek at the best price of the ANCHEER Electric Under-Desk Elliptical Machine.
The Frame & Construction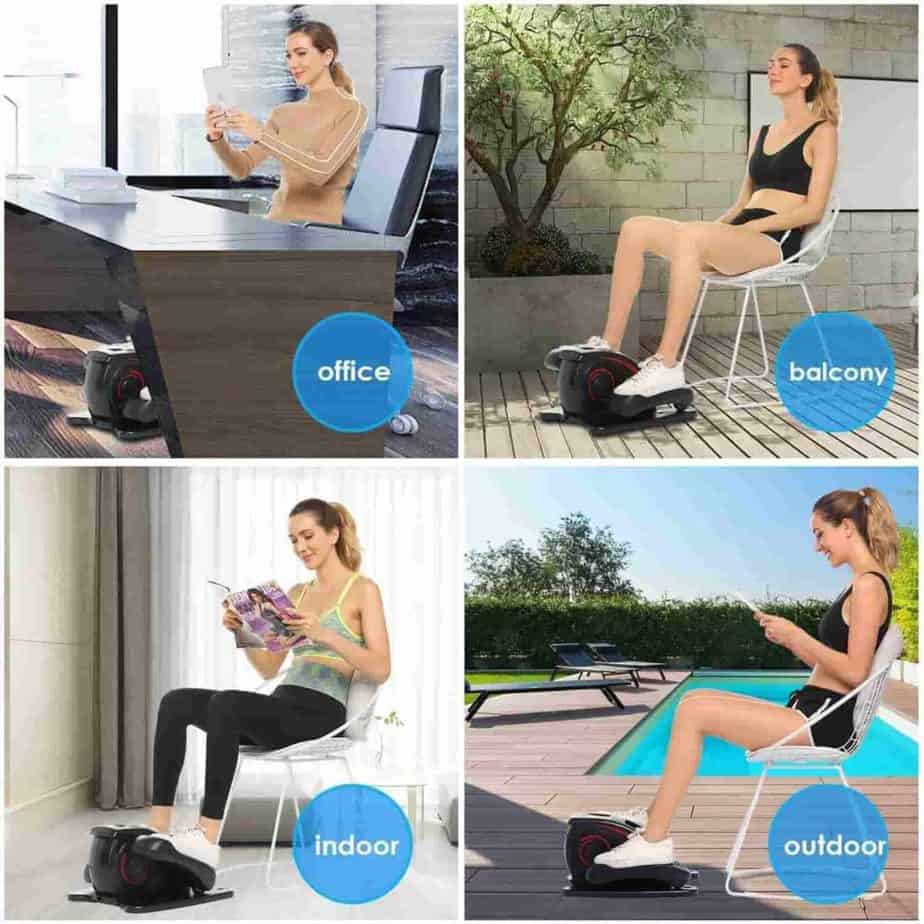 The ANCHEER Electric Under-Desk Elliptical Machine is a piece of electric exercise equipment that is portable, compact, and lightweight. It can fit under a desk, in front of a couch or chair, and can easily be carried around via the integrated handle; after all, it only weighs about 16.8 lbs./7.66 kg.
The assembled dimensions are 17.7'' long by 14.5'' wide by 9.8'' high. Thus, minimal space will suffice for storage or workout execution.
There is no limit to the weight it can support because it's designed to be used while seated. Its core frame is made of steel while the coverings are made of solid plastic.
Because of the 4 non-slip rubber feet at the base, the unit sits well on a carpet, wooden, or tiled floor. In other words, no sliding will be experienced during a workout and the floor will be protected as well.
The Pedals and the Drive of the ANCHEER Electric Under-Desk Elliptical Machine
The ergonomically designed pedals are oversized (14'' L x 6'' W) with an anti-slip surface. So, different foot sizes can be accommodated securely and comfortably.
They have solid rollers that glide seamlessly back and forth on their designated track; and since the unit has a belt drive system, its operation is smooth and quiet.
Consequently, you can quietly watch your favorite TV show as you exercise, and no one around you will feel disturbed as well.
The drive is bidirectional, meaning you can pedal forward and in reverse for better muscle group toning.
The Resistance System
The ANCHEER Electric Under-Desk Elliptical Machine does not have a resistance system. Instead, it has an automatic exercise mode (P1, P2, and P3) that provides different speed levels and pedal motion directions. To apply these, simply press the Mode button on the control panel once for P1, twice for P2, and thrice for P3 and the pedaling speed and direction will change automatically.
Hence, a motor is incorporated and the unit needs to be plugged into a power source for the automatic mode to work.
That being said, the machine also has an HR exercise mode (manual) which gives you control over the speed level and the direction the pedals should go. In this mode, you can adjust your pedaling speed to 5 different levels that include 1.5 km/h, 2.5 km/h, 3.5 km/h, 4.5 km/h, and 5.7 km/h.
Also, you can change the direction of the pedals' motion via the 'Direction button' on the console or through the remote controller that comes with the unit.
The Console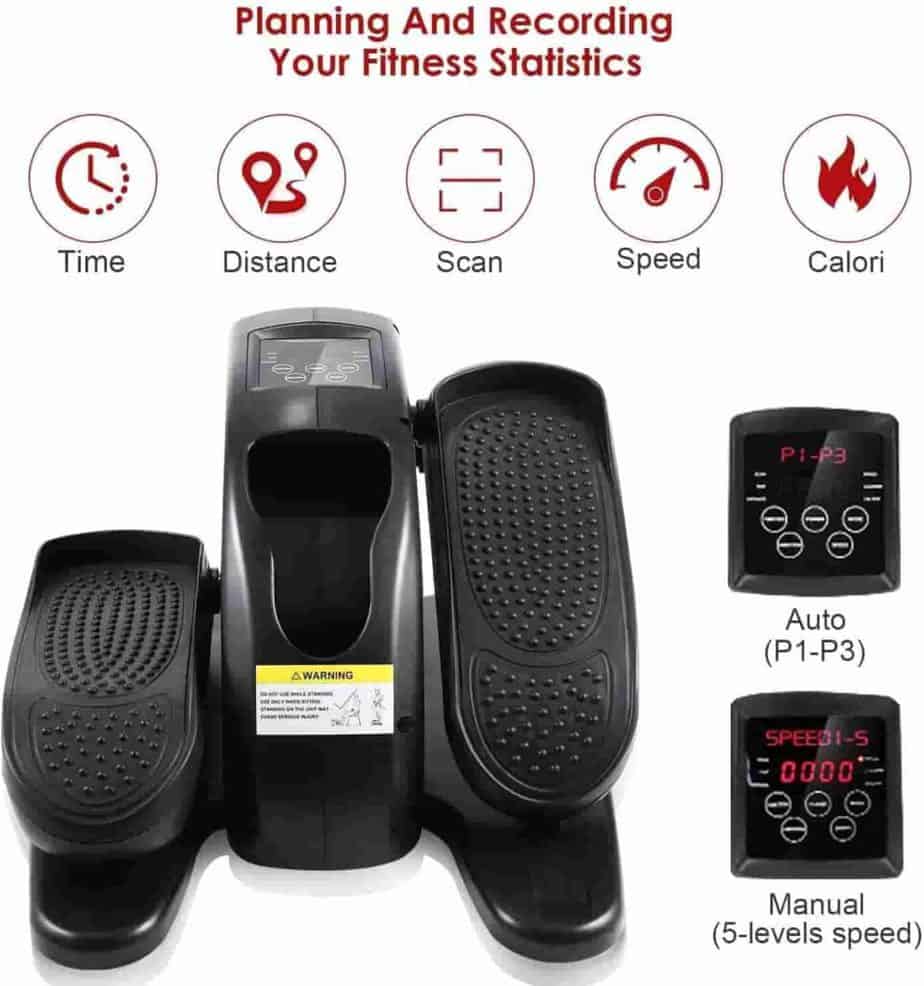 The console features navigation buttons that include Start/Stop, Function, Direction, Mode, and Speed.
There is also a red LED monitor that displays workout stats such as Time, Distance, Steps, and calories Burned with undiminishable high readability.
The stats are displayed one at a time after every few seconds by the SCAN function so that you may understand your workout progress. Although, you can set a certain workout stat of choice to display constantly without switching to another value.
The console is not powered by electricity but by 2 AAA 1.5V batteries (not included).
Since the included remote control has similar navigation buttons as the console, users can easily navigate through the functions of the unit without having to bend over to reach the console every time they wish to change the pedaling direction or adjust the speed.
Storage
Ease of storage is one of the advantages of this machine because it is portable and compact. Differently put, every user can move it around effortlessly, and it can be stored in the corner of the room, under the desk, or in a standard closet.
There is a built-in handle for easy carriage and even a slot for the remote control.
Pros/Features Overview
Inexpensive
It has a sturdy construction
It has a portable and compact design
Smooth and quiet operation
The base has 4 anti-slip rubber pads for maximum stability and traction
The unit enables leg movement that potentially boosts blood circulation and tones lower body muscle groups
Usable indoors and outdoors, in front of a couch/chair or under a desk
It has automatic (P1-P3) and manual modes
It has speed and pedal direction adjustability
LED monitor tracks workout stats such as Time, Distance, Steps, and Calories Burned, plus a SCAN function
Pedals are large and textured
An easy-to-use remote control is included
No installation required; it can be used out of the box
Low maintenance
Cons
It is designed for seated workout only
Warranty
Warranty- 1 Year
Product Dimensions & Specifications
Length: 17.7''
Width: 14.5''
Height: 9.8''
Shipping dimensions: 19.5'' L x 17.2'' W x 11.8'' H
Net weight: 16.8 lbs./7.66 kg
Gross weight: 20 lbs./9 kg
Maximum user weight: N/A
Remote control & holder included
LED monitor
Lifting handle included
Large and textured pedals (dimensions are 14'' L x 6'' W)
Manual and motorized operation
Shipping
The ANCHEER Electric Under-Desk Elliptical Machine is shipped in a box that weighs 20 lbs./9 kg with dimensions of 19.5'' long by 17.2'' wide by 11.8'' high.
Major vendors such as Amazon provide free shipping.
Assembly
No assembly is required. Simply unbox, plug/unplug, and start using.
Maintenance
The best maintenance practice for this type of exercise equipment is to always keep it safe and clean at all times. Adhere to warnings on the manual and it will be a companion for a very long time.
Conclusion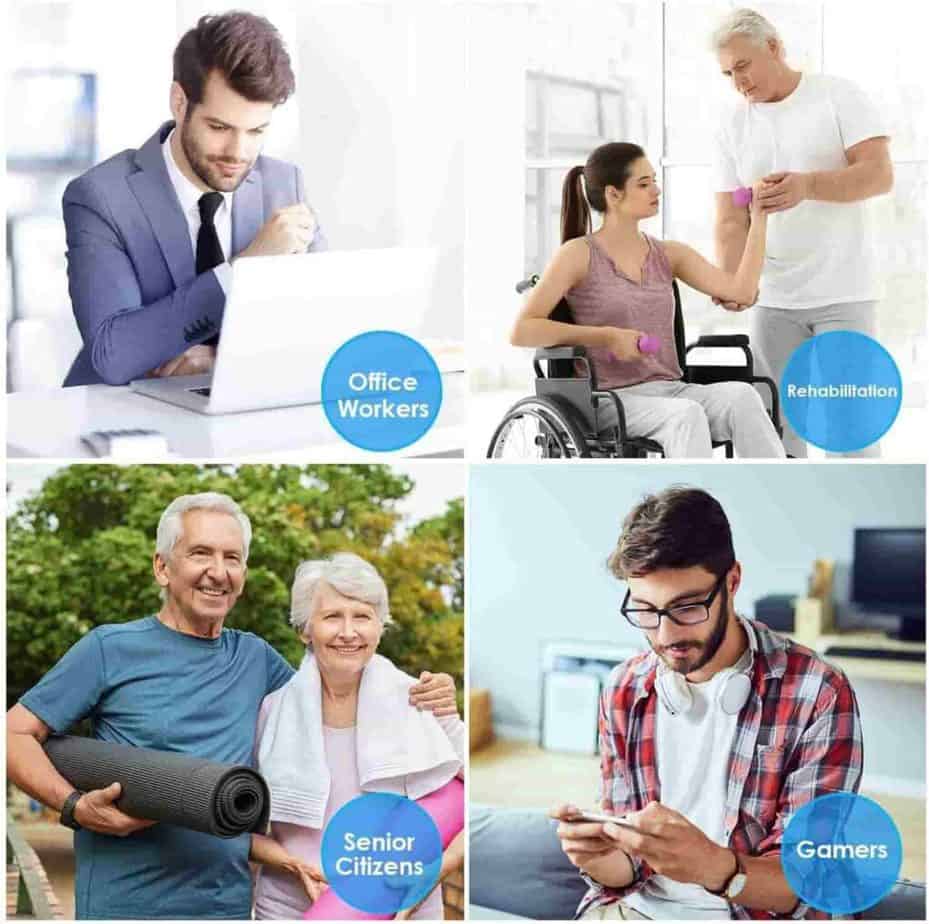 The ANCHEER Electric Under-Desk Elliptical Machine is suitable for those that work a lot behind a desk, the elderly that do not get much exercise, and everyone else that wishes to improve their blood circulation.
On the other hand, it is not for those that want serious cardiovascular exercises for weight loss, strength, and endurance improvement.