The Schwinn 130 (MY20) Upright Bike is one of the Schwinn Upright Bike Series.
The Schwinn 130 (MY16) Upright Bike has similar features to those on the Schwinn 130 (MY20). Ironically, the former has more improved features than the latter even though Schwinn (MY20) is the newer model in this case.
That said, the (MY20) upright bike is ideal for those who wish to experience low-impact workouts for weight loss, and improved strength and stamina.  
Also, its 13 workout programs and its ability to connect to workout apps offer the opportunity for a fun and productive workout experience.  
Click right here to have a peek at the best price of the Schwinn 130 (MY20) Upright Bike.  
The Frame & Construction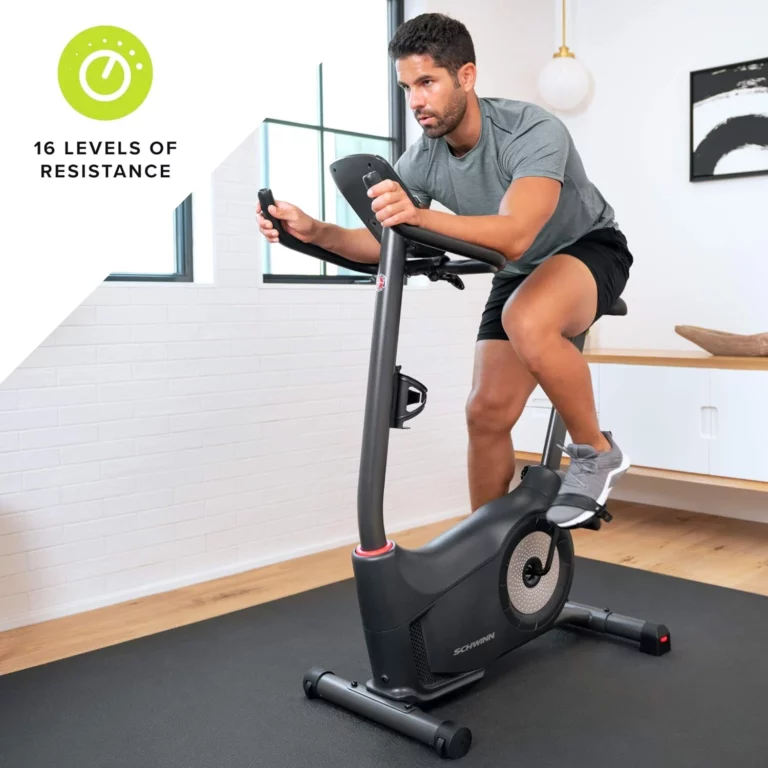 The Schwinn130 (MY20) Upright Bike is a reliable choice for a workout, crafted to be sturdy and robust. It provides a comfortable and efficient exercise experience, with its durable frame and construction enabling stability and intensity during your fitness sessions.
The bike is made of high-quality steel, which ensures durability and longevity. The steel frame not only adds strength to the bike but also makes it resistant to wear and tear, thanks to the anti-corrosion paint.
The quality plastic coverings protect moving parts and give an aesthetic look to the bike's overall outlook.
It supports 300 lbs./136 kg maximum user weight capacity and 5' to 6'5'' tall individuals.
Users can easily move the unit around the room through the front-mounted transport wheels even though it weighs 58.4 lbs./26 kg.  
Its overall assembled dimensions are 41.3'' long by 21.4'' wide by 56.6'' long. Differently put, an area with the measurements of 3'44'' (105 cm) in length by 1'78'' (54 cm) in width will be suitable for workouts.
However, consider adding extra clearance of 2' on both sides and the rear part of the bike so that you can exercise without hindrance and safety risks.  
The Seat of the Schwinn130 (MY20) Upright Bike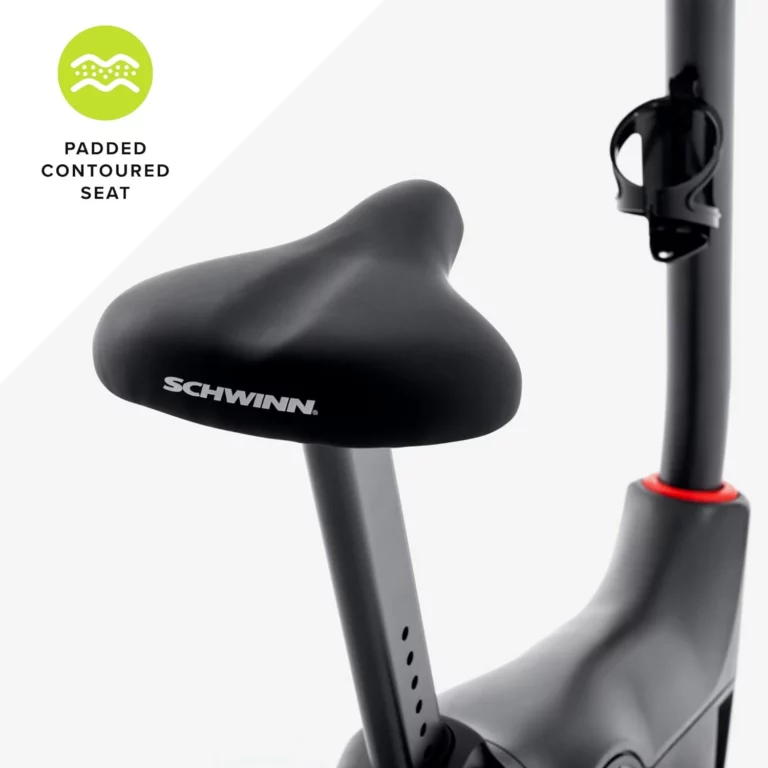 The seat is large and padded with a groove on the surface. It is designed to provide optimum comfort for prolonged exercise sessions.  
But some users think it is not comfortable enough, and it might even be small for big dudes. Usually, the use of a gel seat cover or complete replacement of the saddle solves this problem.
There is a wide range of seat options that can be found in local bicycle shops or online.  
The seat can be adjusted vertically (upward/downward). There are several positions one can adjust to for a perfect fit.
The Handlebar of the Schwinn130 (MY20) Upright Bike
The handlebar is coated with soft rubber material that is also anti-slippery. Thus, it provides secure and comfortable grips throughout the entire session of a workout.  
It cannot be adjusted vertically or horizontally but you can adjust the angle though.
There are multiple grip positions that enable you to work out in different postures.
Heart rate sensors are integrated into the handlebar so that when grasped during a workout the user's pulse rate will be read and be transmitted to the monitor.
Pedals
The upright bike features a set of self-leveling oversized pedals that have anti-skid surfaces and adjustable safety straps. They are designed to accommodate standard gym shoes and different foot sizes.  
The pedals are made of quality nylon and have a metallic core.
They are attached to a 1-piece crankset and durable crank-arms that support the weight of the user.
It is important to point out that this is an upright bike and not a spin bike. Hence, it (the pedals too) is not designed to be ridden while standing.
The Drive
The Schwinn130 (MY20) Upright Bike is equipped with a belt drive system. This comprises an anti-stretch belt, a high inertia perimeter weighted flywheel, and a pulley.
This type of drive system is the most preferred among bike enthusiasts because of its smooth and quiet operation. Users will be able to exercise while watching their favorite TV show or listening to music without any noise interference from the bike's operation.
Moreover, they won't bother those around them when they exercise.
Another advantage of a belt drive system is that it doesn't need any sort of maintenance, be it lubrication or replacement of any part.
You can pedal backward if you want but there won't be resistance.
The Resistance
The Schwinn Upright Bike has a magnetic resistance system. In other words, it operates with electric power, that is when the bike is plugged into a power source.
The components of the resistance system include a small servo motor, a magnetic brake pad, and a flywheel.  
Friction does not occur during the process of generating resistance because magnetic fields and the other components do the generation of resistance.
Thus, this is the implication; no part wears out neither does any require lubrication. Furthermore, the bike's smooth and quiet operation is not going to be altered when resistance is applied regardless of the level.
The resistance system provides 16 adjustable levels for a wide range of workout intensities. Therefore, users can increase the level of their workout intensity as their fitness level improves.
The resistance adjustment is done via the up/down resistance buttons on the console. In cases where a certain workout program is selected, the resistance may auto-adjust.
The Console 
The console features a 5.5'' LCD monitor that tracks workout stats such as Time, Distance, Speed, Calories, RPM, and Heart Rate.
Distance and Speed metrics are measured in miles and mph by default, but you can toggle them to km and km/h instead.
Interestingly, the console is Bluetooth-enabled and telemetric. Therefore, it is compatible with Explore the World and Zwift workout apps and a wireless HR chest strap.  
These features open the door to 80+ virtual terrain, access to over a thousand structured workouts, track and monitor your workout progress online, and more.
However, either of these workout apps requires a subscription to be able to use them.  
You can connect to the console with a Bluetooth-compatible wireless HR chest strap (not included) to track your pulse rate. Alternatively, you can also grasp the HR contact grips to keep an eye on the pulse rate.  
There are 13 workout programs that include 1 quick start, interval, rolling hills, ride in the park, easy tour, pike's peak, pyramids, summit pass, stream crossing, cross training, uphill finish, mount hood, and heart rate control (HRC).
These workout programs provide challenging and fun workouts that could get your mind off the fitness journey boredom and tasks.
Accessory
A water bottle holder is attached to the console mast in a strategic position that is within the reach of the user. This enables you to keep water handy during an entire workout duration in order to maintain proper hydration. 
Also, a tablet holder is integrated into the console so that the user can keep a smartphone/tablet device for the purpose of accessing workout resources via workout apps.
Storage
The Schwinn 130 (MY20) Upright Bike is not foldable, nevertheless, it is compact, lightweight, and portable.
Therefore, it won't take up too much space for storage and can easily be moved around through its transport wheels that are situated at the front base.
Pros/Features Overview
Sturdy and durable construction with a quality steel frame 
It maintains consistent stability due to its robust base framework
It is compact, lightweight, and portable; so, it is storage-friendly
It supports 300 lbs./136 kg maximum user weight capacity
Users between the heights of 5' to 6'5'' tall can be accommodated
Its belt drive system provides smooth and quiet operation
The magnetic resistance system provides 16 resistance levels for a variety of workout challenges
The bike provides low-impact cardiovascular workouts that lose weight and improve overall physical fitness
13 workout programs available to help expedite user's efforts in attaining their fitness goals 
Workout app compatible and Bluetooth console avails access to virtual workout terrain, hundreds of structured workouts, online workout progress tracking, and more
The 5.5'' LCD monitor tracks workout stats such as Time, Distance, Speed, RPM, Calories, and Heart Rate 
The seat is 2-way adjustable, contoured, and padded, and it is replaceable 
The handlebar is padded with soft rubber foam material for comfortable and secure grips 
The pedals are oversized and textured with adjustable safety straps; these accommodate different foot sizes securely 
Easy to assemble
Maintenance-free
A water bottle holder is included
A tablet holder is included
Cons
The LDC monitor is not backlit, thus it might be difficult to view the numbers when viewed in a poorly lit room
A device that is placed on the tablet holder might block the view of the display
The seat is not very comfortable
Wireless HR chest strap has to be purchased separately
Warranty
Frame: 10 Years
Mechanical Parts: 2 Years
Electronics: 1 Year
Labor: 90 Days
Product Dimensions & Specifications
Length: 41.3''
Width: 21.4''
Height: 56.6''
Shipping Dimensions: 41.34'' L x 23.62'' W x 12.6''
Net Weight: 58.4 lbs./26 kg
Gross Weight: N/A
Maximum User Weight Capacity: 300 lbs./136 kg
Heights Supported: 5'-6'5''
Frame: Steel
Drive: Belt
Resistance: Magnetic with 16 adjustable levels
Flywheel: high inertia perimeter weighted
Seat: 2-way adjustable
Handlebar: Nonadjustable, padded
Pedals: Oversize, textured, with adjustable safety straps
Monitor: 5.5'' LCD, nonbacklit
Bluetooth enabled
Explore the World and Zwift workout app compatible
13 workout programs
Heart Rate Monitoring System: Telemetric and contact grip
Transport wheels included
Water bottle holder included
Tablet holder included
Shipping
Upon placing an order for the Schwinn130 (MY20) Upright Bike, customers can expect a confirmation email with all the necessary details, including estimated delivery dates and tracking information from the retailer they are purchasing from.
Typically, major retailers such as Amazon partner with reputable shipping carriers to handle the transportation of their products. This ensures that the bike is in safe hands throughout its transit from the warehouse to the customer's doorstep.
The packaging of the Schwinn130 (MY20) Upright Bike is designed to protect the product from any potential damage during transit. The bike is securely fastened within a sturdy box, with ample padding and cushioning to prevent any bumps or jostling during transportation. This ensures that the bike arrives in pristine condition, ready to be assembled and used immediately.
Assembly
The Schwinn 130 (MY20) Upright Bike is not complicated to assemble.
The owner's instruction manual has detailed instructions on how to put it together with the included tools.  
Parts to be assembled include attaching the console mast, the seat post and the saddle, the stabilizers, the handlebar, the pedals, and the console to the core unit.
Maintenance
Maintenance of this upright bike is a walk in the park.
Just make sure that it is kept clean at all times, and regularly inspected to ensure that all the parts are tight and in good condition.
The storage area should be dry, clean, and cool.
Further instructions are in the owner's manual.
Conclusion
The Schwinn 130 (MY20) Upright Bike is one of the best among others in the same price range.
It supports 300 lbs./136 kg maximum user weight capacity and accommodates 5' to 6'5'' tall individuals.
The console is Bluetooth enabled and telemetric, compatible with Explore the World and Zwift workout apps.
There are 13 workout programs and a magnetic resistance system with 16 adjustable levels. 
Schwinn 130 (MY20) Upright Bike Review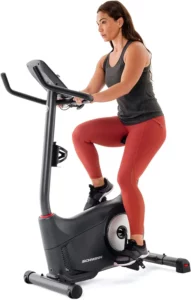 The Schwinn 130 (MY20) Upright Bike is one of the Schwinn Upright Bike Series.
Product Brand: Schwinn
Product In-Stock: InStock