The Schwinn 190 Upright Bike has a step-thru design that allows users to easily step in and exit the unit without a struggle regardless of their physical shape.
The upright bike boasts several features that enable users to achieve their fitness goals while enjoying every bit of the journey. 
It features a Bluetooth and telemetric console that can connect to workout apps and a wireless HR chest strap.  
Click right here to have a peek at the best price of the Schwinn 190 Upright Bike.
The Frame & Construction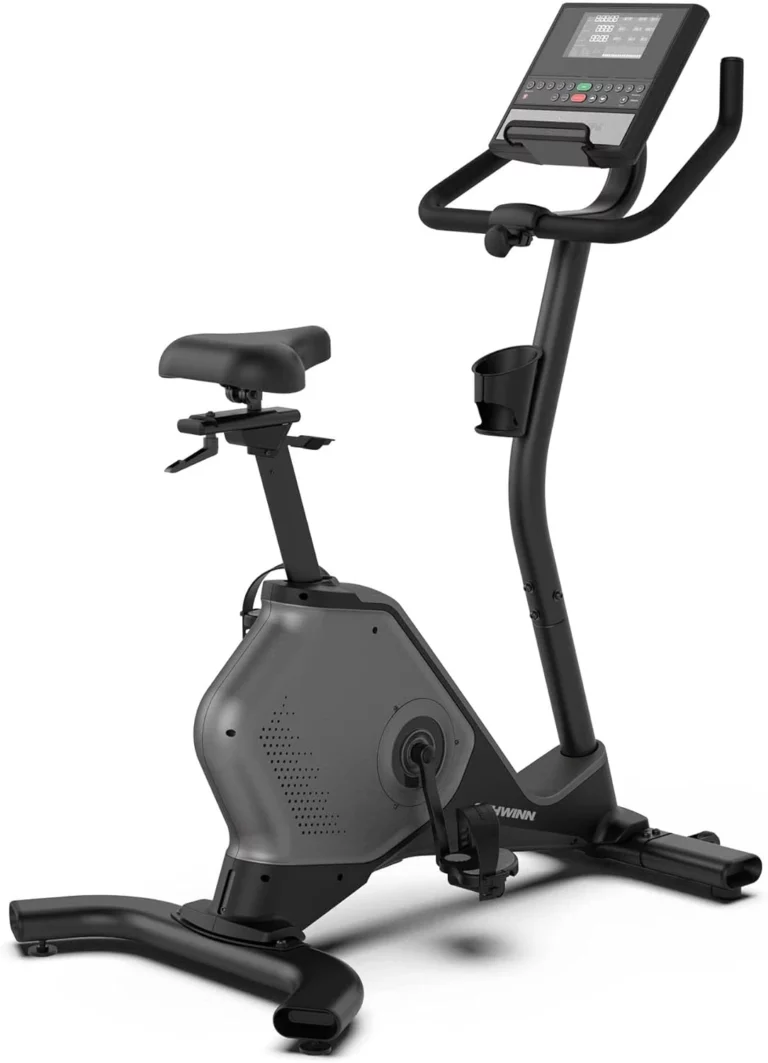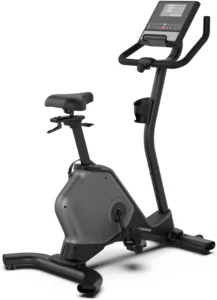 The Schwinn 190 Upright Bike has a sturdy and durable construction even though it is designed for home use. Its frame is made of steel that is powder-coated with anti-corrosion paint for longevity. 
This bike supports up to 330 lbs./150 kg maximum user weight capacity as opposed to Schwinn 170, 130 (MY20), and 130 (MY16) which supports 300 lbs./136 kg instead. 
The base is constructed to maintain consistent stability that won't give in during intense workouts. There are even adjustable levelers at the rear stabilizer which enable users to level up the bike on a platform that is not completely even. 
Transport wheels are integrated into its front base for easy relocation even though it weighs 80.7 lbs./36.6 kg. 
Its overall assembled dimensions are 47'' long by 32.3'' wide by 56.8'' high. Differently put, this means the workout area required to utilize this bike would be 3'9'' (119.38 cm) in length by 2'7'' (82 cm) in width, and additional clearance of 2' on each side of it for easy access and safety.  
The Seat of the Schwinn 190 Upright Bike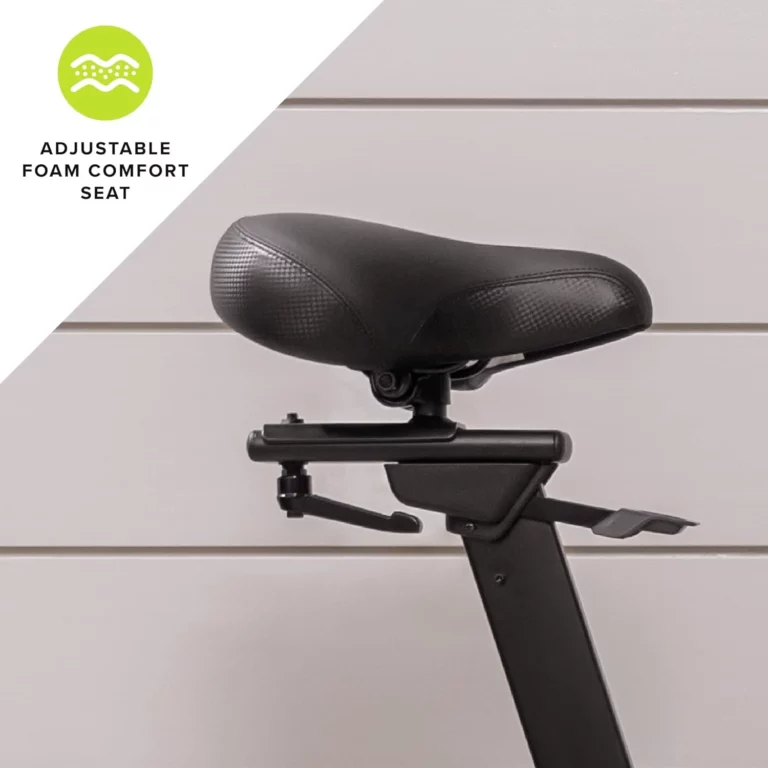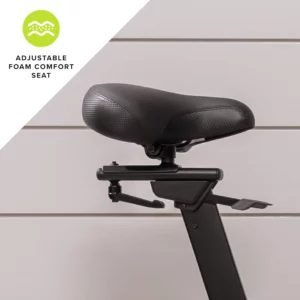 The padded seat is basic in design. Some users have complained about how sore it is when they have ridden for a period. Some have tried to remedy the situation by using a gel seat cover, yet they felt it was not a long-term solution.
Thankfully, the seat can be swapped for another if it becomes much of a problem for the user.
You can adjust the seat 4-ways; this means it can be adjusted vertically and horizontally. This enables customizations that could allow users of different heights to be fitly accommodated.
The seat adjustments won't take a minute; therefore, you will have plenty of time to focus on achieving your fitness goals.  
The Handlebar of the Schwinn 190 Upright Bike
This upright bike has a static handlebar that is angle adjustable. It is coated with an anti-slip rubber foam material that promotes firm and comfortable grips.
The handlebar's position is strategic; thus, users of different sizes and shapes can fit in.
Heart rate sensors are not integrated into the handlebar. So, users who want to keep an eye on their pulse rate during a workout can always use a Bluetooth HR chest strap since the console is telemetric.  
The Pedals
The pedals featured on the Schwinn 190 Upright Bike are self-leveling with adjustable safety straps. They have textured surfaces for increased traction and prevention of slippage.
The pedals accommodate different foot sizes comfortably and securely. They should be ridden with regular gym shoes or barefooted (not recommended).
They are attached to solid a crankset and crank arms that can hold the maximum user weight the bike supports.
However, users must not ride while standing; this is not a spin bike.  
The Drive
The Schwinn 190 Upright Bike has a belt drive system. This is a popular option among users because of its smooth and quiet operation.
The drive system consists of a quality anti-stretch belt, a pulley, and a small perimeter-weighted flywheel that probably weighs around 10 lbs., more or less.
Due to the level of the bike's silent operation, users can watch their favorite TV show or listen to music while they exercise on the bike.
They can also work out in a place where noise is forbidden yet no one will take notice of their activity.
Furthermore, a belt drive system is maintenance-free because it doesn't require pre or post lubrication, or any adjustment.
Pedaling in reverse is possible since the drive system is bidirectional. Although, resistance does not apply when you pedal backward.  
The Resistance
The Schwinn 190 Upright Bike is equipped with an eddy current magnetic resistance system. This means that the resistance system consists of a small servo motor that enables resistance to be applied by the push of a button.
In some cases, when a workout app is being used or a specific workout program is selected, a resistance level could automatically apply.
There are 10 resistance quick buttons on the console which include 1, 3, 5, 7, 9, 12, 15, 18, 21, and 25 (resistance buttons).
25 resistance levels provide a variety of workout challenges for users who wish to lose weight and improve cardiovascular health.
The magnetic resistance system also maintains the bike's smooth and quiet operation since there is no friction during the process of generating resistance.
Also, no maintenance or change of parts will be required in the long run.  
Console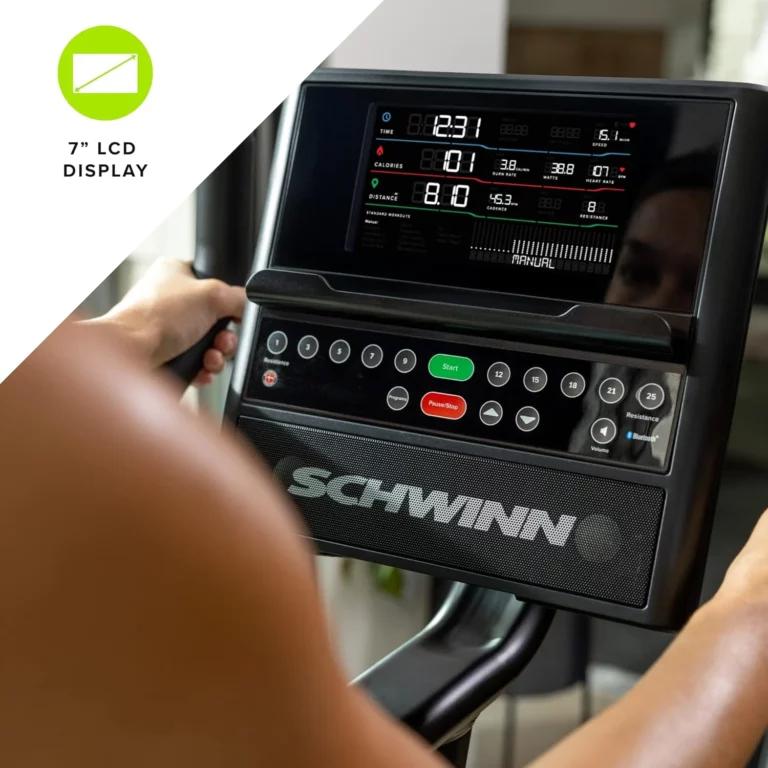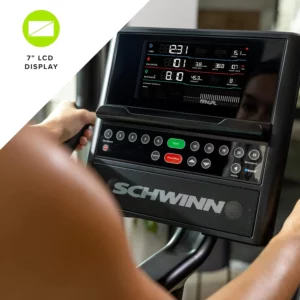 The console on this bike is Bluetooth enabled and JRNY and Zwift compatible. This means users can have a lot of fun while working out to achieve their fitness goals.
The Bluetooth feature allows users to connect to a Bluetooth HR chest strap (not included) to keep track of their pulse rate and to sync to a device installed with any of the aforementioned apps for a quality and immersible workout experience.
The workout apps are not free, they require a subscription to be able to use them. However, Schwinn offers a 2-month free trial for the JRNY workout app after which you will have to subscribe if you wish to continue using.
The workout apps give access to a whole lot of useful and fun-filled features such as thousands of workout videos including adaptive workout videos that are being delivered daily, travel through virtual exotic terrain, virtual coaching, and more.
These workout apps are downloadable on Android and iOS-based devices.
The console has 13 built-in workout programs that can help to expedite your fitness goals achievement. 
The 7'' LED monitor tracks workout stats such as Time, Distance, Speed, Cadence, Watts, Resistance, Pulse, Interval, Burn Rate, and Program with high readability that cannot be diminished even when viewed in a poorly lit environment.
Speed and Distance are measured in mph and miles by default but can be switched to km/h and km.  
Accessory
The Schwinn Upright Bike features a water bottle holder and a tablet holder for hydration and entertainment purposes.
There is also a USB port for charging a device and streaming music through the built-in Bluetooth speakers on the console.  
Storage
The bike can easily be moved around the room via the front-mounted transport wheels.
Moreover, it does not take up too much storage space because an area with measurements of 3'9'' (119.38 cm) in length by 2'7'' (82 cm) in width will suffice.  
Pros/Features Overview
Compact, portable, and lightweight
Robust construction
Supports 330 lbs./150 kg maximum user weight capacity
Operation is silent and smooth, thanks to the belt drive system
13 workout programs
Bluetooth compatible console
JRNY and Zwift workout apps are compatible
A magnetic resistance system with 25 adjustable levels provides a wide range of workout difficulties suitable for everyone who wishes to lose weight, improve stamina, and tone muscle groups
Customizable to accommodate users of different heights, shapes, and sizes
Ergonomically designed multi-grip handlebar
Bluetooth speakers
USB charging port
7'' LED monitor tracks Time, Distance, Speed, Watts, Cadence, Calories, Resistance, Program, Interval, and Heart Rate
Easy to assemble
Minimal maintenance requirement
Tablet holder included
Water bottle holder included
Cons
Wireless HR chest strap has to be purchased separately
The LED monitor screen might be blocked if a device is placed on the tablet holder
The seat is not satisfactorily comfortable
Buy it Now at the Best Price on Amazon
Warranty
Frame: 10 Years
Mechanical Parts: 2 Years
Electronic Parts: 1 Year
Labor: 90 Days
Product Dimensions & Specifications
Length: 47''
Width: 32.3''
Height: 56.8''
Shipping Dimensions: 47'' L x 27.5'' W x 14'' H
Net Weight: 80.7 lbs./36.6 kg
Gross Weight: 93.10 lbs./42.23 kg
Maximum User Weight Capacity: 330 lbs./150 kg
Frame: Steel
Drive: Belt
Resistance: Magnetic with 25 adjustable levels
Seat: 4-way adjustable
Handlebar: Angle adjustable
Pedals: Self-leveling, textured, with adjustable safety straps
Monitor: 7'' LED
Programs: 13
Bluetooth Connectivity: Yes
JRNY & Zwift Compatible: Yes
Bluetooth HR chest strap compatible
Transport Wheels: Yes
Tablet Holder: Yes
Water Bottle Holder: Yes
Shipping
The Schwinn 190 Upright Bike is packaged in a well-packaged box that weighs 93.10 lbs./42.23 kg with dimensions of 47'' long by 27.5'' wide by 14'' high.
Usually, upon purchase, your bike will be shipped out, while the details of its progress in transit will be sent to you. Also, the likely day it will arrive will be made known to you. 
It takes a few days to weeks to get the package delivered depending on the shipping option and the destination.  
Assembly
Once the package is delivered, have it moved to the place it's going to be used. That way, you don't have to move it later to the assembly place.
Carefully unpack the package and read the instruction manual before attempting to assemble it.
It is not difficult to assemble because the major components of the bike are preassembled in the factory. 
Maintenance
The Schwinn 190 Upright Bike needs to be kept clean as is the case with any other exercise equipment. 
Always check to ensure the parts of the bike are tight and in good condition before using it for a workout.
The storage area must be clean, dry, and cool.  
Conclusion
The Schwinn 190 Upright Bike is sold at a reasonable price considering the integrated features.
It supports up to 330 lbs./150 kg maximum user weight capacity, it has a console with Bluetooth connectivity and JRNY and Zwift workout app compatibility.
There are 13 built-in workout programs and a magnetic resistance system with 25 adjustable levels.  
Schwinn 190 Upright Bike Review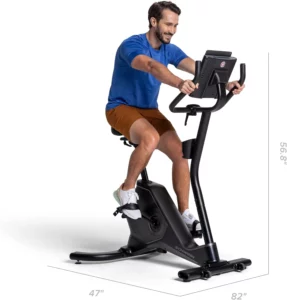 The Schwinn 190 Upright Bike has a step-thru design that allows users to easily step in and exit the unit without a struggle regardless of their physical shape.
Product Brand: Schwinn
Product In-Stock: InStock